There are two schools of thought about how an electric vehicle (EV) should drive. One camp wants to embrace what EV enthusiasts call one pedal driving – accelerating and braking largely by means of actuating the throttle pedal, like a go-kart, and in virtual silence. EVs like the Tesla Model 3 and Hyundai Kona Electric fall firmly into the one-pedal school of thought.
On the other side of the fence sit big names like Mazda and Porsche: traditional carmakers pivoting to building EVs in response to changing consumer preferences and rapidly tightening emissions regulations, particularly in Europe.
Mazda's first series-production EV, the MX-30 Electric, arrives in Australia in a few months' time – but we scored an early drive of a late-stage engineering pilot car at the former GM Holden proving ground at Lang Lang in February: read our MX-30 Electric review here.
Stepping behind the wheel immediately revealed the MX-30 to be pretty unique among electric cars. While it may look futuristic and cool outside and in, the way the MX-30 drives is quite similar to a petrol car – there is a clear family resemblance to the dynamics of a CX-30, for example.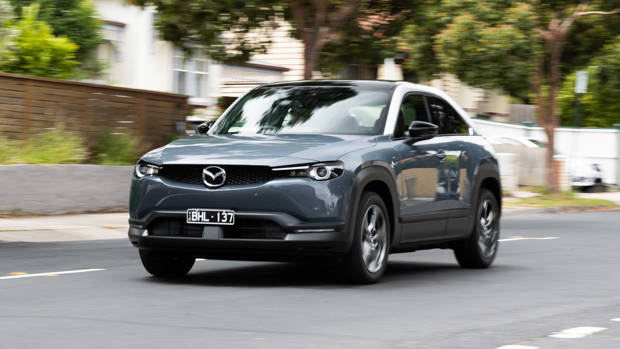 How is that the case? Well, Mazda have tuned the MX-30 to drive and sound more similar to a petrol SUV than its full EV peers.
For starters, the MX-30 doesn't have true one pedal driving. You accelerate with the throttle and stop the car with the brake, just like a combustion vehicle. Unlike in a Hyundai Ioniq or Tesla Model S, when you lift the throttle pedal in the MX-30, this SUV coasts.
"There was a very conscious effort to give [the MX-30 Electric] a level of familiarity," says Mazda Australia marketing director Alastair Doak. "First and foremost, it has the same badge on the front and back, so first and foremost it has to be a Mazda."
That meant spending "a lot of time on the pedal and mapping out how that works to the linearity of the throttle."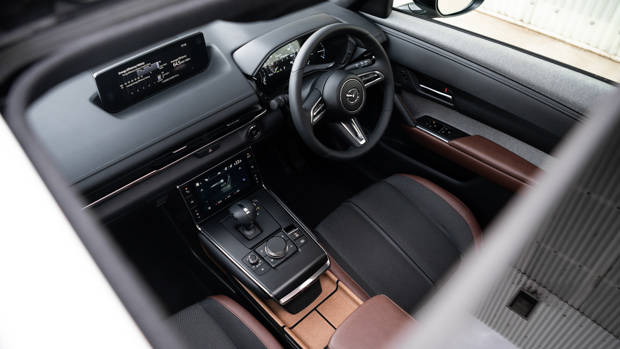 One-pedal driving in rival EVs does take some getting used to. There are many benefits – precise, granular control over the resistance of the electric motor, and the ability to go and stop with just one foot movement – but there are also drawbacks.
One-pedal driving rarely brakes the car with sufficient force to come to an emergency stop, and senior global Mazda executives have expressed a desire to retain the driving instinct to accelerate with one pedal and brake – however strongly as required – with a separate pedal.
There is a worry that should people become used to one-pedal driving, response times to go back to the nearly-redundant brake pedal will get slower – and sensors powering autonomous emergency braking cannot always be relied on to sense emergencies before human drivers.
The new Porsche Taycan EV similarly does not offer one-pedal driving, and the Audi e-tron electric SUV relies on use of the traditional brake pedal as well.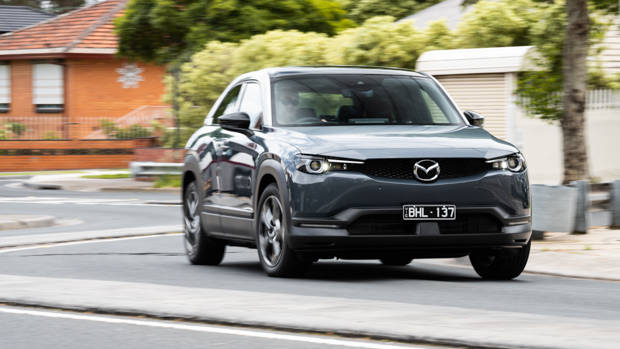 As sales volume for electric cars grows over the next decade, the market is expected to make its preference clear – though we think it is possible that electrified 'driver's cars' will retain two-pedal driving as a point of difference.
There is a similar split in auditory philosophy. Mazda have created a distinct artificial sound for the MX-30 that sounds somewhat similar to a combustion engine – mainly, it's a bassy tone that grows louder or softer depending on throttle pressure.
Doak says that giving an EV a driving sound is the brand's latest interpretation of its long-running philosophy of jinba ittai, which loosely translates to the subconscious connection between a horse and its rider.
"What are the signals that a horse gives a Japanese archer, or a Mazda gives a driver?" Doak asks. "Sound is [a part of it]. It took [us] ages and ages to agree on the level of sound, the type of sound, and making sure that it gave your brain the signals that you are pushing harder and driving faster."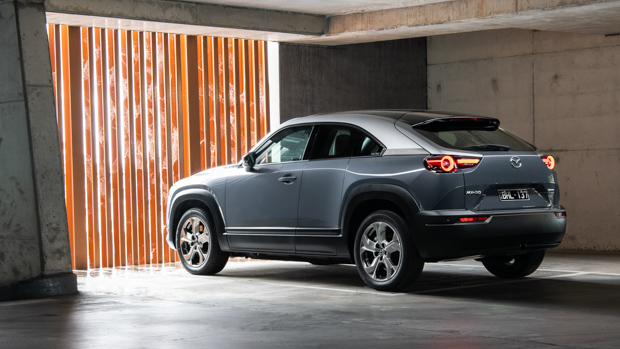 The effect is pretty much as described in reality. Press the MX-30 Electric's throttle down harder, demanding more torque be sent to the front wheels, and the bassy, reverberating note in the cabin grows deeper and louder. Let off some pressure and the note softens.
It's a remarkably charming feature that provides a distinctly different level of connection to the normally quiet EV driving experience. EVs without an artificial sound are not silent, per se: there is ever-present motor whine while accelerating. A curated noise may be seen as superior by buyers.
Mr Doak says that the 100 years of history behind the combustion engine influences how we perceive the driving dynamics of electric vehicles.
"That is what we are used to, that is what we are familiar with as a brand – I think we've been quite successful with that, and people like it – that was the motivation behind it."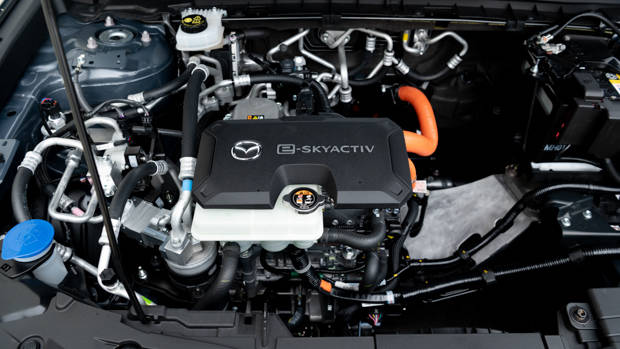 Naturally, the MX-30 does behave like an EV – and not like a petrol SUV – in many ways. Its generous slab of 271Nm of torque arrives instantly upon throttle application. A petrol-fed Mazda CX-30 needs 4,000rpm on the clock before it is producing 250Nm in 2.5-litre guise. It's intuitive to see that the MX-30 feels quicker and more 'effortless' around town.
At country driving speeds the pace gap closes substantially, with the 107kW MX-30 Electric offering a much lower level of outright performance to a Tesla Model 3 or even the 150kW/395Nm Hyundai Kona Electric. However, it's a fun momentum car, much like the fan favourite MX-5 convertible with which the MX-30 shares the "Mazda Experiment" badge.
The MX-30 hits Australian streets this month in petrol mild hybrid form – reviewed here by Iain Curry. The Electric version will follow in a single high specification variant in the middle of 2021.