When the Mazda MX-30 small SUV was unveiled twelve months ago at the 2019 Tokyo Motor Show, the vehicle presented was a full battery electric vehicle with about 200km of range.
There was some chatter about a rotary petrol range-extender version of the MX-30 to follow – a variant that remains in the works.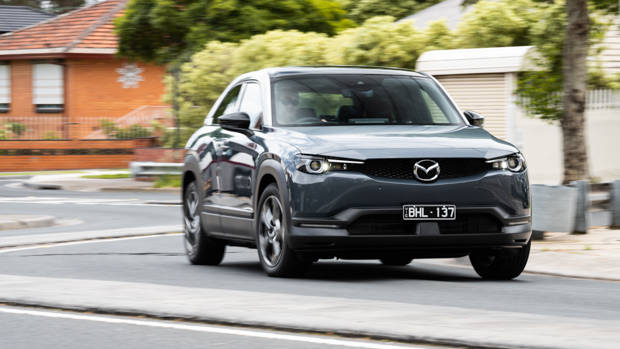 What wasn't revealed then was a two-litre, mild-hybrid petrol-engined MX-30 – and yet that is what Mazda Australia will be importing to our market alongside the fully electric version.
The dual-powertrain strategy is a surprise play from Mazda, who had been expected to eschew the previously Japan-exclusive petrol version.
It will be the 2.0-litre petrol four-cylinder MX-30 that arrives in Australia first, likely in autumn, producing 114kW of power and 200Nm of torque from an engine shared with the CX-30 small SUV and Mazda 3 small car.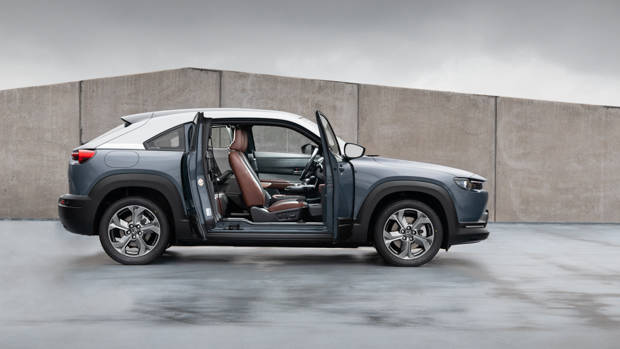 The difference for the MX-30 is that the two-litre is supplemented by Mazda's M Hybrid mild-hybrid technology that will allow extended engine start-stop functions and bring some marginal fuel economy gains.
But the MX-30 hybrid system isn't as powerful as that used in a Toyota RAV4 hybrid, for example, and we expect the fuel economy gains to be in the order of 1L/100km compared to a CX-30 two-litre.
Later – around the middle of 2021 – the full-fat, fully-electric version of the MX-30 will arrive in Australia, with Mazda confirming the vehicle's motor, battery and range specifications at an event in Melbourne last week.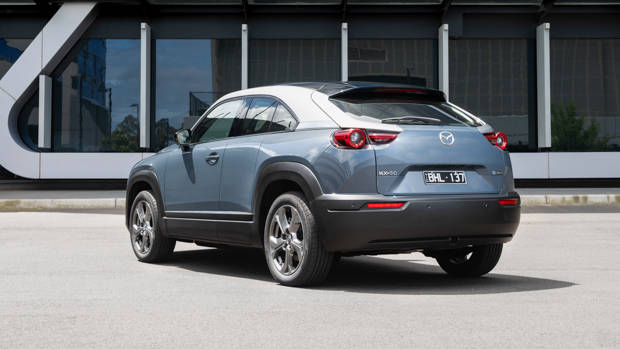 The front-drive electric vehicle will produce 107kW of power and 271Nm of torque from its front-mounted motor, via a single-speed reduction gear. A 35.5kWh battery will generate a claimed range of 224km.
The electric MX-30 will be capable of DC fast-charging at speeds of up to 50kWh, much like this car's Mini Cooper SE electric rival that has a slightly smaller 32kWh battery.
That fast charging will enable charging up to 80% of the battery's capacity – or 179km of range – in 36 minutes, while about 80km range can be added in 15 minutes.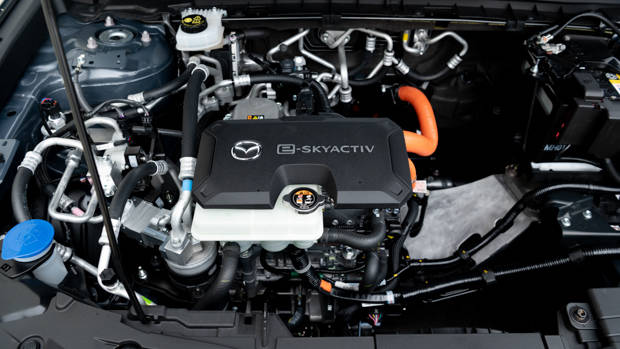 Charging via an installed 6.6kW AC home wallbox will achieve a full charge in about three hours.
Pricing was not announced for either the petrol or electric MX-30 versions.
We expect that the two-litre MX-30 will command a small price premium above the similarly-sized CX-30 as a result of its inclusion of a hybrid system and its bespoke interior that includes highly recyclable components, as well as nods to Mazda's history as a cork manufacturer.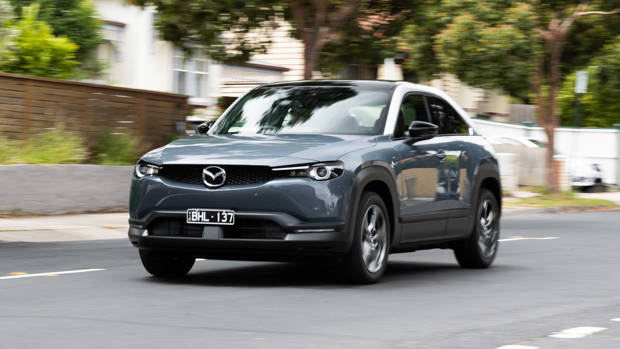 For the electric MX-30, Chasing Cars anticipates that the vehicle will be targeted at other urban-range electric vehicles like the Nissan Leaf, Hyundai Ioniq Electric and Mini SE – with Australian pricing likely to sit between $50,000 and $60,000.
Alastair Doak, marketing director at Mazda Australia, predicted that the two-litre petrol MX-30 will make up the bulk of sales.
"We all know EV takeup in Australia is still evolving and developing, so from our point of view, the mild hybrid version will have more traction in terms of traditional buyers … but we believe [the electric version] will gain momentum over time," Mr Doak told media.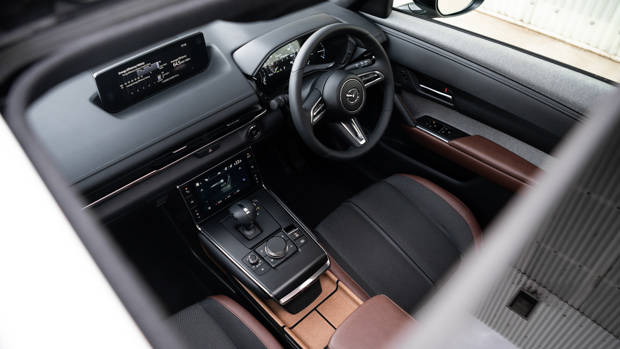 Doak said that the COVID-19 pandemic had delayed a final decision on whether the MX-30 would come to Australia.
But ultimately, he said that the MX-30 "was right on so many levels".
"This idea of choice really drives a lot of our decisions, and giving that choice to our customers … for us, it made a lot of sense."