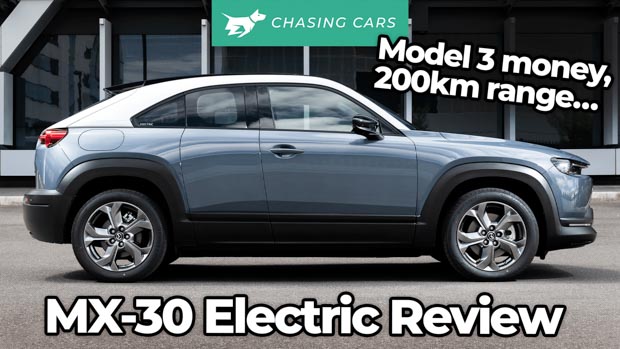 It's powered by electricity alone, strikingly good looking and a ground-breaking car for Mazda. A shame then the 2021 MX-30 Electric's headlines surround a less savoury aspect – the price. It's $65,490 before on-roads and $69,470 after them. Throw in classy three-tone paint (you'll want that) and you're over $70k drive-away.
Even the most fervent of Mazdarati may put their switch to electric power on ice; it'd be hard to walk past a same-priced CX-9 Azami to join the EV revolution, no matter thoughts of your carbon footprint.
What about the generic electric car adopter? At the MX-30's $70,000-or-thereabouts fee, rivals include the Tesla Model 3 SR+ (448km range), Hyundai Kona Electric (484km), Kia Niro EV (455km) and Nissan Leaf e+ (385km).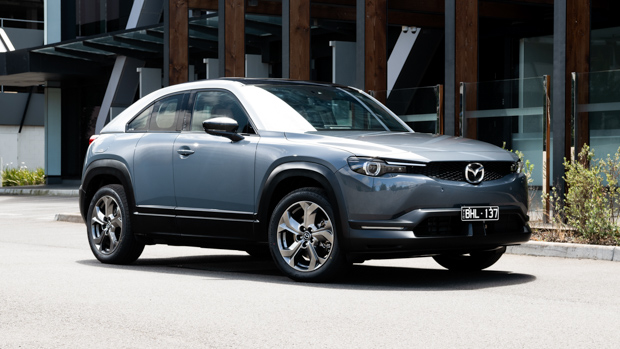 With roughly half the battery size of the above, the Mazda offers up a more anxiety-laden range of just 200km according to WLTP test figures. Today, in EV Land, that's a significant barrier to purchase.
So what's going on? Well, Mazda's looked at the bigger picture. Its 'well-to-wheel' philosophy considers the CO2 produced over a car's full life cycle, from materials extraction to disposal. Smaller batteries mean lower life-cycle CO2 emissions, and Mazda has deemed a 35.5kWh battery to be optimal.
That 200km range is the result, but the brand claims that's more than ample for city users – fair comment as the average Australian commute is 16km one-way. In theory it makes perfect sense. Why lug around heavy, expensive batteries if you'll rarely, if ever, travel close to 200km without an overnight charging opportunity?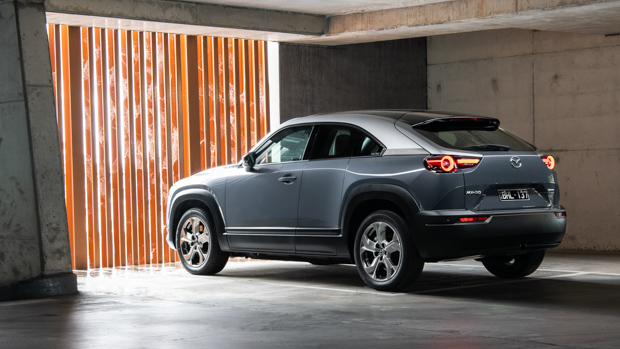 If that can't align with your driving lifestyle, you could buy the MX-30 M Hybrid (from $33,990) with conventional petrol engine, or wait for the rotary-powered range extender variant in 2022, the rotary engine acting as a generator to charge batteries.
So far so sensible, but the elephant in the room remains. Electric cars are so pricey versus internal combustion variants because, basically, batteries are so expensive. The MX-30 Electric has around half the battery capacity of rivals, but not the cheaper price to reflect this.
It has to win on other fronts then. Mazda Australia says it's only bringing 100 MX-30 Electrics into the country at first, so if you crave scarcity, don't worry about seeing many others in your neighbourhood.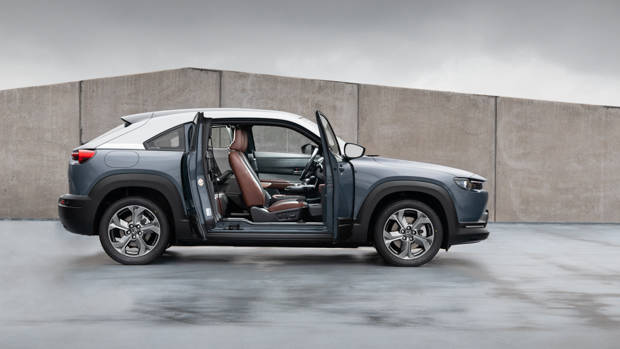 The small SUV – practically identical in dimensions to Mazda's more conventional CX-30 offering – also features a stylish coupe-esque roof and mighty C-pillar. This is possible by fitting 'freestyle' doors (suicide or rear-hinged doors), last seen on Mazda's RX-8 sportscar. These add a welcome dose of wow factor.
Mazda's traditional five-point grille makes way for a thinner nose and leads into deep-set LED headlights; there are circular LED rear lights and handsome boxy wheel arches. As the MX-30 Electric comes only in top-spec Astina grade, a 3-tone 'Framed top' is offered where the body colour contrasts with a silver of grey metallic around the windows, leading up to a black roof.
Stylish indeed, and it's clear Mazda's designers have been given more opportunity to express themselves here.
How does the MX-30 E35 Astina drive?
The electric drive experience feels as pragmatic as the battery choice. Maximum power is 107kW and torque 271Nm, meaning you'll wait around ten seconds to reach 100km/h. Mazda's gone conservative, meaning you forego the whooshing, fun factor acceleration found in the Tesla Model 3 SR+ or Hyundai Kona Electric.
That's not to say it's unpleasant. The MX-30 Electric is blissfully smooth in town, and there's torque enough to jet you rapidly into gaps in urban traffic. But when you're up at cruising speed and ask for that acceleration rush it's a bit tardier, certainly when compared to a Model 3 or Kona Electric.
The Mazda EV has an interesting point of difference on the acoustic front. Instead of a near-inaudible whirr and the wind and tyre noise typical of most electrics, Mazda sends aural feedback through the audio speakers. Although clearly artificial and a bit whiny, to my ears there are shades of a four-cylinder petrol to it, and the sound pitch intensifes the more you squeeze the throttle.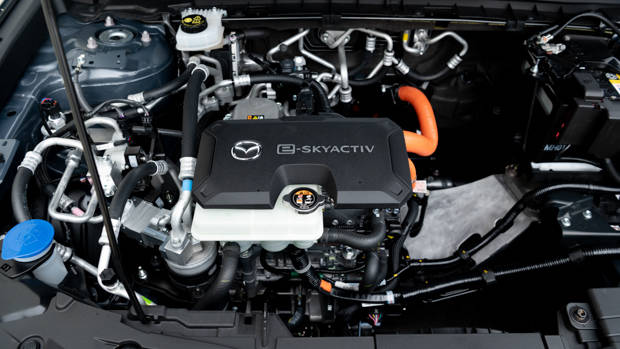 It's a welcome sensory addition, as at times with EVs you can miss the feedback of how hard an engine is working. That said, sometimes it reminds of a CVT gearbox where you'd love the pitch to change to mimic a nice step-up in gear selection. Ideally, the ability to turn off the artificial noise would be a good move. This can't be done on the MX-30 Electric, which is mystifying. Some drivers, surely, will want an EV for the silent drive experience?
Mazda knows how to set up a car for a rewarding ride and the MX-30's thankfully no different. At 1670kg it's perhaps not as light as you'd expect. A Hyundai Kona Electric starts from 1685kg and the Tesla Model 3 SR+ 1645kg – both with heavier batteries – while Mazda's MX-30 M Hybrid variant's some 200kg lighter.
All the more reason to praise its ride. It feels light enough on its feet, shifting directions with nice poise and grip. Its light steering is welcome in town, and feels quick to order the front wheels when throwing it into a corner at pace, albeit feeling its electric assistance.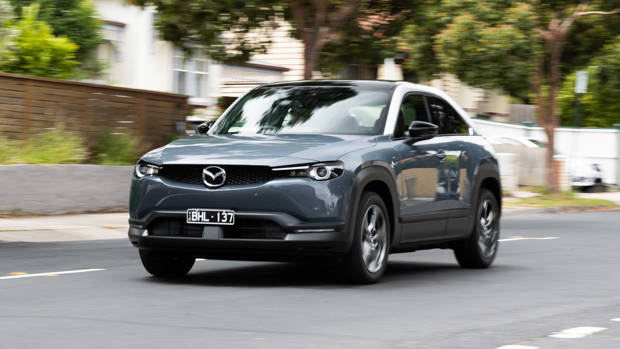 Don't expect MX-5 or even Mazda3 levels of driver joy here, but for an electric SUV, it's one of the more engaging. Mazda's smart G-Vectoring Control (e-GVC Plus) uses the motor's torque to help with weight transfer when cornering, braking and accelerating, working away in the background like a wizard to aid the car's impressive sure-footedness.
City comfort is integral, and it absorbs lumps through its 18-inch rim and tyre combination well. The cabin is superbly insulated, helping the overall drive to feel solid, safe and cossetting. It's a peaceful city companion.
You have five levels of regeneration – simply set through steering wheel paddles – to harvest energy back to the battery. Even the strongest setting is in no way harsh, once again showing how Mazda's prioritised a 'normal' and relaxed driving experience. Lift off the throttle and you slowly shake off speed, but unlike some EVs, it won't bring you to a complete halt: you still need to use the brake pedal.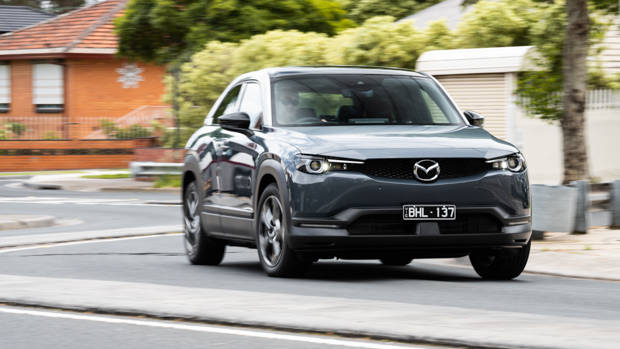 Relevant to its expected habitat, my drive route was in Melbourne's CBD and surrounds. I started with 98% battery charge and with headlights, radio and air conditioning on (real world, remember) range showed 183km remaining. After 65.6km driving I was down to 62% battery life and an estimated 131km range, using an average of 16.4kWh/100km. Positively, at least, predicted range was true to my actual usage – not often the case with EVs.
To go from 20 to 80 percent battery charge takes nine hours with a normal domestic socket. Most buyers will opt for a home wallbox which takes three hours. Use a 50kW public fast charger and that time drops to just 36 minutes.
How is the MX-30 E35 Astina's interior?
Beautiful and classily different. Available only in Mazda's flagship Astina specification, it's rich with quality and equipment.
Seats are Vintage Brown Maztex (faux leather) and black cloth, which look and feel old-world elegant. Championing the eco bit, leftover cork has been repurposed for the centre console's tray, pair of drink holder covers and door grips. Door trim, meanwhile, is made of fibres from recycled plastic bottles. It feels odd, but is at least a talking point.
It's a pain to reach, but that low-down central storage is massive under a cascading centre console, while on top is a floating screen to control climate. The heated steering wheel and large gear shifter feel of high quality, but the centre console plastic is bland and hard. A rotary dial controls the 8.8-inch widescreen infotainment screen, though using Apple CarPlay/Android Auto without a touchscreen takes some getting used to.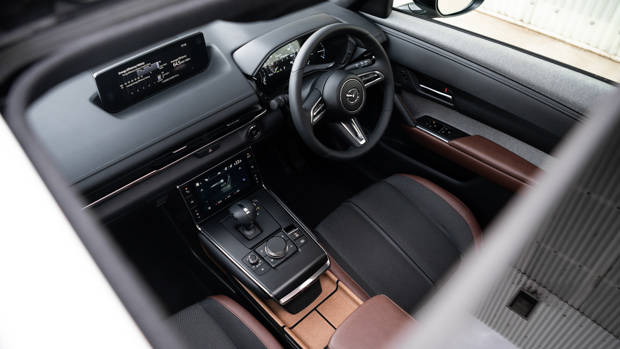 The dash coating and remaining touchpoints feel premium, but there's no full digital dashboard – typically an EV staple. Highlights from the spec list include excellent Bose sounds, electric heated driver seat, head-up display, sat-nav, dual zone climate control and glass sunroof.
Active safety –radar cruise control, blind spot monitor, emergency lane keep assist and rear cross traffic alert included – leave you wanting for little, and it has a very recent 5 Star ANCAP crash rating.
Front room is good for a small SUV, and although you don't sit incredibly high above traffic, forward visibility is ample, but the rear suffers from the sweeping coupe design.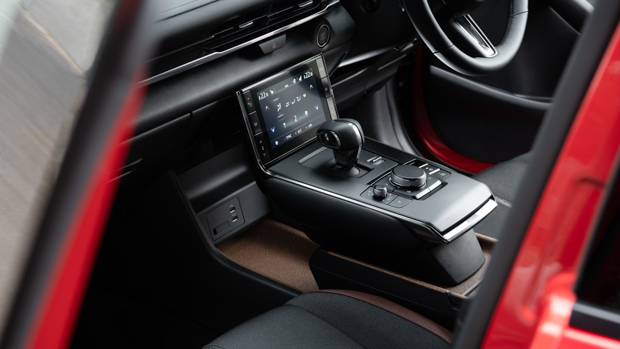 Back seats aren't terribly family-friendly. No air vents of USB points here, and while headroom is sufficient, legroom is tight and the rearmost side window is tiny, meaning it feels claustrophobic.
Hopefully the cool factor of using rear-hinged doors is some compensation. You need the front door open to access the rear door (the driver or passenger therefore must get out too if you're letting rear occupants out), and the MX-30 does look excellent with its entire side opened up. Much like the overall design, it's a style statement to set this EV SUV apart.
The 311L boot is only just shy of the petrol-powered Mazda CX-30, but the EV features only a repair kit under the boot floor. Again, it's not sized for outright practicality, but at least the rear seats fold down (from the back seat only) for larger items. Mazda's pretty confident these EVs won't be having regular rear passengers anyway.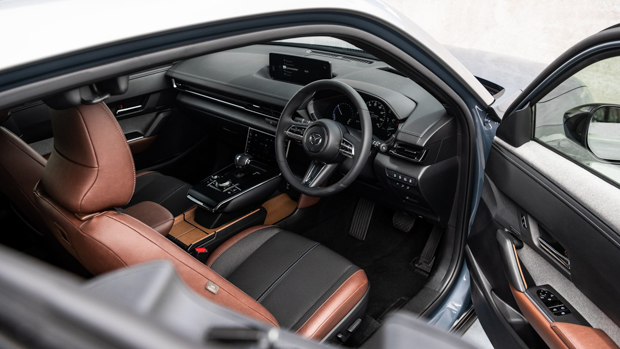 What are the MX-30 E35 Astina's running costs?
Ready to recoup some of the initial purchase fee? If you have home solar and can charge during daylight hours (or have storage capabilities), here's your endless free fuel.
Those charging off the grid at home will be able to fill the MX-30 from empty to full for about $8, while public charging should range from $10 to $15.
The consumption of about 17.8kWh/100km is fairly average for this class. By contrast, the Hyundai Kona Electric reliably delivers consumption of about 14.2kWh/100km.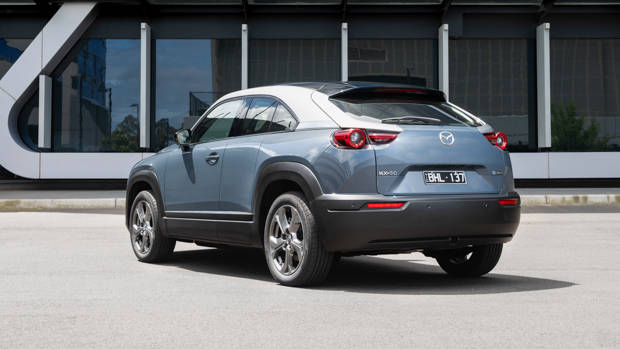 While a Mazda MX-30 M Hybrid's services are annual or every 10,000km and cost $1942 over the first five years, the Electric makes life cheaper. Services are annual or every 15,000km and a five-year service plan is $1274.
Warranty is five-years/unlimited kms, there's five-years complimentary roadside assist and the battery pack is covered by an eight-year warranty. All pretty standard against the competition there.
The final verdict
A compelling and impressive electric car, Mazda's entry into the EV world is a polished offering rich with style, quality and driving finesse. This can't justify its price however. If it offered the 400km+ electric driving range of its similarly-priced rivals it would be a strong contender, but a 200km range will immediately scrub it off many early adopters' lists.
Mazda's reasoning for a smaller battery and shorter range is sound, but many expected a starting price – no matter how high spec this Astina version is – to be closer to $55,000 rather than $65,490.
Mazda's committed to a very electrified future – three new EVs are planned by 2025 – but sales in this country look likely to get off to a slow start. A shame, because the MX-30 Electric is one of the most interesting vehicles launched this year.