Nissan has officially put the new range-topping 2021 Leaf e+ on sale in Australia which adds a significantly extended range option to the previously single-grade lineup.
Available overseas since 2019, the Leaf e+ boasts a range of 385km according to conservative WLTP testing, a significant increase over the regular Leaf which can drive just 270km on a single charge under the same conditions.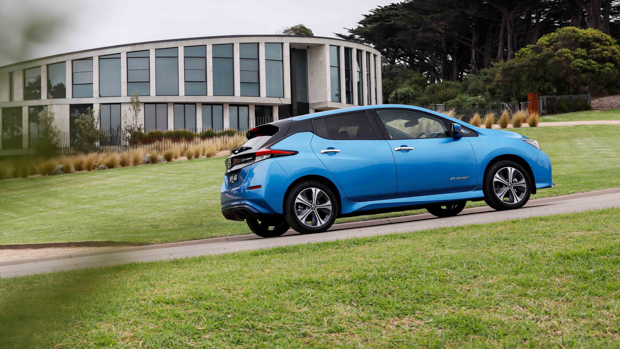 Priced at $60,490 before on-road costs, the Leaf e+ is also a fair bit dearer than a regular Leaf at $49,990 (before on-roads) but thankfully it's more than just range that differs the new variant from the base model.
Arguably the Leaf e+'s biggest rival is the Hyundai Kona Electric small SUV, which starts at $62,000 (before on-road costs) with up to 484km of range (WLTP), with a more plush Highlander trim available for $66,000 (before on-road costs).
The increase in range is thanks to a new battery which is 22kWh larger at 62kWh yet manages to take up a similar amount of space in the Leaf e+ thanks to new manufacturing techniques.
When the battery finally runs out of juice, the Leaf e+ can recharge twice as fast as the base model with a maximum rate of 100kW – giving it the ability to top up from 20-80% in 45 minutes.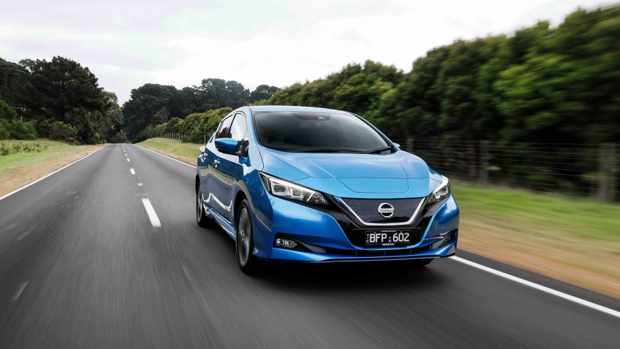 The battery is also equipped with vehicle-to-grid technology that will allow drivers to plug in their Leaf e+ when they arrive home to power their appliances and avoid expensive electricity use during peak times.
Sitting between the front wheels is an electric motor that puts out 160kW of power and 340Nm of torque and can hit 0-100km/h in 6.9 seconds – a noticeable jump on the 110kW/320Nm outputs and 7.9 second time in the regular Leaf.
The Leaf e+ carries over most of the equipment found on the quite generously specified standard Leaf, with more stripped-back and affordable variants found overseas.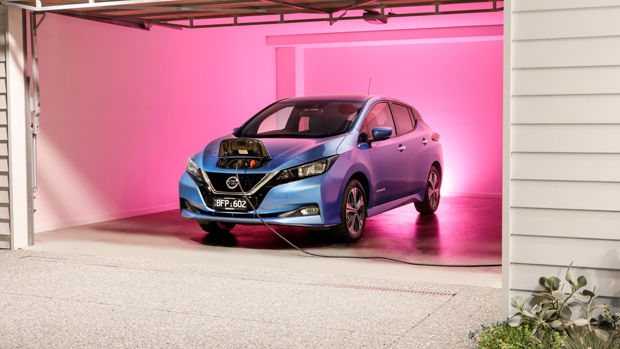 Those upgrading from a Leaf to a Leaf e+ will find a familiar interior that includes leather-accented seat trim with heating in the front row along with six and four-way manual adjustability for the driver and front passenger respectively.
Other creature comforts include an eight-inch touchscreen display with inbuilt satellite navigation along with wired Apple CarPlay and Android Auto – which drivers can use to play music through the seven-speaker Bose audio system.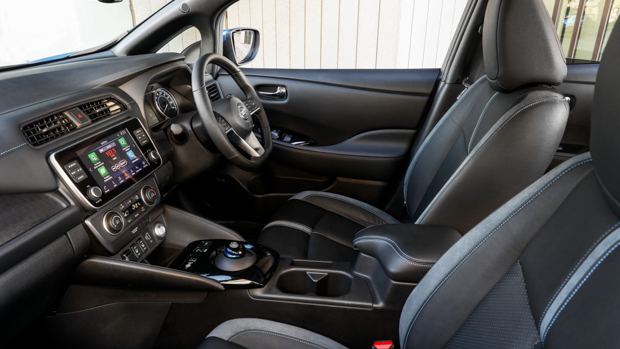 A seven-inch digital display sits in front of the driver which builds on other niceties such as adaptive cruise control, LED daytime running lights and privacy glass that will make the Leaf e+ a nicer and safer car to live with every day.
The Nissan Leaf and Leaf+ are now available to buy in Australian showrooms.
Nissan Leaf 2021: prices in Australia
All prices listed are before on-road costs.
Leaf: $49,990
Leaf e+: $60,490