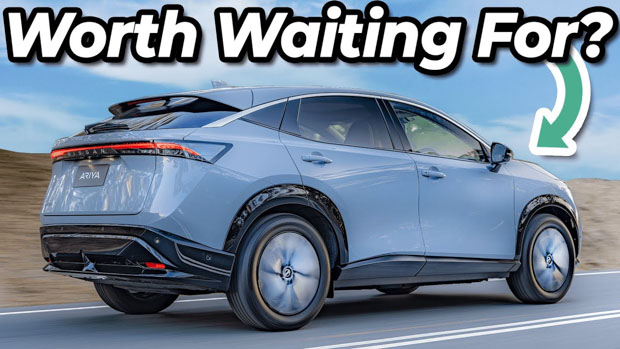 Nissan has a remarkably potted history when it comes to their record on electric vehicles. The Japanese brand was a true early adopter when it launched the Leaf EV overseas in 2010 and locally in 2012, while a van adaptation – the e-NV200 – followed soon after.
But while the Leaf received gradual updates over the years, Nissan largely left its tiny EV portfolio untouched through the 2010s as it watched Tesla snatch the Leaf's crown as arguably the world's best known EV badge.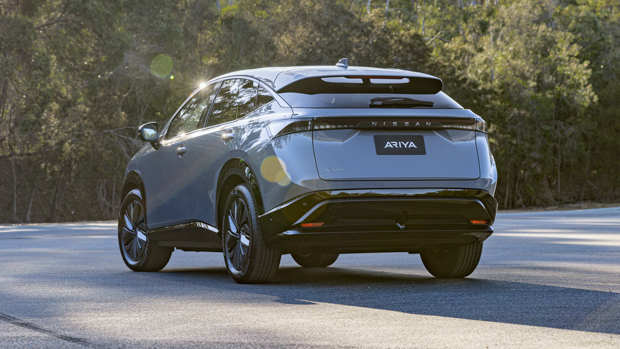 But Nissan's electric stasis ended suddenly at the 2019 Tokyo motor show, where it introduced the Ariya prototype.
A production version of the midsize electric SUV launched in Japan and Europe two years ago, and the company has finally locked in a plan to get the Ariya released in Australia in early 2024… 12 years after it lobbed the pioneering Leaf here.
Importantly, the 2024 Ariya will launch into the EV market's hottest segment – the medium-sized crossover, where it will compete with the easily market-leading Tesla Model Y, as well as entrants like the Kia EV6, the Hyundai Ioniq 5, and the Volvo XC40 – plus the Volkswagen ID4, which could even arrive at the same time as the new Nissan.
How much will the Ariya cost in Australia?
Blending interior practicality and decent boot space, a not-insignificant number of Australian families are adopting EV crossovers into their garages, and the Ariya should have natural appeal to Aussie buyers who have already had a good experience with a Nissan Qashqai or X-Trail.
Once it eventually arrives here, the Ariya could even make a logical upgrade from the new Nissan X-Trail E-Power, a hybrid version of the midsize SUV that has rated well in Chasing Cars testing.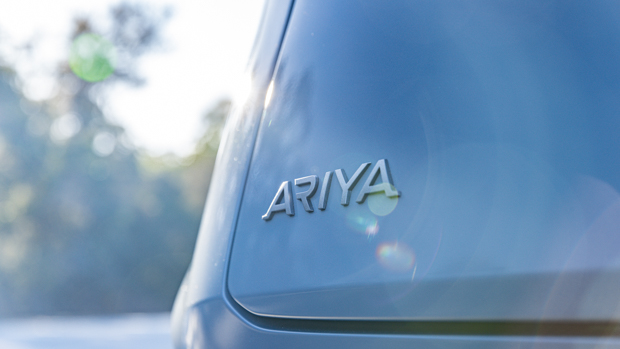 Nissan are cagey about what the Ariya will cost when it gets to Australia, but the brand's most senior Oceania executive acknowledged at a recent prototype drive on local soil that in some foreign markets, the Ariya starts at a lower price than the Tesla Model Y.
Locally, the Model Y's pricing shifts often. At the time of writing in June 2023, the Tesla costs $69,300 for a single-motor car with 455km range (WLTP), $82,300 for a long-range AWD model with 533 km range, or $95,300 for the ballistic Performance AWD with 514km range.
What Ariya versions and battery sizes are available?
Overseas, the Ariya tops out with a 290kW AWD version that's at least a second off the hard-charging claims of the top-end Model Y, but in other ways, the lineups are quite similar.
Nissan builds the Ariya in Tochigi, Japan, with two available battery sizes and various power outputs. The first three combinations are understood to be under consideration for Australia – the Performance AWD isn't on the table at this time:
| | | | |
| --- | --- | --- | --- |
| Ariya variant | Battery | WLTP range | Outputs |
| Standard range FWD | 63 kWh | 360 km | 160kW/300Nm |
| Long range FWD | 87 kWh | 500 km | 178kW/300Nm |
| Long range AWD | 87 kWh | 460 km | 225kW/600Nm |
| AWD Performance | 87 kWh | 400 km | 290kW/600Nm |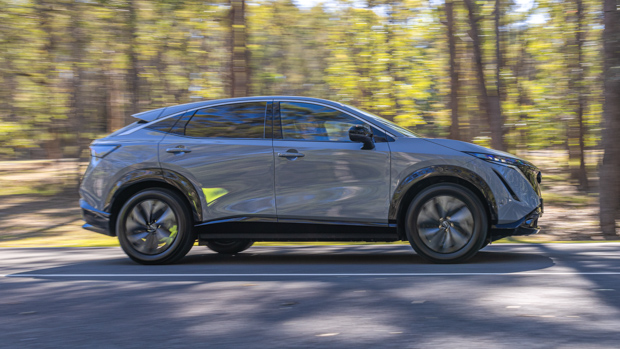 We were able to drive the long range FWD model in a high interior specification. Our first drive on Australian soil took place at a private road testing facility that replicated a curving and undulating country road designed to be driven at 60-90 km/h.
The cars we drove were imported to Australia from the UK, so they were right-hand drive and were, apart from exterior colour differences, identical.
What is the Ariya's interior and technology like?
Taking in the Ariya starts with its exterior design, which totally sheds the Leaf's do-gooder aesthetic for far slicker and more sensual styling.
It's a good looking car – perhaps a little smaller and more natural in the metal than it looks on a screen. Glossy paints seem to work best with the Ariya's surfacing.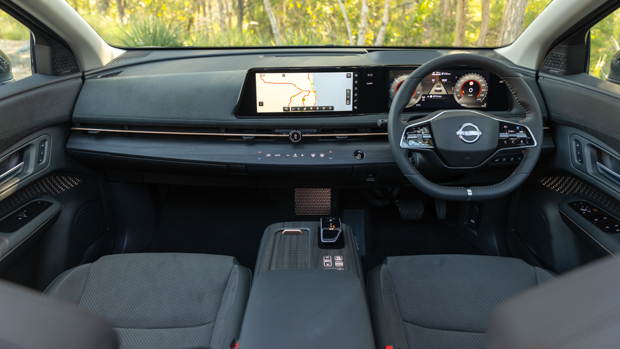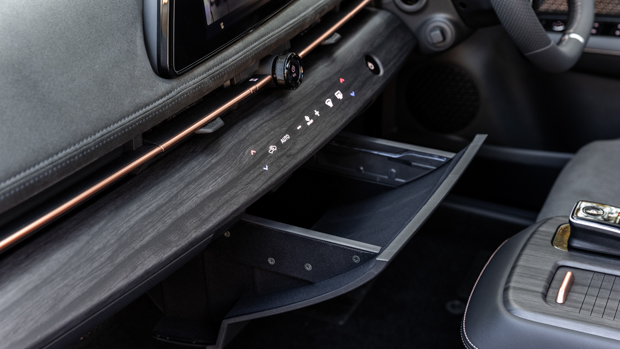 This is really a coupe-SUV in form, evident in the tapering roofline, and that does impact back seat headroom and boot space – though not fatally. As with the Model Y, the cutaway coupe-SUV shape is there for aerodynamic benefit.
Overall, the presentation is impressive. That theme continues inside, where the Ariya leaps into the 2020s with a contemporary dashboard and a number of unique, high-tech inclusions that take in a centre console that glides fore and aft electronically, and a power-opening central drawer.
These features are a little gimmicky, but the former does help you achieve a compromise between armrest support and back seat space. And, overall, the layout inside the Ariya makes a lot of sense.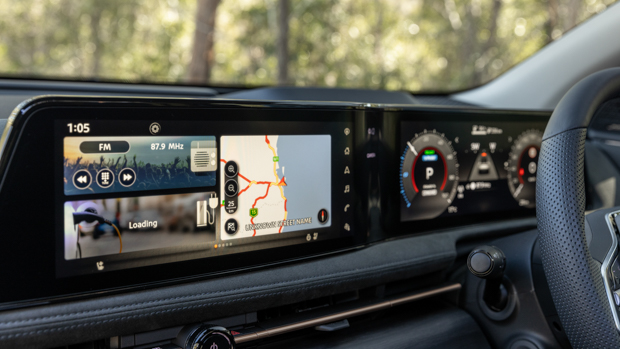 Ahead of the driver sits an increasingly industry-standard binnacle with twin 12.3-inch screens, both configurable. The centre display is a touchscreen that's reasonably simple to navigate and also takes in wireless Apple CarPlay and Android Auto connectivity.
The upholstery is a mix of vinyl and faux suede, keeping the animal products to a minimum. The blend works quite well, and the seats felt comfortable – assisted by our test car's seat cooling function, which helped regulate body temperature on an unseasonably warm day of driving.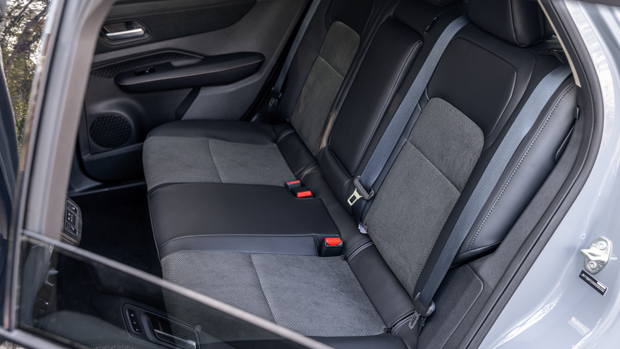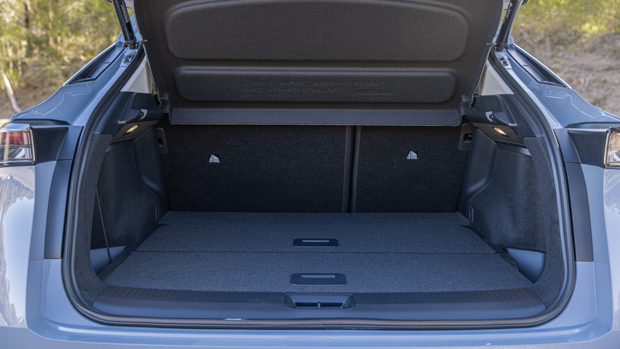 Our first experience with Ariya was brief but the cabin felt well-built and perhaps half a cut above the X-Trail in terms of perceived expense.
Back seat space was reasonable for two adults, though the middle seat is too much of a perch to be comfortable – though the 468-litre boot will be too small for some, especially when the Ariya lacks a frunk of any kind to supplement cargo space.
What is the Ariya like to drive?
Slipping back into the driver's seat, it was time to embark on a circa-20km drive around the private test loop that mocks up a typical Australian country road. This is our first sample of the Ariya locally, and a far fuller review will be published when the cars launch next year.
So we'll keep our first impressions relatively general, as the testing conditions didn't have many bumps – nor did they permit much stop-and-go driving, which so many family vehicles do on a daily basis.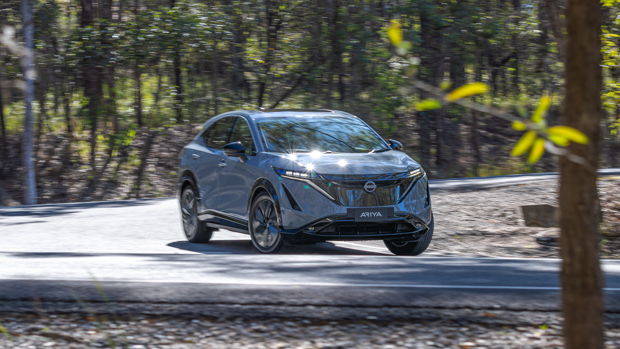 The fact we were encountering hills and corners at 60-90km/h was probably a factor in the woeful energy efficiency we saw.
The Ariya 87kWh FWD displayed 25kWh/100km or worse via the trip computer, implying a range of just 348km. That's well short of the claimed 17.4kWh/100km that should allow 500km of driving.
Naturally, normal driving takes in more regenerative braking, harvesting energy back to the battery – but it does make us concerned for how the Ariya will perform in our 110km/h highway range test, which we will independently conduct after the vehicle goes on sale in Australia.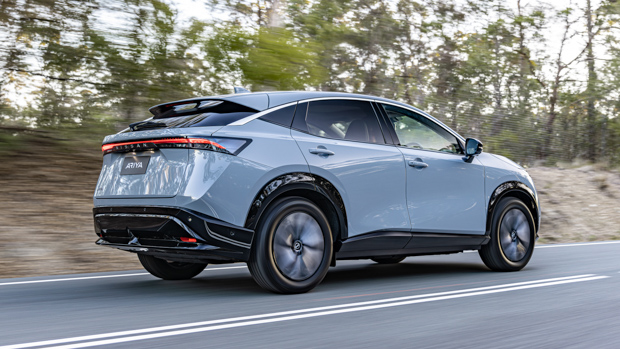 We think it's fair to say that we simply can't make any concrete efficiency test claims yet – nor have we tested the fairly modest claimed 130kW DC charging speed – so let's concentrate on how the Ariya drives.
Like most competitive EVs, the Ariya feels quiet, smooth and refined from the get-go, with well-tuned motors that avoid the freneticism of, for instance, the AWD versions of the Model Y. Clearly, the priority was to make the Ariya accelerate like a normal SUV.
Many people will prefer that – this isn't a car that pins you to the back of the seat, as the middle-of-the-road 7.5-second 0-100km/h claim for the 87kWh FWD model makes clear. With 178kW of power, 300Nm of torque and about 1960kg to haul around, performance is totally adequate without being quick.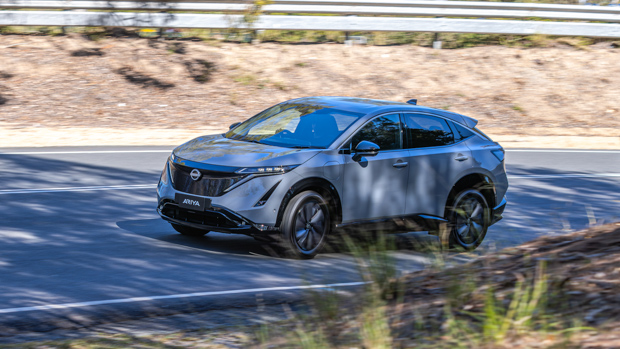 Ariya buyers seeking more kick would be happier with the AWD powertrain, likely for Australia, that doubles torque to 600Nm and bumps power usefully to 225kW, slashing the 0-100km/h sprint to 5.7sec.
But even though our tester Ariya was the front-driver, we only encountered a whisper of torque steer accelerating hard off the line with the steering wheel turned. You'd have to chase that effect to find it, so Nissan has done a good job tuning it out.
On the braking side, an E-Pedal button on the (sliding!) centre console activates relatively strong regeneration that sees the vehicle largely driveable with one pedal – the throttle. For those that prefer to use two pedals, very light, or zero, regeneration can be selected.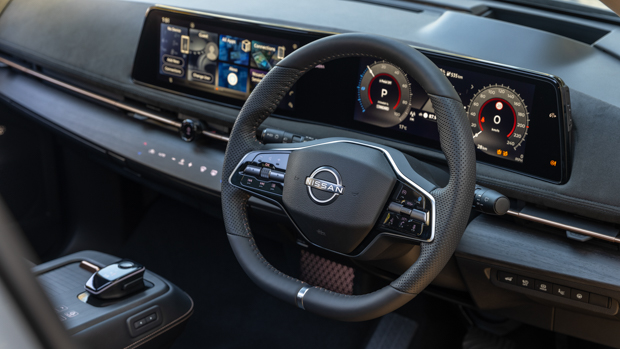 We liked the Ariya's perforated steering wheel, and the tiller unlocks relatively faithful handling through the bends. Tyre grip levels were high from the Dunlop SP Sport Maxx 050 rubber in 235/55 R19 size and body roll is very restrained. The Ariya sits flat while cornering.
There's even a pleasant level of chassis adjustability to be found here. Backing off a little while turning in sees the Nissan rotate naturally through a corner, gently mimicking a front-drive hot-hatch more than a family SUV. Nice work, Nissan!
We wouldn't go so far as to say the Ariya is genuinely fun to drive, but it's satisfying and keen drivers will immediately notice the care and polish that has been put into getting the chassis just right. It's more than fit for purpose.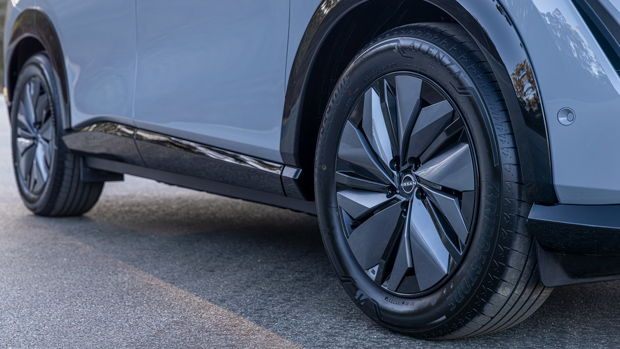 There were few bumps on the test course selected for this drive, though we found a couple of imperfections. The Ariya seems to ride reasonably well, though we could detect a subtle but constant fidget even on smooth surfaces on the 19-inch wheels of our tester.
It's also a very quiet car, with acoustically-glazed windows keeping sound levels way down while driving.
So, what's our first impression of the Nissan Ariya?
Overseas, the Ariya is fitted with various levels of semi-autonomous driving capability depending on local regulations. In the US, for instance, Nissan fits the SUV with its Pro Pilot 2.0 tech, which allows hands-off driving on some roads.
Aussie regs don't seem to permit this yet, but it's nice to know the car can handle it.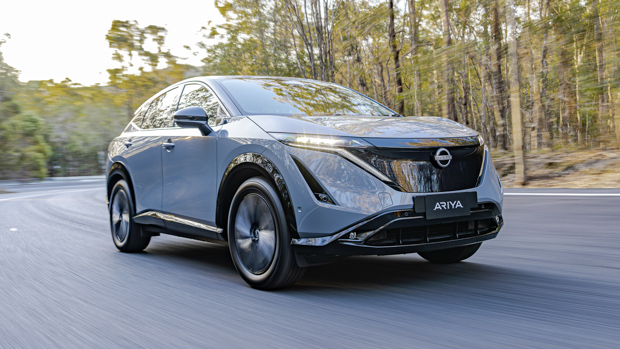 A proper understanding of how the Ariya fits into Australia's rapidly-firing EV market will require knowledge of the price, and of course a proper drive on real Aussie roads – with bumps, start-stop traffic and highway overtaking all rolled in. We haven't had that yet.
Still, first impressions are solid, and if it's priced correctly, the Ariya should make a solid and welcome entrant into the bustling midsize electric crossover space.