Australia and its rules are perplexing things. Here's a country happy to fine you for exceeding a speed limit by 2km/h; if you forget to wear a bicycle helmet or if you decide none of the local councillors is worthy of your vote.
Yet here we are allowed to treat a beach that goes on for days as a public highway, then bound through rainforest-wrapped sandy trails on a World Heritage Listed island, all in our fossil fuel burning 4x4s.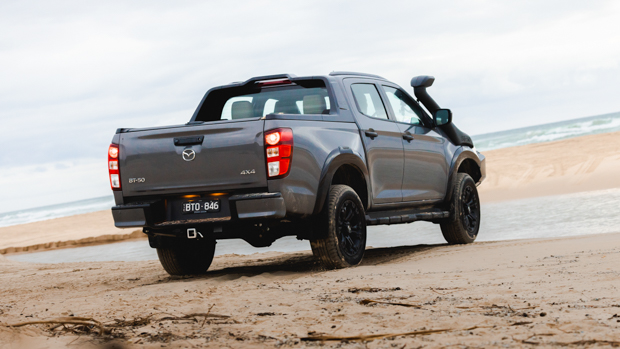 Not that I'm complaining. We're on the world's largest sand island – K'gari Fraser Island – to sample the capabilities of Mazda's BT-50 4×4 dual cab ute.
At the same time, hopefully inspire owners of these and other talented rough stuff-ready 4x4s to utilise their talents in beautiful off-road environments.
Are you an owner who has flirted with the idea but never committed? I hardly blame you. The modern dual-cab ute, especially in higher grades, feature cabin comforts and safety tech to rival most equivalent road-only SUVs.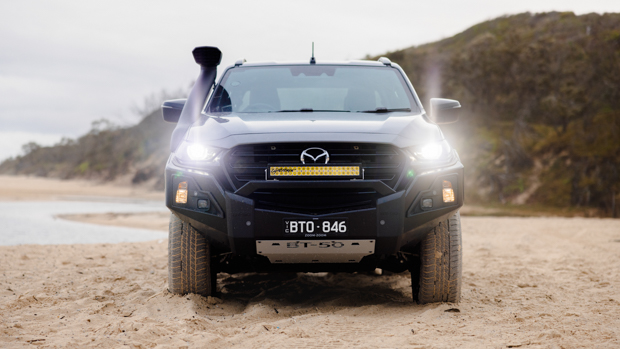 It makes them relevant, if not entirely ideal, as daily drivers… plus be work truck, adventure toy and family transport.
It's why our country's two best-selling vehicles are utes – the Ford Ranger and Toyota Hilux – and why the BT-50 is the third best-selling model in Mazda's quality-packed showroom.
But they're not cheap. Hence the understandable reticence to 'risk' them in an off-road setting.
The same applies to many supercars. They may be at their most relevant on the racetrack, but are you taking your $850,000 Ferrari SF90 Stradale to the nearest track day?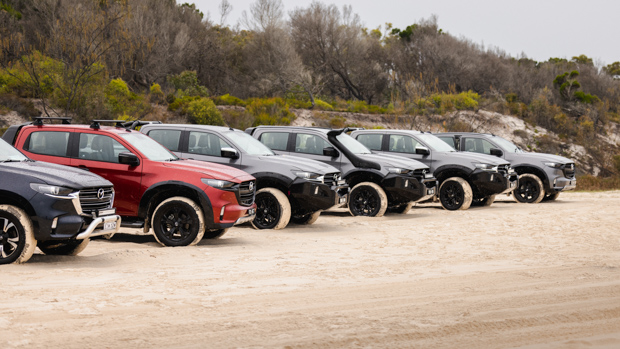 Our three days and two nights on K'gari Fraser Island taught us that with proper preparation, recovery gear and some pre-expedition homework, a trip to this sandy paradise in your own 4×4 ute can be safe, memorable and drama-free.
If you're in any way tempted – and you really should be – here's our advice to those considering a jaunt to this or any other sandy playground.
Things to sort before you travel
Fear not. You don't need to re-mortgage the house to fund lift-kits, roll bars, snorkels and underbody protection.
Off the showroom floor the likes of a Mazda BT-50 are more than capable of handling K'gari Fraser's tracks. Well, as long as you're smart, prepared and sensible.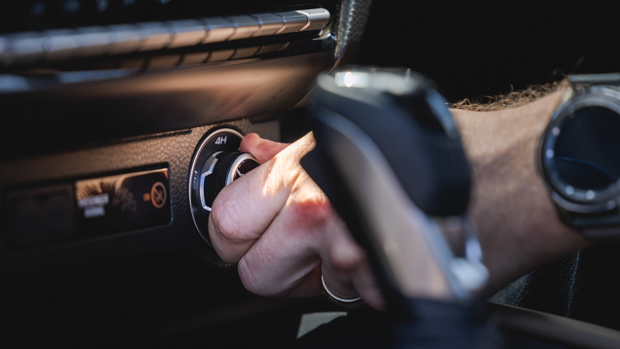 The non-negotiable is low range capability. Your modern 4×4 dual-cab ute has it, typically on a dial showing 2H (RWD), 4H (4WD, high range) and 4L (4WD, low-range).
Maybe you've never tried it before, or know when it should be used, but 4L is accessed by simply stopping the vehicle, moving into neutral and turning the dial.
A subtle little clunk and a light on the dashboard highlights your success. Simple to practice before you get anywhere near the sand. We'll cover when to use it in the section below.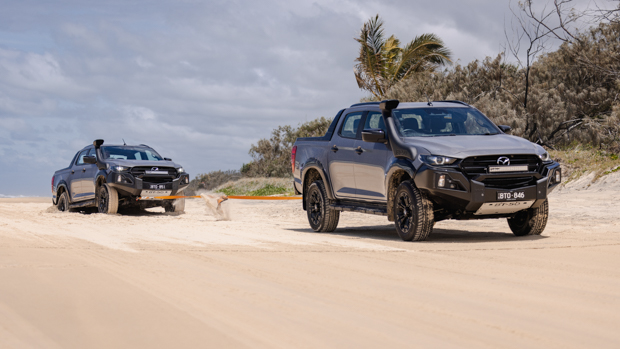 Getting your vehicle stuck or 'bogged' is all part of the fun, some will tell you. While rescuing yourself gives a fuzzy feeling of contentment, being bogged when there's a tide fast approaching or if you're blocking an angry queue of bearded hardcore off-roaders isn't as enjoyable.
To give yourself the best chance of a swift rescue, invest in a snatch strap (one of those bearded hardcore folk may pull you out with it if asked nicely), a decent shovel and recovery boards – Maxtrax or equivalent. Communication is also key.
Should you need assistance your mobile phone coverage might not cut it. Grab some UHF (CB) radios for vehicle-to-vehicle communication. Satellite phones are a bit overkill for somewhere like K'gari Fraser, especially if you have that UHF radio.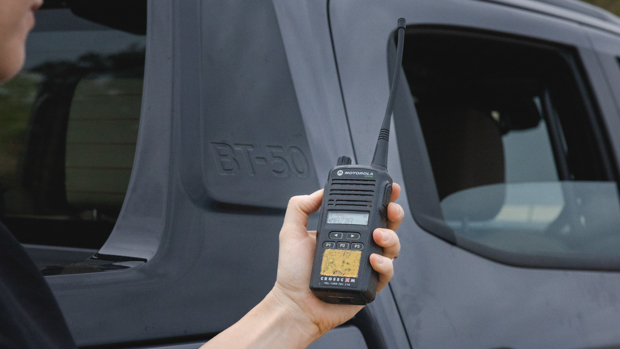 Buy a good quality tyre pressure gauge. For sand driving, you want to increase your tyre's contact patch with the ever-shifting ground, and this is done by dropping your tyre pressures. It's a simple but vital exercise.
Deflate to between 18psi and 22psi. Most experts suggest going lower but on somewhere like K'gari Fraser this is unnecessary.
Remember, it's far easier to reduce tyre pressures than increase them, so start higher and reduce if you deem it necessary. You can buy a compressor to re-inflate tyres, but it's easily done at a servo when you get back on the mainland.
With that all covered, you need to ensure all your travel permits, ferry crossings (if heading to K'gari Fraser) and camping/accommodation are sorted.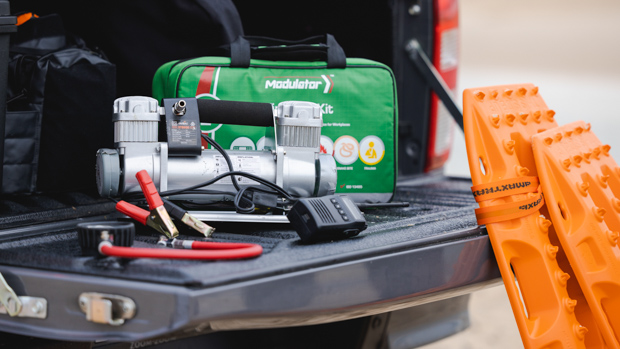 K'gari Fraser requires a vehicle access permit, bought through Queensland's parks and forest website, and costing a reasonable $55.90 for up to a month. If you're there for a day or thirty, it costs the same.
Where are you bedding down for the nights you're there? If camping, fees are $7.00 per person per night, with discounts available if you're a family with kids. Fear not, luxury lovers, there are resorts, cabins and holiday homes available if you prefer a solid roof over your head.
Getting onto the island is reasonably pain free. Ferries depart from either Inskip Point (you'll need to sand drive to reach here) for $130 return, or at River Heads near Hervey Bay from $205 return.
Sand driving tips and tricks
On arrival, listen to the locals and others who've been on the island for a few days. They'll be able to advise about track conditions, recommended tyre pressures, weather and any potential hazards.
Knowing tide times will make life far easier. For times you're driving on the beaches, the journey's safer, easier and more comfortable if you're on the hard sand exposed at low tide. Again, ask when low tide is, or visit a website such as willyweather.com.au for the right information.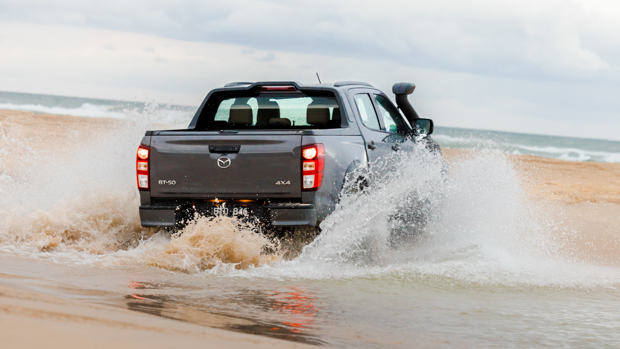 You can still drive on beaches at high tide, but be aware you'll be traversing softer sand higher up the beach, slowing you down and making you more likely to get bogged. In any case, drive closer to the ocean for an easier ride, but stay out of the wet salty stuff as it's the enemy of all vehicles.
Before heading off, get those tyre pressures sorted. Our trip was plagued by heavy rain, firming the sand and meaning 22psi was adequate.
Insert your tyre pressure gauge in the tyre valve at an angle and you'll hear air coming out. Keep checking with the gauge when you get down to your nominated pressure.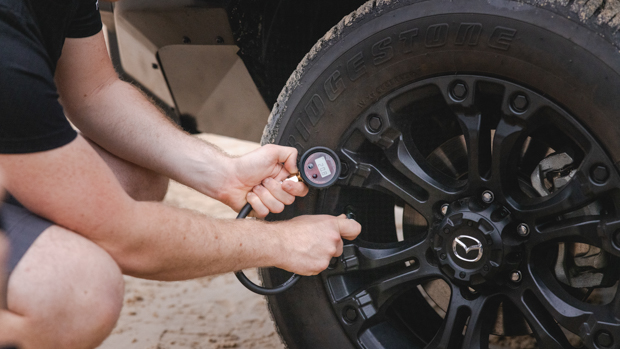 A modern 4×4 ute like the Mazda BT-50 only needs to be in 4WD high-range (4H) for most of the driving somewhere like K'gari Fraser. In fact, not once during our off-road odyssey did we need to use low-range.
But we didn't traverse sand dunes, really soft sand, deep mud or do any rock crawling – instances where 4L would be your best friend.
Just before getting on the sand, turn the rotary dial from 2H to 4H. In most modern 4WD utes and wagons, this can be done on the fly, no need to stop the car. Traction is now sent to all four wheels, and key for sand driving, you need to turn off your traction and stability control.
These life-saving electronics are great for bitumen roads, but are a beepy, throttle-killing annoyance on loose sand. Here, you'll want a bit of wheelspin.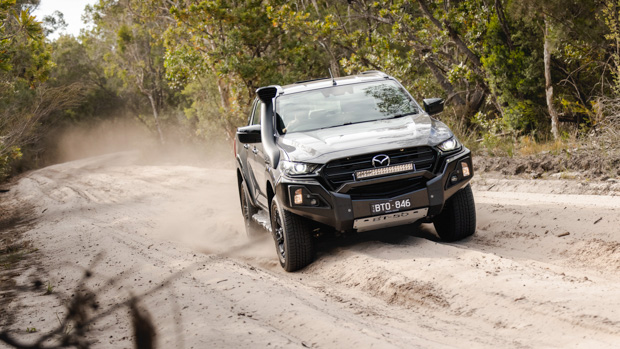 Press and hold the 'ESC' button on your dashboard for a few seconds, and soon an 'ESC OFF' or orange light showing a sliding car will illuminate. Turn off any park assist systems too.
Sand driving feels a bit strange the first time you do it, but it soon becomes simple and highly enjoyable. On K'gari Fraser there's famous 75 Mile Beach, officially a national highway (with speed limits – observe them to the letter) you can cruise the length of.
Look out for dingoes and humpback whales, the latter passing and socialising off K'gari Fraser Island between July and November. We had a few encounters with the local dingoes, but the big water mammals sadly eluded us.
Key to sand driving is staying relaxed and letting the vehicle do a lot of the work for you. With so much traffic over the sand there are plenty of previously formed ruts you can simply place your wheels into and go with the flow.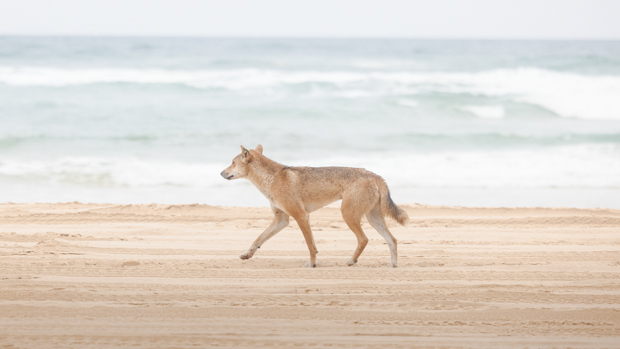 Your vehicle changes direction with the ruts, and you can almost drive just with your fingertips. Don't fight it or you'll jump out of the ruts and be ploughing your own path through softer sand.
Being smooth on the throttle also helps, as does looking a long way down the beach for any potential hazards. If you spot something, you want to be able to brake gently and get all the braking out of the way before the hazard, giving the suspension time to settle.
Beach water tributaries are something you need to look out for. You'll notice water running from the tree line and into the ocean.
These can form sharp gutters, and you really don't want to be hitting these at speed. Slow right down and gently traverse the water. Windows up at this point is also recommended.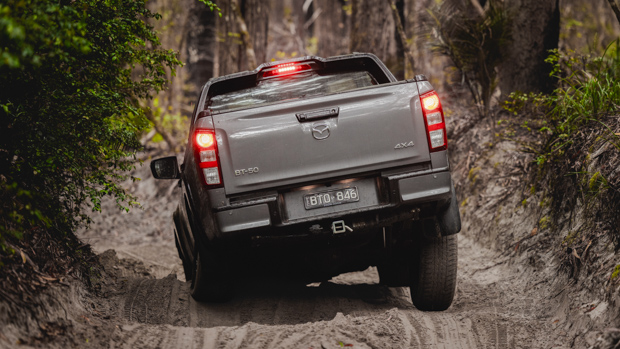 Momentum is key, so try to maintain it through any obstacle. If you come to a deeper water crossing, try to watch a vehicle ahead of you traverse it to see how deep it is.
When going through, drop to around 8km/h, maintain speed and try to push a little bow wave out in front. You may suffer a bent front license plate, so make sure to check after you've dunked your 4×4.
Seating and mirror position helps visibility. Raise your seat higher than usual so you get a better view of where your vehicle's front end is, and to spot any obstacles, be they deep ruts, a tree stump or body-bashing rock.
A higher seat also helps you better see out of the side windows. Don't go up too high though. If you hit a decent sized bump, it's not much fun cracking your head on the ceiling.
Tilt your side mirrors down a bit too to better see where your wheels are placed.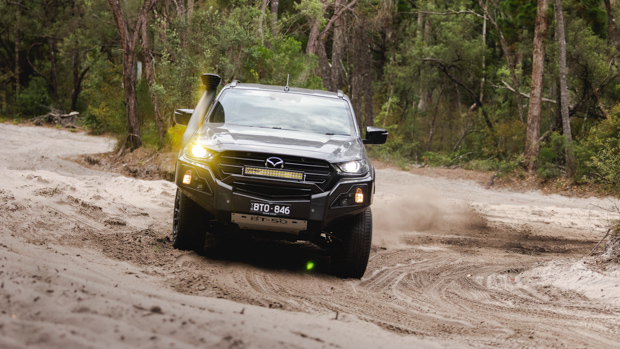 Most of these sand driving days involve many hours in the saddle. If you can stay relaxed and not tense, you'll feel a damn sight better afterwards for your post-jaunt cold one.
A wide-leg stance in the driver's seat means you're locking on your larger muscle groups to brace yourself.
On certain bits of track you do get thrown around somewhat, so if you're braced by your lower half, rather than your arms through the steering wheel, it's less fatiguing.
Another tip is to anchor your heel on the footwell floor and pivot between the accelerator and brake. This helps give smoother, less jerky pedal inputs. You can also try taking your back off the seat back, giving your body more of a break from the rock and rolling.
If you get stuck
Don't panic. It happens to the best of us. Key is you've brought your snatch strap, shovel and recovery boards, right? Even if you haven't – and it would be mad not to – the off-road community tend to be a helpful bunch and will come to most folks' rescue.
But do not count on this. You could get bogged in a remote place and you'll be in a right pickle.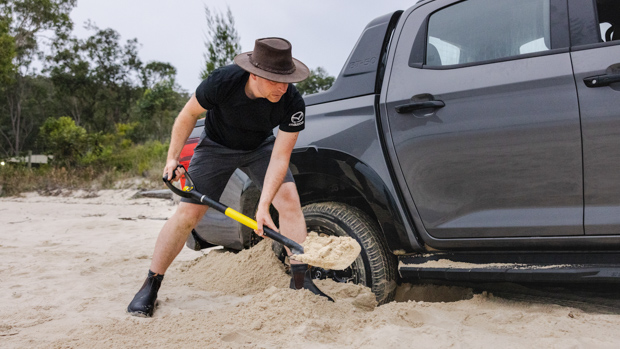 Use your shovel to clear sand from in front of and behind the tyres, and from any part of your underside that may be on the soft stuff.
You can drop tyre pressures further at this point, even down to 10psi, but this is only recommended if you have a compressor with you to raise them again once free.
Move into low-range (4L) and you can try to rock yourself out by gently moving forwards and backwards in Drive and Reverse. Gentle on the throttle, try not to spin the wheels and hopefully you'll compress enough sand to give you a firmer footing to free yourself from your sandy confines.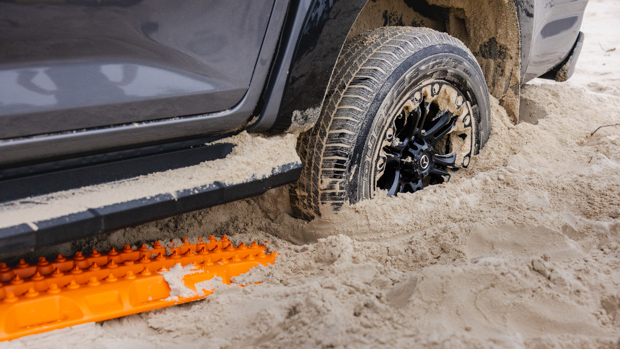 No luck? Grab those recovery boards. Clear the sand from around the tyres again (you can use the recovery boards to help with this by the way) and make enough of a hole so the boards can slot under part of the tyres.
Make sure the boards are up the correct way (it'll say on them) and with Drive engaged you should hopefully be able to get instant traction on them and drive straight out. Again, avoid wheelspin as this will damage the boards.
Still no joy? That snatch strap attached to a friendly fellow 4x4er is your next move. Attach them to proper anchor/recovery points – not the tow bar.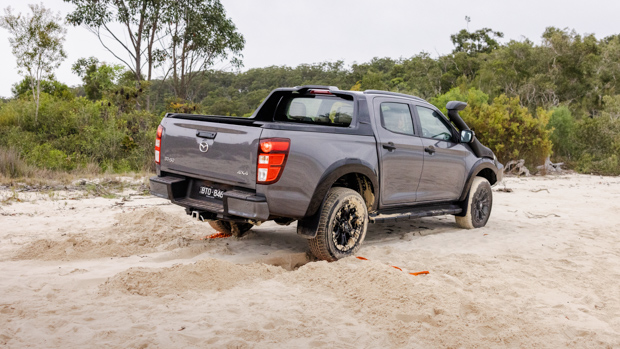 Make sure there's some slack in the strap before attaching it to the rescue vehicle, and place the supplied strap damper over the snatch strap's middle – should the strap break, this minimises any danger.
The rescue vehicle should accelerate, but not too hard, in a straight line, the snatch strap will stretch and the vehicle being rescued will get a decent pull to dislodge it.
At this point, the stuck vehicle's driver should be on the throttle, helping the process. Of course, be ready on the brake just in case you fly forward too quickly.
The Mazda BT-50's next-level kit
As previously mentioned, so capable is the modern 4×4 ute and ute-based SUV that you can traverse some incredibly testing tracks with the only modification being dropping those tyre pressures.
If you plan to off-road more regularly or on something more hardcore, car manufacturers offer a range of accessories to improve abilities, protection and, let's be honest, rugged good looks.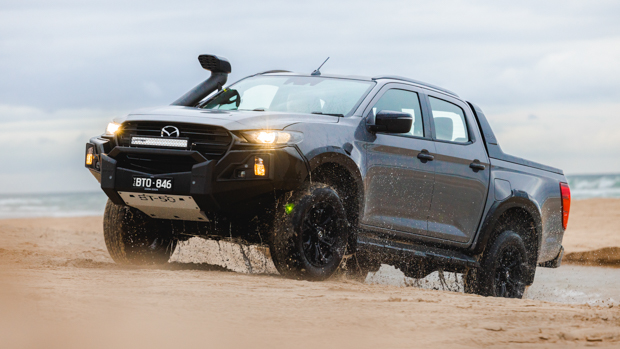 Our trip was made all the more pleasant as our steed was the Mazda BT-50 GT ($60,390 plus on-roads) with its heated power leather seats with memory foam, dual zone climate control and punchy and remarkably under-stressed 140kW/450Nm 3.0-litre turbo-diesel four-cylinder engine.
It also totally looked the business with its fitted Ultimate Pack. Not cheap at $15,615, but included are bullbar, snorkel, sidesteps, black alloys, Lightforce lightbar and – this is key – locally developed ARB BP-51 suspension upgrade.
The latter's on offer as a standalone product for $6720, and features nitrogen-filled dampers with a remote reservoir, that are manually adjustable for both compression and rebound. It's adjustable by using a provided c-spanner.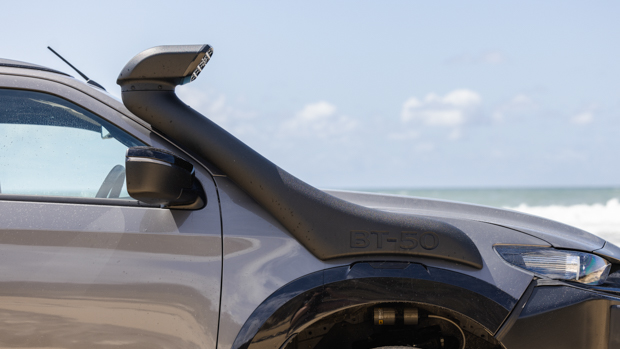 These allow you to stiffen the BT-50's ride for a sportier, less bouncy ride when on the road with an empty tray; for off-roading you can try a little less rebound front and rear, while towing folk can add more compression at the rear with a little extra rebound, while a bit more rebound up front helps stop any porpoising caused by the trailer.
While we didn't have the opportunity to test it in all these circumstances, the off-road ride was impressively compliant, best gauged by how refreshed we felt at day's end.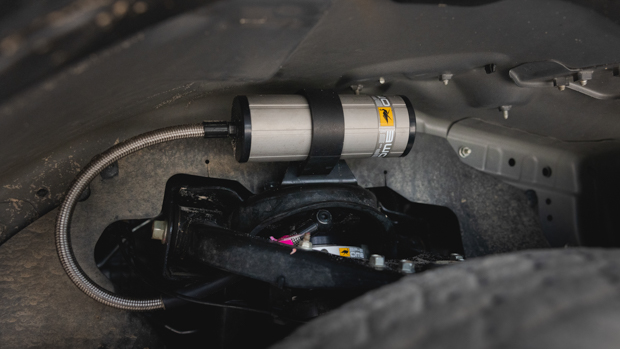 Speaking to the off-roading experts on our trip, they said for their type of use (regular off-roading combined with long on-road trips) this upgraded suspension would be a non-negotiable fitment.
Such Mazda Genuine accessories, when fitted at time of the BT-50's purchase, are covered by Mazda's five-year/unlimited kilometre warranty. This is a decent score as the majority of aftermarket parts are typically covered for only two years.
Journey's end, happy campers
The fancy accessories are nice to have, but they're not a necessity to travel somewhere like K'gari Fraser Island. And really, if you have the type of vehicle able to do so, it's a life experience you'd be mad to miss.
There's proper freedom on offer; the chance to go at your own pace with a self-driving adventure.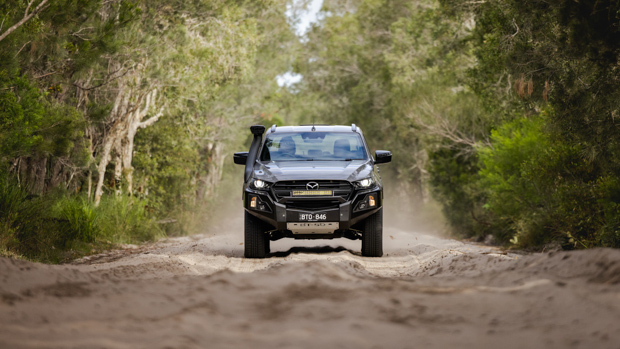 On K'garai Fraser, that means bushwalks, shipwrecks, dingoes, champagne pools and the white sand and sparkly water of the Insta-favourite Lake McKenzie.
And, above all, it'll remind you there's a life beyond clogged city streets for your highly capable 4×4.