Pricing has been announced for the updated 2022 Mazda BT-50 model range, which goes on sale in January.
A new entry-level 1.9-litre turbo-diesel powertrain has been added, as well as new XS and SP trim levels. The XS now opens the BT-50 line-up while the sports-flavoured SP sits above the existing GT trim level.
Prices start at $38,490 for the 4×2 single cab and stretch to the flagship Thunder 4×4 dual-cab automatic which is available from $68,990 driveaway.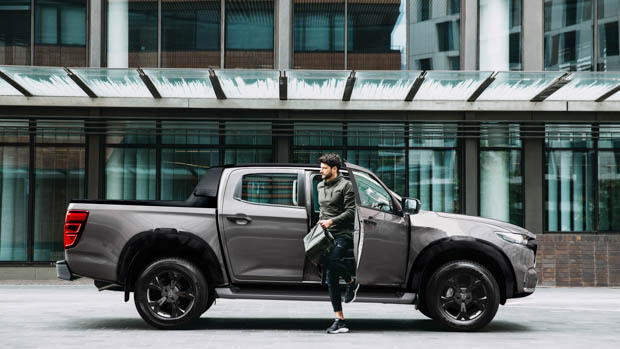 BT-50 SP costs $62,990 driveaway for the dual-cab manual 4×4 and $65,990 driveaway for the automatic.
New SP grade
The BT-50 ute is the next model in Mazda's range to receive the SP treatment, consisting of a black and grey exterior package that gives the ute a sporty appearance. 
Gloss-black decorates the exterior mirrors, door handles, grille, sports bar, wheelarch flares and 18-inch alloy wheels, while the roof rails, sidesteps and other details are finished in grey.
The interior gains black and driftwood leather with a synthetic suede trim.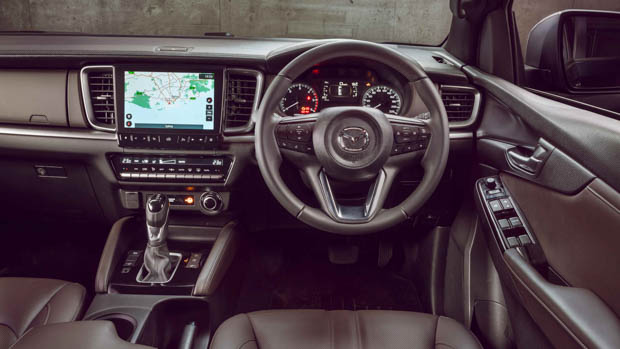 BT-50 XS
The BT-50 XS is the new entry-level model for the range featuring a new 1.9-litre turbo-diesel four-cylinder engine that produces 110kW of power and 350Nm of torque.
It's available in three configurations: 4×2 single cab, 4×2 dual cab and 4×4 dual cab.
Specification
The 2022 Mazda BT-50 has an impressive standard specification which includes LED headlamps, cruise control (adaptive for automatics), a 7.0-inch touchscreen, wireless Apple CarPlay and wired Android Auto, DAB digital radio and a reversing camera.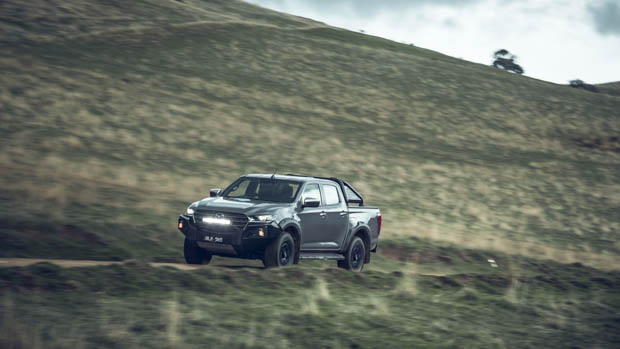 Safety tech includes six airbags, attention assist, auto high-beam, front AEB, blind-spot monitoring, lane-holding assistance, and lane-departure warning.
Lane keep assist (auto only), rear cross traffic alert, rear parking sensors, roll-over protection, speed assist and secondary collision reduction are also included as standard.
Mazda BT-50 2022: prices in Australia
All prices listed are driveaway.
XS single cab chassis 4×2 auto: $38,490*
XS dual cab pickup 4×2 auto: $43,490*
XS dual cab pickup 4×4 auto: $51,490*
XT single cab 4×2 auto: $40,490
XT freestyle cab 4×2 auto: $43,990
XT dual cab 4×2 auto: $47,490
XT dual cab pickup 4×2 auto: $45,990
XTR dual cab pickup 4×2 auto: $48,990
XT single cab 4×4 manual: $45,490
XT single cab 4×4 auto: $47,990
XT freestyle cab 4×4 manual: $48,990
XT freestyle cab 4×4 auto: $51,490
XT dual cab 4×4 manual: $52,490
XT dual cab 4×4 auto: $54,990
XTR dual cab 4×4 auto: $57,990
XT dual cab pickup 4×4 manual: $50,990
XT dual cab pickup 4×4 auto: $53,490
XTR dual cab pickup 4×4 manual: $53,990
XTR dual cab pickup 4×4 auto: $56,490
GT dual cab pickup 4×4 manual: $56,990
GT dual cab pickup 4×4 auto: $59,990
SP dual cab pickup 4×4 manual: $62,990
SP dual cab pickup 4×4 auto: $65,990
Thunder dual cab pickup 4×4 manual: $65,990
Thunder dual cab pickup 4×4 auto: $68,990
* Driveaway pricing for ABN buyers only