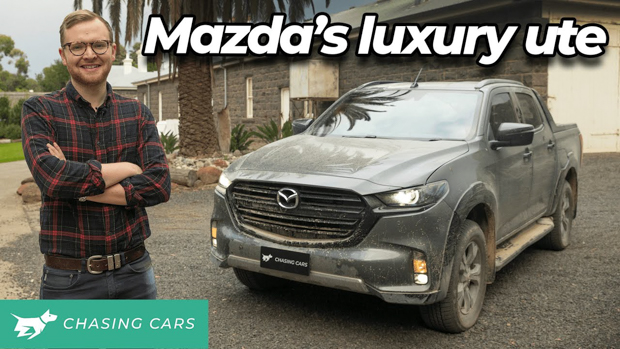 Mazda's decision to partner with Isuzu for the development of its third-generation BT-50 ute family is one that is paying dividends. The model has experienced record sales in recent months and Mazda is eyeing ambitious sales growth in the ute segment this year – so it's introducing a number of new models to the BT-50 lineup.
The new models more or less top-and-tail the BT-50 lineup, gifting the range its first 1.9-litre variant in a new XS base trim, plus the 2022 BT-50 SP tested here that sits one rung beneath the kitted-out Thunder ute.
Slotting in as a premium variant in the BT-50 lineup, introducing a new 'driftwood' two-tone leather interior and blacking out the chrome grille and mirrors, plus the pumped wheel arches (previously grey), the SP commands a correspondingly high-end price tag of $62,990 driveaway with a six-speed manual while the tested six-speed auto costs $3000 more.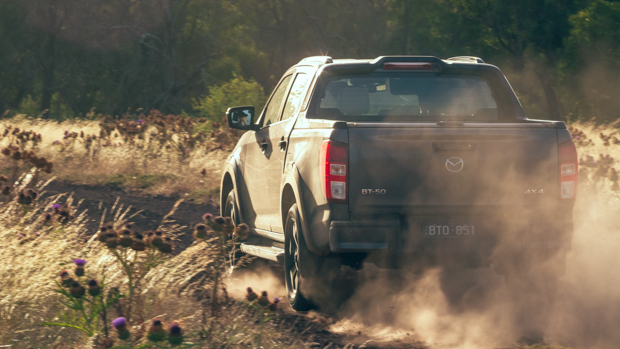 Mazda says the BT-50 SP competes with the Ford Ranger Wildtrak, though Ford's outgoing PX Mk III – due to be replaced imminently with the revamped T6.2 Ranger with V6 power – costs about $8000 more than the Mazda at $73,537 driveaway. Likewise, the Toyota Hilux Rogue ($75,972 driveaway) is a key target.
How does the BT-50 SP drive?
A major shift occurred in 2020 when Mazda ditched its ute-building alliance with Ford to switch allegiances to Japanese commercial vehicle specialist Isuzu.
The third-generation BT-50 is, mechanically-speaking, a badge-engineering exercise: Mazda is not bashful about the fact that Isuzu builds the vehicle and was responsible for the powertrain, ride, handling – in fact all of the dynamics are shared with the D-Max.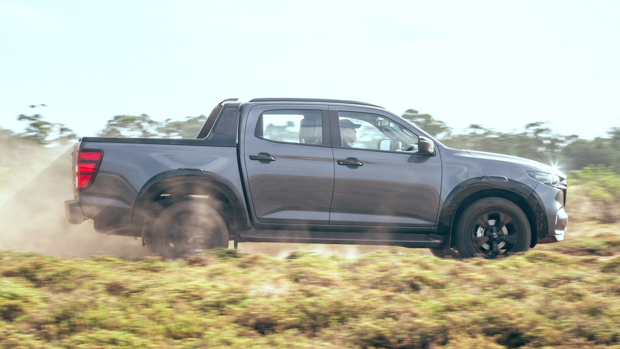 In Australia, that's a boon for Mazda. Here, the Isuzu D-Max is known in ute-owning circles as one of the more durable options in the segment, backed up by a long-lasting and reliable 3.0-litre turbo diesel engine that was upgraded in 2020 to 140kW of power and 450Nm of torque.
That engine is shared by the BT-50, along with a choice of a six-speed manual gearbox or six-speed automatic transmission – and a choice of 4×2 or 4×4 drivelines. A new 1.9-litre unit with 110kW/350Nm has been introduced for the XS base model but the SP exclusively runs the 3.0-litre with 4×4.
Our test car's three-litre, four-by-four automatic setup makes for easy motoring, with good step-off and a strong surge of torque in a broad band. The six-speed auto is pretty smart, and well-calibrated, delivering smooth shifts at the right time. There are no paddles but you can manually shift using a +/- gate on the traditional shifter.
Like most engines in the dual-cab segment, bar the Amarok's SUV-derived 3.0-litre V6, the BT-50's motor is somewhat agricultural, though refinement was improved considerably on these vehicles over and above the old D-Max.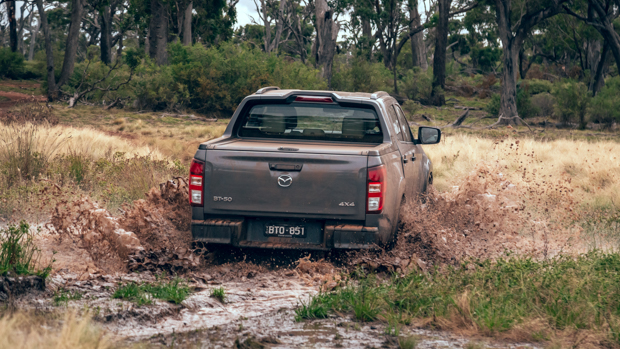 Unlike the Amarok, Triton and GWM Cannon, though, the BT-50 cannot be run in four-high on the road, meaning you do get a bit of enthusiastic wheelspin from the rears if you're turning out of an intersection with verve.
Switching into 4H is simple enough on a gravel track while four-low engages within seconds from a stop. We tackled some moderate trails in Victoria's Lerderderg State Park, where the Mazda impressed with its tractability – and traction, even on standard highway-terrain rubber.
Back on the road, we noted the BT-50's decently quick steering (for a ute), delivered through an attractively small steering wheel that means it doesn't feel like a truck. Body control is reasonable and you can pilot this ute down a country road at 100km/h with good levels of confidence.
In town the suspension is fairly settled, even when unladen – though we were able to sample a BT-50 equipped with the rare dealer-installed adjustable damper upgrade that costs the best part of $7000 fitted.
Available in 0-300kg and 300-600kg sets, this accessory really transforms the ride to deliver one of the most comfortable experiences of any ute, perhaps bar the Fox-shocked Ford Ranger FX4 Max and Raptor and the Nissan Navara Warrior. It's pricey but for some, it will make sense.
Brake feel is a little spongey with long pedal travel but we were able to initiate a couple of strong stops from 100km/h without too much trouble.
Visibility out of this ute is strong with a conventional glass-house and large mirrors equipped with blind spot monitoring as standard across the range.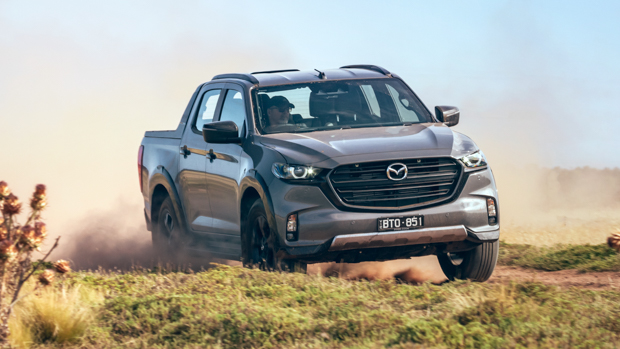 Safety is a strong suit of the BT-50, which achieved a tough five-star ANCAP rating on the agency's 2020 protocol. Autonomous emergency braking is standard, as is smooth adaptive cruise control and lane keep assist – though the latter feature could tack more strongly to the centre of the lane.
Some of the safety technologies remain overzealous – like the beeping when the speed limit is exceeded by even 1km/h, whether the traffic sign recognition has correctly read the sign or not. This can be deactivated by sub-menus, but pleasingly, the lane-keeping aid can now (from 2022) be turned off by holding a button on the steering wheel.
How is the BT-50 SP's interior?
You can pick a BT-50 SP from its interesting interior colour combination that blends dark grey and 'driftwood' beige leather across the comfortable, highly-bolstered seats.
The driftwood finish also extends to the dashboard and part of the doors, completing the look and proving that despite the BT-50 sitting on the D-Max platform, Mazda has reasonably high levels of customisation available to them from the factory.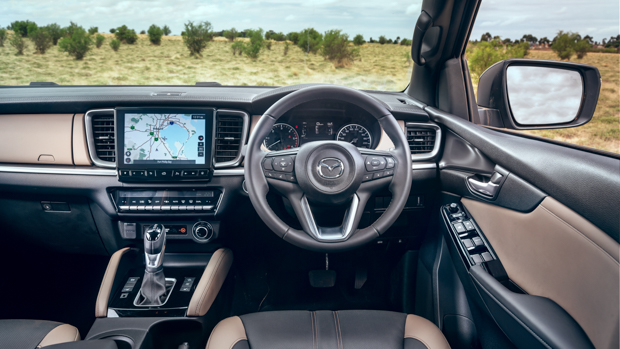 This colour scheme won't be for everybody – some will prefer the brown of the BT-50 GT or the burgundy of the BT-50 Thunder … or black cloth, on lower models – but we quite liked the handsome scheme in the SP.
More importantly than colour is the fact that this ute's front seats are really comfortable, with higher amounts of back and torso support than most rivals. The driver's seat is electrically adjustable, while both front pews are heated too. Cooling would be even better for a hot country like Australia.
It's roomy in the back, too, though like all dual cabs row two feels like a compromise; as a family vehicle you're better with one of Mazda's 6 wagon or CX-8 or CX-9 SUV, but if the back seat will only be used occasionally, it's quite roomy.
On the tech front, there's a solid 9.0-inch touchscreen on the BT-50 SP running Isuzu's software – a giveaway that this isn't a totally cohesive Mazda product. The software is a weak point, with chunky and unsophisticated graphics.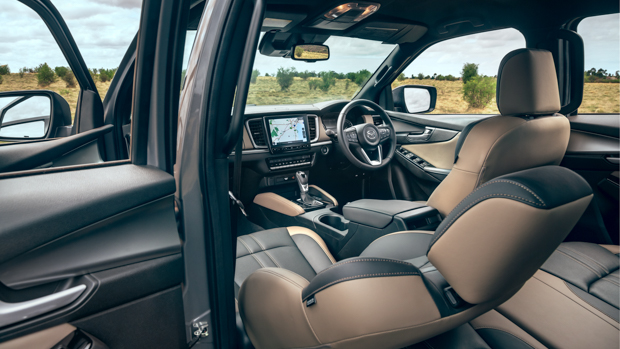 Thankfully, you can bypass the integrated software entirely because every BT-50 has wireless Apple CarPlay and Android Auto, while the stock stereo system is more than acceptable.
Finish and quality is in the upper-third of utes. As you'd expect, there are plenty of hard surfaces – normal for a durable work vehicle – but you do get a soft, faux-stitched dash topper and on the whole, the build of this ute felt good even after subjecting it to plenty of corrugations.
What are the BT-50 SP's running costs?
Like every Mazda vehicle the BT-50 is covered by a five year warranty with unlimited kilometres – this is now quite standard for the car industry in Australia.
Scheduled maintenance for this ute occurs every 12 months or 15,000km, and each visit is capped by Mazda.
The first five services are capped at $421, $394, $679, $500 and $314 respectively, for a five year/75,000km scheduled maintenance cost of $2308.
By contrast, a Hilux requires servicing every six months/10,000km – less convenient intervals than the Mazda. Three years/60,000km of servicing for the Toyota costs $1560.
We recorded acceptable fuel consumption of about 9.0L/100km across mixed driving with the BT-50. Over two days we drove a few hundred kilometres, taking in slow off-roading, gravel tracks, high-speed country roads and a shorter stint in the suburbs outside Melbourne.
The final verdict
While pick-ups (as a whole segment) still trail their SUV counterparts by a noticeable margin when it comes to comfort and refinement, the Mazda BT-50 is a convincing premium option among dual-cab utes.
The blacked-out exterior suits the shape of the vehicle, while the two-tone leather interior gives the Mazda BT-50 a lift when compared to a sea of grey-trimmed Hiluxes, Rangers and Navaras on Australian roads.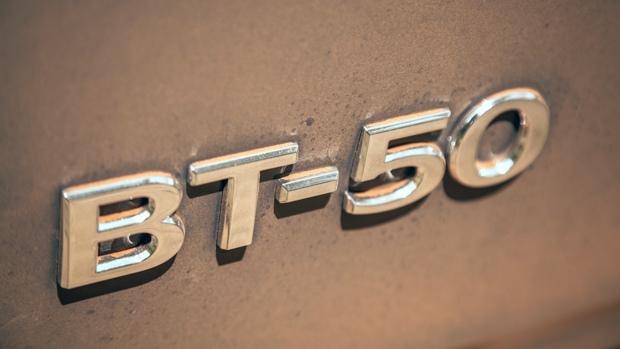 Any assertion the BT-50 is a 'soft' ute quickly disappears when taking it off-road, though, as the luxe-focussed SP is remarkably capable even in stock form on moderate trails. Light modification, starting with a subtle lift and all-terrain tyres, would quickly improve it even further.
Those seeking ultimate comfort in a dual-cab would do well to consider Mazda's dealer-fit suspension upgrade, despite its high cost.
But for the business or private buyer wanting a rugged vehicle that has a bit more sophistication to it than most, the BT-50 SP is a good fit.