Mazda's all-new BT-50 range has expanded, the new ute now offers broader choice with both Single Cab and Freestyle Cab options added to mirror the Isuzu D-Max sister car.
The price of entry drops to $36,550 for the BT-50 XT Single Cab Chassis, though with a genuine alloy tray that climbs to $43,191 on the road.
To make the BT-50 more affordable for small business and fleet operators, Mazda is offering special pricing for ABN holders. The entry-level XT then starts at $39,990 with an alloy tray which is pretty competitive given that every BT-50 grade scores five stars in the 2020 ANCAP test.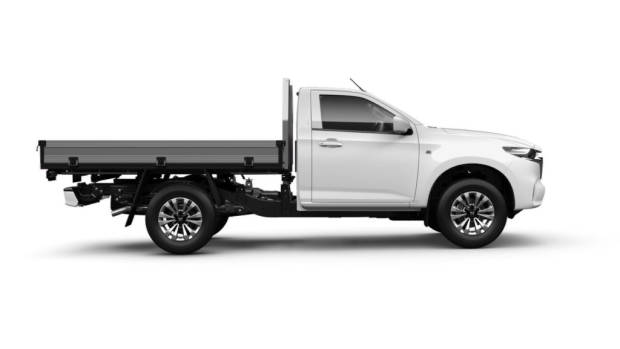 With that angular alloy tray, we reckon the new BT-50 looks purposeful and just different enough from the D-Max that it makes a real case for itself. Inside things look fantastic, the BT-50 benefitting from Mazda's renewed premium philosophy with attractive and contemporary design in place of the previous workmanlike cabin.
Pretty much every safety feature you could ever want on a ute is fitted from base model rear-wheel drive BT-50 up. That means AEB with pedestrian and cyclist detection, lane-keep assist, blind-spot monitoring, adaptive cruise control, eight airbags and rear cross-traffic alert grace the specification list.
Where the previous generation BT-50 offered more engine choice, the new vehicle makes do with a sole Isuzu-sourced unit. The updated 4JJ3 three-litre engine, famed for its reliability in its previous iteration, packs a little less power and torque – 140kW and 450Nm – than the last ford sourced 3.2-litre five-cylinder, but plenty more than the lowly 2.2-litre 'four.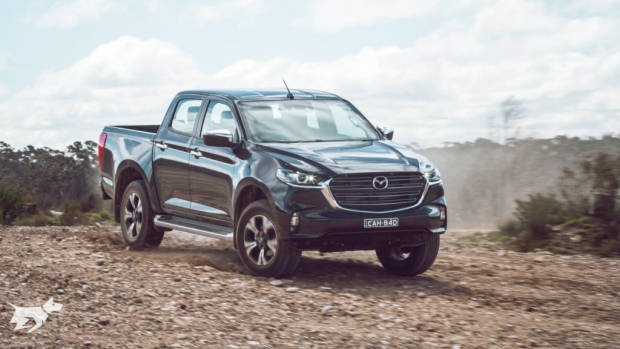 Combined with a six-speed torque-converter automatic, the new BT-50 is more efficient returning a claimed 8L/100km where the previous motor claimed 8.9L/100km.
The lighter weight of the alloy tray means that the maximum payload increases. The lowest rated is the 4×2 Freestyle Cab at 1,120kg, the highest the Single Cab 4×4 rated up to 1,186kg. Towing capacity remains capped at 3,500kg as with the Dual Cab BT-50. The wheelbase remains identical at 3,125mm for all BT-50s, though.
Single and Freestyle Cab BT-50s are available only in base XT guise – though the Single Cab Chassis costs $7,540 less than the equivalent dual-cab. That spec is at least generous, with a seven-inch touchscreen, wireless Apple CarPlay, DAB radio, cloth seats, air conditioning, 17-inch alloy wheels and LED headlights alongside the active safety kit for $36,550. For a 'base model' ute, then, the BT-50 is well sorted for equipment.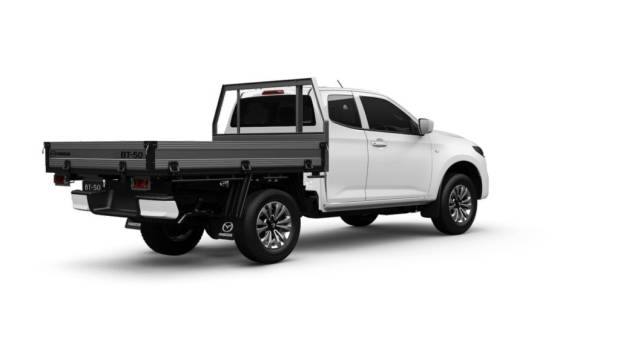 The most affordable 'Freestyle Cab' (Mazda speak for Space Cab) BT-50 starts from $40,050. ABN holders benefit from a tray included for $43,490. The tray alone lists for $2,470 for the Single Cab or $2,300 for the Freestyle Cab.
Those who want to use the BT-50 for off-roading will need to shell out at least an extra $5,000 for the XT 4×4 Manual Single Cab Chassis starting at $41,550. The Automatic gearbox adds a further $2,500 on top. Mazda's broader BT-50 range is on sale now.
2021 Mazda BT-50 Pricing
Below: $ list price ($ Driveaway price for ABN holder inc. tray)
BT-50 XT Single Cab 4×2 Auto – $36,550 ($39,990)
BT-50 XT Freestyle Cab 4×2 Auto – $40,050 ($43,490)
BT-50 XT Single Cab 4×4 Manual – $41,550 ($44,990)
BT-50 XT Single Cab 4×4 Auto – $44,050 ($47,490)
BT-50 XT Freestyle Cab 4×4 Manual – $45,050 ($48,490)
BT-50 XT Freestyle Cab 4×4 Auto – $47,550 ($50,990)