Mazda has confirmed pricing for the all-new and rather attractive Mazda BT-50 along with further details of the Australian range ahead of the on-sale date of the 1st of October.
Priced from $44,090 before on-road costs, the BT-50 starts at a higher price-point than the closely related Isuzu D-Max, and also the outgoing Ford Ranger based BT-50, which started at $29,060.
That is partly because Mazda has restricted its range to dual-cab models only, targeting the upper-end of the ute market here in Australia.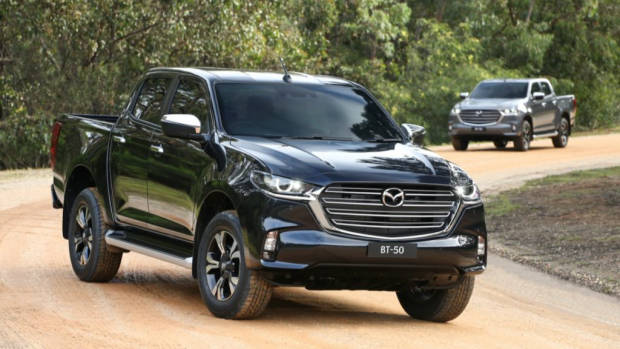 But it's also because Mazda is touting the new BT-50 as a far more refined vehicle; that's clear from a bulging list of safety features, the all-new platform and three-litre engine – all shared with the D-Max – and a premium look and feel on the inside. Watch our video for a full overview of the new BT-50's interior and exterior here.
Naturally, though, the BT-50 retains the selling points of any dual-cab. Those being 3,500kg towing capacity and a payload above 1,000kg across the range.
Engine choice has shrunk from two to one; a three-litre turbodiesel four-cylinder with outputs of 140kW and 450Nm. Keen readers will know those outputs are down by 7kW and 20Nm over the outgoing 3.2-litre diesel – though this new engine's claimed reliability and increased refinement should go some way to satiating customers.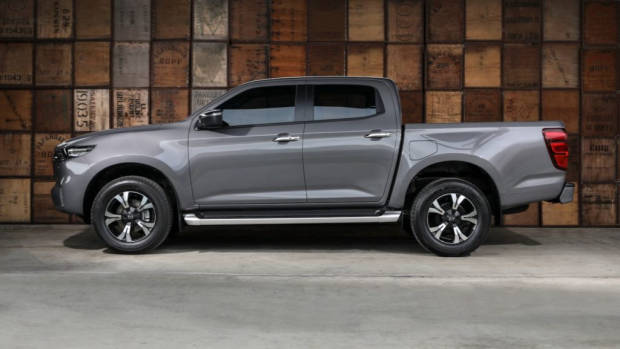 While single cabs and space cabs are gone, the BT-50 is available in both 4×2 and 4×4 configurations. Available is a choice of a six-speed manual or the same number of ratios from a torque-converter automatic for $2,500 more.
Mazda has retained their straightforward line-up which now starts with the rear-wheel-drive BT-50 XT which is auto only. It's available in several permutations, the most affordable being the cab chassis for $44,090.
Specification-wise the XT does well with a seven-inch touchscreen, wireless Apple CarPlay, LED headlights, 17-inch alloy wheels and DAB. As for safety, the XT gets it all – AEB with cyclist detection, adaptive cruise control, rear cross-traffic alert, lane-keep assist and blind-spot monitoring.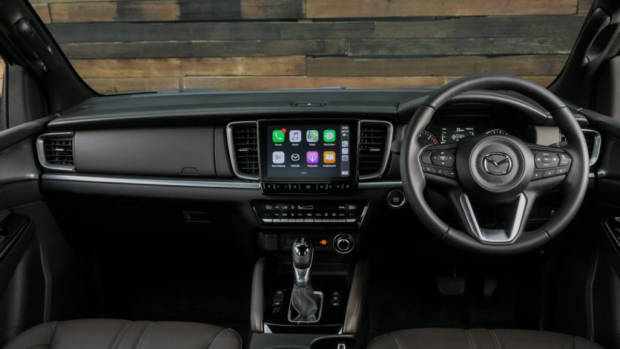 A 4×4 model with a locking rear differential, switchable low-and-high transfer case, and a manual gearbox adds $5,270 to the price of the 4×2 XT, for an asking price of $49,360. Opting for a pick-up bed instead of a chassis adds a further $1,400 to the ask.
The mid-spec BT-50 XTR adds some luxury features like LED foglights, larger nine-inch touchscreen, keyless entry, dual-zone climate control with rear air-vents, and leather-appointed steering wheel and gearknob.
For $49,470 the 4×2 XTR offers decent value, though with all-wheel-drive and an automatic 'box the price rises to $57,210 – though that does include the pick-up tray.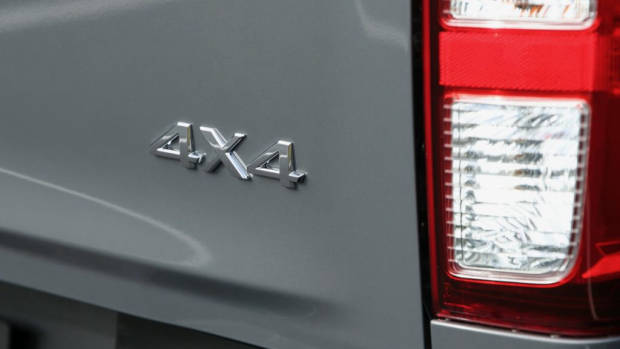 Sitting atop the range is the BT-50 GT; distinguished by fetching brown leather upholstery, heated front seats with eight-way power adjustment for the driver, keyless entry with remote start and heated, chrome appointed side mirrors.
Pricing for the top-of-the-line GT with an automatic transmission is $59,990 – line ball with the D-Max LS-U, though no D-Max grade is available with the heated seats the BT-50 offers.
Mazda hasn't outlined promotional driveaway pricing for the BT-50, but if the interior quality is closer to a top-trim CX-9 than a D-Max those looking for a truly easy-to-live-with dual-cab will find it hard to go past the Mazda.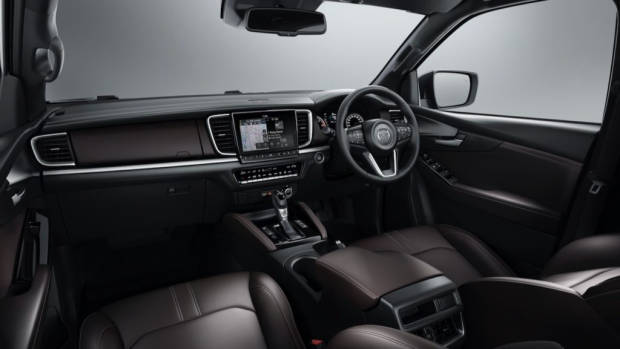 Vinesh Bhindi, Mazda Australia Managing Director, is very optimistic about the sales of the BT-50: "our dealers are stocked with Brand-New Mazda BT-50 Dual Cabs, and we are very excited to showcase this new Ute to the local market".
Mazda BT-50 sales will begin on the 1st of October, and we'll have a full road-test soon.
2021 Mazda BT-50 Pricing
All prices are before on-road costs
BT-50 XT 4×2 Chassis Auto – $44,090
BT-50 XT 4×2 Pickup Auto – $45,490
BT-50 XTR 4×2 Chassis Auto – $49,470
BT-50 XT 4×4 Chassis Manual – $49,360
BT-50 XT 4×4 Chassis Auto – $51,860
BT-50 XT 4×4 Pickup Manual – $50,760
BT-50 XT 4×4 Pickup Auto – $53,260
BT-50 XTR 4×4 Pickup Manual – $54,710
BT-50 XTR 4×4 Pickup Auto – $57,210
BT-50 GT 4×4 Pickup Manual – $56,990
BT-50 GT 4×4 Pickup Auto – $59,990