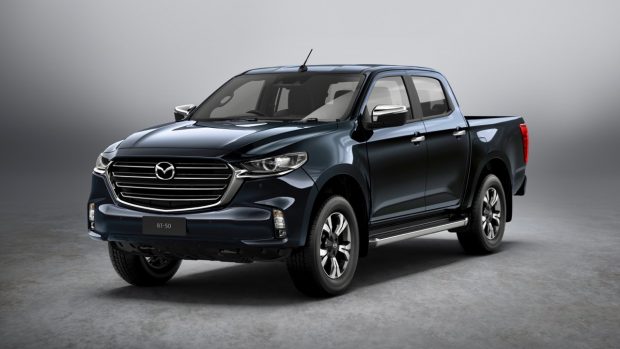 After teasing the vehicle's silhouette and headlights last week, Japanese manufacturer Mazda this morning revealed the new, second-generation BT-50 utility that will be released in Australia, and other world markets, in late 2020. Designed in Japan and built in Thailand, the new BT-50 was informed by Australian preferences and customer feedback – appropriate to our lead market status for this Mazda commercial vehicle.
Confirming widely-held speculation, and in a definitive break in this utility's history, the new Mazda BT-50 is based on the same platform as the new Isuzu D-Max, and will share that vehicle's renowned turbo diesel engine. That change, along with other leaps in technology, safety and economy, will be welcome news for fans of Mazda's ute in Australia.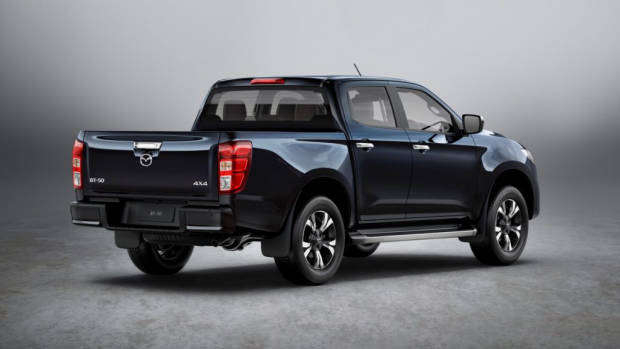 To be released before Christmas, the new BT-50 marks the first time in decades that Mazda has not collaborated in some way with Ford on a commercial vehicle for Australia. Ford completed its divestment in this Japanese brand in 2015, and Chasing Cars understands that the decision not to proceed with Ford – and to partner with Isuzu instead – was made around that time. It is known that Mazda and Isuzu, who have collaborated in the past, commenced development of this new ute platform together.
During the shared development of the new BT-50 and D-Max, it was understood that pick-up specialist Isuzu would have full control over the chassis and mechanicals of the pair, with Mazda granted more freedom than under the Ford Ranger programme to alter the design, both inside and out. The result is a ute that may well be considered a solid blend of tried and tested Isuzu components and Mazda's typically handsome aesthetics.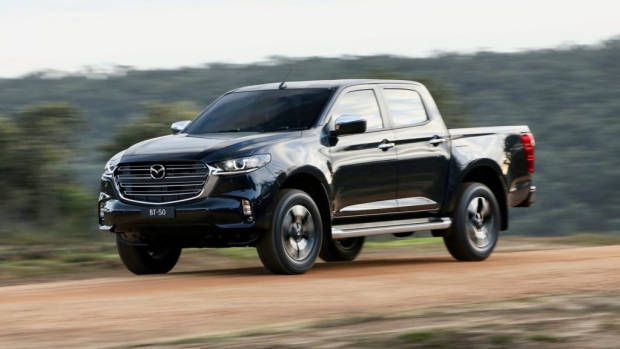 The new BT-50 will share the Isuzu D-Max's well-regarded powertrain, which substantially carries over from the outgoing D-Max. The new D-Max joins the new BT-50 in launching this year, and the pair will share an improved three-litre turbo diesel four-cylinder unit producing 140kW of power and 450Nm of torque.
While these outputs are modest decreases on the 147kW/470Nm produced by the BT-50's outgoing available 3.2-litre turbo diesel five-cylinder engine, shared with the Ford Ranger, Chasing Cars understands the new engine produces peak torque for longer. The previous shape made 470Nm in a narrow window, from 1,750-2,500rpm, while we understand the new car produces 450Nm across a more flexible 1,600-2,600rpm.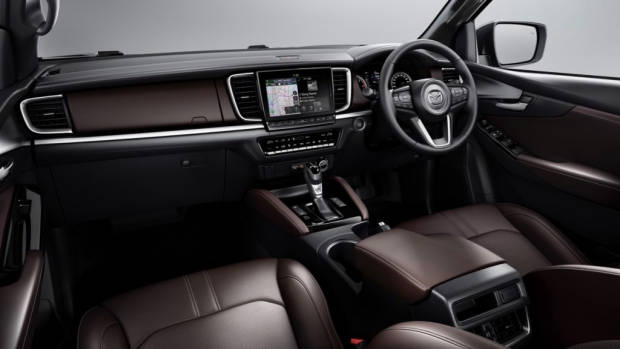 A choice of six-speed manual or six-speed automatic gearboxes is very likely. The new engine, combined with a number of other mechanical improvements, will lead to a 'significant' drop in fuel use for the new BT-50. Braked towing capacity will be unchanged, at 3,500kg, while Mazda says the payload for the new pick-up will be 'over 1,000kg'.
Mazda's clearest inputs on this project lie in the aesthetics of the new ute, which jump forward to match the brand's current crossover lineup. Unlike the previous BT-50, which was designed in Melbourne – where Ford's Ranger programme was based – the new vehicle was conceived and designed in Japan. That said, Mazda Australia had a seat at the table from the earliest stages.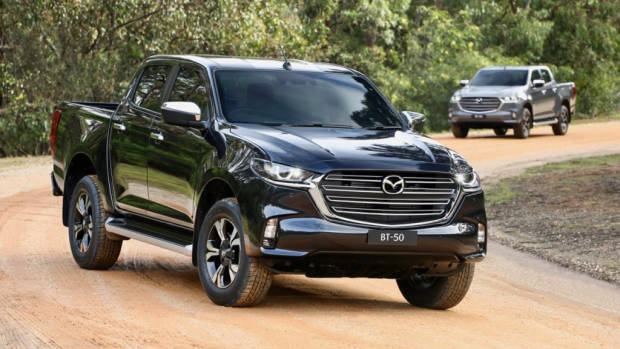 Standard LED headlights, underpinned by the brand's signature chrome 'wing' detail, flank a handsome, squared-off grille bearing Mazda's insignia. Similarities between the new BT-50 and Mazda's CX-9 large SUV are no coincidence: this ute was penned by the CX-9's chief designer. A prominent character line runs the full length of the BT-50's profile in a nod to Mazda's Kodo 'soul of motion' design language – albeit in a more rugged interpretation suitable to this segment.
Two colours will be exclusive to the BT-50, which will be built alongside the D-Max in Thailand. Gunblue Mica is a deep petrol blue, while Concrete Grey Mica introduces a flatter, battleship-esque hue to the lineup. However, as with the previous BT-50, Mazda's signature hue, Soul Red Crystal, will not be available due to constraints in supporting the more involved process of painting that shade.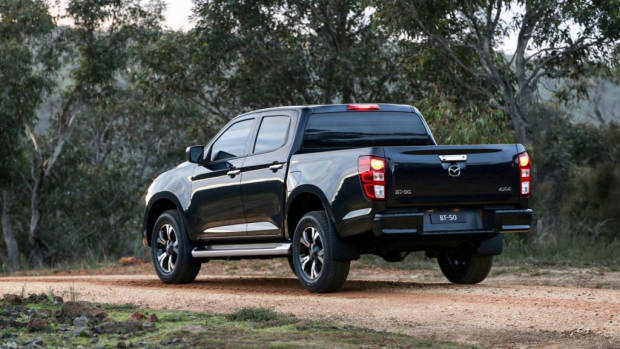 Inside, Mazda have worked within the hard points required by the shared platform to create an environment that is more distinctive to this brand. While numerous elements – the screens, dials, indicator stalks, and knobs – are shared with the Isuzu, Mazda have customised many aspects of the design – the dash shape, air vents, trim pieces and in particular, the steering wheel, to make the BT-50 feel more like one of this marque's crossovers.
These changes include the soft dark-brown heated leather seats with power adjustment for the driver, sported by the high-specification test car Chasing Cars sampled. The new BT-50 also provides substantial soft-touch surfacing on the dashboard and even lining the centre console. Metal-like trim pieces on the doors integrate tidily into the dashboard shape, linking to a design theme seen in Mazda's CX-5 and CX-9 SUVs.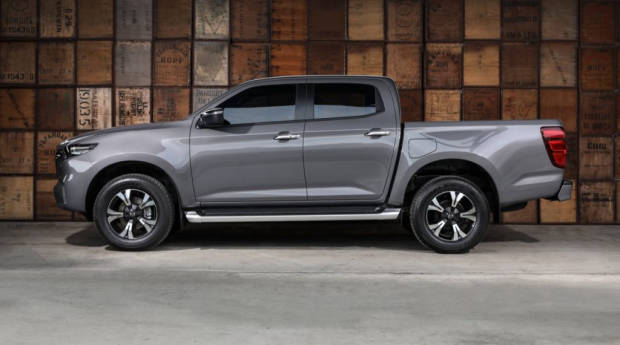 A large touchscreen is tightly integrated into the dashboard, and in a bold move, the BT-50 will offer segment-first wireless Apple CarPlay capability, along with wired Android Auto connectivity. Integrated navigation will also be available. The dials include a digital section between an analogue tachometer and speedometer.
On the safety front, Mazda will match platform partner Isuzu in standardising a number of advanced technologies across the new BT-50 range: this move is now critical for brands who desire a five-star safety rating from local testing body ANCAP. Included on every BT-50 for no extra cost will be forward-gear autonomous emergency braking, adaptive cruise control, lane keep assist, blind spot monitoring, and rear cross-traffic alert.
Mazda Australia will announce firmer timings on the arrival of the 2021 BT-50 ute for our market later this year – along with important details like the new grade lineup, pricing, and in-depth specifications. We'll be there to cover that information, as well as the first drive of this new pick-up, at a later date.