It's no coincidence that Australia's best-selling vehicles all have 5 star safety ratings. Along with in-car tech, low-cost maintenance, fuel economy and security features, safety is one of the most crucial factors influencing our car-buying decisions.
For more than a quarter of a century, ANCAP (the Australasian New Car Assessment Program) has produced independent safety ratings for a wide variety of new cars entering the Aussie and Kiwi market. These 0-5 star ratings are based on comprehensive crash testing criteria to determine safety performance across a broad range of impact scenarios under controlled conditions. If a car has a 5 star ANCAP rating, you can be assured it has met the highest standard in all ANCAP safety tests and is equipped with advanced safety assist technologies.
Used car safety ratings are also available. UCSR (Used Car Safety Ratings) was developed by the Monash University Research Centre and is based on vehicle crash statistics from Australia and New Zealand in which death or serious injury occurred. Data is collected to reflect a crash victim's relative risk of death or hospitalization due to a collision, with more stars equating to a lower risk.
One of the quirks of the UCRS rating system is that for a particular vehicle to be accurately rated, it must be involved in a substantial number of accidents. This means that fairly new or less popular makes and models may not even have a UCSR due to insufficient statistical information. You can check out the UCSR's handy online Buyer's Guide here.
While UCSR is primarily focused on driver protection, ANCAP provides information on crash dangers to drivers, pedestrians and front-seat passengers by comparing the relative safety of cars of similar size.[i]
These days, finding the safest new car is a simple matter of going to the ANCAP website, where you can check on the number of stars and the year of the rating. The year is important because the more recent the rating, the more stringent the safety testing. Testing gets tougher each year as safety technology becomes more advanced.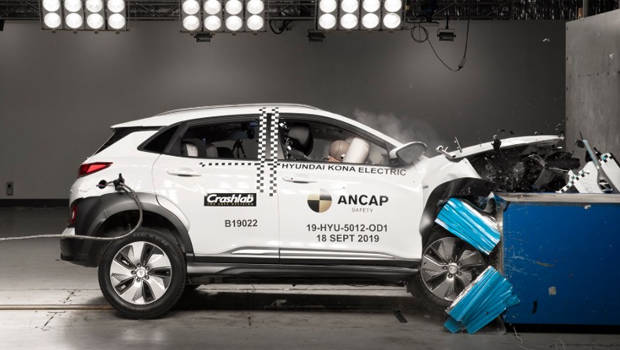 If safety is a major priority for you, your aim should be to buy the safest car you can afford that meets your needs – and has been safety-rated as recently as possible.
What are some of Australia's safest cars?
Our safest cars change from year to year but ANCAP's latest published list includes the following top ten performers by vehicle category (with safety assessment percentages included):
Medium car: Mercedes-Benz CLA (90.2%)
Large SUV: Tesla Model X (89.6%)
Small SUV: Lexus UX (89.0%)
Utility: Toyota Hilux (89.0%)
Medium SUV: Toyota RAV4 (88.6%)
Small car: Mazda 3 (88.4%)
People mover: Toyota Granvia (87.8%)
Van: Toyota HiAce (87.4%)
Light car: Audi A1 (86.6%)
Large car: Audi A7 (86.0%)[ii]
How are safety ratings for cars determined?
With UCSR, safety ratings are derived from the police-reported accident records of more than 8 million cars, with vehicle design, size, weight, safety features, who is driving and where they're going all factored into the calculations. Driver protection ratings take into account a range of variables including driver age and gender, speed limit at the accident location and more. Vehicles UCSR has identified as a 'Safer Pick' provide good driver protection and are statistically less likely to seriously injure pedestrians, other drivers, bicycle riders and motorcyclists in the event of a collision.[iii]
ANCAP's safety ratings for new cars are obtained through a serious of independent safety assessments and crash tests, including evaluations of active collision avoidance technologies and on board safety features and equipment. These tests are designed to accurately mimic the most common real-world crash scenarios, measuring the effect of various types of impact with dummies substituted for car occupants and pedestrians.
So, how big of a gap is there between a low-rated vehicle and one with a top-notch safety rating? Quite a lot, actually: research shows you have roughly twice the chance of being seriously injured or killed in a 3-star ANCAP safety-rated car compared to a 5-star.[iv]
Car safety ratings are no longer just about passive inclusions like seatbelts and airbags. They also take into account all the new collision-avoidance technology that has become standard in today's vehicles. Lane departure warnings, blind spot monitoring, electronic stability control, anti-lock braking systems, fatigue monitoring advances and other high-tech features are all added into the rigorous assessments.
One of the most important takeaways from perusing new and used car safety ratings is that there's little correlation between a vehicle's safety rating and its purchase price. There are plenty of safe, reliable, second-hand vehicles out there that are also quite affordable and the same can be said about many of our most in-demand new cars. You certainly don't need to break your budget to own one of the safest cars on the market.
---
[i] https://www.ancap.com.au/frequently-asked-questions
[ii] https://www.ancap.com.au/media-and-gallery/releases/top-performers-for-2019
[iii] https://www.monash.edu/__data/assets/pdf_file/0004/1956514/2019-UCSRs-brochure.pdf
[iv] https://www.finder.com.au/car-safety-ratings-guide#:~:text=The%20higher%20the%20ANCAP%20safety,star%20ANCAP%20safety%2Drated%20car.
Disclaimer: This information is general in nature only and does not constitute personal advice. While Chasing Cars has endeavoured to ensure the information we've relied on is accurate and current, we do not guarantee it and accept no liability for this information. Chasing Cars recommends you obtain specialist advice specific to your individual circumstances before purchasing any motor vehicle.