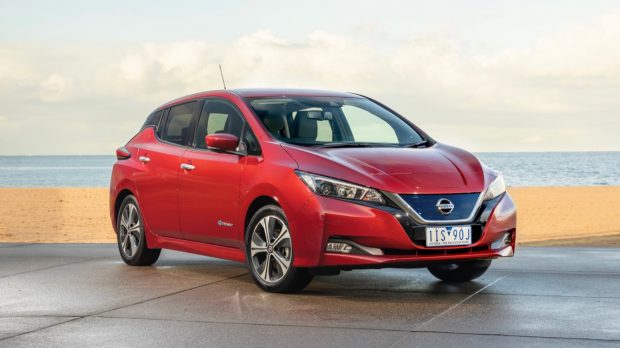 The 2019 Nissan Leaf is the first electric vehicle to reach a second generation in Australia – but new products from rival automakers mean the new Leaf returns to a more competitive EV market than the one it left.
Japanese carmaker Nissan was an early adopter of the mainstream electric vehicle. Wearing the cheerful and appropriate badge 'Leaf', the brand's first EV, launched overseas in 2010 and came to Australia, briefly, in 2012. The arrival of a new Leaf to market gives Nissan the honour of being the first manufacturer to follow-up an inaugural EV with a second generation.
However, for that accolade to mean something, lessons learned on the first rotation on the electric merry-go-round need to be incorporated into the new product. In the case of the 2019 Leaf, many have – but there are still some elementary lackings in this $49,990 ($54,714 driveaway) hatchback.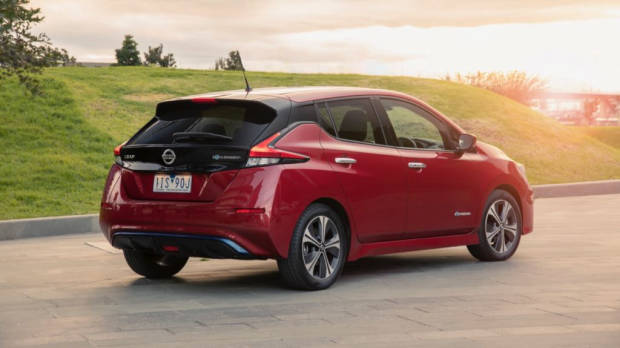 Fifty grand is a lot of coin, but it's important to remember at the outset that this is still 'affordable' territory for an EV. The biggest factor in the price is battery size, and the new Leaf ups capacity from just 24kWh on the first-gen 'ZE0', to 40kWh on this second-generation 'ZE1'. Range from the new battery pack is rated at 270km by relatively strict European standards.
By way of competition, the cheapest full electric car on the Australian market is the Hyundai Ioniq electric ($44,90, $48,949 driveaway), which uses a 28kWh battery offering 230km of range. The Leaf is specified a little more highly, so throwing $5,700-odd extra at the Nissan buys 40km of extra range plus a couple of additional mod-cons inside.
Hyundai also offer their Kona electric small SUV for $59,990 ($64,859 driveaway). The big difference in that car is its big 64kWh battery, which generates a more practical 450km of range. If you have a lot more to spend, American EV specialist Tesla have three options, though the lowest-cost Model 3 (from $70,349 driveaway for 386km range) is yet to appear on Australian roads.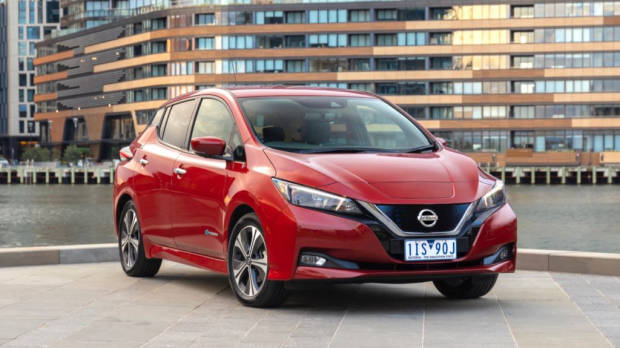 In other words, the new 270km-rated Nissan Leaf slots into the Australian market neatly between the two Hyundai siblings in both price and range. But where the two Koreans are available in liftback or SUV form factors, the Leaf is uniquely styled as a conventional hatchback.
That is a form factor that appeals to many Australians, and rightly so. Although it's quite a long thing – just shy of 4.5 metres from bumper to bumper – the rather narrow Leaf looks sensibly sized and, thanks to a big glasshouse and an excellent turning circle, it's particularly easy to manoeuvre around town.
Appropriately, the launch drive took in the CBD and suburbs of Melbourne, with Nissan readily conceding that this is where the lion's share of EV owners restrict their driving to. The average Australian driver – of any fuel type – travels about 30km per day, so about nine days of ordinary driving would be achievable with the Leaf's battery.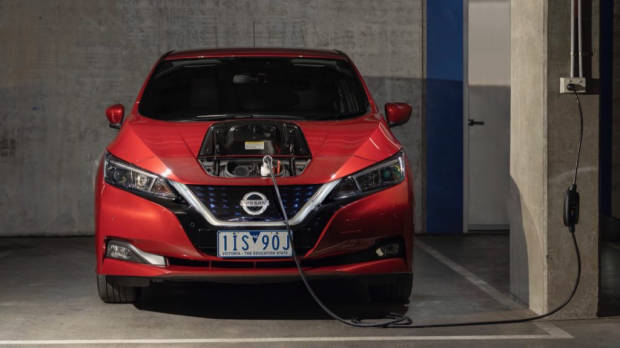 So, how do you charge it when the juice runs out? There are plenty of means. First, you can charge at home. A basic household power point will do the job in about 24 hours. Nissan can help organise an AC wallbox to be installed in your own garage for around $2,000 – these take 7.5 hours to charge the car, so it's doable overnight.
The other options are public. The 50kW chargers that are starting to appear in shopping centre car parks take about an hour to charge up the Leaf. In case you're wondering, tech that will charge EVs as quickly as you refill a petrol or diesel car at the bowser doesn't exist yet. You can use emerging 150kW DC public chargers, but the Leaf will still only charge at the slower 50kW rate.
Out on the road, the Leaf feels very much like a decent mainstream hatchback, albeit with the attached benefits of an electric powertrain. If it wasn't for the EV driveline you certainly wouldn't pay $50,000 for the Leaf: it rides and handles more like a $25,000 car than a fifty grand one. The suspension is firm but fairly compliant; the steering is mid-weighted and direct but not feelsome; road noise levels get loud rapidly as the speed builds. This is not premium motoring.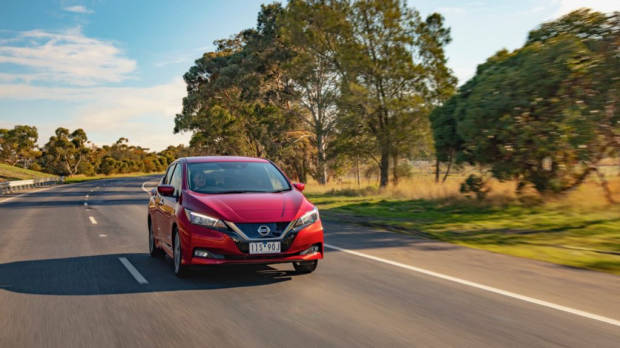 However, that analysis obscures the fact that this car IS all about its electric powertrain. You can't divorce the Leaf from the fact this is a 'zero tailpipe emissions' vehicle, as Nissan markets it in Australia. The 40kWh electric motor defines the Leaf driving experience to a significant extent.
Producing 110kW/320Nm, the Leaf feels torquier than a conventional gasoline hatchback, like a Volkswagen Golf. It pulls away quickly and hard from stop lights, the instant torque chirping the front tyres if you're overzealous. Merging onto main roads is dealt with very easily. There's a fun, go-kart effect to driving EVs, and the Leaf is no exception. In fact, Nissan's e-Pedal system, which allows almost total control of the throttle and brakes by varying pressure on the throttle, really emphasises the fun aspects of electric car motoring. You'll need to test drive one to see what we mean.
Highway driving isn't the point of lower-range EVs like the Leaf, but the Nissan does cruise comfortably at higher speeds – high wind and road noise factors aside. There is no trouble keeping up with traffic at any point. Quite the opposite. With a 7.9-second 0-100km/h sprint the Leaf is quick if not fast. By comparison, the cheaper Hyundai Ioniq takes 10 seconds; the more expensive electrified Kona requires 7.1 seconds.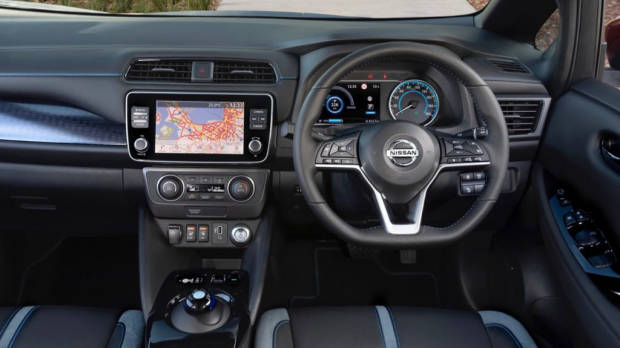 So, the Leaf can be very nippy if you want it to be, but naturally, assertive acceleration will see the range depleted much more quickly. With no real sporting aspirations, the Nissan feels more comfortable being driven gracefully. It's darty and easy to drive, with good visibility – it wants to cruise around the suburbs, and it does that job well.
Inside, the Leaf drags Nissan into this decade for infotainment – the Australian product range has been extremely slow to adopt even average cabin tech. Standing in contrast to the small screens of this brand's X-Trail or Qashqai SUVs, the Leaf's more generous eight-inch touchscreen is an upgrade. The inbuilt software is more mature, but it also runs Apple CarPlay and Android Auto. There is a standard Bose stereo, too.
Ahead of the driver sits a partial digital gauge cluster that displays a huge quantity of useful information, from a digital speedo, to economy measured in kWh/100km, a tyre pressure monitor, and navigation directions. Again, this is a big upgrade for Nissan on the cabin-conveniences front, though we question the inclusion of just a single USB port.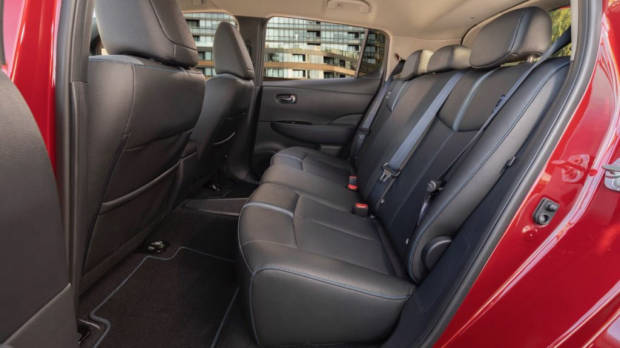 The rest of the interior is, frankly, disappointing. For a second-generation product facing stiff competition from new players, Nissan needed to make the interior a more inviting place. Instead, swathes of hard grey plastic greet you. The heated, leather-bound steering wheel is pleasant, as is the occasional sight of blue stitching, but there's little else that is tactile or premium in here.
The flat seats sit very high for a hatchback – a quirk of EV packaging, where the batteries sit like a tray beneath the occupants – and they're only manually adjustable, with no tilting thigh support. All seats are heated, because it's a more efficient way of managing cold bodies than blowing a tonne of hot air at them, but they weren't especially comfortable for an extended sit.
Nor are there many thoughtful touches: there is no wireless smartphone charging or flock-lined door bins. In the back, the failure to include air vents or rear USB ports seems crazy in 2019. The 405-litre boot sits behind a manual tailgate and although it's very deep – with a big lip to load heavy things over – considerable space is taken up by the charging cable packs and the Bose subwoofer. Packaging is not a strong point.
Even two years ago we would have glossed over these gripes given the uniqueness of the Leaf's powertrain and price point – but now that there are more premium interiors available at a similar cost to the Leaf, we need to point it out. And trust us: the arrival of the Hyundai siblings is just the start of a torrent of more affordable EVs that will come to Australia in the next few years. Nissan won't have it easy.
What we do appreciate is the eight year warranty on the health of the battery, and Nissan guarantee it will still have at least two-thirds of its capacity after that point anyway. The rest of the car is warranted for five years with unlimited distance. The scheduled servicing intervals of 12 months or 20,000km are conveniently distant.
In sum, we're pleased the Leaf has returned to the Australian market in second-generation form. The considerable upgrades in interior technology, driving range, torque, and – to our eyes – styling all count for something. However, Nissan need to keep a close eye on the rear view mirror at more competitive mainstream EVs that are starting to emerge, and even some that are already on the road. As always, test driving all options will reveal which is right for you.