The Toyota RAV4 Hybrid might have been pipped at the post by the Tesla Model Y this year as Australia's most popular car – but hybrid SUVs continue to be extremely popular in this country.
And it's about time the RAV4 hybrid faced strong competition. Enter the Nissan X-Trail E-Power hybrid, which I am running as a long-term test vehicle for the next six months and 10,000km.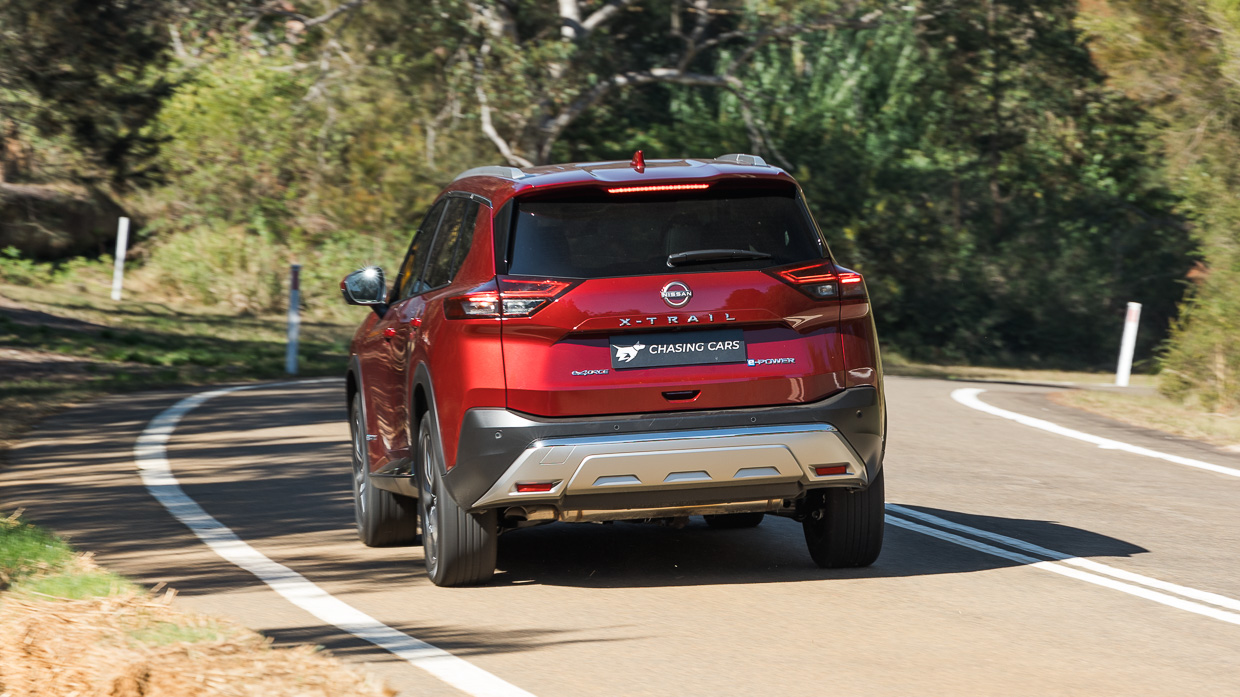 What's the X-Trail difference? We'll be exploring that question and others along the way. You can use this page to navigate my experience with the X-Trail E-Power, which I will be testing in urban areas, on highways and in the country.
My last long-termer was the Mitsubishi Outlander PHEV, and you can read my findings here. Under the skin, the Outlander PHEV is similar to the X-Trail but their hybrid systems work in very different ways – and the Nissan isn't even similar to the Toyota in this sense.
Navigate this long-term Nissan X-Trail Ti E-Power review
Why we chose the X-Trail
'Shows strong potential but lets themselves down in key areas', on a report card level, this was the verdict I applied to my just-gone Mitsubishi Outlander PHEV long termer.
But what if that car could have a second chance, with all the fundamental goodness of the first attempt but with a hybrid system perhaps better suited to the carefree Aussie lifestyle and, erm, a Nissan badge?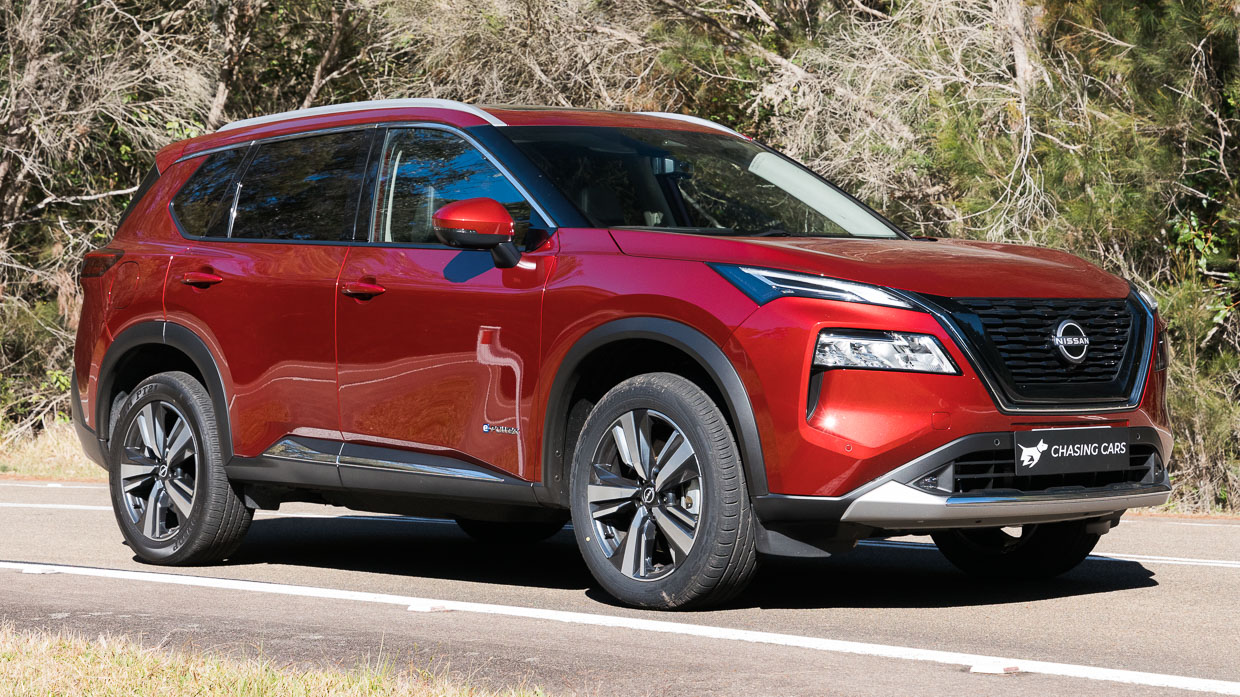 Enter the fourth-generation 'T33' X-Trail; also known as the Nissan Rogue to our friends in the United States. It sits upon same CMF-CD platform shared under the Renault-Nissan-Mitsubishi Alliance, and as a result, the X-Trail and Outlander share a lot in common, inside and out.
Entering the Australian market in late 2022 with Nissan's 'E-Power' hybrid option arriving some months after, the X-Trail caught the eye of many and for us at the Chasing Cars office, it's a model which we've grown more fond of over time.
It's hard to stand out in the fiercely competition midsize SUV segment, what with the likes of the Toyota RAV4, Mazda CX-5 and Subaru Forester holding claim not as just big sellers, but options Chasing Cars rates as worthy contenders for your driveway.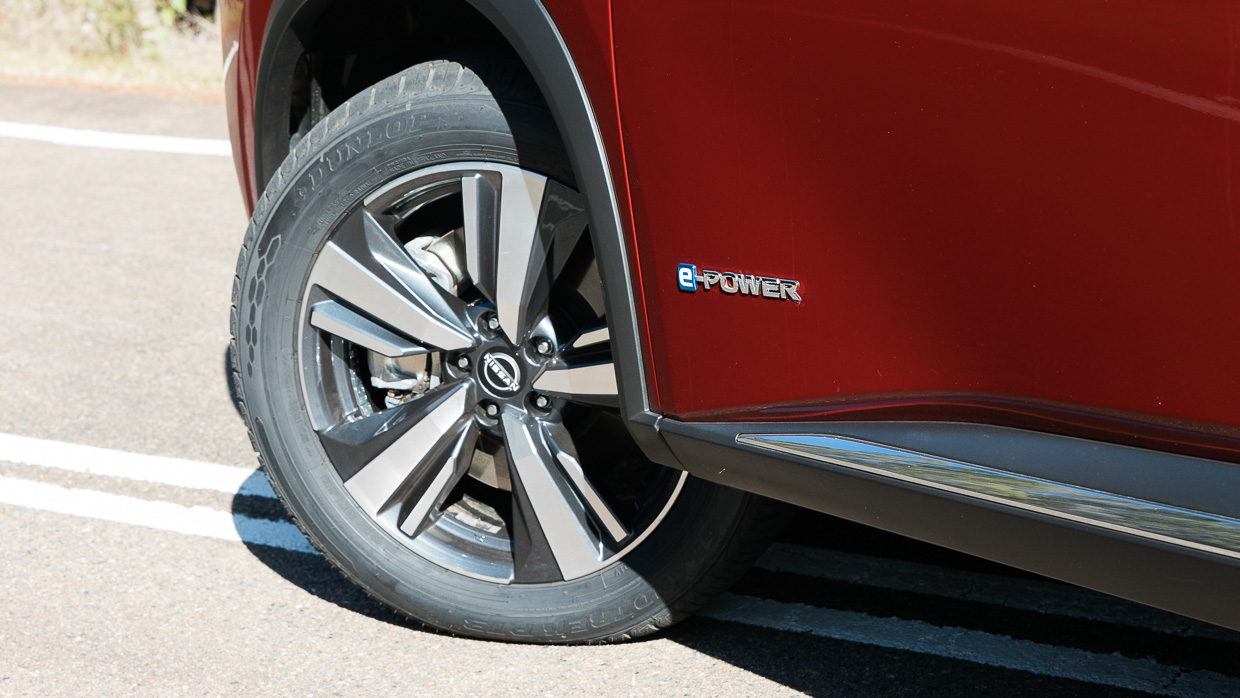 In our recent reviews, we've praised the solid fundamentals of the new-generation X-Trail with decent driving dynamics, a practical and modern interior along with its decently sized boot and hybrid option. Few of its features or claims are class-leading, but does it matter?
Nissan has also wisely kept the X-Trail relatively affordable with the range starting from $37,250 before on-road costs for the FWD ST and topping out at $57,690 for the full-fat Ti-L AWD with the E-Power hybrid system.
The aforementioned drivetrain will only set you back an extra $3200 to $4200 depending on the grade, and is available on all but the entry-level ST. In terms of fuel consumption, 2.5L AWD petrol has a claimed consumption of 7.8L/100km while E-Power AWD hybrid version uses far less at 6.1L/100km.
How we specified our long term Nissan X-Trail E-Power
The X-Trail E-Power is available in three trim grades: the ST-L ($49,990 before on-road costs), the middle-spec Ti ($54,690) and the flagship Ti-L ($57,690).
We often find that the middle variant is the 'goldilocks', so with that hunch in mind, we selected the X-Trail E-Power Ti for our long-term test.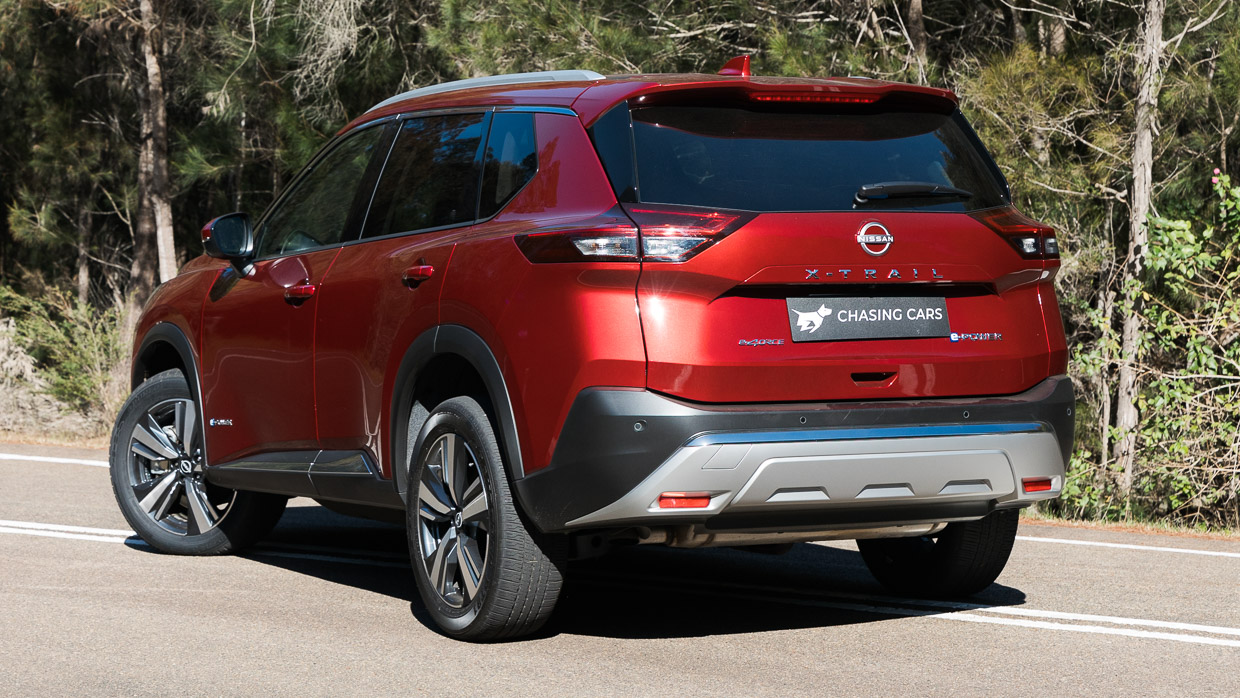 In terms of exterior colour, we've gone for a deep solid red called scarlet ember – a no-cost option. Our preference for the optional, no-cost light grey leather interior was unavailable so our car is fitted with the standard black leather upholstery.
We have no other options on our test car. It is worth noting that there are seven metallic or pearl colours that attract a $700 premium, while five colours are available with a contrast black roof for $1200.
For its $54,690 price (about $59,000 driveaway), our X-Trail Ti E-Power includes the following features:
Adaptive matrix LED headlights 

Automatic windscreen wipers

A 10.8-inch head-up display 

A large 12.3-inch digital instrument cluster

A 12.3-inch infotainment touchscreen 

Wireless Apple CarPlay and wired Android Auto connectivity 

10-way powered driver and front passenger seat 

Leather accented seat trim

Three-zone climate control

Heated front seats

A panoramic sunroof 

Power tailgate 

19-inch alloy wheels 

Sliding rear seats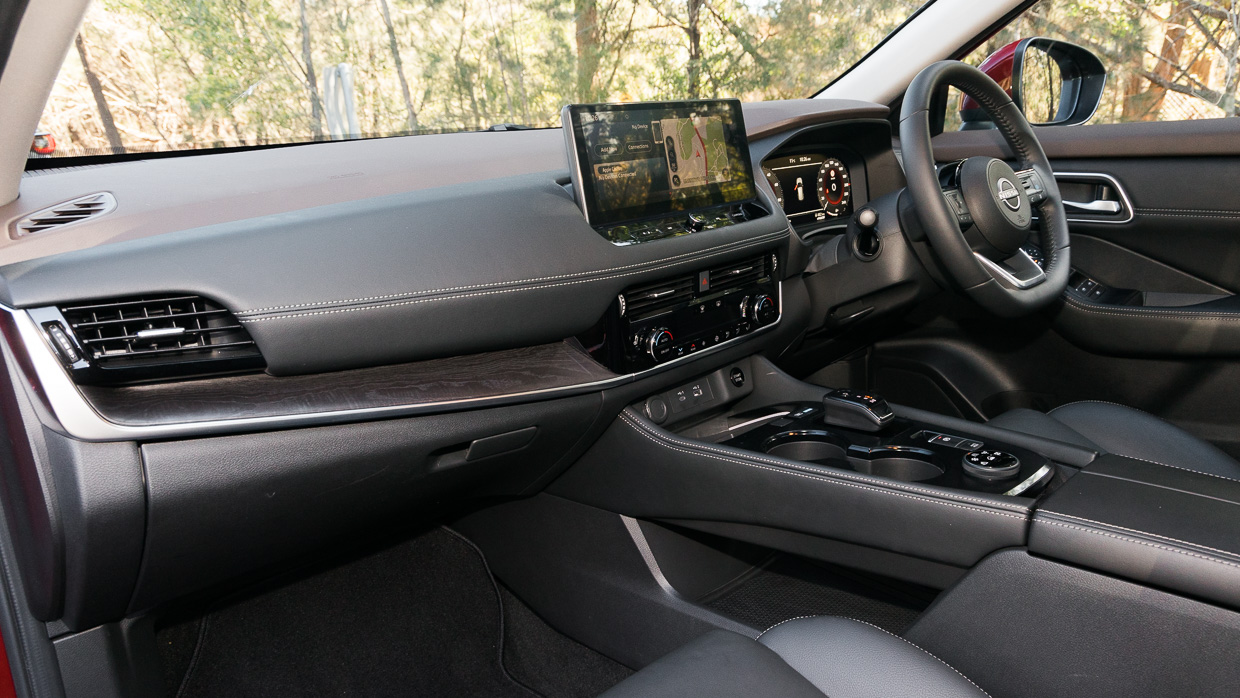 Some of the highlight safety features include:
Advanced autonomous emergency braking (AEB)

Reversing AEB

Seven airbags including a front-centre airbag

Speed and traffic sign recognition

Adapative cruise control w/ stop and go

Rear cross-traffic alert

Tyre pressure monitoring
It's worth noting that above this sits the Ti-L which adds quilted Nappa leather, Bose 10-speaker sound system, pull-up rear sunshades, heated steering wheel, heated rear outboard seats and ambient lighting. 
Month 2: Zero to Frustration in just 15km
Our first meeting with this X-Trail was deflating, though not in the way you might think. So why do so many SUVs miss out on this basic feature?
As a fundamental principle, there are few things more important to a car than the four wheels on which it rolls.
Without this crucial number of wheels, you're bound to see an awful lot of sparks and chaos. Generally, it's just not recommended.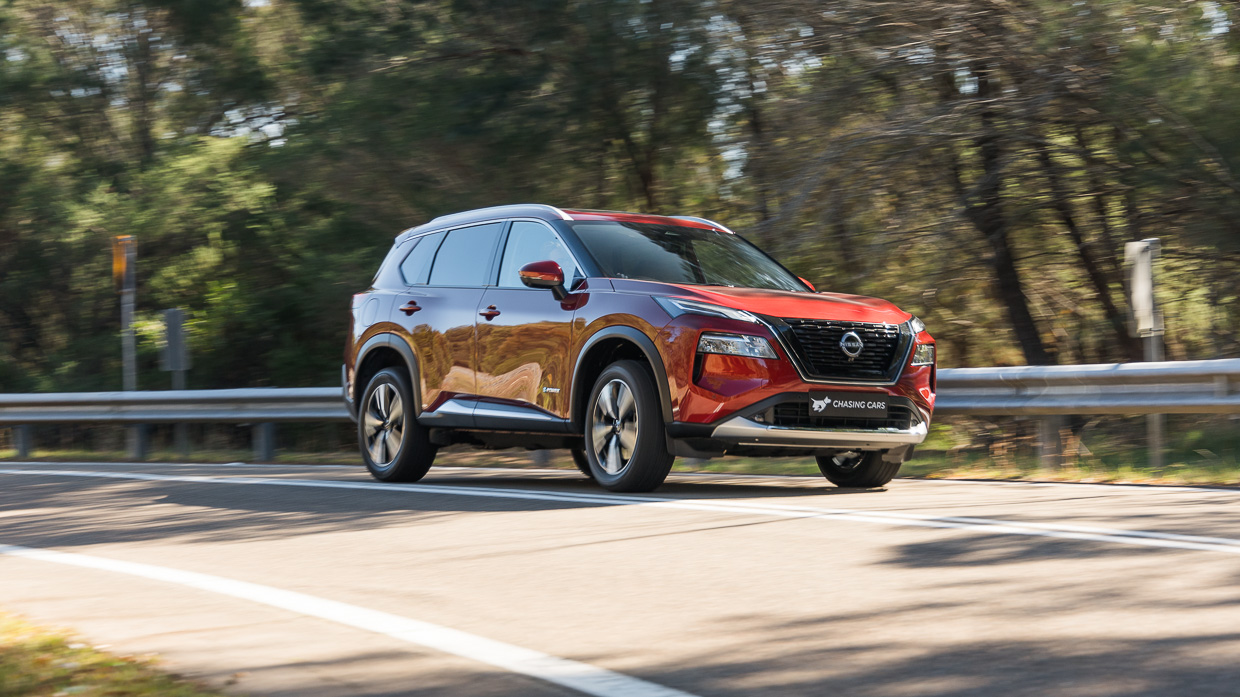 It's for this reason that soon after the invention of the automobile, early manufacturers would fit one or sometimes two extra wheels, placing them on the running boards of the car. But in the 2020s this seems to be a principle many are abandoning in droves.
As wheels have grown in size, and so has our appetite for more storage space, the humble spare has been culled in many vehicles, sometimes they're traded down for a smaller space-saver spare or just abandoned entirely for a puncture repair kit.
It's easier to forgive this in some vehicles more than others. Sports cars, for example, aren't known for their storage space so cars like the Mazda MX-5 and Toyota Supra go without – though the Subaru BRZ does offer a full-size spare as an option.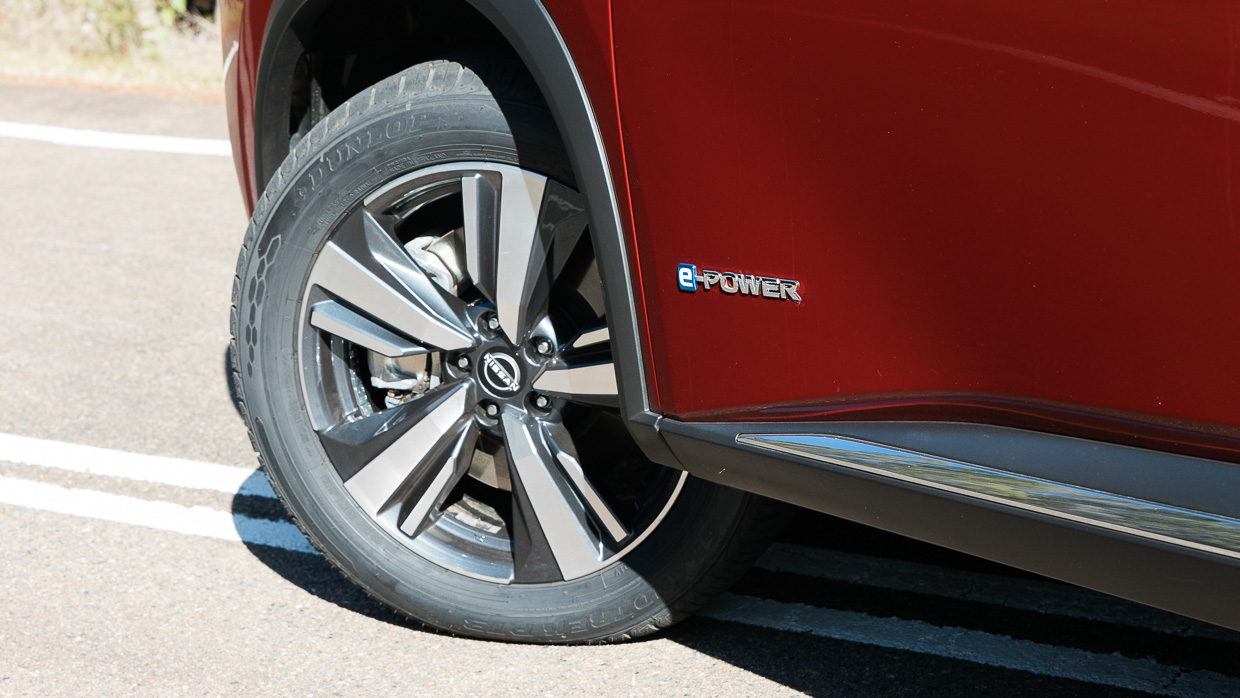 Large luxury SUVs often roll on huge wheels, with rims of up to 23-inches in size, and they too often ditch the spare. It's an unfortunate outcome but one many buyers feel comfortable with given their (largely) urban-focused use, so fair enough.
It's a similar story with EVs, with many designers trying to cram huge batteries inside the car to increase driving range, so the spare wheel is often the first thing to go.
But what about mainstream SUVs that a good many people buy every single day? To me, skimping on a spare wheel is a step too far.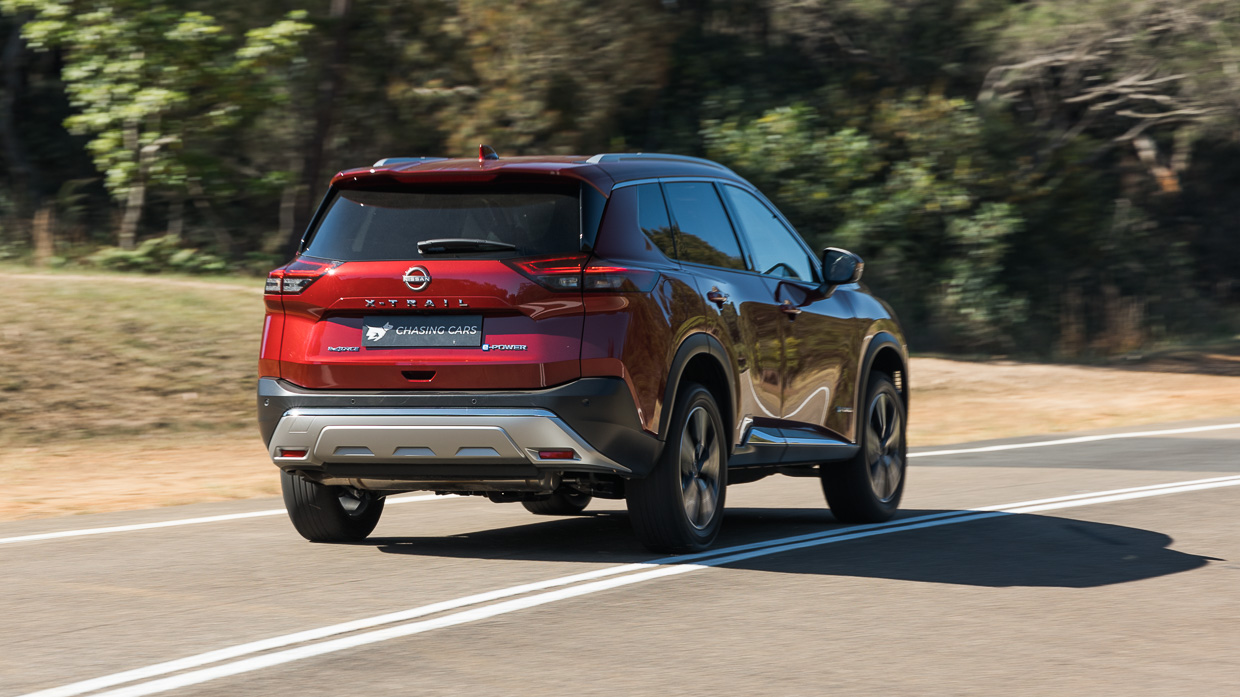 So picture the scene: it's a sunny Wednesday afternoon and I'm taking my Nissan X-Trail long-termer out for its first drive to a nearby photoshoot location.
Upon positioning the SUV for its first shot, I note that it looks rather handsome in this mature shade of Scarlet Ember, and the 19s on this Ti grade really tie the design together nicely.
I look further down those wheels, however, and something draws my attention: a piece of glass poking out from the very top of the sideway.
You've got to be kidding me…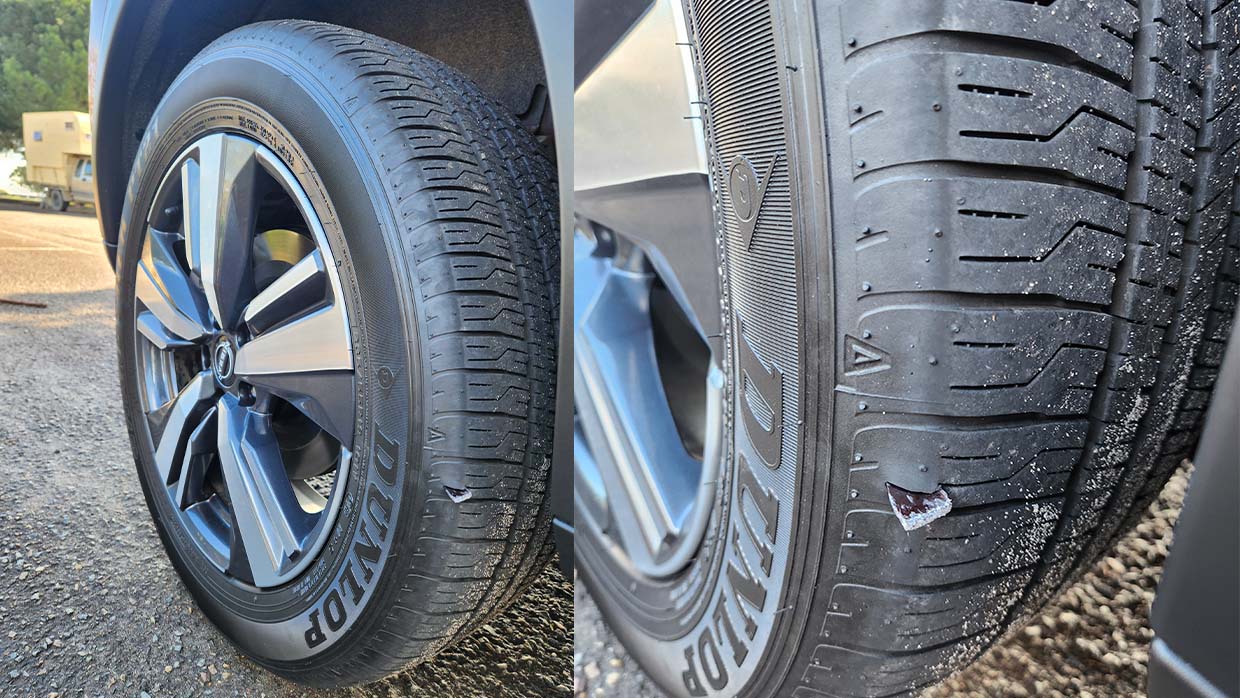 Somehow, after less than 15 kilometres of driving, I've managed to puncture a tyre. Something Nissan Australia would later confirm to me is a new record for press car usage.
Given how deep it was in the tyre and its tricky location, this rubbered ring looked to be a goner but I wasn't too stressed as I knew the X-Trail would have a space-saver space.
Or at least they do on the 2.5L petrol models. Instead, the E-Power variants are fitted with a little compressor and a tube of goo to plug the puncture – assuming you can find it.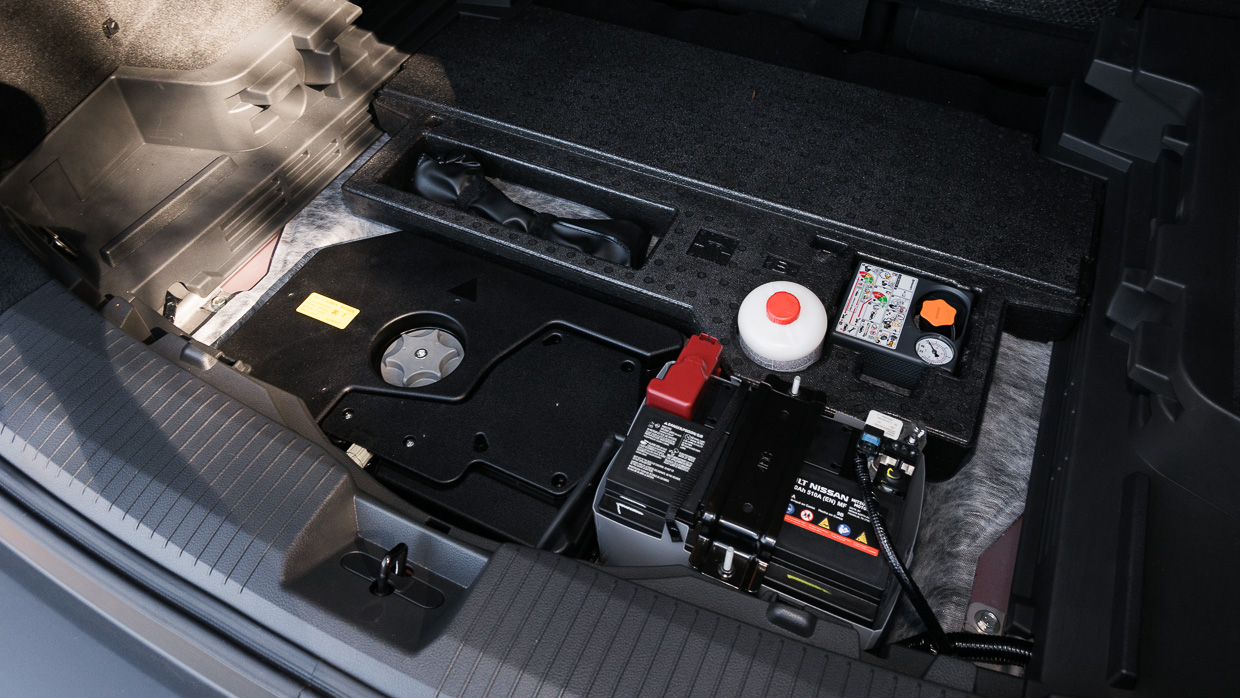 This is due to the fact that the E-Power variant has a litany of additional electronic equipment under its boot floor, similar to my old Mitsubishi Outlander PHEV long-termer.
The Mitsubishi, however, had a huge 20kWh battery pack that had to go somewhere, so while it was still a detriment, I was quicker to forgive it.
But on a hybrid with a mere 2.1kWh battery? We can do better than that I think.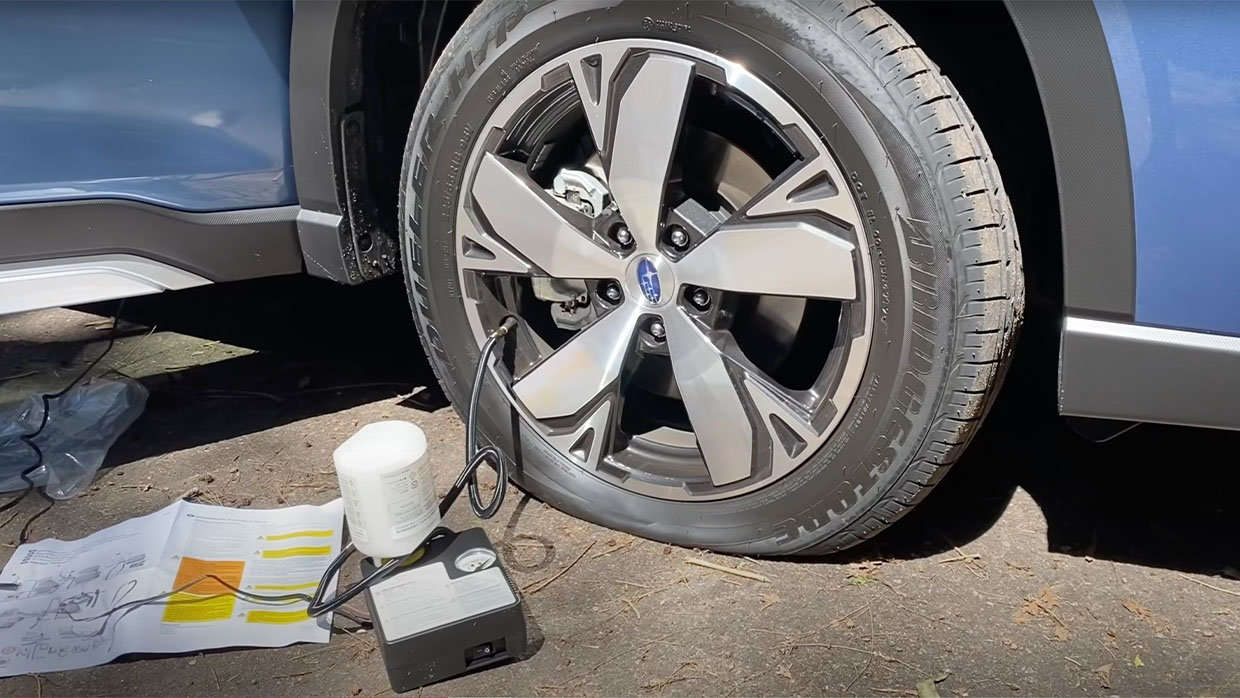 It's not the first time Chasing Cars has been stranded thanks to this issue either. Shortly after the launch of the Subaru Forester Hybrid (which trades a full-size spare in the 2.5L petrol for a tyre repair kit) a sudden manoeuvre saw the tyre rupture without warning.
And if you're wondering, rivals such as the GWM Haval H6, Honda CR-V, Peugeot 3008 and Cupra Formentor all share this in kind with their respective hybrid variants.
So it's impossible then? We can't have a hybrid system and spare wheel – not even in space-saver form? Not according to Toyota, because the RAV4 has no such issues.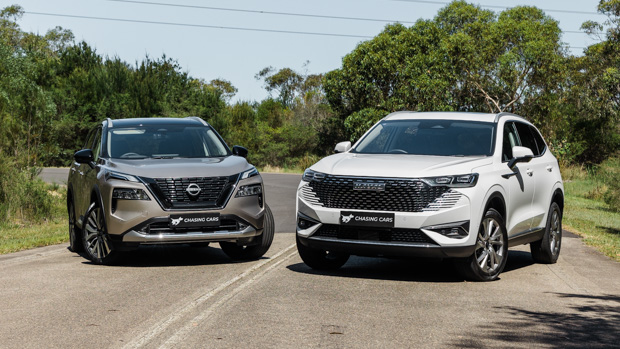 Not everyone is going to embark on long drives across the country in summer where a spare wheel can genuinely be the difference between life and death, though it should be acknowledged that many do.
But if my first 15km with this car has taught me anything, it's that sometimes it doesn't matter where or how you drive; sometimes you're just unlucky and it's simply not acceptable that so many family SUVs don't offer this basic form of reassurance.
At best, it's a bloody nuisance, at worst it's a genuine safety hazard. I hope I never experience it as the latter.
Month 1: A trail well trodden
With more than two decades behind it the Nissan X-Trail is officially a generational landmark, as this 20-something dad learned as he took the keys to this new X-Trail and found himself in an all-too familiar situation.
At the tender age of eight, I remember two things about a family camping trip somewhere far enough outside the city limits of Adelaide to warrant a good nap on the way there.
The first was my dad, not a man known for Gandhi-like patience and understanding, stumbling outside our tent at an ungodly hour of the morning, arching up towards the tree tops and screaming at a flock of cockatoos to "shut the f*** up". Prompting some raised eyebrows around the caravan park.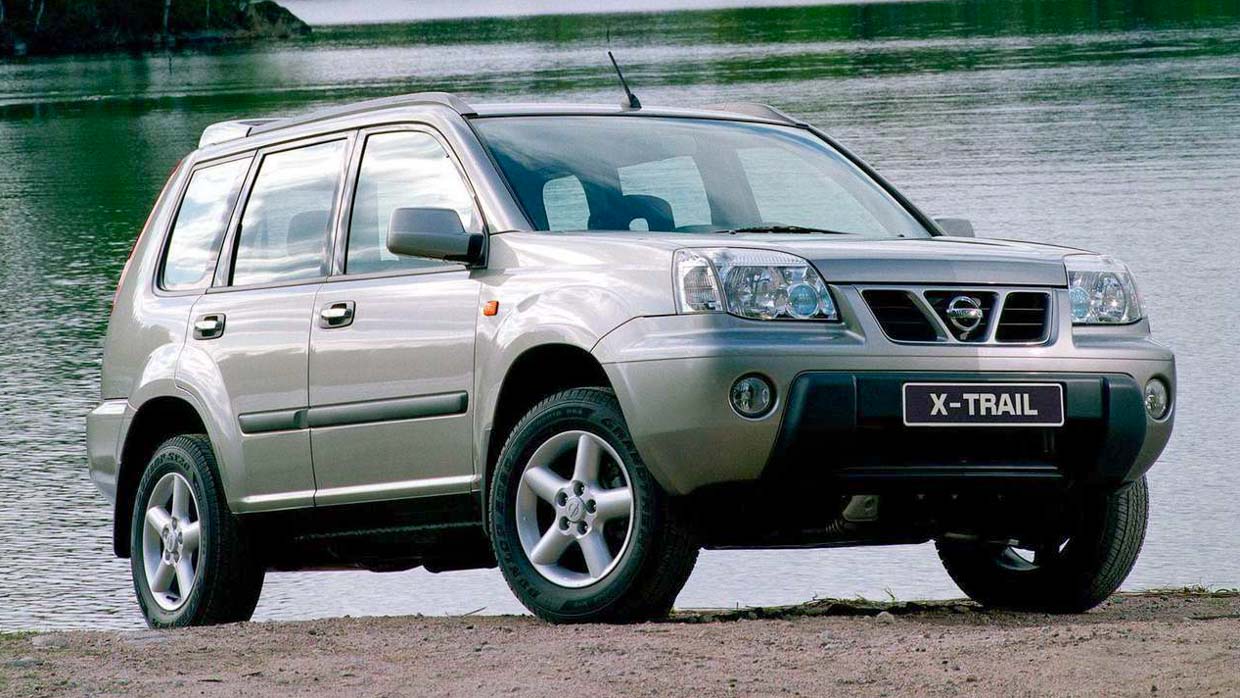 The second, perhaps discordantly, was our family friends arriving in their swish new first-generation X-Trail with their sensibly sized caravan in tow.
It was at a time when 'SUVs' weren't really as we know them today, when the novel idea of a moderately capable, boxy little off roader with a footprint far less obnoxious than something like a Patrol, with still a fairly novel idea. A pretty good idea, actually.
Others thought so to it seems, with over seven million sold globally as of late 2022, though a closer look through the lens at our local market shows there is still room for growth.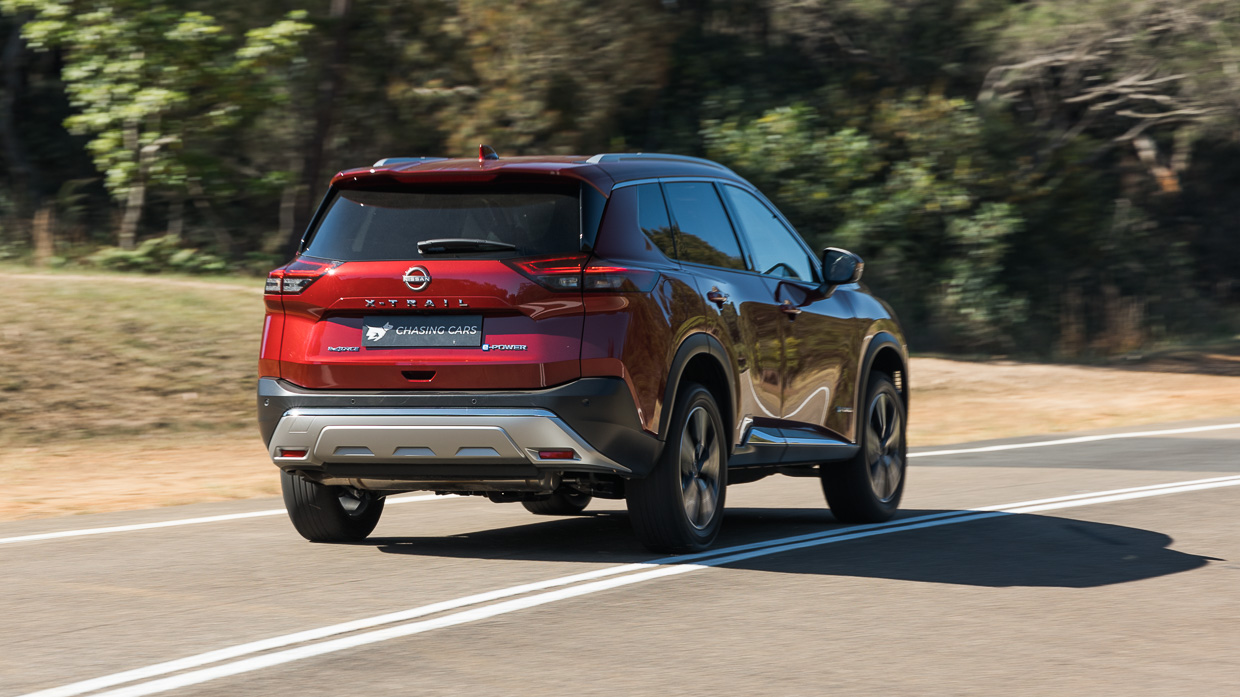 Running off the back of a huge 49.9 percent sales increase this year, the fourth-generation X-Trail has tallied 9350 sales so far in 2023 – not bad, but still off the pace of the ageing Toyota RAV4 (22,388) and Mazda CX-5 (16,895) along with the X-Trail's Outlander twin at 17,762 sales.
But back to that camping trip, and those cockatoos.
As a lad with Subaru WRX model cars and posters strew about his room, the friendly faced silver X-Trail wasn't ordinarily my sort of thing, but I remember being impressed with the way it handed some moderately bumpy terrain – clearing the rocks and ruts with its decent ground clearance – while backing the family caravan into the powered site.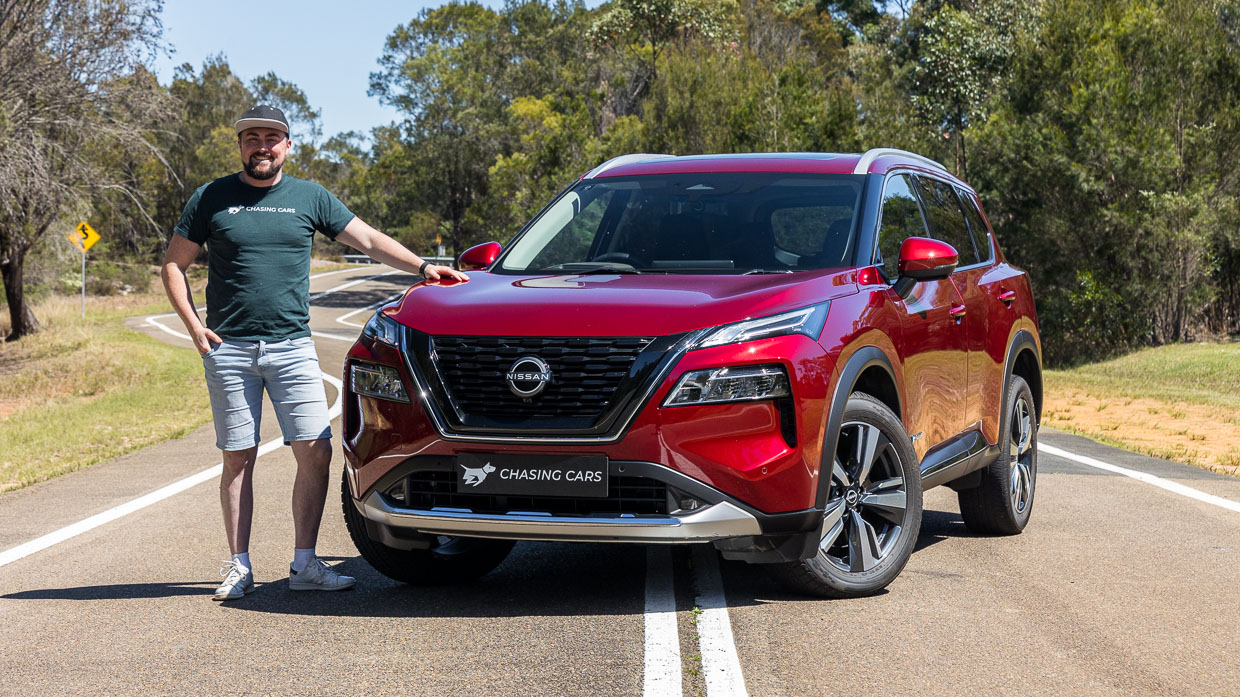 Our family friends then bundled out of the car and began unloading their gear as their father no doubt eyed those same bastard cockatoos, eager to relieve themselves all over his new do-it-all SUV.
So in a weird twist of fate, I now find myself with a new X-Trail in my driveway and a growing family of my own, and you know what? I get the appeal.
Back when it was just my wife and I populating our home, I was a big proponent for the idea of owning a vehicle that was just enough for your needs. Nothing more, nothing less. Hence why our ride was a Mazda MX-5.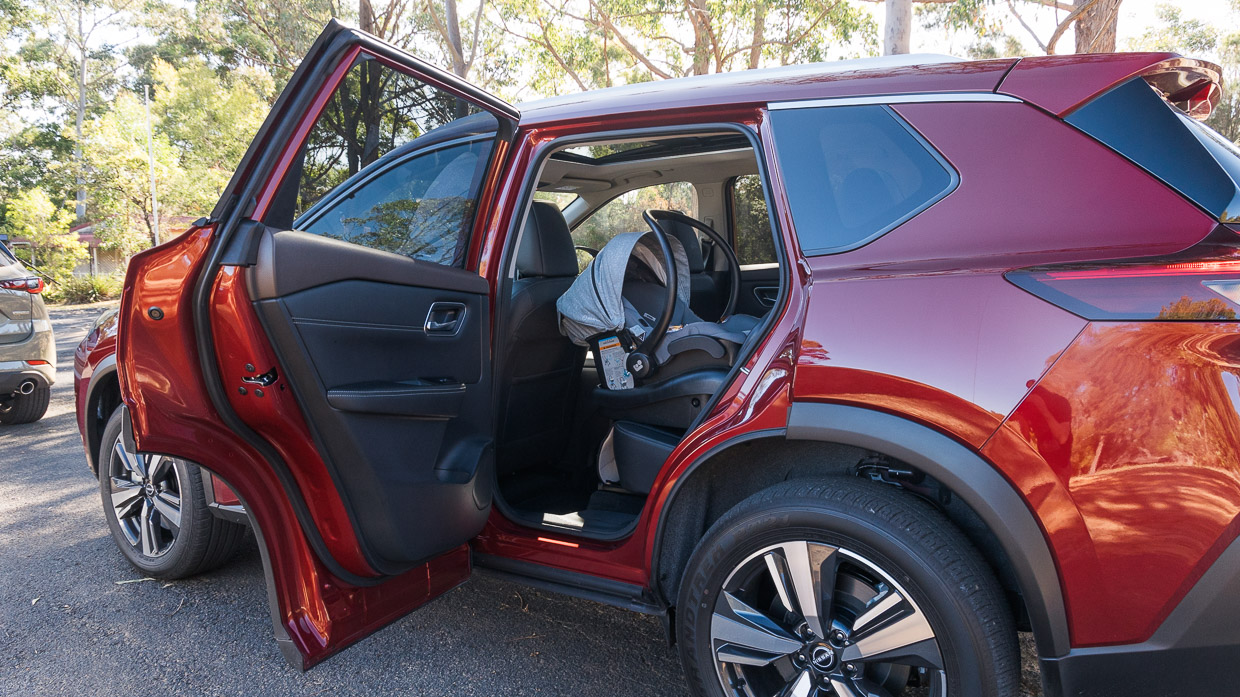 With our daughter now in tow, that's an idea I've thrown completely out the window. Having a car that is 120 percent of what you typically need is excellent for when you occasionally need to carry far more stuff.
And that's exactly what this X-Trail is, it's on the bigger side for a midsize SUV but better for it I think, with huge back seats meaning there is zero compromise for front occupants with a rearwards facing baby seat and a decent boot, measuring 575 litres.
That figure, mind you, counts the space above the height of the back seats and window line in a bit of a cheeky move from Nissan Australia. It also doesn't help that it completely lacks a spare wheel – a whinge I'll cover in greater detail at a later date.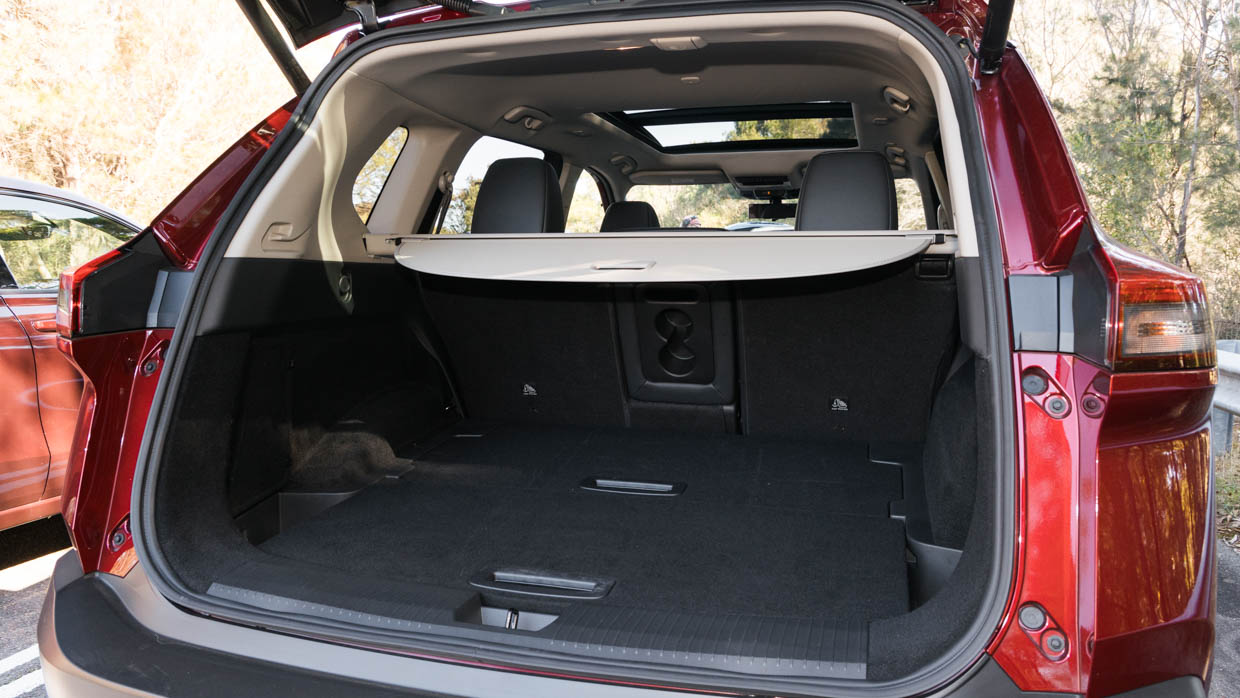 Elsewhere in the cabin, first impressions are good. The front seats are pretty comfortable, as is the suspension over most of the lumps and bumps Sydney dolls out, and it's quiet, too.
I've also taken a strong liking to the physical climate controls – with three zones of adjustability I might add – which sets the tone for Nissan's no-nonsense approach to interior usability.
I'm not quite as sold on the massive 12.3-inch touchscreen slapped in the centre of the dash, sure it's a nice upgrade over the fairly petite 8.0-inch unit in the ST and ST-L grades but the huge size of the former panel makes reaching for some icons in the far corner a challenge. The 10.0-inch unit in my old Outlander PHEV was the goldilocks solution I think.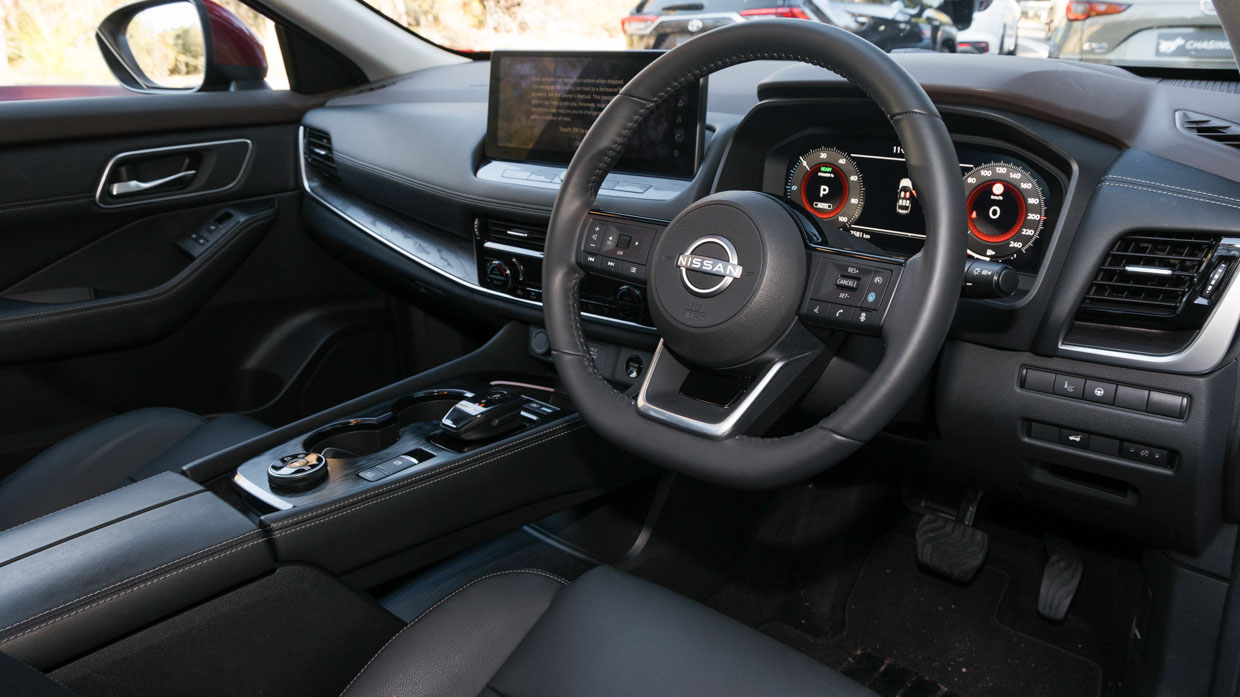 Case in point: the back button in Android Auto sits at the top left, and with my arm outstretched and the car bouncing along the road it suddenly becomes very difficult to hit your target without concentrating, and screens are not where I want my focus.
Speaking of which, I feel a touch cheated by the fact that Nissan offers wireless Apple CarPlay but not Android Auto, which retains a wired-only connection. An oddity which has since been corrected in the US-market Rogue.
But my plans for my long term evaluation of the X-Trail go far beyond the touchscreen, over the next six-months and 10,000km I plan to do extensive fuel efficiency testing to see if Nissan's E-Power system is worth its upcharge, take several long road trips and generally tackle the struggles of everyday family life.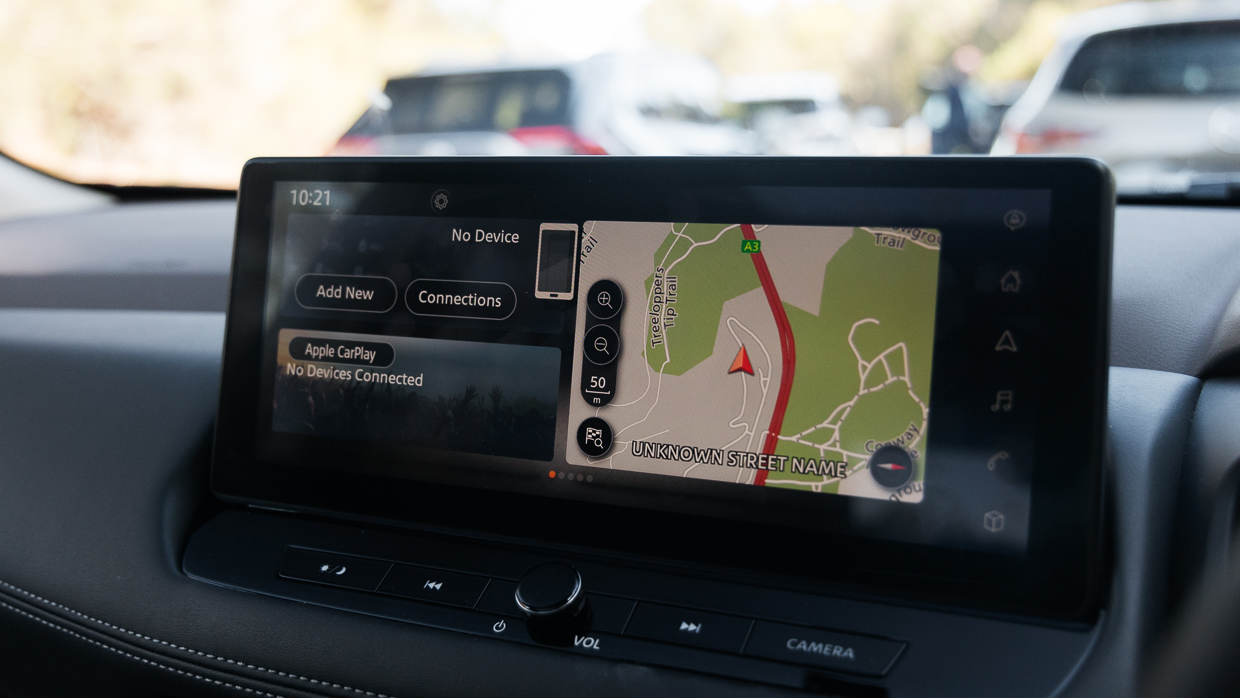 In a way I'm actually a bit excited to drive the modern interpretation of our family friend's 'cool' everyday adventure rig, but it seems I'm not the only one keen to get reacquainted with the X-Trail, a fact I was keenly aware of as I scrubbed bird poo off the front ¾ pannel just days into my ownership..
Bloody cockatoos.