Even for those that aren't on the SUV bandwagon, it's hard to dispute the utility of crossovers for driving around the 'burbs. They're easy to buckle children into, they can jump kerbs if your parking angles are a little off and their cushy seats and suspension make the school run that much more relaxing. Only problem? SUVs are large and heavy, so they suck fuel, be it petrol or diesel.
The 2019 Toyota RAV4 Hybrid is the first mainstream SUV in Australia that can really bust that myth. When I say mainstream, I mean a car that most people can afford – there have been luxury hybrid SUVs, like the six-figure Lexus RX hybrid, and even the more-expensive-again electric Tesla Model X – but you can walk into a Toyota RAV4 for less than forty grand.
Read the first instalment of our RAV4 long-term review here.
Urban driving in the Toyota RAV4 hybrid
We've been driving the range-topping RAV4 Hybrid Cruiser for a couple of months now, and we spend about three-fifths of our time driving around Sydney's suburbs. There's my commute on the lower north shore, regular runs to the northern beaches and all manner of work commitments. Point being, our Graphite-over-Nutmeg RAV4 spends a lot of time in bumper to bumper traffic.
But bumper to bumper is where hybrids do their best work. Content to run in electric-only mode at low speeds, you crawl along with zero tailpipe emissions and zero petrol being channeled through the Toyota's innards – which meant a month where all our driving was urban resulted in E10-petrol consumption of just 5.4L/100km. Holy cow.
By contrast, petrol SUVs that swung by for comparison from Volkswagen and Mazda used more than double that figure.
If you want an easy way to drastically cut your fuel bills and reduce your environmental footprint – without having to do anything drastic – swapping into a RAV4 Hybrid is a great start.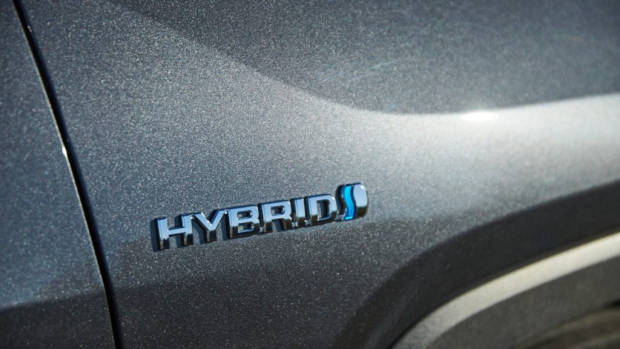 The stellar fuel consumption is one thing but the instant torque from the three electric motors when darting around the city is a bonus, too. We're not saying it's Tesla-like in its acceleration – it certainly isn't – but the little squirt from the battery essentially operates like a low-blow turbo.
There used to be a horrible sound and vibration when older Toyota hybrids switched from electric power to the petrol engine, but substantial NVH work means that this transition is now much smoother and vibe-free. If you have music on, you won't actually know when you're running on volts or on gasoline, except for the 'EV' symbol in your instrument cluster.
The hybrid battery and motors do add some weight to the RAV4 but that doesn't fundamentally affect this SUV's dynamics, which are pleasant and light. Direct steering combines with a soft but controlled ride, making the Toyota a surprisingly fluent drive but also a very comfortable one.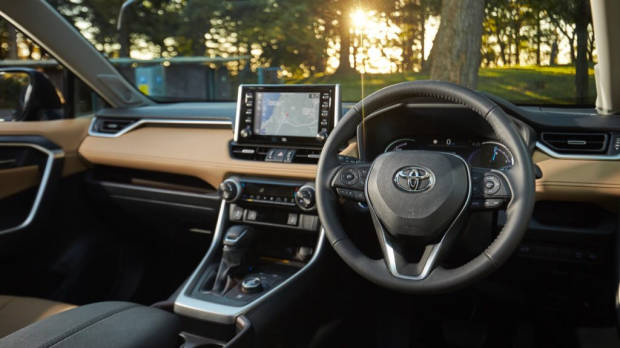 Toyota haven't tried to make the RAV4 sporty; they have aimed for comfort, and all the better for it. Having said that, it's not floppy at all; it's a great balance.
The spacious interior includes a set of good, heated front seats, a good JBL stereo (on our Cruiser) and heaps of rear legroom and headroom. This is only a five-seater – a new Kluger seven-seater with a hybrid option will come along at the start of 2020.
Seamless is how you'd describe the experience of driving the 2019 RAV4 in the city. With the car's computers making all the decisions for you in terms of fuel sources, all you have to do is buy it to start reducing your environmental impact and fuel bills at the same time. What more could you want at this point in time?