We've made no secret that here at Chasing Cars, we're fans of the latest Toyota RAV4 midsize SUV. Far better to drive than the previous RAV4, the new version is available with a very frugal and punchy petrol-electric hybrid powertrain, offered for a modest upcharge on most grades. We ran a RAV4 hybrid as a long-term test vehicle in 2019 and came away impressed.
But what about a RAV4 without the clear benefits of the hybrid? Well, the best-looking RAV4 model of all – the Edge, known as Adventure overseas – is only available with petrol power. Unlike the cheapest RAV4s, which use a two-litre engine, the RAV4 Edge gets a bigger 2.5-litre unit, plus a smooth, conventional auto gearbox and a mechanical AWD system.
It uses quite a lot more fuel than the hybrid, but offsets those losses with slightly more off-road capability, plus a cool aesthetic: the RAV4 Edge comes in a unique khaki-green colour. It also sports matte black badging and orange highlights flecked throughout the comfortable cabin. So: does the RAV4 Edge ($48,915) replace the Cruiser Hybrid as our recommended RAV4 specification?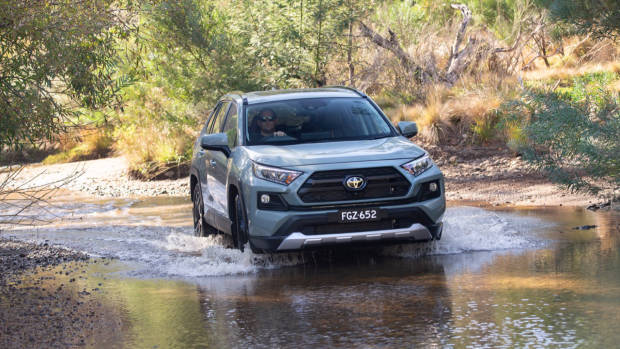 How does the RAV4 Edge drive?
Driving the RAV4 Edge is a pleasure. Like all RAV4 grades, and many other new-generation Toyotas, the Edge demonstrates this brand's re-commitment to making cars that drive really well, even if they aren't intended to be sporty or overly athletic.
The new RAV4 is really polished compared to most of its midsize SUV rivals. It packs keen, naturally-weighted steering, impressively agile handling, great road noise insulation, and disciplined body control that still allows a plush ride.
The only thing it's missing is a turbocharged engine that can compete with the muscularity and refinement of the Volkswagen Tiguan, Mazda CX-5, Ford Escape, and others. Unlike the smaller Toyota C-HR, all RAV4 engines are naturally aspirated.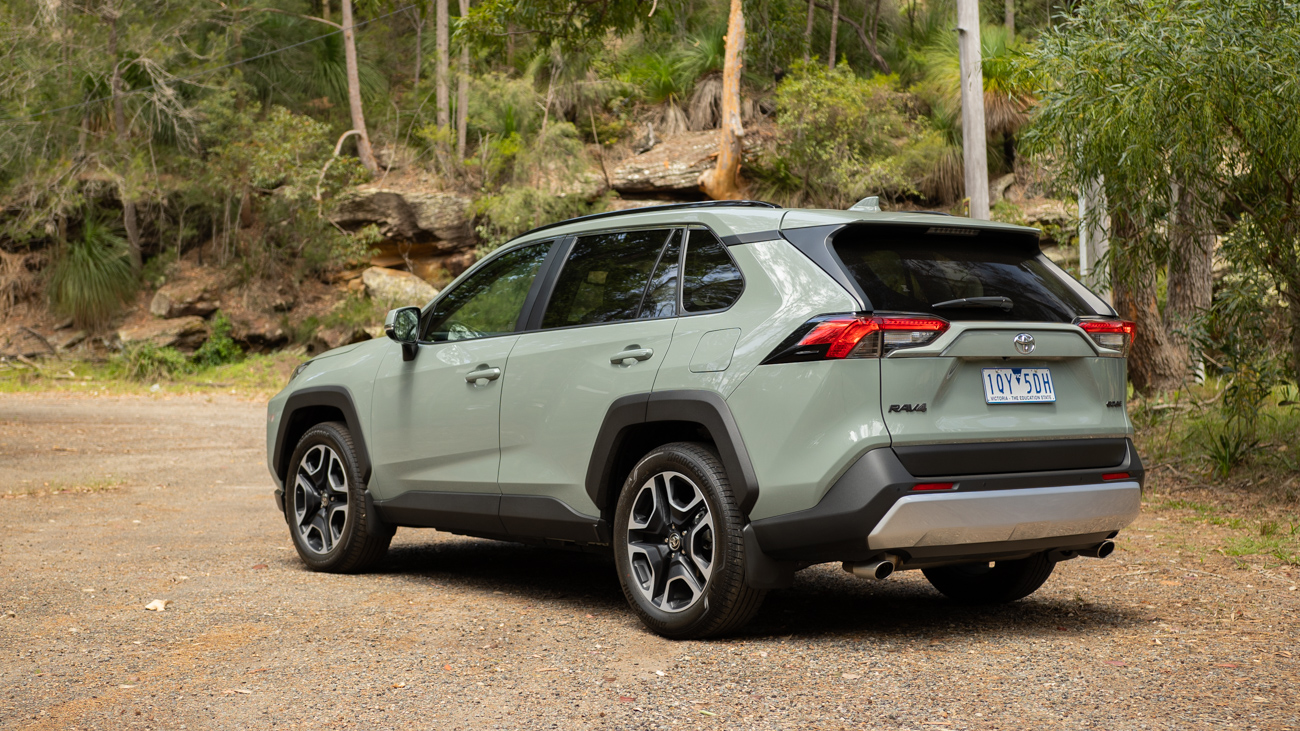 That isn't much of a problem in the RAV4 hybrid, which produces 160kW in front-wheel-drive form or 163kW in triple-motor electric AWD guise. Toyota don't state how much torque their hybrids make, but it feels like around 350Nm to us.
By contrast, the RAV4 Edge – which borrows the hybrid version's 2.5-litre petrol engine but without any electric assistance – is merely adequate in terms of horses. 152kW of power is decent for this class, but the atmospheric 2.5-litre musters just 243Nm of torque – and at 4,000rpm. That means you'll find yourself revving the RAV4 Edge harder than a Volvo XC40 Momentum ($46,990) that develops 300Nm at a much lower 1,700rpm.
Most of the time, the RAV4 Edge develops enough power. You'll just find it a little sluggish if you tend to want to overtake on country roads. Go easy and drive gracefully, though, and it is easy enough to get along with the 2.5-litre engine.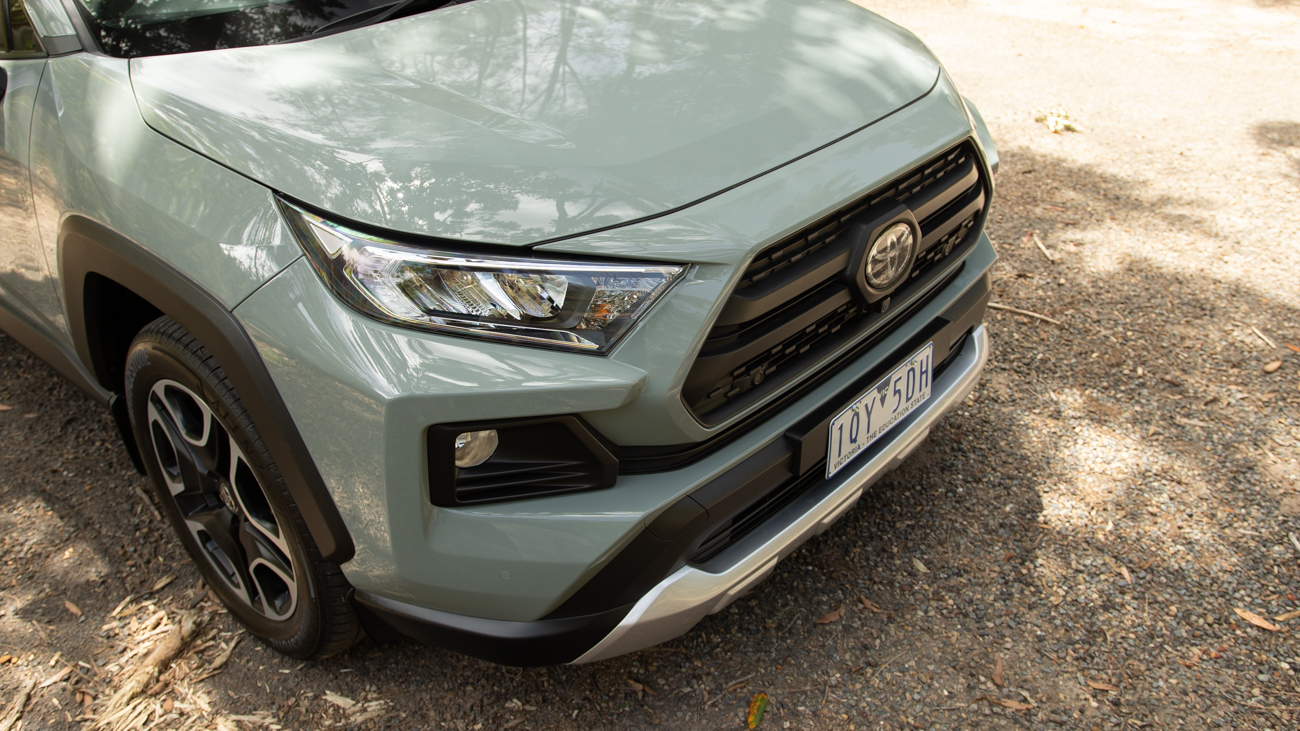 That said, the Edge. uniquely for the RAV4 SUV, mates its engine to a conventional, eight-speed torque converter automatic. Ultimately, this gearbox makes the Edge the smoothest RAV4 to drive. Every other RAV4 uses an elastic-feeling CVT automatic: the affordable 2.0-litre petrol-only models (from $33,695), and the 2.5-litre hybrids, which commence at $36,070.
For those that plan to use their RAV4 on dirt or snow regularly, they'll note that the Edge uses a mechanical AWD system connecting the 2.5-litre petrol engine to the rear axle. However, the Edge rides at about the same height as other RAV4 models – and in any case, the eFour electric AWD system in our hybrid long-term test vehicle held up very well on snow days.
Anyway, our point is this: most people will find the hybrid versions of the RAV4 live up to the hype and sometimes long delivery wait-times. They are faster and by far more efficient than the other engines.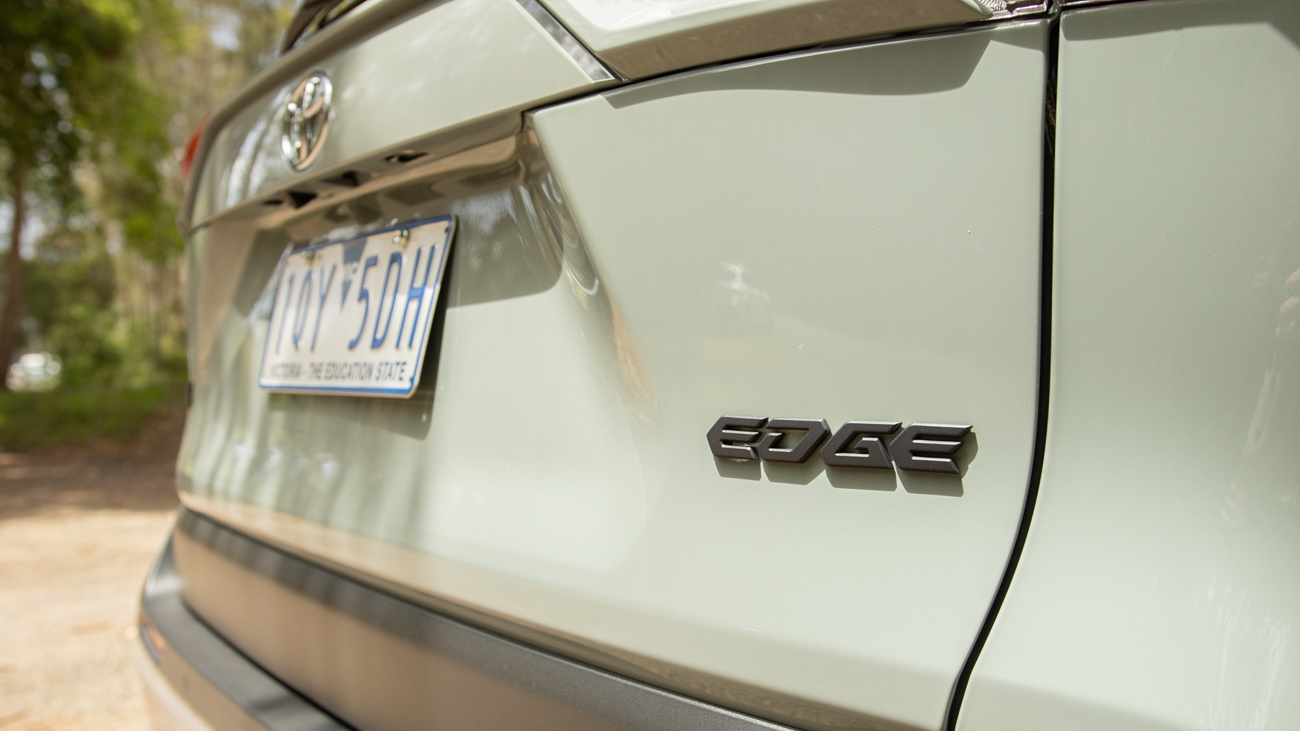 So, if we were Toyota – we'd pair the great-looking Edge with the hybrid powertrain, stat.
Basically everything else about the way the RAV4 Edge drives is impressive. The 18-inch wheels and chunky Bridgestone Alenza tyres deliver an excellent ride quality that will let young children nod off on road trips – the RAV4 smooths out potholes admirably.
And if you're a keen driver, you will find that – while the RAV4 is no sports SUV – this Toyota's steering and handling characteristics live up to the dictum of CEO Akio Toyoda's dictum that the brand should build no boring car.
How is the RAV4 Edge's interior?
In a word: good. The Toyota RAV4 has a mostly well-thought out cabin that blends quality materials with comfortable seats and heaps of intuitive storage spaces.
Like the Cruiser that sits beneath it in the RAV4 hierarchy of models, the Edge presents with most of the bells and whistles you expect when you're spending fifty-odd grand on a midsize SUV. Leather seats with power adjustment for the driver are present, with heating and – uniquely for the RAV4 – cooling. Now that Sydney is getting hot, we appreciated that.
Weirdly, the Edge drops the Cruiser's driver's memory function, making life harder for couples. We don't like that the passenger seat has no height adjustment, meaning anybody taller than 6'2" will be squashed if seated there.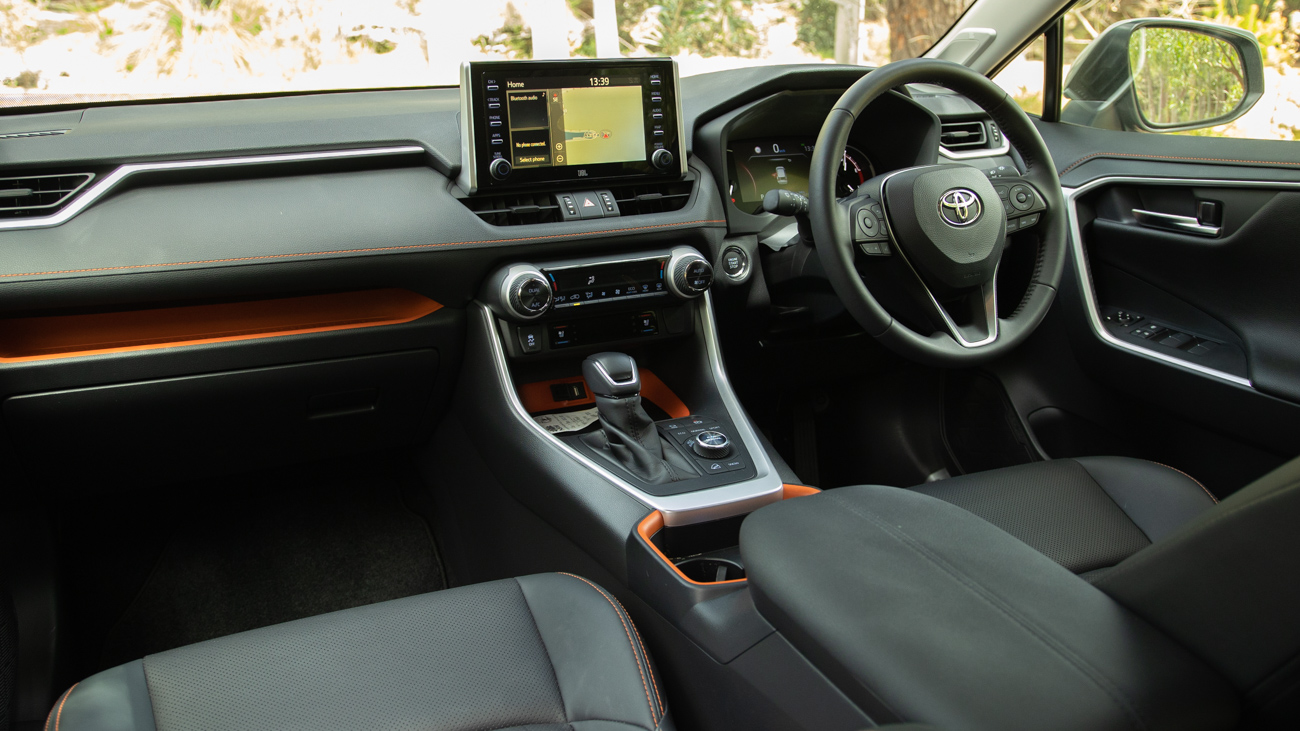 You can also sit beneath a panoramic sunroof (a $1,360 option), which offers a much larger pane of glass than the porthole sunroof that is standard on the Cruiser variant. Toyota have intelligently included a heavy-duty sunblind that means this shouldn't hurt the interior temperatures much in summer.
Soft materials adorn the dash and doors of the RAV4 Edge: careful – if you buy a RAV4 GX (from $31,695) or GXL ($37,415), you get rock-hard door plastics that feel cheap. That's one reason, among many, why we think the Cruiser and Edge are better choices if you can afford to splash out a little.
All RAV4 grades sport an eight-inch 'floating' touchscreen atop the dashboard. The inbuilt software is easy to navigate and use, and there's one-shot voice input for putting destinations in the satellite navigation that actually works! That said, most people will opt to use the wired Apple CarPlay and Android Auto connections. On that note, there are five 2.1-amp USB-A ports in the RAV4 Edge.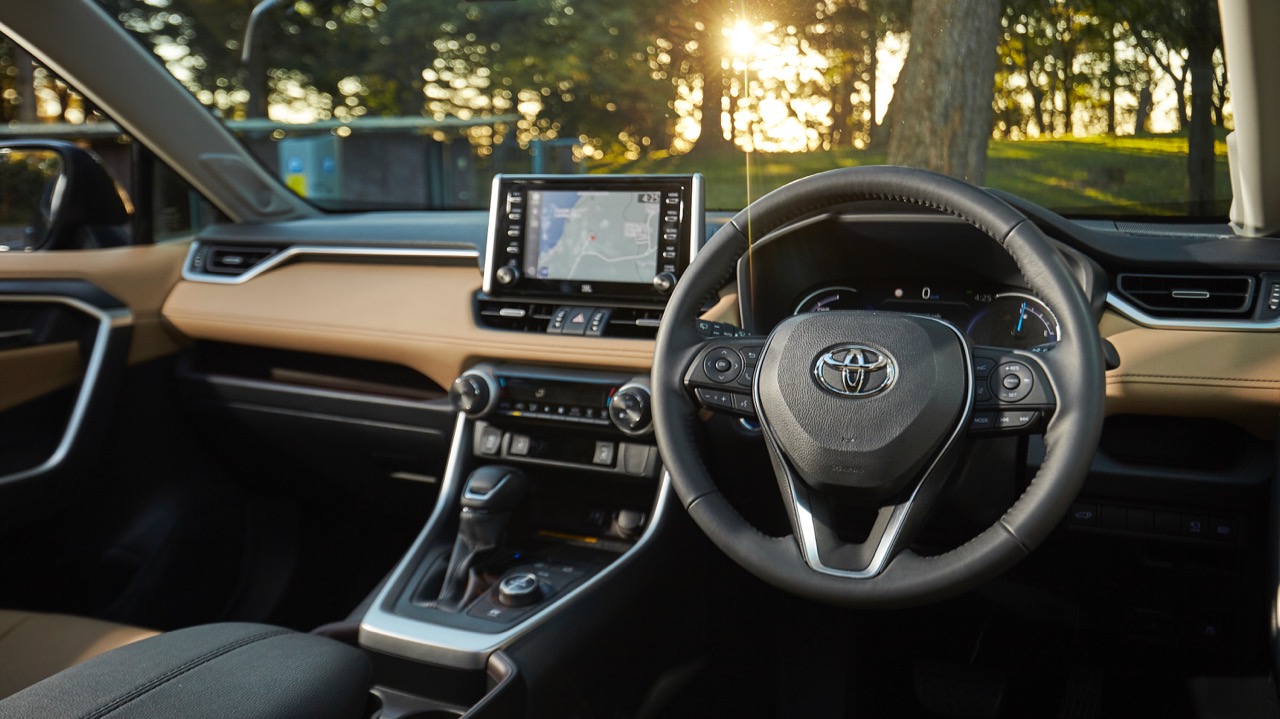 Ahead of the driver is a pleasantly small steering wheel, though you don't get paddle shifters despite the Edge having a real gearbox with actual gears. You score a partially digital instrument cluster, but we have found this to be prone to sun glare on some angles. That's important, because the speedo is digital alone.
The RAV4 integrates lots of storage spaces, including two handy open shelves above the dash beltline – perfect for sunglasses and soft odds and ends. There is a flock-bottomed central cubby beneath a fixed armrest, and a coin pocket. You get standard wireless phone charging on the Edge model, though it's not grippy enough to stop a caseless phone from sliding off.
Families will love the back seats of the RAV4, apart from the fact the rear doors don't open as widely as a Mazda CX-5. Room on offer in the second row is really great, with plentiful headroom, legroom and toe room for six-footers, even beneath the optional panoramic sunroof of our test car that eats into head space. Of course, some cars in this class offer a third row, including the Skoda Kodiaq (where it is usefully sized) and the Honda CR-V (where it's tiny).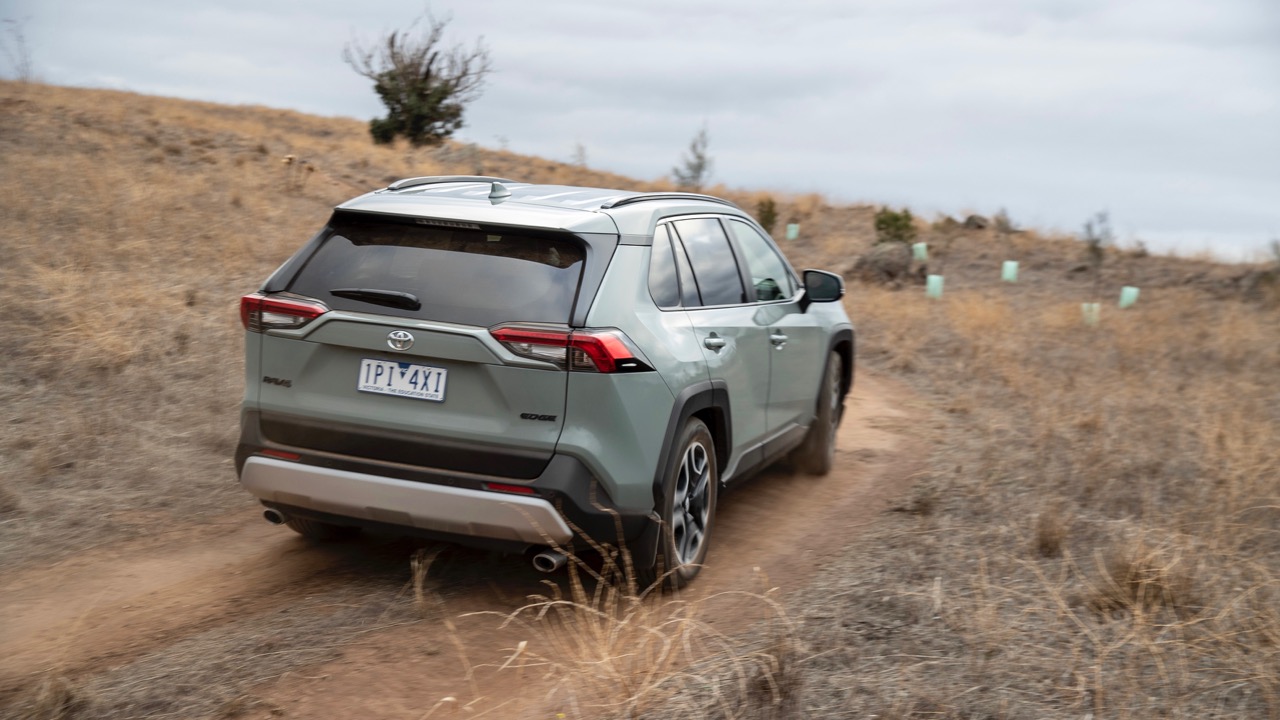 Standard rear-row air vents, and two 2.1-amp USB ports, are smart inclusions for keeping kids cool and entertained. ISOFIX points are easily found, so mounting a child seat should be easy. Plus, the backrest reclines for older kids to relax on long road trips – while they will also enjoy the plush ride quality.
Finally, there's a 580 litre boot behind a tailgate that is power-operated, but quite slow … and it beeps loudly while it operates. Not very stealthy – but that's the point, Toyota would say! The boot is mainly just a big square space, though the Edge includes a dual-sided boot floor with carpet on one side and durable hard plastic on the other. You get a space-saver spare wheel and a netted area for odds and ends, but no shopping bag hooks.
What are the RAV4 Edge's running costs?
The RAV4 has a massive trump card over most of its rivals in the ownership department: it is really affordable to service, at least for the first four years that it is covered by Toyota's Service Advantage capped price servicing programme.
Every type of new RAV4 requires annual servicing (or 15,000km intervals, if these come up sooner). The price of the first four services is $215 apiece on every model, no matter whether it is the base two-litre, the hybrid or hybrid AWD, or the Edge with its 2.5-litre petrol engine. That adds up to $645 for three years, or $860 for four years.
Toyota adopted a five-year, unlimited kilometre warranty in 2019, and this applies to all RAV4 models. Five years is now standard in the industry. If you stick to the scheduled service intervals, Toyota will extend the drivetrain warranty to seven years. They also cover expenses of having to tow the vehicle for mechanical reasons for seven years (though this is not a roadside assist programme of its own).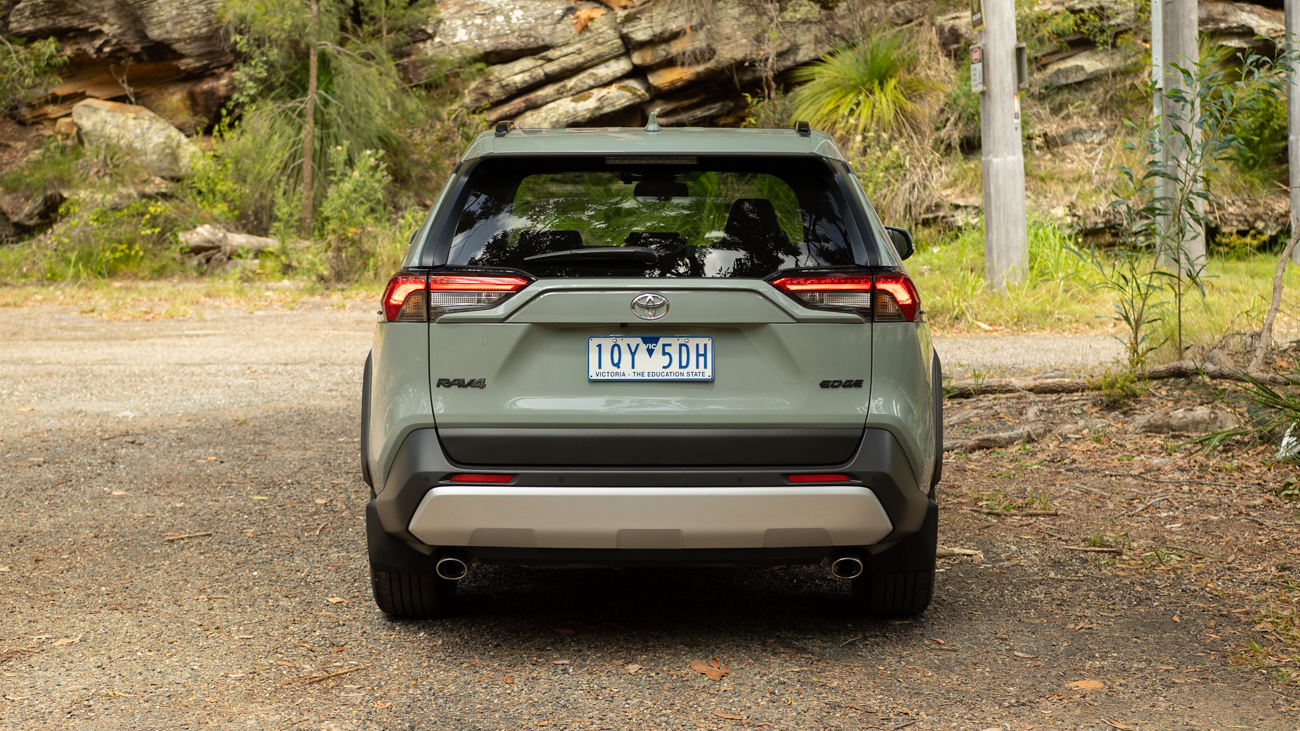 Where the Edge compares poorly to other RAV4 models is in terms of fuel consumption. In our testing, the RAV4 Edge consumed 9L/100km of petrol in combined town and country driving. Like all other RAV4 models, the Edge accepts 91-octane unleaded.
However, keep in mind that the hybrid AWD version used 6L/100km in our care over a long-term stay with us where it was driven around 70 percent of the time in the suburbs. Opting for the hybrid would save the average Aussie driver about $550 per year in fuel compared to what the petrol-only versions would deliver. When you remember that the RAV4 Cruiser hybrid AWD costs $2,500 less than the Edge … you can see why most buyers lean toward partial electrification here.
The final verdict
We love the unique visual touches that the RAV4 Edge scores. We also love the inherent smoothness of its conventional automatic gearbox, which makes it the most intuitive RAV4 to drive. However, those two advantages don't outweigh the additional pace and superb real-world efficiency of the hybrid, which is actually more affordable than this top-shelf, petrol-only Edge grade.
We think Toyota would do well to expand the Edge range to include the hybrid all-wheel-drive powertrain in a future update, allowing buyers to combine the clear benefits of hybridisation with the rugged charm of the Edge trim.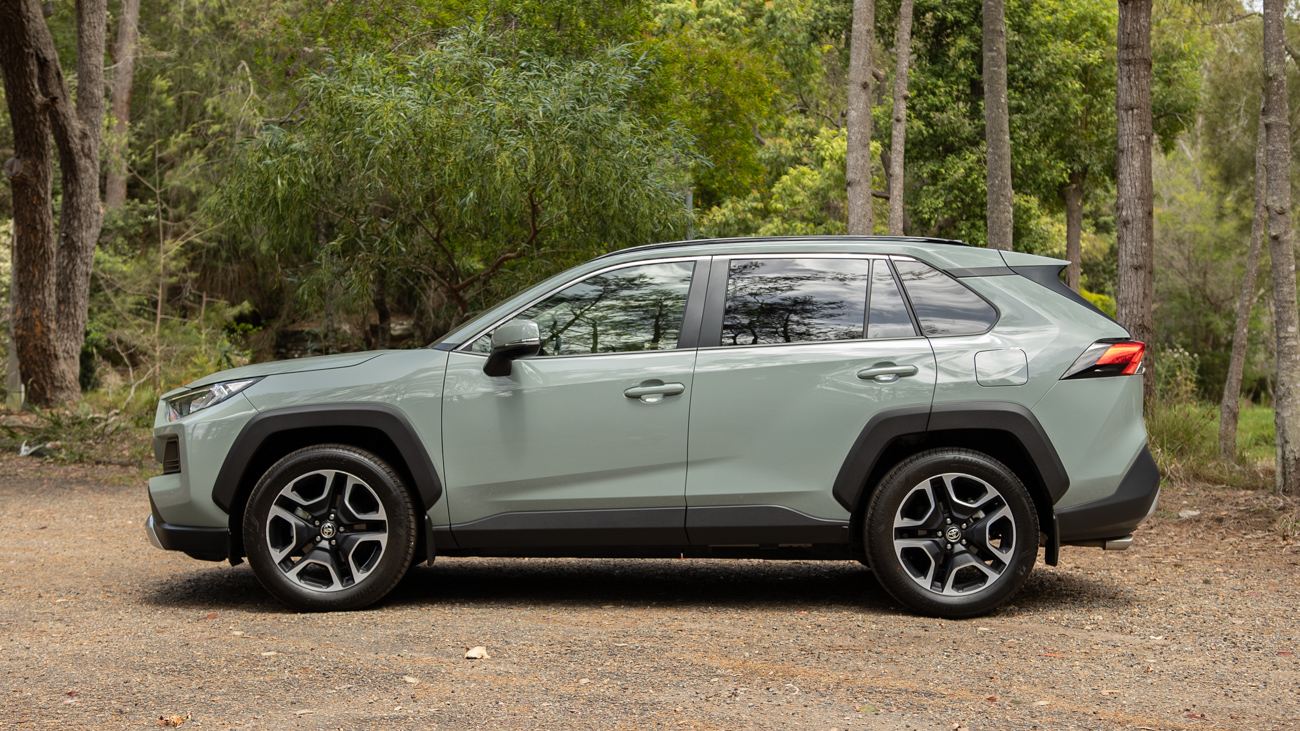 Insurance
Comprehensive cover
Estimate courtesy of