For luxury brands, small SUVs represent hot new territory. One of the newest vehicles in this segment, the Volvo XC40, schools similarly-priced rivals in how compact SUVs should be done.
In a demonstration of Swedish sensibility, the Volvo XC40 wasn't the first small luxury SUV to market. It wasn't even the third or fourth — instead, Volvo let its premium-brand rivals show their hands, taking notes on what worked, before building a compact crossover to the Volvo formula. Meet the outcome – a car that really was worth the wait: the XC40. Still under a year old, this 'baby' Volvo actually isn't that small, measuring in just a little under a Mazda CX-5, dimensionally. Available with a number of turbo engines, we selected the quickest of the lot for evaluation – the 2019 Volvo XC40 T5 R-Design, priced at $55,990 ($63,332 driveaway; $69,843 as tested).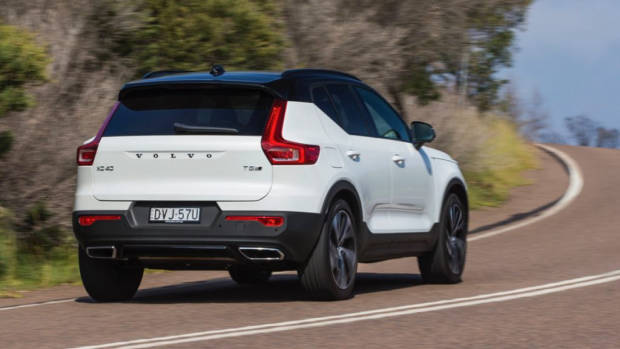 There's no missing the funky XC40 on the road. A modern interpretation of Volvo's classically squared-off design, the XC40 eschews the curves of rivals like the Jaguar E-Pace and BMW X2, ending up somewhere closer to the edgier Audi Q2 – but the Volvo is quite a bit bigger and more practical than the Audi. While the XC40 is still a compact car that's well-sized for the city, and easy to park, 460 litres of boot space and a back seat that comfortably accommodates six-footers is generous in this segment.
Distinctive LED headlights with a 'Hammer of Thor' light signature are standard, as are decent-sized wheels across the range. That said, the best-looking XC40s will sport the R-Design aesthetic exclusive to the top-end T5 petrol. The XC40 T5 is expensive for a vehicle this size, but the 185kW/350Nm turbocharged two-litre petrol four-cylinder is well-endowed in this category and offers stirring performance, though at a cost to economy. We blew out the rating of 7.7L/100km, returning more like 10L/100km across varied driving. All-wheel-drive is standard at the T5 level.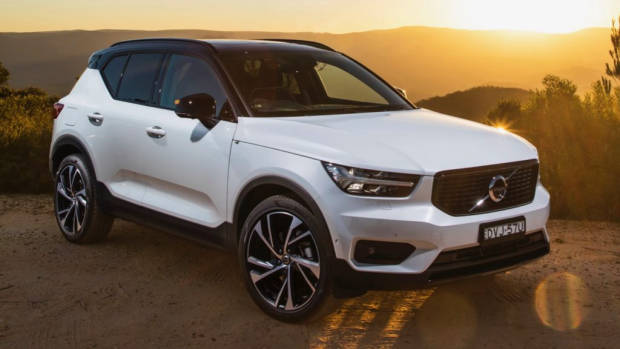 While the R-Design looks the coolest, you'll do well to check out the lower trims, called Momentum (from $44,990, $50,572 driveaway), and Inscription (from $50,990 (from $56,872 driveaway). Both of the lower grades use the same 'T4' engine, which is also a two-litre turbo petrol, though it runs a lower 140kW/300Nm tune. The Momentum is front-wheel-drive, while the Inscription is all-paw, adding about 70kg to the XC40's already fairly heavy 1,631kg mass.
Given it's fifty grand on the road, it's reassuring that the Momentum has plenty of standard kit – Volvo include things like a powered driver's seat with memory, a 9-inch touchscreen with navigation, Apple CarPlay, Android Auto and digital radio, a decent stereo, 18-inch wheels, and a basic safety pack that includes AEB (forwards and reverse), lane keep assist, and blind spot monitoring. The Momentum has really nice cloth seats.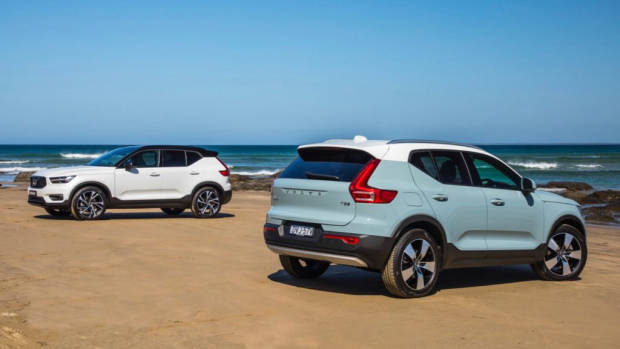 The XC40 in R-Design and Momentum trims.
The Inscription is $6,000 more and as well as AWD, that grade adds full keyless entry and start, leather seats, power adjustment for the passenger seat, driftwood trim, a crystal gear shifter, additional ambient cabin lighting, a bending function for the headlights, an electric tailgate, larger 19-inch wheels, and a leather key.
Jumping to the R-Design is a $5,000 upcharge but as well as adding 45kW/50Nm to the engine and sportier looks outside, led by 20-inch wheels, the high-end XC40 has a sports suspension, leather and nubuck upholstery, additional thigh support, aluminium trim, black headlining, gearbox paddle shifters, and a black roof. But even on the R-Design, there are costly options: adding adaptive cruise control, a 360-degree camera and automated parking costs $2,500, while a pack including heated seats, a panoramic sunroof and privacy glass is also $2,500. A sub-$50,000 Mazda CX-5 includes most of those features.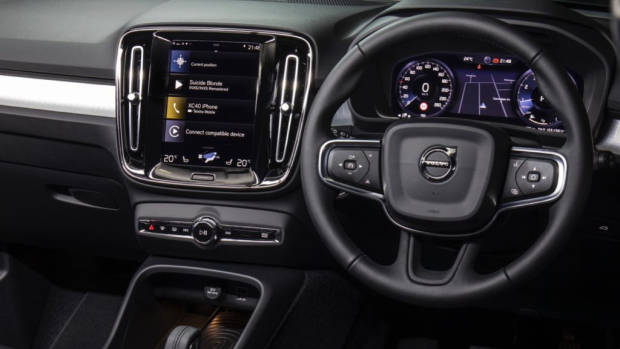 We think the best value path is to take a Momentum, adding the Convenience Pack ($990 – full keyless entry and start, electric tailgate and powered passenger seat) and Technology Pack ($3,000 – adaptive cruise control, 360-degree camera, automated parking, bending lights), for a driveaway price of $54,762. Not cheap, but not nearly $70,000, like our test car.
Thankfully, the XC40 goes a long way toward justifying its premium price – and you also have to consider that most of the Volvo's rivals are just as expensive, but many aren't as good as this car. We rate the XC40 more highly than the BMW X2 sDrive20i, which is similarly priced ($55,900, $62,038 driveaway), but is front-wheel-drive and notably only produces 141kW/280Nm.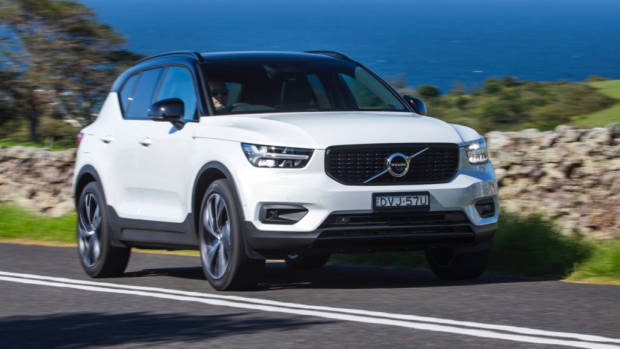 The driving dynamics, in particular, make you feel like you are driving a premium product. There's the way all of the control surfaces – throttle, brake and steering – are beautifully damped, the gearbox is smooth and the engine response is natural and linear. And then there's the well-judged steering, which is light and direct in town before weighting up well at speed. Finally, the ride quality is excellent, comfort-oriented rather than sporty, though the R-Design's 'sports suspension' feels a bit too firm. This is one refined small SUV, quiet and relaxing to drive. Behind the wheel you can tell where the additional money goes over a CX-5.
That being said, the potent XC40 is not a sporty SUV – not even in T5 form. The steering is direct but not sharp, and there is evident body roll when you push hard on a backroad. Likewise, this engine feels athletic but not sporting: the XC40 is a little cruiser, not a hot hatch on stilts. Sure, there is plenty of power here – 185kW would be segment-leading but for the Jaguar E-Pace P300, with its 221kW two-litre, though due to the Jag's extra 100kg of weight, the XC40 T5 and E-Pace P300 both accelerate to 100km/h in 6.4 seconds. Quick, if not scintillating. The lower T4 engine would be adequate for most.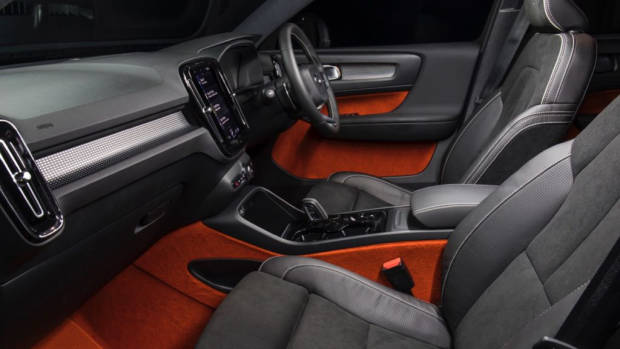 In the cabin, the XC40 also sends plenty of reminders that it is a luxury car made smaller. Well thought out and constructed from nice materials, the XC40's interior cossets, holding up Volvo's reputation for making good seats. The cloth numbers in the Momentum speak to our niche interest in textile-based upholstery, but the R-Design's interesting (and grippy) leather/nubuck pews are pretty supportive. It seems bizarre that heated seats would be optional in a vehicle designed for extremely cold Swedish winters, though.
Like other modern Volvos, the XC40 uses a vertically-oriented touchscreen – measuring nine inches in this application – running the brand's Sensus operating system. This works fairly well, once you've learned the various swiping and pinching functions. Apple CarPlay and Android Auto are standard, though, so most smartphone users will just plug in and get a familiar experience. The Harmon-Kardon audio upgrade sounds very crisp. We like the fact that digital radio is also included for no fee.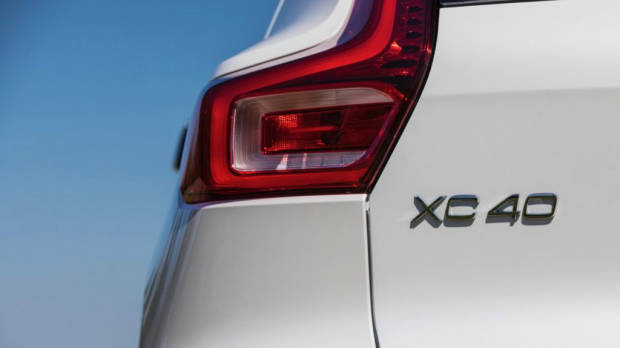 Secondary materials in the cabin are good, with few instances of hard, unrefined surfacing. Some inspired choices, like natural driftwood, are available for the trimmings, while soft touch plastics abound, and there are vast expanses of carpeting, used both as a practicality item and a design touch. 'Lava Orange' carpet is optional on the R-Design model at no extra cost, extending right up from the door pockets to the inserts above the electric window controls. Cool.
Back seat space is good, with second-row passengers benefitting from good thigh angle support and standard air vents. Heated rear seats are also available, for $900, which includes the charge for the front seats. The large boot, which measures 460 litres with all seats erected, is logical and square. A power tailgate is included on the top two trims but won't be necessary for everybody on a vehicle that is pretty compact.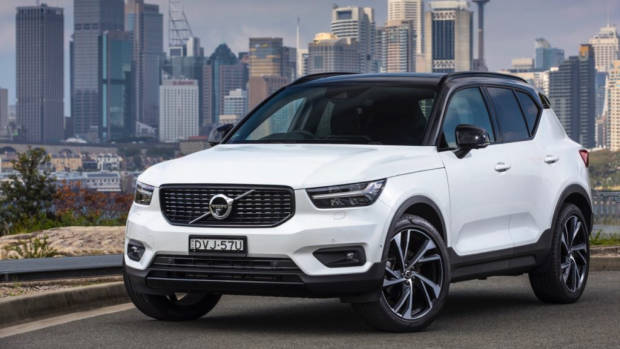 Like several other premium brands, the Volvo XC40 is available with a prepaid servicing plan. Volvo's 'Smartcare' arrangements are available in a range of mileage and year formats; the lowest-priced cover the first of three years or 45,000 kilometres. The charge for this plan with an XC40 is $2,165 (amounting to $721 per year) – pretty expensive for a small SUV. 'Smartcare Plus' adds a set of front and rear brake pads and a wheel alignment, and costs $2,980 (amounting to $993 per year).
Unique looks outside, a lovely cabin, a decent smattering of standard kit and enjoyable, comfortable driving dynamics – there is a lot to like about the Volvo XC40. This little Swedish truckster sits in the small luxury SUV class – a field of cars that, apart from the Audi Q2, are generally pretty expensive to buy into.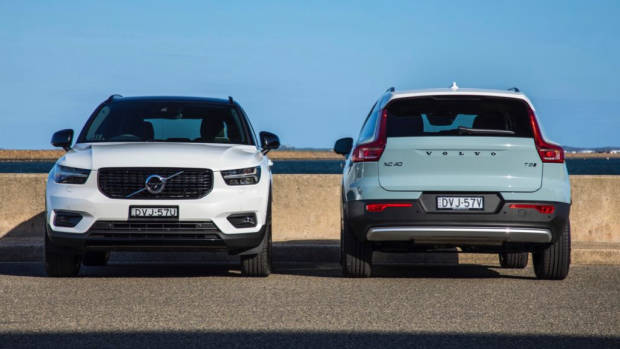 That does make the XC40's high price seem more acceptable in context, but we do think some options – adaptive cruise control, a 360-degree camera, heated seats – should be standard, given they are included in mainstream SUVs that are almost as good as the Volvo, like Mazda's CX-5.
That said, an XC40 is not a CX-5: it's a more distinctive, fun, premium vehicle. It does enough to make you feel like you're buying into the entry rungs of a luxury brand, and for that reason, we recommend it.