With over 250,000 Subaru Foresters sold in Australia since the SUV arrived onto the scene in 1997 introduction, it's hard to understate the importance of this vehicle for the Japanese brand. One of the very first smaller SUVs to hit the market, the Forester's transition from raised wagon – a formula perfected by Subaru from the Leone to today's Outback – to a proper medium SUV has been evolutionary. Each subsequent Forester has grown and become more sophisticated, and as a result, it has found ever-more buyers. That said, the Forester's competitors have gotten better too – and in recent years, the Subaru has found itself only a mid-pack player in terms of volume. So, can an all-new, fifth-generation 2019 Subaru Forester lead the brand back to a podium finish?
By all accounts, Subaru Australia are certainly hoping so. The fifth-generation Forester was only revealed in April of this year, and its rapid arrival is highly unusual – the next Toyota RAV4, which also debuted in autumn, will not be on Aussie roads until well into 2019. The 2019 Forester sits on Subaru's new Global Platform that also underpins the Impreza and XV twins (the larger Liberty and Outback are next to get upgraded). The Global Platform has brought with it a range of improvements for Forester – it's larger and its body is stronger than before, offset by minimal weight gain of around 15kg. The changes have also made a Forester hybrid variant possible, which will arrive next year.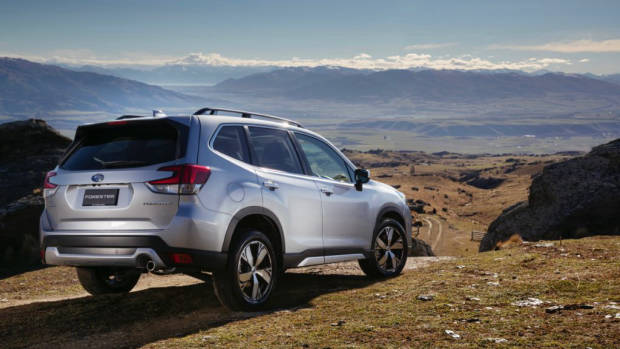 Subaru have kept things simple with the new Forester with a dramatic minimisation of buyer choice compared to the outgoing generation. That car had four engine options and two gearboxes, whereas the new Forester adopts a single 2.5-litre petrol engine with all-wheel-drive, producing 136kW/239Nm and paired only to a CVT automatic. There are four distinct grades – and like the Volkswagen Tiguan, there is no real 'base model', with the Forester range kicking off at $33,490 for the 2.5i. That said, value remains very strong – even the most expensive new Forester comfortably undercuts the top-shelf Mazda CX-5.
While all grades look like value for money, we think the $33.5k 2.5i is particularly compelling. There's a 6.5-inch touchscreen with Apple CarPlay/Android Auto, auto wipers and LED headlights, dual-zone climate control and rear air vents, plus a decent suite of safety tech: high-speed AEB, adaptive cruise control, lane change assistance, blind spot assistance, and rear cross traffic alert are all standard fit.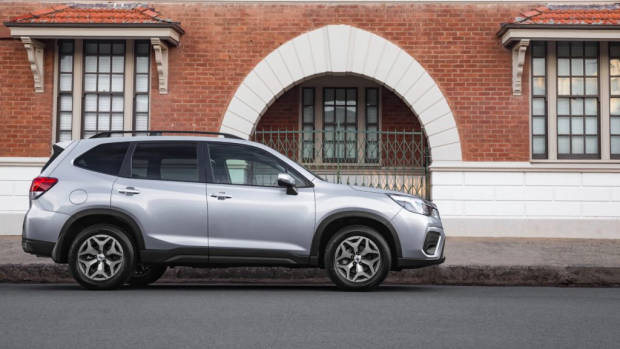 Upgrade to the $35,490 2.5i-L and you get adaptive high beam, AEB in reverse, front and side parking cameras, and a driver monitoring system to not only alert of drowsiness, but to automatically adjust the car's dynamic settings to the driver's tastes. These new Foresters are not the basic workhorses of old.
From there, it's a reasonable $3,000 jump to the $38,490 2.5i-Premium, which picks up more fruit such like a larger 8-inch touchscreen with navigation and live traffic, tasteful half-leather seating, an electric tailgate, auto-folding mirrors, 8-way electrically-adjustable front seats with driver's memory, and 18-inch alloy wheels. The top of the tree $41,490 2.5i-S fills out the package with full leather trim (though they're oddly unheated), a panoramic sunroof, LED front fog lights, an 8-speaker Harman-Kardon stereo, and upgraded interior trim including a faux leather centre console, and chrome switchgear.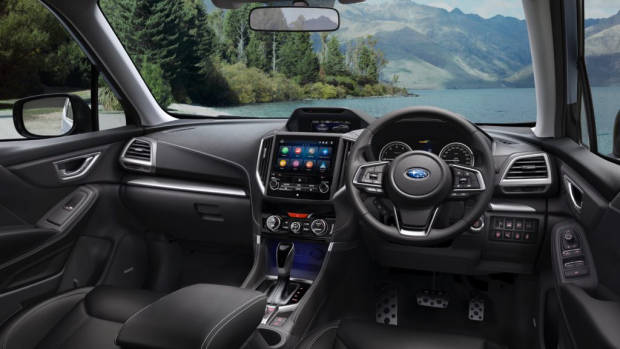 Thanks to its new platform, this Forester is the biggest yet. At 4,625mm long, it's 15mm longer than before, while also being 20mm wider at 1,815mm, yet 5mm less tall at 1,730mm. By contrast, Mazda's top-selling CX-5 is shorter, less tall, but a bit wider – and as a result, the Mazda offers 47L less boot space. The Subaru has a healthy cargo capacity of 498L that expands to 1768L when you fold down the back row of seats flat. A full-size alloy spare wheel is standard, and you get properly practical touches in the boot including shopping bag hooks and remote releasing for lowering the rear seats. What impresses most is the wide boot opening: there's a full 1.3 metres of width to slide objects through.
The practicality continues in the cabin, with spacious front and rear rows, wide-opening doors, and large windows for excellent visibility – a longstanding Forester trait. At six foot, this reviewer had no issues sitting in the back behind himself as room is plentiful in every direction. There are also segmented map pockets. The transmission tunnel isn't too intrusive and finally, Subaru has given the Forester rear air vents and two USB charging ports – kids need air and charge-time too. The front cabin is well thought out and there is clear quality here – soft touch materials are found front and back. Plenty of convenient storage nooks and crannies can be found: the door pockets and glovebox, centre tray with USB and AUX ports, and big cupholders all impress.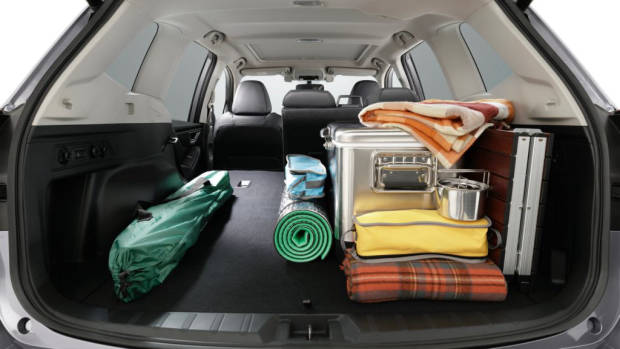 The Forester shares much of its dashboard layout with the new-ish Impreza. Material quality, though, is superior in the Forester: most of the dash and doors are soft to the touch, and on the 2.5i-S, the centre console is also padded. The touchscreens are crisp and easy to use, though a little slow to respond to the touch. Smartly, not everything is relegated to the touchscreen: the Forester sports clear, bright buttons for major functions. Finally, the Forester's seats are properly comfortable, though the driving position is superior in the 2.5i-L models and above thanks to a greater range of electric adjustment.
Powering the Forester is a 90%-new 2.5-litre four-cylinder Boxer petrol engine, which produces 136kW of power and 239Nm of torque, and both at relatively high revs, giving a clue to the car's drivability. Unlike the previous model, there are no other engine options – while we won't miss the old 110kW/198Nm 2.0-litre petrol, we do wish the pair of 2.0-litre turbocharged engines (a 177kW/350Nm petrol and 108kW/350Nm diesel) had carried across to this new generation.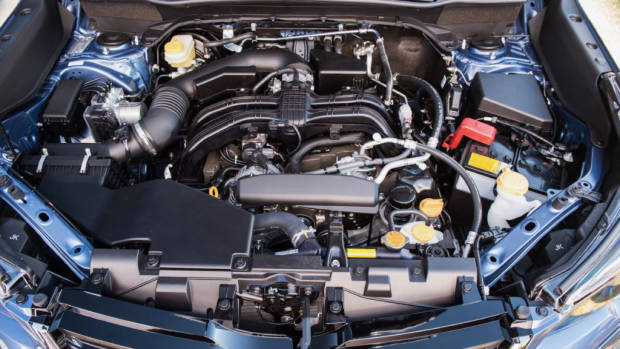 Alas, no: for now, the naturally aspirated 2.5-litre is the only engine available globally on the Forester, but for most buyers, it will be more than sufficient. It's not a powerhouse and when fully strung out, it's a loud unit too. But the 2.5-litre provides respectable performance in a segment that ultimately isn't known for quick-moving vehicles. Its 0-100km/h sprint claim of 9.5 seconds is not fast, but the stepped CVT transmission does its best to mask the engine's higher-rev torque production.
Subaru's improved CVT is an excellent transmission because it doesn't flare the revs when stepping off the line, unlike many CVTs, and it engine brakes downhill to mask speed better. At 7.4L/100km, the claimed fuel consumption is average for the class, though pretty similar to the 2.5-litre Mazda CX-5. On launch we got just above 8L/100km in mostly motorway driving – urban buyers may want to wait for the hybrid.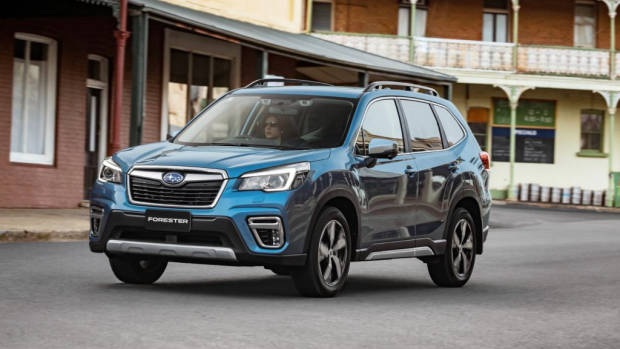 On the road, the Forester's dynamics mostly impress. Unfortunately for Subaru fans of old, this is no sports SUV – the days of the Forester GT are well and truly behind us. Keep your expectations in check, though, and the new Forester offers a reasonable driving experience. The low-speed ride quality is nicely tuned and this is a relaxing SUV to drive at a measured pace. Hustle it hard and it will falter, resulting in soft body control, understeer and stability control intervention – plus a high-speed ride that bounces over undulations.
Road noise levels on the 18-inch wheels could be a bit softer – maybe they are on the smaller 17s, but these weren't available to test. All of that said, the driving experience is not a problem, and families will enjoy the relaxed nature of the Forester.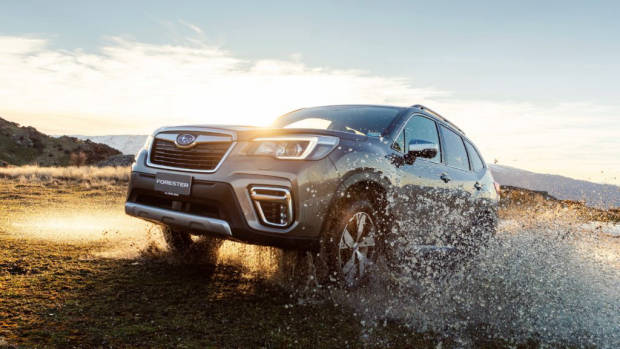 One relatively unique selling point for the Forester continues to be its off-road ability. Subarus' famous symmetrical all-wheel drive system is standard range-wide, as is X-Mode, which electronically varies torque between the wheels and gives the Forester good traction. This is no Jeep Cherokee Trailhawk, but the Forester is certainly superior to most medium SUVs once you leave the tarmac. The all-wheel drive system was very effective on dirt, effectively distributing torque to where needed – the subtle ESP calibration helps as well.
We predict that the 2019 Subaru Forester will sell more strongly than the outgoing model, thanks to key upgrades to its practicality and spaciousness, better dynamics, a much better interior, and a lengthy equipment list that continues Subaru's developing tradition as a safety leader. We're a little glum that the new Forester also leads Subaru further away from their old reputation of making seriously fun-to-drive rigs – but considering the brand's modern family focus, this is something we just have to accept. Instead, the Forester makes its mark as a dependable, accessible, future-proof family car. Those are qualities that the Forester has always had, but Subaru has modernised this car and made it even more relevant for families in 2018.