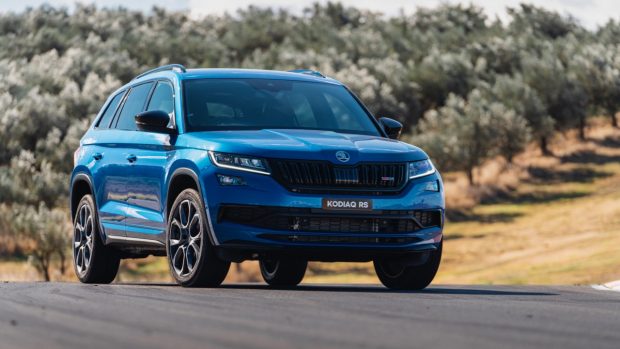 Skoda's sporty Octavia RS wagon has something of a cult following in Australia. Now, the Czech brand are trying their hand at extending the go-faster RS philosophy to their seven-seater Kodiaq SUV – but it comes at a cost.
Once regarded as the budget brand of the Volkswagen Group, today's Skoda is far from the Aldi of car manufacturers – neither in terms of cost, nor approach. Designed to be less cookie-cutter than their Volkswagen cousins, Skoda offers more interesting design and a smattering of 'simply clever' features inside and out. Plus, the RS models often offer more than a modicum of driving engagement.
Until now, the RS badge in Australia has been reserved for Skoda's bread-and-butter vehicle – the midsize Octavia liftback and sedan. The Octavia RS is essentially a more practical, reskinned version of the Volkswagen Golf GTI, and it's a vehicle that has rated well on Chasing Cars. We're also fans of the brand's Kodiaq SUV, which packages seven actually-usable seats in a reasonably compact SUV that measures under 4.7 metres. So – does combining the smartly-shaped Kodiaq with the RS philosophy create a match made in heaven?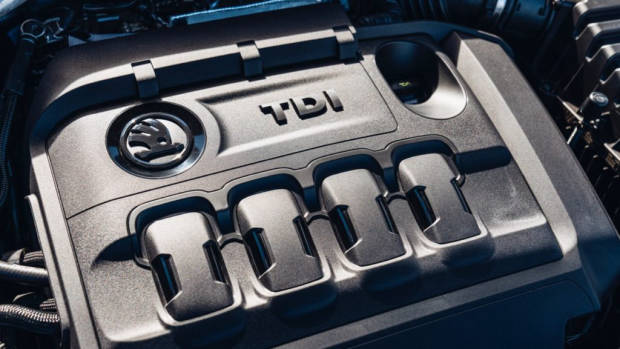 Well, it creates a pricey proposition for a start. The $71,990 (driveaway) Kodiaq RS, which packs a new-for-Australia 176kW/500Nm bi-turbo diesel four-cylinder, becomes Skoda's most expensive vehicle ever – by a margin of $10,000. While we were impressed by the standard Kodiaq 132TSI ($47,990 driveaway, reviewed here), a $24,000 jump looks stiff. There is a similar hike from a standard Octavia wagon to the RS version of that car, but the Octavia RS is a hugely improved vehicle over the base version. In the Kodiaq, though, it's a different story: even the standard car has all-wheel-drive and seven seats – so there's a question of value. That said, the RS model includes many of the standard car's optional features.
It's a question complicated by the fact that for the past couple of years, Kodiaq buyers have been able to specify the more modestly engined 132TSI – which uses a 132kW/320Nm 2.0-litre turbo petrol – with a Sportline pack… which looks very similar inside and out to the Kodiaq RS. In fact, the Sportline continues for 2020, and if you option it up with both 'packs', bringing equipment closer to an RS, it sits just below sixty grand. The biggest difference is in pace – the 132TSI jogs from 0-100km/h in 8.2 seconds while the 176TDI RS canters there in 6.9 seconds.
Taking a test drive will immediately clarify for a buyer whether the step up from a 132TSI Sportline to the fully-fledged RS makes sense. The character of the engines is so different. The 132TSI is quiet, refined and decently nippy – though certainly not fast. By contrast, the 176TDI diesel, which was held back from Australia for years due to our hot-climate categorisation in the Volkswagen Group world – feels deeply muscular, with a mean, mechanical engine note. It feels much faster once you've already built up a head of steam than the 132TSI, which is occasionally caught short when you need to overtake. Add a full complement of people aboard, and the twin-turbo diesel will be substantially quicker everywhere.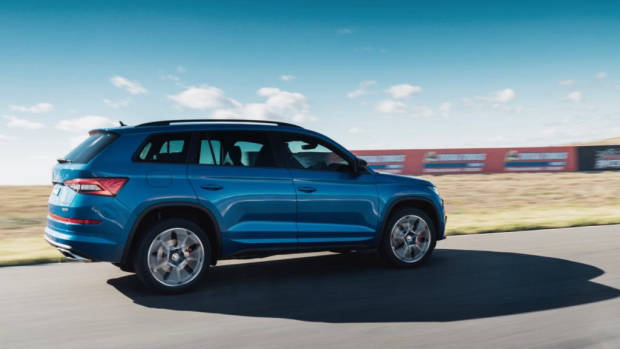 It's the deep feeling of torque in the 176TDI engine, as well as the slightly-synthetic-but-still-cool exhaust note that are the main differentiators of the Kodiaq RS. There's also the available Race Blue paintwork, the black badge, mirror and grille detailing, and the full-length RS-exclusive reflector strip on the back end. The wheels are similar but not the same as the 20-inchers sported by the lesser Sportline. There are many RS … or is that vRS … badges around the car. Skoda spotters will know this is the $71,990 version.
The rest of the driving experience is more similar to that of a Kodiaq 132TSI than it is different. That is no problem, because Skoda nailed the ride and handling of the Kodiaq the first time. Unlike the rather rough and loud base Octavia, with its noisy torsion beam rear suspension, there is no need for the Kodiaq RS to completely reset the benchmark. The ordinary car already attacks corners with almost unbelievable competence for a seven-seat family bus. The ordinary car, with its independent rear, already handles bumps with aplomb.
Those virtues continue in the RS, even though the adaptively-damped suspension package here has been tuned for a slightly more athletic approach. Certainly, the Kodiaq RS sits flatter while cornering, eschewing the 132TSI's greater roll characteristics, but neither approach is notably 'better'. The flatter-handling RS relies more on its tyres, but equipped with quality Continental ContiSport5 rubber, it gets results, eagerly devouring systems of corners.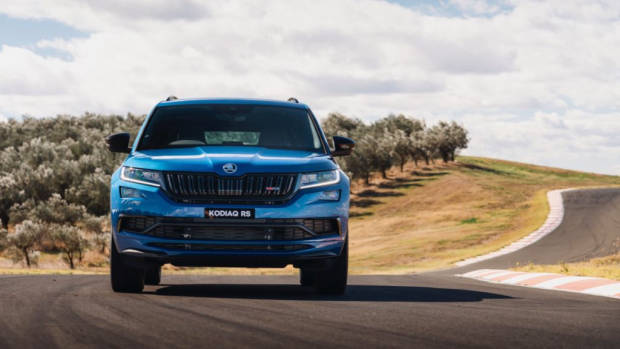 Careful selection of drive modes is required, though, to get the best from the Kodiaq RS in Australia. The tri-stage dampers are only great in their mid 'Normal' setting. Comfort feels boaty, with wayward body control, while Sport is too stiff and firm for our rough rural roads. Leave the Kodiaq RS in Normal, and the suspension has a terrifically long-legged feel, absorbing most undulations and bumps while still offering some road feel. And the steering is amplified through the use of a relatively small, perforated, attractive steering wheel.
In fact, the Kodiaq's interior is attractive all-round. While this Skoda SUV is closely related to the popular Volkswagen Tiguan, the Kodiaq is the superior product in many ways – including in cabin finesse. Much more use of soft-touch surfacing confirms Skoda as a semi-premium brand – most everything in here feels expensive, apart from perhaps the hard plastic door grabs, which seems like a lazy oversight for such a common touchpoint.
The part-Alcantara seats, with their diamond quilting, are comfortable and supportive, with electric adjustment and heating and memory in the front. The digital gauges are crisp, clear and exciting to look at, with various options including integrating a full map. The central touchscreen attracts too many fingerprints but is neatly integrated, and offers (wired) Apple CarPlay and Android Auto. With a bit of careful tuning, the standard Canton premium stereo recreates tunes faithfully.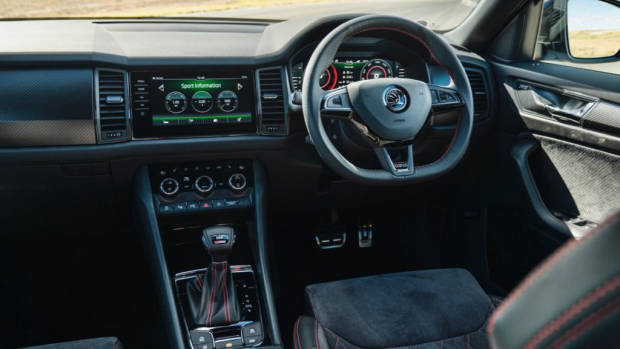 Space in the second row is really generous, especially if you don't need the third row. The middle set of seats are on sliders, meaning you can maximise legroom here, or give those sitting in the sixth and seventh occasional seats usable space. The second row is comfy and very spacious for head, leg, and toe room. There is a separate climate zone and integrated window shades – and every door has a little rubberised guard that deploys discreetly whenever a door is opened to prevent dinging the car next to you. Nice.
The boot measures 230 litres with all seven seats in place, leaving space for the school bags to be stacked or a shop at the grocery store. There's much more space if you fold the back pair of seats – but one of the biggest benefits to the Kodiaq is that there is a genuinely child-friendly – and adult-bearable – third row in a relatively short SUV. The Volkswagen Group are experts in vehicle packaging, and those skills are all on show here.
Standard kit on the RS is generous – no option packs are available, unlike other Skodas in Australia. For that $71,990 driveaway figure, you're getting premium features like a 360-degree camera, a 9.2-inch touchscreen, digital radio, adaptive dampers, tri-zone climate control, a kick-operated electric tailgate, automated parking, and proximity entry. Only a panoramic sunroof ($1,900), side steps ($1,300) and premium paint ($770) are optional.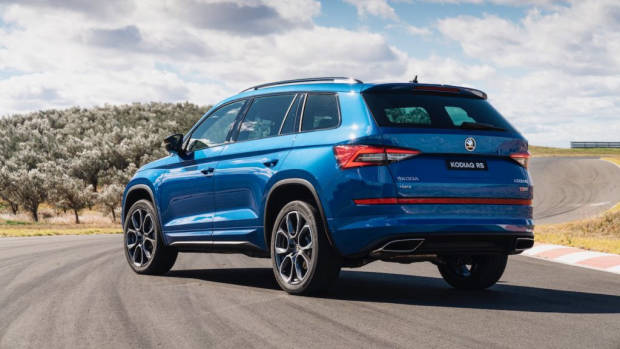 Living with the Kodiaq RS is pretty cruisy – and ownership can be too, especially if you pre-purchase one of the two prepaid transferable servicing packs: five years/75,000km costs $1,700 (a $714 discount) while three years/45,000 is $900 ($399 discount). Roadside assist is included for the term of the packs – and a five year, unlimited kilometre warranty applies on every Kodiaq sold.
If you're a fan of Skoda's RS product but have been waiting for an option with more space for a growing family, the 2020 Kodiaq RS is going to make a lot of sense. Similarly, if you've been eyeing off the Kodiaq for a while but you've been waiting for a more premium, more powerful engine – the 500Nm diesel under the bonnet here should do the trick.
We happily continue to recommend the Skoda Kodiaq in all its forms. It's a terrific family SUV, with driving engagement in every model and a clever, practical interior. This is what family motoring should be all about.