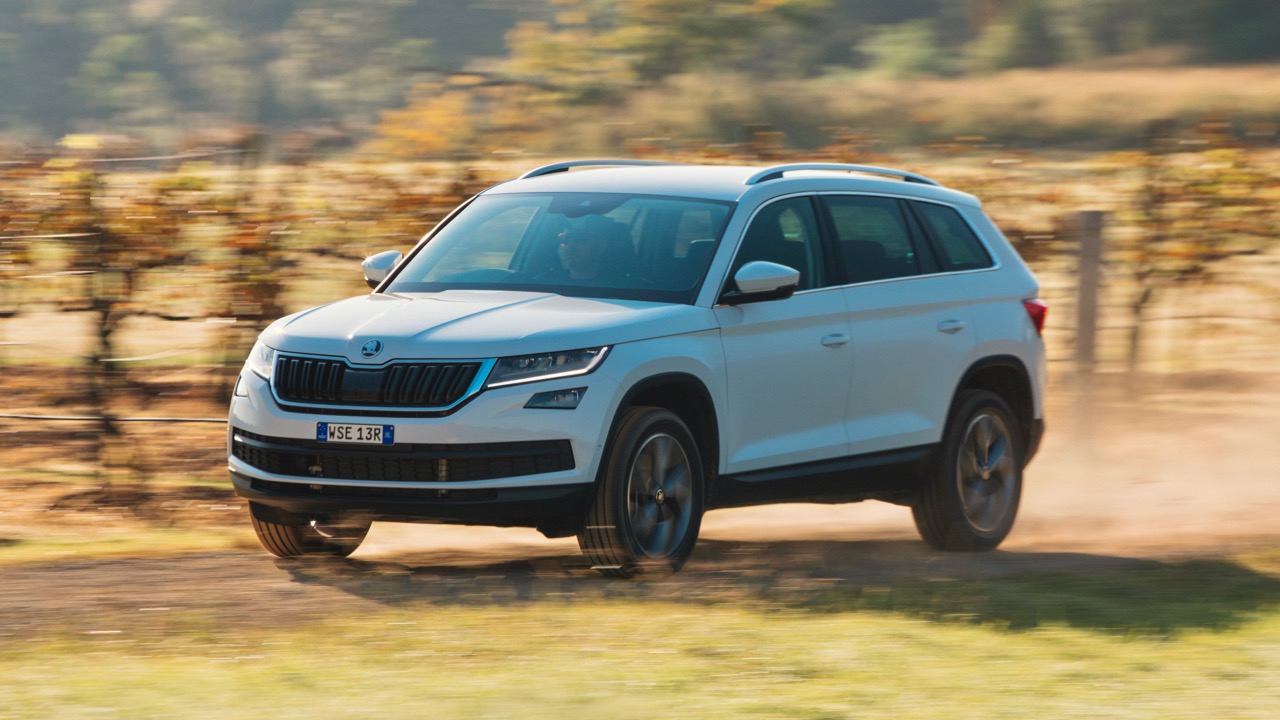 Volkswagen's low-cost brand Skoda launched into the Australian market in 2009 – but despite offering practical and interesting cars like the Octavia and Yeti, Skoda have been waiting on their first big winner here. Why? Two reasons: establishing a new brand in Australia's cutthroat new car marketplace takes time, and Skoda's Euro-centric range of hatches and wagons hasn't spoken to Australia's real desire: SUVs. Good news, then: Skoda's entrant into the high-riding class is here, we've driven it, and the verdict is that the 2017 Skoda Kodiaq is the best seven-seater you can buy for $42,990. In fact, the Kodiaq embarrasses numerous more expensive three-row SUVs.
It may not be a Volkswagen, but it might as well be – the Kodiaq is based on VW's Tiguan and that's how it feels behind the wheel. Many parts are shared between the pair and inside, the Kodiaq actually feels a little more premium than its Volkswagen counterpart despite sporting more equipment at a lower price.
The Kodiaq's Volkswagen lineage is clear under the bonnet, too – the VW Group's familiar 132kW, 320Nm two-litre turbo petrol arrives from launch and feels adequate. The petrol has enough oomph in town but is a little short of go on the highway – and many interested buyers will prefer to wait for the musclier 140kW, 400Nm turbo diesel arriving later this year.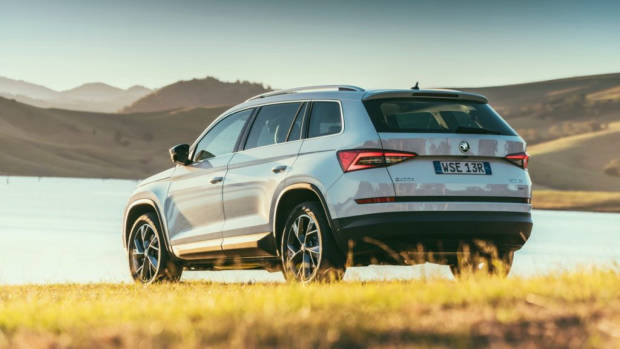 Despite being pretty big – it's about the size of a Hyundai Santa Fe – the Kodiaq does a good job of shrinking around you, feeling small enough to manoeuvre with ease around town. It's satisfying and pretty refined to drive and comfortable to travel in. The interior is well-made if visually boring, but outside it's all sharp European lines and the Kodiaq has more driveway cred than most Japanese and Korean seven-seaters.
As it comes at $42,990, the Kodiaq is well-equipped: an 8-inch screen with navigation and smartphone mirroring, 19-inch wheels, leather and Alcantara seats are all thrown in, as is four-wheel-drive. Like its Volkswagen brethren, Skoda's safety inclusions are good: AEB, active cruise control, and bright LED headlights are standard. The two available option packs contain tempting luxury features and are worth consideration but they see that attractive price climb quickly.
Where the Kodiaq is clearly a Skoda is in the details – Skodas tend to pack a few quirky creature comforts and this is no different. Door edge protectors proactively pop out when you open it up to prevent carpark scratches. There are umbrellas in the doors, and the boot cargo light can be removed and used as a torch. But cuteness aside, it's clear what the Skoda Kodiaq is: a cheaper, but in some ways better, Volkswagen SUV.