We're now at the halfway point of our six months of 2019 Volkswagen Golf GTI motoring. So, how is our red hot hatch getting along?
Despite the fact the Mark 7 Volkswagen Golf is coming to the end of its lifespan, with a new eighth-generation version due to be revealed in early 2020, it is remarkable how well this seven year old vehicle has aged relative to its rivals.
If you haven't read Part 1 (Introduction) or Part 2 (city driving) to this long-term test, start there.
Specifications of our Golf GTI
Base vehicle
$45,490 ($50,578 driveaway)
Our options
Tornado Red solid paint (no cost)

Luxury package ($3,900)

Sound and Style package ($2,300)

Options totalling $6,200

Final cost
$51,690 ($57,088 driveaway)
Driving data
| | |
| --- | --- |
| Entered fleet | November 2018 |
| This entry dated | February and March 2019 |
| Mileage since last entry | 989 kilometres |
| Total mileage on test | 4,189 kilometres |
| Fuel economy since last entry | 10.6/100km (up 1.2/100km) |
| Running long-term fuel economy | 10L/100km |
We think every variant in the Golf range has aged well, including the MY19 Golf GTI that we ordered back in the spring of 2018. Upgraded throughout its lifespan in every way, the Golf GTI has pulled out all the stops in the last twelve months to match an onslaught of hot hatch rivalry, including the threat posed by the Hyundai i30 N.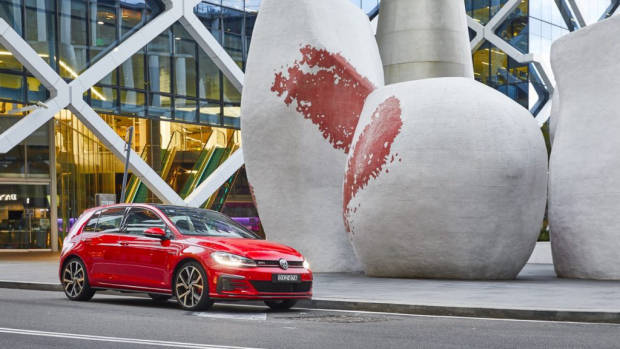 When the Mk 7 GTI launched, it produced 162kW of power from its EA888 two-litre turbo engine. Now, the same engine makes 180kW of power, though we know it's capable of more: the Golf GTI 40 Years edition of late 2016 made 213kW on overboost. Expect to see that tune return to Australia year in the rather manic Golf GTI TCR – the final edition of the GTI in this generation.
However, even in the now-standard 180kW form, the 2019 GTI is an engaging, enjoyable car. Over the past three months, we've reflected that a Golf GTI is the car anyone could ever realistically need: it's got the chops to handle a great backroad with verve, while providing the quiet refinement and a level of luxury that makes everyday life more comfortable.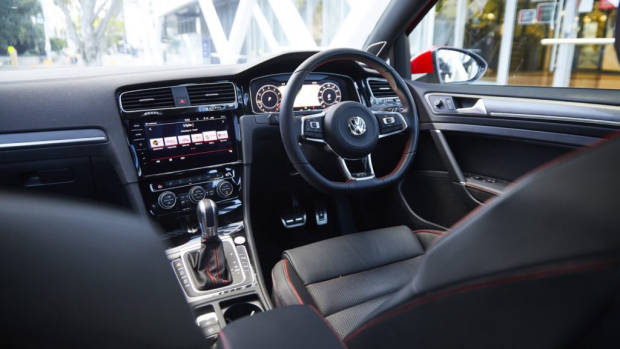 It looks good, too – at least to our eyes. The squared-off angles of the Mk 7 Golf have aged substantially better than the rounded forms of the previous-gen Mk 6, and in 2019, the Golf still passes off as totally contemporary. In the darker colours it's elegant, while in the Tornado Red of our car, it's sporty. With the Brescia 19-inch alloys fitted to our hunkered-down GTI, it looks like it's wearing fresh kicks.
Of course, it's not all perfect. While the interior makes its level of quality clear, the design is getting old and the low-set touchscreen is a niggle, requiring eyes to be taken away from the road for too long. Volkswagen have moved away from this now, adopting a high-set screen closer to the line of sight in the new Polo, T-Cross, T-Roc and Touareg.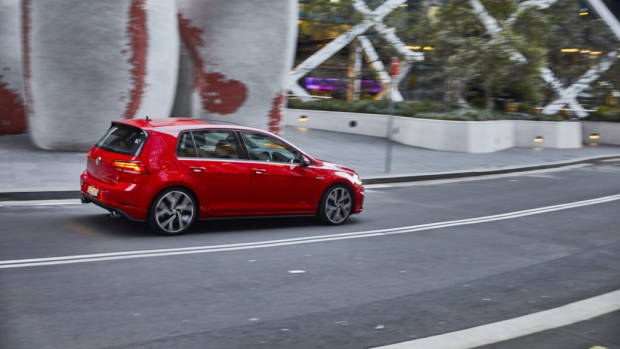 The driving position could be better: it's just too high to feel 'at one' with a great road. While the GTI is a true performance hatch, there's no disguising that it is a runabout Golf as well. In fact, the 'Luxury Pack' interior of our Golf GTI is basically that of a $20k-cheaper Golf Highline, albeit with a cooler steering wheel and red stitching.
That raises the question of whether you need to even splash for a GTI. All the regular Golfs still have good performance: 110kW/250Nm from a 1.4-litre turbo doesn't look huge but in the real world, the low-end torque and light weight mean the standard car feels nippy.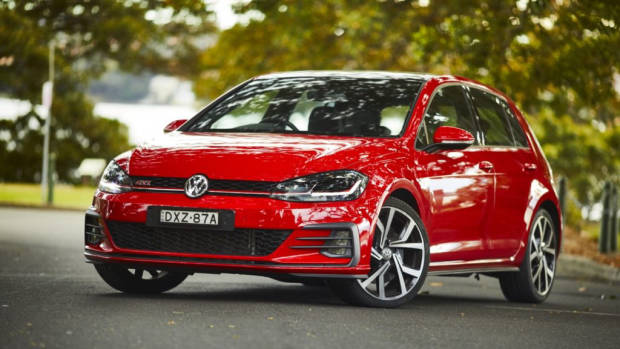 However, the 'normal' Golf is tuned very much for comfort and while it will still devour a country road, the gentle body roll and slower fixed steering ratio of the $35k Highline inevitably mean a lower level of engagement.
The GTI remains a great pick for those that really do want to drive athletically, even if it's not as affordable as it once was. A true peach at $38k – the Mk 7 GTI really did get that low with the 2018 'Original' special edition – at $56k, our tester has certainly been a bigger ask.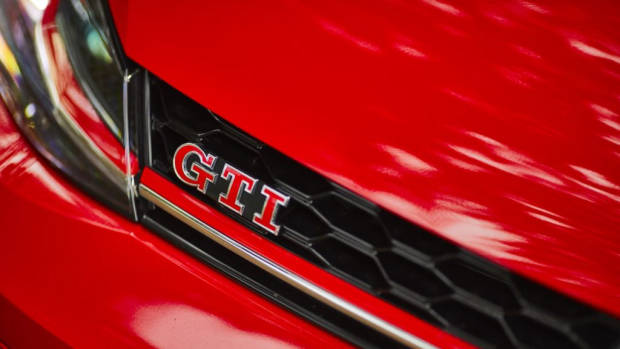 We look forward to the next few months of assessment, but at this point, we're taking a critical eye to a number of options we have specified.
Do you need the Luxury Pack, which ditches the classic tartan seating for power-adjustable heated leather and a sunroof? And how effective is the Sound and Style Pack, really – the 19-inch wheels and P Zero tyres certainly add an edge, but do you really gain much over a standard-spec GTI on 18s and Potenzas? We'll be asking the hard questions as we enter the downhill stretch of this test.
Photography by Alek Hoskins for Chasing Cars