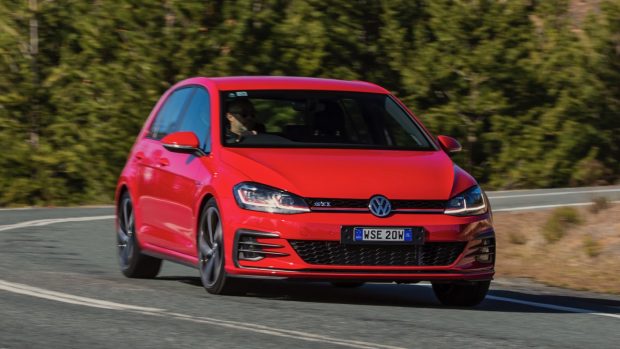 When you think hot hatch, you think Volkswagen Golf GTI. The little German that could has deeply embedded itself in the mind's eye of fast, front-drive hatchback enthusiasts – but it wasn't always this way. The GTI's potted history includes some early legends – the original seventies Mk 1, and the first GTI Australia received, the eighties Mk 2. But forgettable nineties Golf GTIs, the Mk 3 and 4, were more sporty styling than sport. The 2004 Mk 5 restored the GTI to classic form: a recipe of much more power than the vanilla Golf, some styling aggression, and proper upgrades to the car's handling. Since then, the highly-regarded GTI has evolved slowly, never reinventing itself, adding about five per cent more power every few years. And so we arrive at the third such update in the modern GTI era: the Volkswagen Golf GTI Mk 7.5.
And evolutionary it is. The Mk 7.5 is an upgraded version of the Mk 7 Golf that debuted in 2013, and is the second GTI to sit on Volkswagen's MQB modular small car platform. The 2.0-litre turbocharged petrol engine received the customary power bump: it's up 7kW, from 162kW to 169kW. Torque is steady at 350Nm, with a super-linear curve. The Mk 7.5 is a bit faster. It'll sprint to 100km/h in 6.4 seconds. A six-speed manual remains the enthusiast's choice; the optional six-speed DSG automatic does good work, too.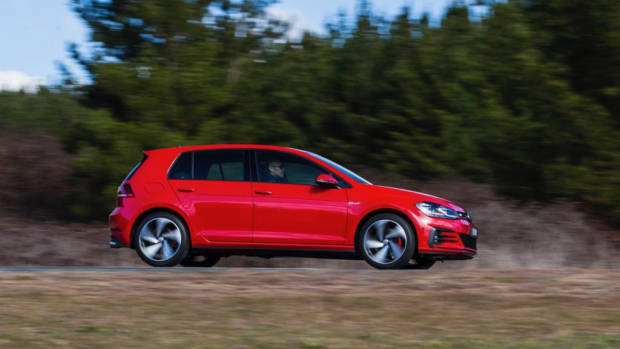 It'll take a close eye to pick a Mk 7.5 GTI from a Mk 7 Golf at a distance. Not that this is a bad thing: the Golf was already handsome, with squared-off angles and upmarket European lines identifying it as a mature, premium choice among small cars. True to form, the GTI does get a few lairy touches to identify its sporting intent. As it has always been, Tornado Red is the halo colour. New-look 18-inch wheels, wrapped in 225/40 Bridgestone Potenza tyres, are probably the Mk 7.5's clearest differentiator. But there are also new LED headlight and taillight graphics, beefier tailpipes – these look great – and a more aggressive front bumper, modelled on that one of our favourite Golfs – last year's Golf GTI 40 Years special edition.
But a small power bump and subtly revised aesthetics aren't the only changes. There's an impressive allotment of new technology – more than you'd expect for a $150 price bump over the outgoing car. As standard, the GTI has picked up LED headlights and taillights, autonomous emergency braking with forward collision warning, and a new 8-inch touchscreen head unit, now with navigation, Apple CarPlay, and Android Auto.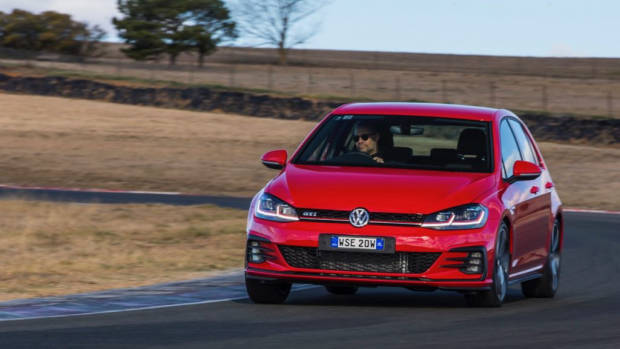 The option set has been tweaked, and adding a selection of the palette turns the Golf GTI into a properly luxurious hot hatch. The $2,300 Infotainment pack adds a sophisticated technology proposition including a 12-inch digital driver's display and a larger touchscreen, plus premium Dynaudio sound. It's pricey, but the $3,900 Luxury pack brings a sunroof and very supportive and adjustable heated leather seats. Meanwhile, $1,600 adds the Driver Assistance pack, which includes a suite of adaptive safety technologies.
Volkswagen are rightly proud of the fact that the Golf GTI draws a pretty wide audience. A quarter of buyers are female – a high proportion for a performance model, and the median buyer age of 42 shows the model's unusually broad appeal. It's not an easy task to engineer a car that can please so many people. Usually, that requires serious compromises. But as I found on the Mk 7.5 GTI's national launch in the Blue Mountains of New South Wales, the Golf GTI retains an ideal balance between proper dynamic ability, comfort, and liveability – the precise mix that embedded this car in the mind's eye as the archetypal hot hatch.