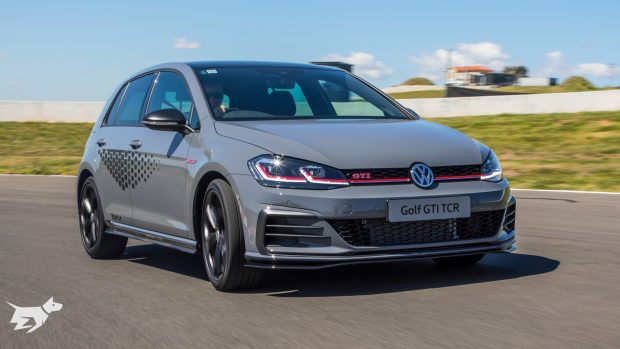 The ultimate manifestation of the seventh-generation Volkswagen Golf GTI – the track-bred TCR – is surely a future classic
It was fitting that Volkswagen opted to stage the Australian launch of the final, and ultimate, edition of the Mk 7 Golf GTI on track. The compact, sinewy Luddenham Raceway outside Sydney was selected to demonstrate the tenacity of this balanced, communicative hot hatch that will surely be regarded as one of the great GTIs in decades to come.
Though the lack of a manual will irritate purists and collectors, the DSG-only 2020 Volkswagen Golf GTI TCR ($51,490, about $57,000 driveaway) is hard to fault, distilling the best traits of hot hatches and combining them with the livability that is an enduring hallmark of this badge.
Like the standard version of the seventh-generation Golf GTI, the TCR arrives with adaptive dampers that are far more variable than most technologies of this type. In Comfort mode, you'd be forgiven for thinking that you were riding in the luxe Highline variant of this hatchback. And that's despite the fact the TCR wears big 19-inch wheels finished in matte black, within aggressive 235/35 Continental rubber.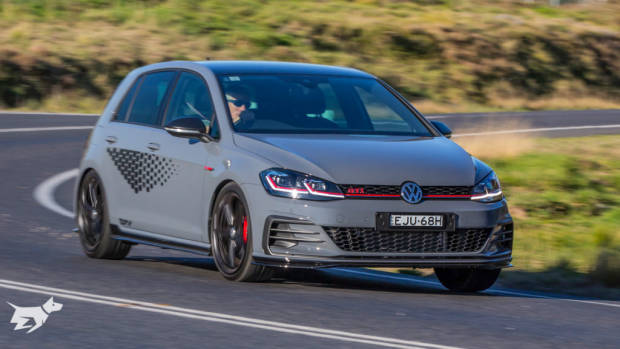 Tap the dampers into their Sport setting, though, and the ride takes on the flat stiffness suggested by the TCR's boy-racer take on the GTI's normally toned-down aesthetic. Available in the flat Pure Grey pictured here – or white, or red – there's no missing the constellation of hexagonal stickers running down the doors. Extended diffusers, black mirrors, and 'TCR' puddle-lamp projectors make sure you can't miss it.
The exterior's a nod to the hotted-up GTI race car that Volkswagen submits to Europe's Touring Car Racing series that has also appeared in Australia – and while the bespoke track versions are bereft of additional weight, the engine tune here isn't that far off. This production version scores a 213kW/350Nm tune of the GTI's 2.0-litre turbo four-cylinder, while the race car makes 250kW/410Nm.
Inside, though, it's classic Golf GTI. The production GTI TCR hasn't followed its racer cousin in ditching weight left, right, and centre – nor does it need to, as its 1,387kg mass still makes it one of the lightest cars in this segment – and the cabin is just as plush as the regular version.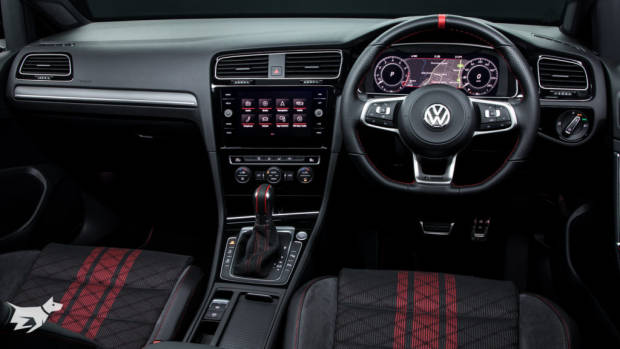 The seats have taller bolsters and are even more comfortable thanks to the classy mix of fabric and microfleece that integrates a custom version of the GTI's tartan. The steering wheel avoids non-durable alcantara in favour of perforated leather with a red zero-degree band – though we wish Volkswagen had upgraded the rather ordinary plastic paddle shifters with cooler metal units.
The rest of the materials are totally reassuring – this is a Golf, so it's pleasant and premium to sit in – while the tech is taken care of by way of a fully digital gauge cluster capable of presenting a large map, and an eight-inch touchscreen integrated into the dash featuring wireless Apple CarPlay and Android Auto. The standard speakers are pretty good.
Like any seventh-generation Golf, back seat space is adequate if not generous for six-footers – and even though this is a 'TCR' edition, this GTI doesn't skimp on little luxuries like rear air vents or flock-lined door bins. Similarly, the 380-litre boot is perfectly functional.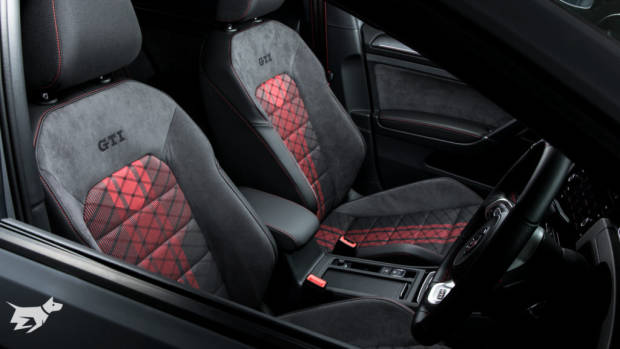 Naturally, a hot hatch like this is all about driving dynamics. We may well miss the seventh-generation GTI in future, as this Golf has been a near perfect balance of relative lightness, solid but not overwhelming power, and incredibly crisp handling. In a field of hot hatches that are increasingly heavy-handed, the lower-powered GTI has been a deft tool, set up to exploit its agile chassis, rather than rely on a really muscular engine and front diff.
The good news is that the GTI TCR retains those virtues while simultaneously turning up the wick a reasonable amount on the powertrain front, while also introducing a few carefully considered modifications that enhance this car's trackability.
The EA888 engine, which has been present in the Golf GTI since the Mk 5 more than fifteen years ago, feels right at home with the TCR's tune of 213kW/350Nm – figures more often associated with the all-wheel-drive Golf R that makes 213kW/380Nm.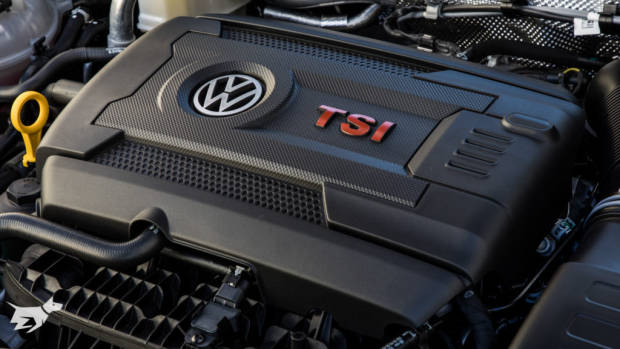 Making 33kW more power than the standard 180kW Golf GTI, the TCR explores this engine's higher-end more often and to greater effect – bringing the 0-100km/h sprint down from 6.2 seconds to a very respectable 5.7 seconds. That's 0.4sec quicker than a (manual-only) Hyundai i30 N and a match for the new Ford Focus ST.
Interestingly, the TCR walks torque back by 20Nm compared to the standard GTI as it reverts to the older six-speed wet dual-clutch 'DSG' automatic used in older iterations of hot Golfs. That's a great move, in our books. Six is the perfect number of ratios for a GTI, and we lamented the loss of the intuitively-geared six-speed when the Golf GTI was bumped to 180kW a couple of years ago.
Golf R levels of power in a front-drive setup introduce greater potential for understeer, so the TCR includes a fettled version of the standard GTI's mechanical LSD. In the TCR, it feels like the diff locks up more quickly, but the effect could equally be the strongly adhesive character of this special edition's ContiSport rubber.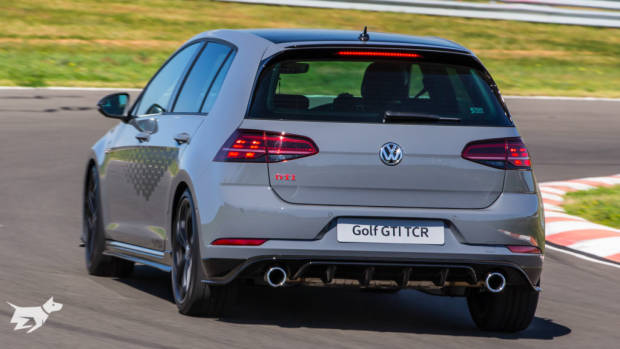 But while the GTI TCR grips and goes out of corners if that's your style, our favourite characteristic of hot Golfs has always been their use of a light, communicative chassis that is happy to dance about beneath you if your inputs are smooth – and even more so if you dip into the Sport setting of the ESC system. Notably, the TCR also allows you to turn ESC all the way off.
Do so and the TCR takes on a whole new dimension of engagement on track. Luddenham's several steep and off-camber corners offer plenty of opportunity to get the GTI TCR's rear end gently out of shape on throttle lift and trail braking – but there's so much feel and finesse to this car that you know what's going on beneath you at all times.
Stick ESC Sport back on and a similar effect is easy to produce on a mountain road. The Golf GTI simply gives you more options, at lower speeds, than its heavier rivals. You can drive it plainly and it's rewarding. You can drive it hamfisted, relying on the torque and differential to secure a line on-throttle out of corners. Or, you can be more deft and allow this crisply balanced hot hatch to lift its rear a little while turning in so that you're set up beautifully to accelerate out with less lock in the steering.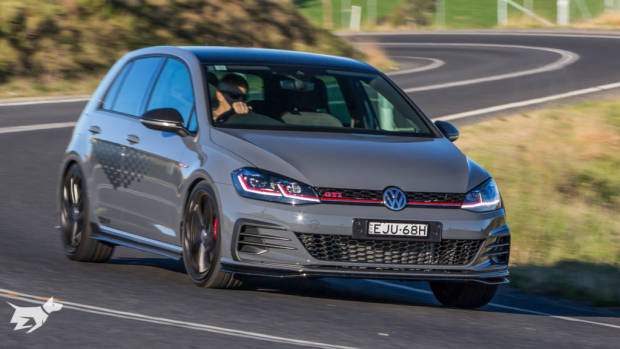 Making the Hyundai i30 N or the Ford Focus ST dance at legal speeds on the road is harder, because they simply weigh quite a bit more than the GTI TCR's 1387kg. The manual i30 tips the scales at 1,478kg (+91kg) while the Ford, with the auto gearbox, weighs in at 1,532kg (+145kg). Both the i30 and the Focus can be hugely entertaining – but you have to commit to doing much higher speeds to get similar chassis effects. Part of the GTI's charm is that you don't need to be flying to experience this car at its very best.
Complaints are few. The brakes could be bigger: they're pinched from the Golf R but add perforations to the front discs to allow gases to escape under extreme heat. They work well, but with the front discs measuring 340mm and the rears 310mm, there was certainly space to add a beefier package for even greater stopping power in track work.
Additionally, while the classic 'upshift farts' of a DSG-equipped Golf GTI are present, you have to really hunt for any crackling overrun in the TCR's exhaust. It can be found, but it's so subtle. It's a taste thing, of course, and extroverted exhaust notes aren't for everybody – but the GTI TCR is perhaps a little too quiet for us.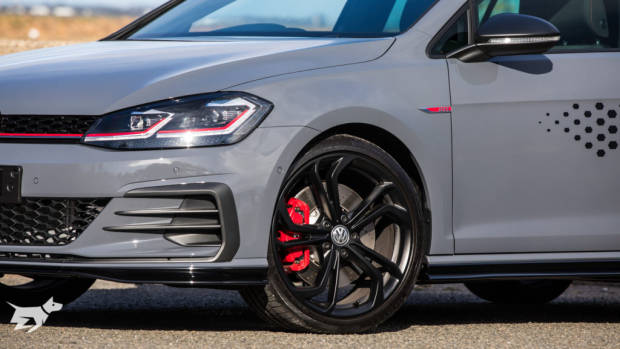 And of course, a manual would have created an even more niche subset of highly collectable final-edition seventh-gen Golf GTIs – but it was not to be. Thankfully the auto is a great one.
The new eighth-generation Golf GTI will arrive in Australia next year, and it shares most of the seventh-gen car's chassis components. However, it also shares the current GTI's standard 180kW power output – rendering this TCR as a high watermark for GTI power at least for the next few years.
Personally, the crispness of the styling of the seventh-gen car is also more attractive than the incoming Golf Mk 8. That's subjective and tastes change – but if you've been holding out on buying a performance Golf, waiting for something a bit special to appear – it has. This is it. The TCR is the car we'd buy before the 300 allocated to Australia run out.