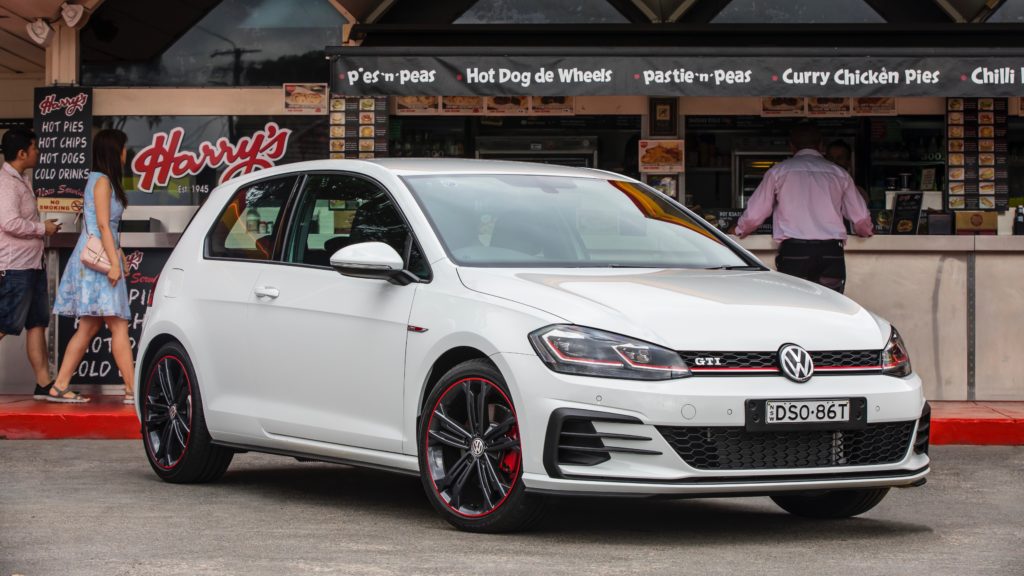 GTI. It's a badge synonymous with hot hatchbacks – and for those looking for a hatch with performance, the Volkswagen Golf GTI has long been the class benchmark, and the default choice. Ever since it launched in 1976 as the world's first hot hatch, the Golf GTI has been an automotive icon, with the letters 'GTI' proliferating through Volkswagen's range – though the Polo, Up! and Lupo GTI have never reached the cult status of the Golf, which is regarded as one of the best all-round cars in the world. Today, Volkswagen offer a number of Golf GTI versions in Australia – though demand for a low-cost version has gone unfulfilled for some time. No longer, however: enter the sub-$40k, 200-unit Volkswagen Golf GTI Original, an appeal to both the purists, and those chasing affordable thrills in a classic Golf package.
Sure, the GTI packs less content than the regular Mk 7.5 Golf GTI – which has become a pretty luxuriously-equipped car in recent years. Noticeably, the GTI Original scraps adaptive suspension, keyless entry and start, satellite navigation and front fog lamps – but the $4,500 discount over the standard, five-door GTI manual is a significant drawcard. The attractive price is one thing, but the three-door-only nature of the GTI Original is a core part of the appeal to purists as this was the original form of this car way back in the Seventies. Volkswagen Australia has sold three-door Golf GTIs in the past – and there is a go-fast three-door GTI Performance sold today – but it was back in 2011 that a 'standard form' three-door was offered, but at $38,990 that car was still pricier than the Original.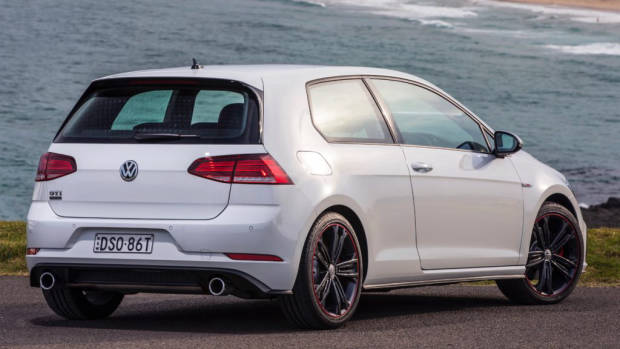 Value is the GTI Original's unique selling point. This Golf is less expensive than similarly-sized performance cars, including the $38,990 Ford Focus ST, $38,240 Subaru WRX and $39,800 MINI Cooper S – though we await local pricing for the Hyundai i30 N. Despite a low entry price, the GTI Original still packs arguably everything you'd need: 18-inch alloy wheels, seven airbags, autonomous emergency braking with pedestrian detection, dual-zone climate control, an 8.0-inch touchscreen infotainment system with a rear view camera, Apple CarPlay and Android Auto smartphone mirroring, auto lights and wipers, LED lighting front and rear as well as an eight-speaker sound system are standard.
The GTI Original may be marketed as a stripped-back Golf GTI, but there are still a couple of options buyers can specify. The $1,600 Driver Assist Package can be fitted in the name of safety, adding radar cruise control, lane departure assist, automatic high beam, blind-spot monitoring and rear traffic alert, as well as front and rear parking sensors with automatic parallel and perpendicular parking. Colour options are far more limited: you can have a GTI Original in any colour, as long as it's flat red or flat white. You can dress it up with a range of accessories,though, such as a $1,250 Oettinger rear spoiler are also available, but we'd leave the car completely stock. As we said, a Golf GTI this cheap is a very rare opportunity.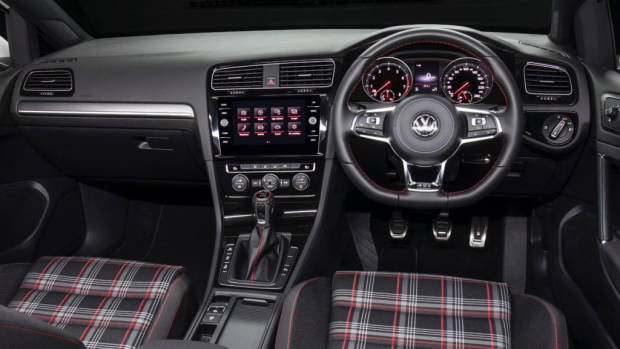 Aside from losing two doors and some equipment, does the Golf GTI Original lose anything else? Well, around 25kg of mass, but that's it. This is an extremely well-rounded package, and in our opinion this pureness adds to the driving experience. Under the bonnet sits the same 2.0-litre EA888 turbocharged four-cylinder petrol engine as the Golf GTI, Tiguan 162TSI and Skoda Octavia RS: it produces 169kW of power and 350Nm of torque, and is matched to a peachy six-speed manual, or a $2,500-optional six-speed wet clutch dual-clutch automatic, which is less hesitant at lower speeds than seven-speed equivalents in the Volkswagen Group. Volkswagen claims 0-100km/h sprints of 6.4 seconds and fuel economy of 6.7L/100km – we saw 7.7L/100km in a mix of hard and highway driving, which isn't bad at all.
It's the engine that dominates the GTI Original's character. The Golf GTI sounds great everywhere throughout the rev range, with a cheeky low rev burble that contrasts well with the growl and roar that arrives with the strong mid-range torque, and the EA888 has even more to give at the top-end. This is a donk unlike laggy turbos of old – shove is available to the driver, no matter the revs. As a bonus, downshifting is rarely needed, though because the gearbox is such a joy to use, you find yourself rowing it around regardless. Like the lesser Golf 110TSI R-Line, the GTI Original includes Volkswagen's progressive steering rack, which gives the car a nimble, go-kart feel and genuine point-and-squirt capability. The steering itself is quite quick, and whilst it doesn't offer significant feel, it is well weighted and gives drivers more than enough confidence to push on in harder driving. Switching the car's driving modes to sport adds further weight to the steering – we found this unnecessary and left it in normal mode.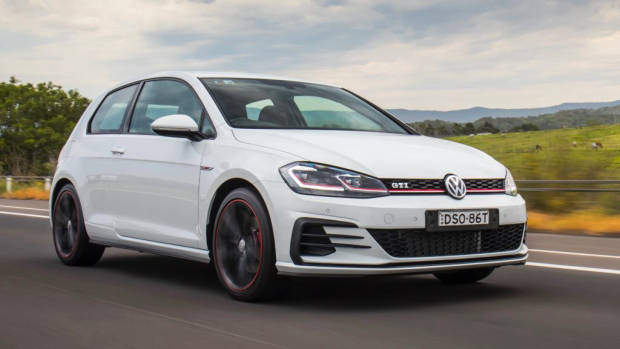 The GTI Original's suspension is different to the regular GTI. Notably, the Original loses the GTI's standard adaptive dampers and returns a fixed damping setup. The Original doesn't quite offer the comfort over all surfaces of the regular GTI, but it is remarkably taut and body control is actually superior with the fixed dampers. With an identical 2,626mm wheelbase as the five-door Golf, the GTI Original's handling remains fantastic. This is a balanced and well sorted hot hatch, with tenacious grip in corners and a slightly tighter rear end thanks to extra rear bracing that the three-door offers. It's no Renaultsport Megane for outright fun or track ability, but then it does cost significantly less and is more comfortable over a variety of surfaces.
There are few differences inside the GTI Original when compared to a standard GTI, save for the longer doors, which leave room for a bag to be slipped into the rear footwell without tilting the driver's seat forward. Otherwise, the two GTI models share splashings of red about the cabin, along with the hallmark tartan seats with manual height and lumbar adjustment. There's a chunky, flat-bottomed steering wheel, and like all Golfs, interior quality is great with soft-touch door and dashboard materials. The leather used throughout is supple to the touch and the golfball-style gearknob has a solid feeling to it. The controls and functions are well-weighted. Everything you touch feels premium.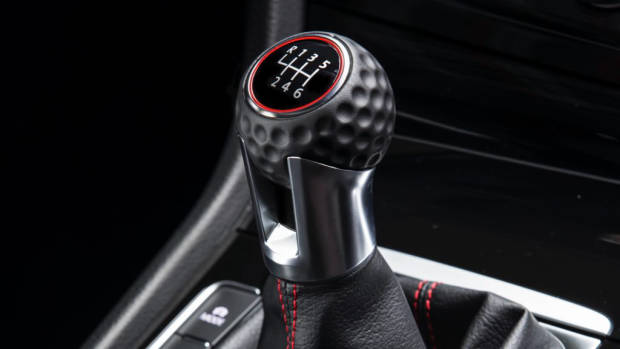 But can you really live with the edgier three-door body? Well, it appeals aesthetically – the design has more flair than the conservative five-door. Access to the back seat isn't nearly as bad as you'd think: both front seats flip forward easily, and because the three-door shares an identical wheelbase to the five-door, once passengers are actually ensconsed in back, there's plentiful legroom and headroom. The back seat features the same flock-lined door bins as the front, a rear centre armrest with cupholders, rear air vents, and bottle holders. This back seat is clearly designed to be used, and for people, not just for bags. Even the five-door's 380 litre boot space remains, as does its dual level floor, shopping bag hooks, and storage bins on each side of the boot floor.
A pessimist would argue that the GTI Original doesn't introduce anything overtly new to the Golf GTI lineup, but that would be to miss the point. This a fun, aspirational, and most importantly attainable hot hatch that makes that enviable Golf GTI badge even easier for Australians to experience – and it adds a big dose of fun with the three-door body style. It may not be quicker than a regular GTI but it doesn't need to be: it is perfectly balanced. The Golf GTI Original is a sporty, well-rounded, fun hatch that lands comfortably under $40,000 – refreshing, in a world where hot hatches are pushing sixty grand. We think Volkswagen are onto another winner – but you'll have to be quick to nab one before the 200 brought here find owners.