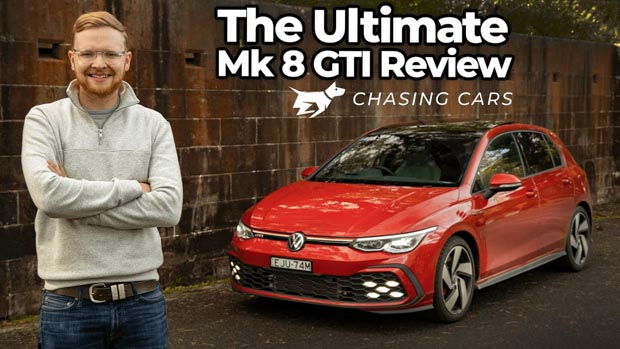 More technologically sophisticated – and more costly – than ever, the new Volkswagen Golf GTI has arrived in Australia in eighth-generation form.
Under the skin, the $53,100 Golf GTI has much in common with the lauded "Mk 7.5" version of this benchmark hot hatch. Lift the bonnet and you'll find the same two-litre turbocharged petrol four-cylinder making the same amount of power and torque, and the Mk 8 Golf continues to make use of the deft, lightweight MQB platform.
But the engine and chassis didn't feel outdated and in our view, the GTI wasn't in need of reinvention. Still, after eight years of the seventh-generation car, some will have been hoping for modifications on a grander scale.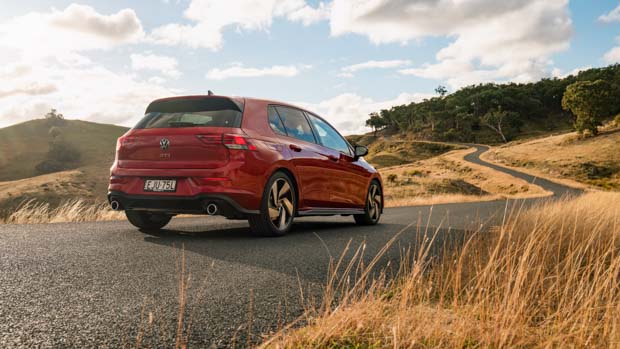 That has not occurred largely because the petrol-engined sports car is at a major turning point. Volkswagen this week announced an end-date on combustion engine production for Europe and the brand is lavishing attention on its portfolio of electric vehicles.
A hot 'GTX' version of the Volkswagen ID.3 electric hatchback is reportedly in the works and in another eight year's time, it's entirely possible we'll be talking about the Golf GTI's transition to a battery electric platform.
So, is this peak GTI?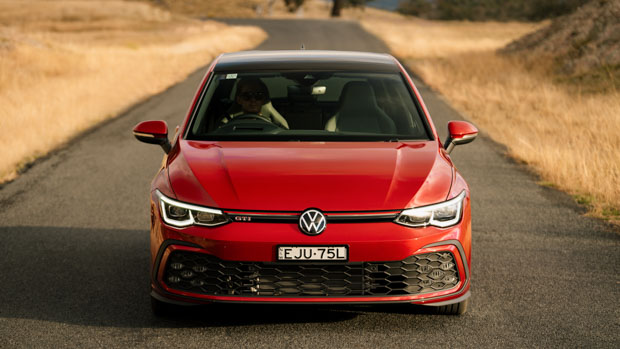 Packing a brand-new interior – possibly the most distinctly new element of the 2021 GTI – and offering a number of important refinements over the previous vehicle, the Golf GTI still adds up to more than the sum of its parts on road.
But does the Golf GTI remain our favoured daily-driver hot hatch, despite the higher price and, at least on paper, the view that it doesn't shove the game on as forcefully as it has in the past?
We did 1,000km in the new Golf GTI to find the answers.
How does the Golf GTI drive?
Other hot hatches are faster and more hard-edged than the GTI, but few are able to offer the same sublime balance between sporty dynamics and the ability to totally relax when you want to.
Much of the expense of the adaptively-damped, independently-suspended MQB platform that sits beneath the Golf GTI went into creating these sort of Jekyll-and-Hyde dynamics that you can spot in each car that runs on this chassis, from the Audi TT to a Skoda Superb.
MQB may be used far and wide but the Golf GTI is probably the best implementation of it, perfectly demonstrating why Volkswagen's engineering team is hallowed as one of the world's best.
Here's a hot hatch that entertains hugely on a winding, technical Australian country road but then lets you totally switch off on the highway route back home. It's comfortable, quiet and supple one minute, and totally alive the next.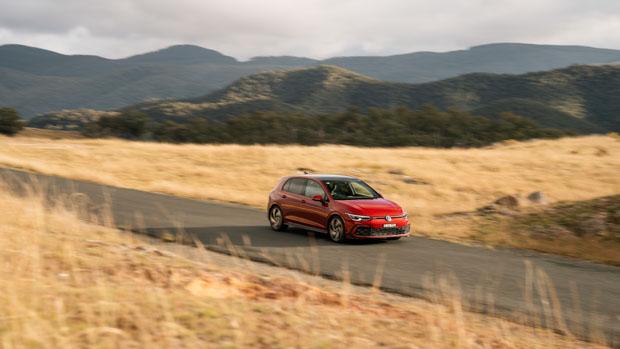 The full-fat 'Performance' package is the only way the GTI comes to Australia. That also includes adaptive dampers, which now offer 15 stages of adjustment, up from 3. More isn't always better, but this time it is, with a setting just to the comfort side of midway perfect for soaking up imperfections on Australian B-roads while maintaining good body control.
By contrast to some hot hatches, like the alacritous Hyundai i30 N, you do have to grab the Golf GTI by its ironed collar and get up it a bit more – but when you give it real stick, it responds by showing you its amazingly talented, balanced, almost dainty chassis that has you deftly moving the whole car about in the bends.
The lightweight and responsive front end, great steering ratio, limited but well-judged roll characteristics, deft independent rear suspension and 18-inch wheels in Bridgestone Potenza tyres that are neither too grippy nor too slippy all combine to remind why the letters 'GTI' are synonymous with hot-hatchery.
Since 2019, the Golf GTI has had a front-axle limited slip differential fitted as standard which gives the car a more muscular cornering character than versions of old.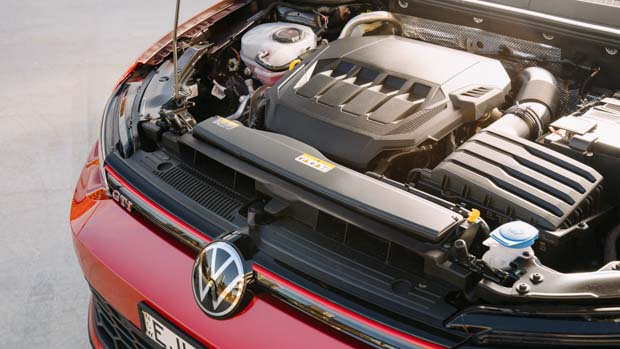 You can get on the power more quickly than an older open-diff'd GTI, though on the Bridgestones, you can pretend the LSD isn't even there, trail braking into corners and allowing the rear end to gently step out, aligning you properly for a straighter corner exit.
That is one of the beautiful characteristics of driving a Golf GTI hard: you can choose your own plateau, either leaning on the throttle, LSD and tyres more or by appealing to the Golf's traditional lift-off oversteer tendencies. The recalibrated ESC Sport mode – and new ESC-completely-off setting – make this even more possible.
Though it'll dance, the Golf GTI does not cut you with hard edges like the serious but aggressively oversteer-prone Ford Focus ST. The i30 N is louder and tougher and the Renault Megane RS is perhaps a little more chic, but the Golf GTI blends everyday usability with the capability for a weekend hoon better than each of them.
Many of these traits are shared by, and some are amplified in, the more affordable and smaller Polo GTI. Some have suggested the hot Polo is "the new Golf GTI", referring to its sub-$40,000 positioning. There is much to like about the smaller GTI and it would factor into our consideration list, too.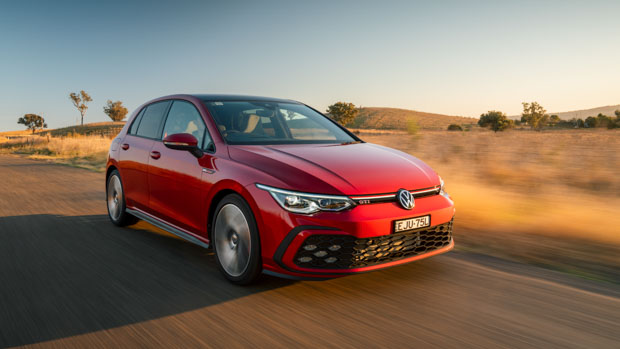 The Golf's true rivals have never been closer. A coming Toyota GR Corolla spells trouble and now that Hyundai have slotted a dual-clutch auto into the i30 N, a new battlefront will be opened up against the auto-only GTI for supremacy in the true daily-driver war.
But it'll take a remarkably adept gearbox in the auto i30 N to match the seamlessness of the Golf's well-matched two-litre turbo petrol engine and its wet-clutch seven-speed DSG auto. The DSG has been maligned in the past as unintuitive but with nearly 20 years of development under its belt, these snappy gearboxes are among the best autos on the market.
Sadly, Volkswagen have not eked out any more power from the EA888 two-litre motor compared to last year's Mk 7.5 version, opening the new Mk 8 up to an easy avenue of criticism. The Golf GTI still makes 180kW of power and 370Nm of torque, singing a pleasant tune as it goes, all raspy induction and subtle pops on overrun and upshift.
The DSG auto is still the only gearbox for Australia, with the manual unlikely to return even in as a special edition due to what insiders say are regulatory costs the brand would be unlikely to recoup in sales.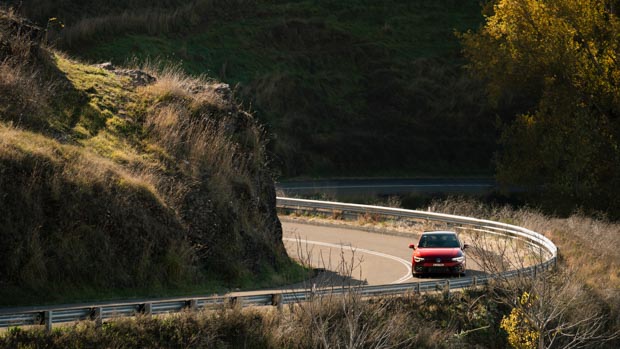 The 1,409kg Mk 8 GTI is still a relative featherweight in this class. It's put on 32 kegs compared to last year's Mk 7.5, but it's more than 100kg lighter than the forthcoming i30 N automatic, and a huge 123kg lighter than a Focus ST auto – both of which have 206kW.
So while the Golf GTI has about 13 per cent less power than its rivals from Hyundai and Ford, its power-to-weight ratio of 128kW/tonne is only 5 per cent behind those cars. By keeping things (relatively) light Volkswagen adds credence to their argument that the Golf GTI is more about brains than brawn.
Either way, if you want more power, the Mk 8 Golf R all-paw hot hatch is on its way, slated for an early 2022 arrival packing serious heat, with 235kW/420Nm aboard.
Like the new GTI, though, the Golf R will arrive with a serious price hike. The front-drive GTI is now $53,100 before options – nearly $6,000 more than it cost in final 180kW Mk 7.5 form, and $15,000 more than a three-door Mk 7.5 GTI Original set you back just four years ago.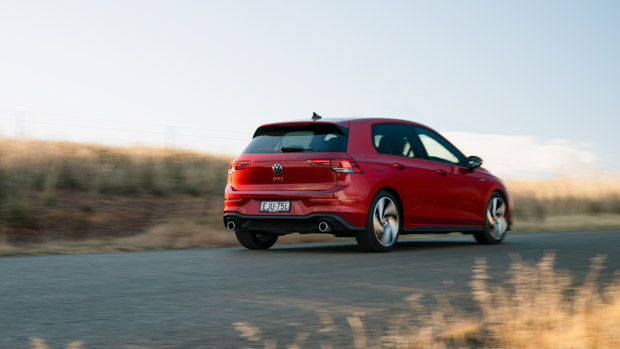 That said, price increases are hardly unique to Volkswagen – they are happening everywhere, reflecting a widespread semiconductor shortage in the automotive industry and resulting poor supply. Still, it's a kick.
Like the rest of the Golf lineup, Volkswagen's IQ Assist safety suite is standard on the new GTI. This includes a stricter adaptive cruise control and lane keep function called Travel Assist, designed for long-distance highway driving.
This works well most of the time, though the steering wheel lacks the fancy sensors of new Audi models that can detect your palm. As a result, the GTI kept telling us our hands weren't on the steering wheel during cruising while exerting little pressure – even though they were.
The Golf's other systems, like blind spot monitoring, front and rear cross traffic alert, forward and reversing AEB with junction assistance, and tyre pressure loss indicators, all work well. There's no 360-degree camera, though, unlike some other hatchbacks at this price.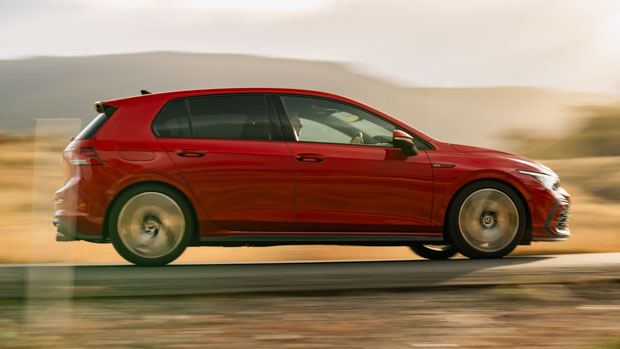 How is the Golf GTI's interior?
As with the previous Golf GTI, the interior look and feel is quite radically different depending on whether you opt for a standard version, or the loaded-out Luxury Package.
The 'basic' $53,100 GTI package continues to drip with charm, featuring manually-adjustable tartan-patterned cloth seats that are now an attractive and grippy one-piece design. Supportive, cushy and with infinitive backrest adjustment via a dial, the standard seat is a great one.
But the tartan detailing is knit tighter than before and the colours are muted and a little less joyful. That bodes with the general theme of the interior, which seems a touch more mature than the old car.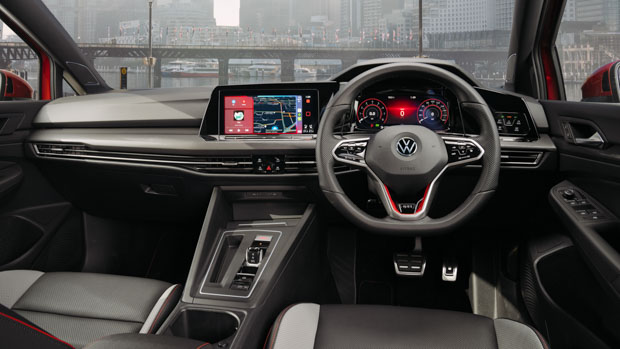 That is particularly the case if you opt for the $3,800 Luxury Package as fitted to our tester. The one-piece seat shape is retained but tartan is ditched in favour of black leather (capped in light grey around the shoulders). You get a sunroof and the front pews are fitted with heaters and – extremely usefully in Australia – ventilation.
Oddly, the passenger seat now skips electric adjustment with the Luxury Package but the driver's side still gets it, along with three-position memory. Achieving a great driving position is easy and the steering wheel has plenty of adjustment, too.
Speaking of the wheel, it's overly chunky now, though the soft perforated leather feels suitably expensive under hand even if the small plastic paddle shifters aren't tactile enough, particularly as the UK-spec manual gearbox is not offered in Australia.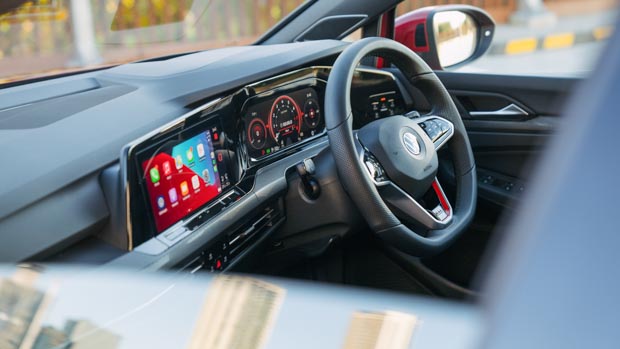 Others have complained about the touch-sensitive buttons on the steering wheel spokes, but we had no trouble with them. The shortcuts glow brightly in the dark and make manipulating the standard third-gen Virtual Cockpit a breeze.
And thank goodness the crisp, clear Virtual Cockpit is there, because using it to present a map, your multimedia and trip computer information is simple – something that cannot be said for the central touchscreen that makes up the second half of the "Innovision Cockpit" infotainment package.
Wireless Apple CarPlay and Android Auto are standard and you'll want to use them, because Volkswagen's own software is laggy, buggy, and difficult to interact with on the move.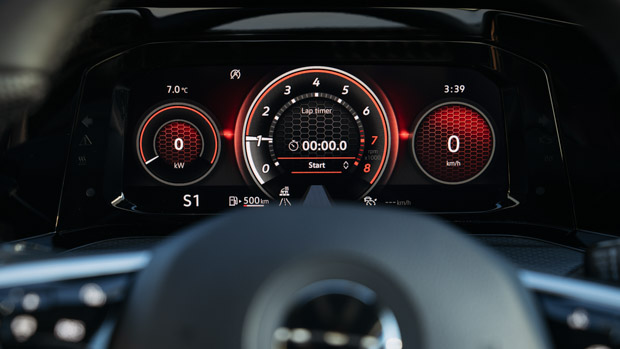 The ten-inch touchscreen itself is bright and high-resolution, but the touch targets are frequently too small, requiring a very precise touch to accurately manipulate. It's as if Volkswagen didn't take any lessons from Audi, who have quite successfully moved to touch-only displays in their cars, including the Golf's new Audi A3 cousin.
Set up wireless smartphone mirroring and you never really see the underlying software anyway, unless you need to access the shortcuts menu, which is just one very precise swipe down from the top of the screen. It's here you find the controls for the engine start-stop system, the stability control, and other quick-access tools.
Ticking the $1,500 Sound and Vision Package also adds a useful head-up display that can be seen reasonably well through polarised sunglasses and very clearly without them – plus an acceptably clear and bassy Harman Kardon stereo.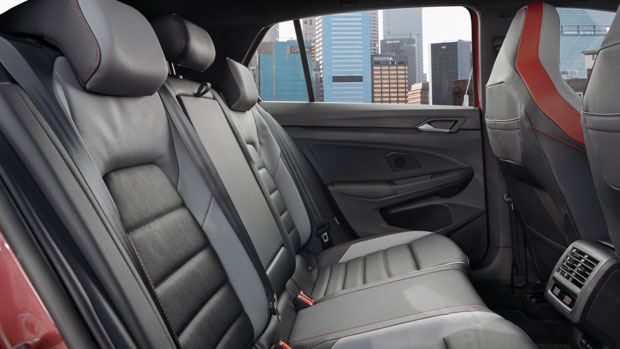 Wireless smartphone charging is standard in the GTI, and it incorporates a clever little folding shelf that secures your phone in place when charging on the inductive mat, hides its screen, and allows other items to be stored ahead of the shifter without disrupting the juice session.
Early reports about material quality taking a dive in the Mk 8 have ended up being unfounded, as most of the leathers and plastics applied inside the Golf still make this feel like one of the better-made small cars on sale.
In fact, there is more cushioning to the doors and dash pad than before, though lower-rent plastics around the stubby new automatic gear shifter seem prone to premature wear. And unlike the i30 N, the rear doors are pretty rock-hard.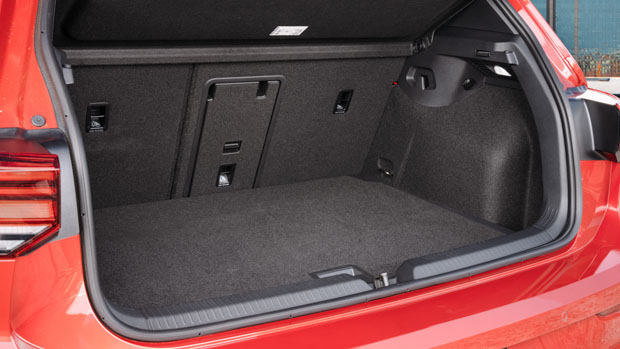 Space in the second row continues to be more than acceptable, though. The Golf GTI is the consummate small performance car in terms of packaging: four adults fit in this vehicle with ease, and the fifth seat is usable (but a perch).
Two six-footers can sit tandem without issue, and rear seat comfort is good. Air vents, a separate temperature zone, and a folding armrest with pass-through to the boot are all standard.
That boot now measures 381 litres (up 1L), and the dual-height cargo floor means you can cram quite a bit in. The rear seats fold flat. As before, a Golf station wagon will be sold in Australia, but only in standard 110kW form next month – or in fire-breathing 235kW Golf R Wagon trim next year.
What are the Golf GTI's running costs?
While the Mk 8 GTI retains the same two-litre turbocharged engine as its predecessor, there have been some efficiency gains and as a result, fuel consumption is more frugal than before.
In fact, over our 1,000km test, we used just 7.6L/100km while averaging 55km/h – quite impressive, given many of those miles were driving hard or, alternatively, sitting in traffic.
Running around the suburbs the GTI will use about 10L/100km while cruising on the highway netted sub-6L/100km returns, all while drinking (compulsory) premium petrol.
That's a solid 20 or 30 per cent better than most of the GTI's rivals.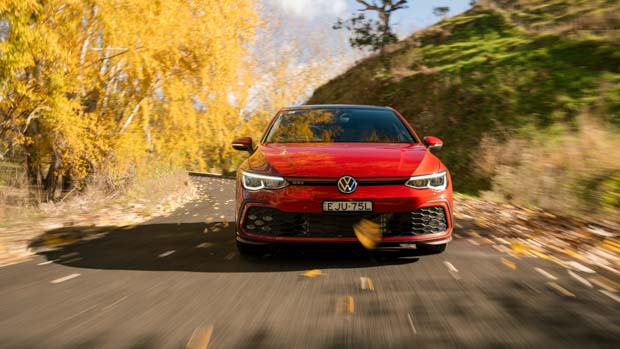 Servicing is cheapest if you purchase an up-front Volkswagen Care Plan when you buy the GTI. Scheduled maintenance occurs every 12 months or 15,000km – whichever comes first – and you can either pay when you need a service or buy a number of visits in advance.
Prepaying nets a discount. Two packs are available: a three year / 45,000km set for $1,400 (averaging $466 per service), or a five year / 75,000km package for $2,450 (averaging $490 per visit, helping to bring down the cost of the normally pricey fourth-year service).
These prices are about average for the segment.
Like all other Volkswagen cars, SUVs and utes sold in Australia, the Golf GTI has a five year warranty with unlimited kilometres.
The final verdict
The Golf GTI continues to be the Swiss Army Knife of cars.
It's usefully small for city life but big enough to hold its own on highways and country roads. And when you get to a great B-road, the GTI encourages you to grab it by the scruff of its neck and exploit its beautifully balanced and well calibrated chassis.
It does all of this while also offering a comfortable, refined and supple ride in a well-made cabin fitted out in expensive materials.
It's true that some of the Mk 8's cabin technology seems undercooked – and that the new price will push this Volkswagen hot hatch beyond where some perceive it should sit.
But in the context of a new car market that is generally getting more expensive, the Golf GTI still feels like relative value. It does bear thinking about for longer than it used to, though – and we feel you must test drive rivals like the Focus ST, i30 N, and VW's own Polo GTI before coming to a final decision.