The arrival of the sixth-generation Subaru Outback in February 2021 marked the continuation of an anomaly in the tastes of Australian buyers, for here is a station wagon that contemporary punters actually want to buy – in considerable numbers, as it turns out.
With 10,490 sold here last year, the Outback finished third in its category – 'large SUVs' under $70,000, would you believe – behind the all-conquering Toyota Land Cruiser Prado (21,299 sales)  and within striking distance of the new-generation Isuzu MU-X (10,618 sales).
The Outback may be considered a 'large SUV' but anyone with a set of eyes will tell you it's quite obviously a raised and cladded station wagon – the first of its kind, kick-starting a category that now includes the Volkswagen Passat Alltrack, Audi A4 Allroad, Volvo V60 Cross Country and even the Porsche Taycan Cross Turismo, as well as a heap of others (Holden Adventra, Skoda Octavia Scout, Volvo V70 XC, Mercedes-Benz E-Class All-Terrain, and even the Volkswagen Cross Polo).
But is the original arguably the best?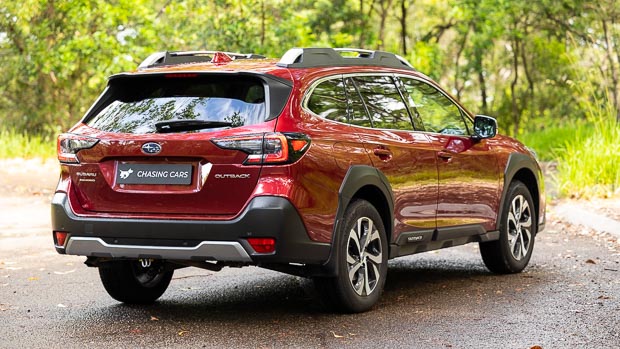 Subaru launched the first-generation Outback at the New York Motor Show in 1994 laying out the 'off-road wagon' formula that has now been successfully replicated over six generations, to the point where the Outback has completely buried the Subaru Liberty that spawned it (aside from North America).
With a name like 'Outback', it's quite clear that this Subaru was aiming this butched-up Liberty directly at the hearts of Aussies right from the get-go, but what is it that makes the Outback so popular?
To answer this question, we've recruited a Crimson Red Outback Touring into the Chasing Cars garage for the next six months to separate facts from marketing and find out if this wagon lives up to its reputation as a go-anywhere family car and, ultimately, if you should consider buying one.
Navigate this long-term Subaru Outback review
We'll update this review with new entries over time as Tom Place details his experiences in the Subaru Outback Touring, which we're running for six months and 10,000km.
Month 2: Taking the Outback, out back
Driving for hundreds of kilometres on red dirt at 110km/h may not be expected of an Outback these days, but that doesn't mean that interstate travel can't be challenging
| | |
| --- | --- |
| Kilometres this month: | 4115km |
| Fuel economy this month: | 8.22L/100km |
| Running costs this month: | $567.00 (fuel) |
There is something quintessentially Australian about embarking on a road trip across our beautiful but brutal country that lately seems to offer up sweltering heat one minute and treacherous rain the next.
Historically, the Subaru Outback has flexed its muscles in these kinds of variable and difficult conditions – not via an innate ability for one particular strength like off-roading but through its adaptability across multiple disciplines.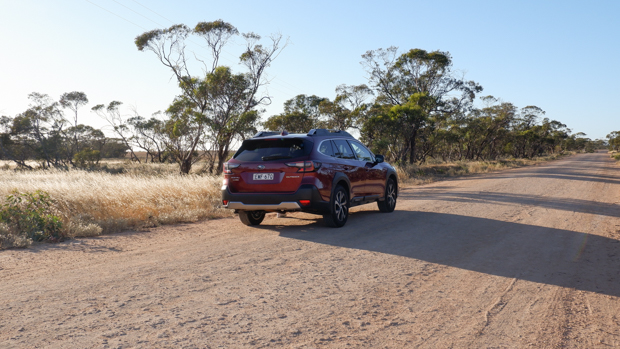 Given its proclivity for all-season activity, my wife and I decided to test its mettle on a circa-3000km interstate haul. Once or twice a year we pack a holiday load and our dog Buddy into the car and embark on a marathon return trip from Sydney to our birthplace in Adelaide.
As a generally impatient person, I've almost always tackled this in one 15-hour, 1420km sprint – a test of endurance that has exposed the weaknesses of every vehicle I've driven, without fail – so it'll be interesting to see how a top-spec Outback Touring fares.
Being a meticulous packer, I begin by loading up the Outback the night before – appreciating not only the size of its 522-litre boot but also the eight tie-down points that allow me to secure our luggage properly. Yet that fails to minimise the pain of waking up to a piercing alarm the following morning, then pouring ourselves and our young pup into the Outback at an unseemly 3.30am.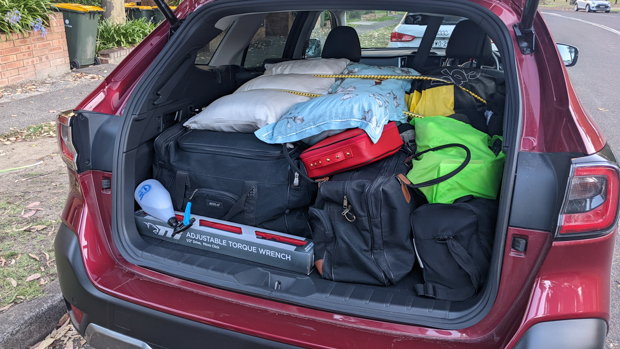 Out of the 'burbs and onto the highway, as the clock ticks over to 6.00am I slowly begin to understand the nuances of the Outback's supple dynamic nature that has only been exacerbated by the additional weight in its boot that has pitched the nose slightly skyward. It's a car that rewards subtle inputs, particularly when it's dealing with a big load, yet you soon find a rhythm and discover that comfort is what underpins the Outback driving experience.
Despite the absurd hour of the morning, there is still traffic to contend with. And it quickly becomes clear that the Outback's 2.5-litre naturally-aspirated flat-four is hard at work as it hurtles past semi-trucks and cedes into the left lane to avoid the wrath of lifted-dual-cab drivers.
With 138kW of power and 245Nm of torque on tap, Subaru's atmo boxer is unlikely to be christened with an 'STI' badge anytime soon, however those mediocre figures prove more motivating than I was expecting.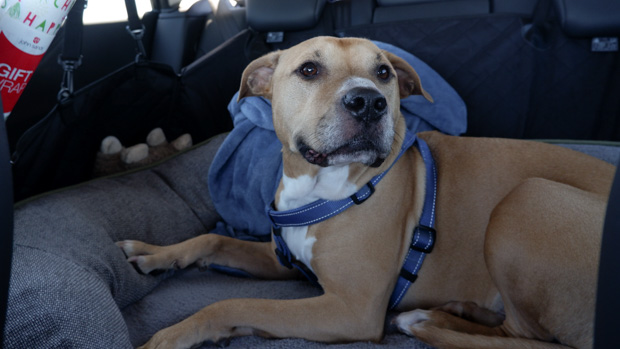 Subaru often cops some flack – including from myself – over its bloody-minded determination to use CVT transmissions in everything, which seem to specialise in sucking out the fun while increasing cabin drone in equal measure. But there is some masterful thinking in the tuning of this transmission that propels the Outback along with surprising pace – even with luggage loaded to the window-line. The drivetrain may not have a whole lot in reserve but it knows how to maximise everything it has to best effect.
As midday arrives, it's time for a driver change so my wife hops behind the wheel, I familiarise her with the controls and then prepare to take a well-earned nap.
I've spoken previously about my love for the Outback's comfy seats but Subaru's decision to treat the front passenger as a second-class citizen and provide no adjustable lumbar support is disappointing. Without sufficient shape to enforce good posture, I find myself feeling more fatigued as the odometer ticks over – impatiently waiting to get back in the driver's seat, which thankfully doesn't take long.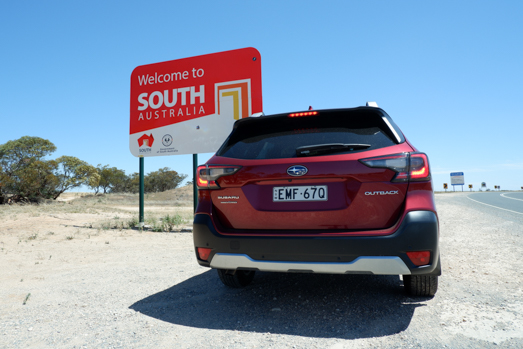 The suspension arrangement for the Outback is somewhat unusual in having struts up front and independent double-wishbones at the rear, yet the end result is an experience that is wonderfully comfortable. Learning how to best attack the bends, however, requires some experimentation.
With precise inputs, the Outback can be pivoted into a corner at speed with ease. But the longer the bend and the greater the cornering load, the more it starts to feel unsettled – a signal for the driver to ease off the throttle and allow the Outback to regain its surefooted feeling, some margin from the limit of its dynamics.
As we persevere into the afternoon and the roads become rougher, a gentle rattling from the air vent on the left side of the dash begins to grow louder and louder. It's the first quality issue that I've encountered with this otherwise very well-built Outback Touring, and crystallises exactly why Chasing Cars chooses to run these long-term vehicles in the first place: more mileage could expose more issues.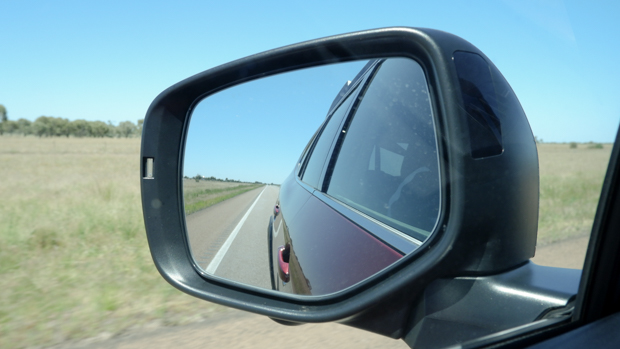 As you'd expect, the rattle soon becomes slightly maddening but thankfully it's only really noticeable under peak acceleration – and I wasn't doing much of that in the middle of nowhere. Out on the flat plains west of Ouyen, the Outback's adaptive cruise control and CVT transmission form a solid bond keeping it moving along swiftly but beneath the hungry eyes of police radar.
By the time we reach Adelaide in the late afternoon, my wife and I feel undeniably tired, but more refreshed than we've ever felt before after this marathon interstate blast. And for that I can only thank our (largely) quiet and comfortable chariot of choice – one that also proves to be quite economical.
Extracting maximum performance at every opportunity failed to decimate the Outback's fuel economy. Across the entire trip, I averaged 7.86L/100km using regular unleaded – and that figure would likely have been even better if I wasn't such a hoon.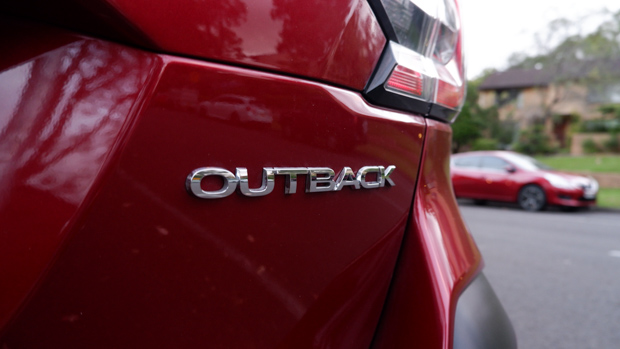 Month 1: No rest for the wicked
Outback meet Tom, Tom meet Outback. First impressions are good but will they last?
| | |
| --- | --- |
| Kilometres this month: | 185km |
| Fuel economy this month: | 10.2L/100km |
| Running costs this month: | $33.00 (fuel) |
The Crimson Red Subaru Outback long-termer you see here officially landed in our garage late last year, but just as quickly as I was thrown the keys, they were snatched away again for a very good reason.
Waving the flag for wagon lovers everywhere, our MY21-spec Outback was pitted against 10 of Australia's most popular family cars in the inaugural Chasing Cars midsize SUV mega test.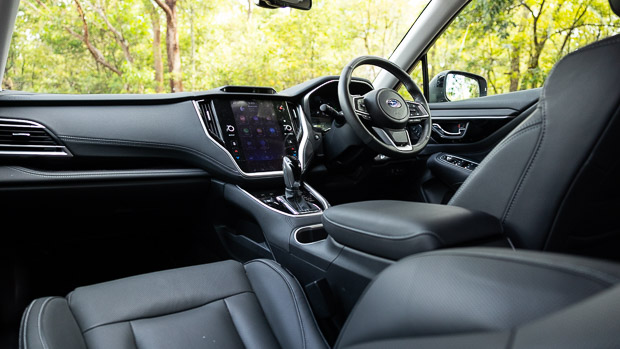 Dressed in top-spec Touring specification with a mid-pack price tag of $47,790 (before on-road costs), the Outback appeared to offer extremely good value among the SUVs that surrounded it. I say 'good value' because the Outback Touring actually includes a tonne of kit for the money – a good chunk of which is already included on the base model.
This includes an 11.6-inch 'portrait' touchscreen; LED headlights, daytime running lights and fog lights; and enough safety equipment to earn the Outback the gong as the safest car ever tested under ANCAP's current criteria.
Of course, you don't just splash an extra $7800 on the top-spec Touring over the base Outback for no reason, and the extra cash does net you multiple extras like heated Nappa leather seats, a nine-speaker Harman Kardon sound system and a charming little CD player hidden beneath the centre armrest.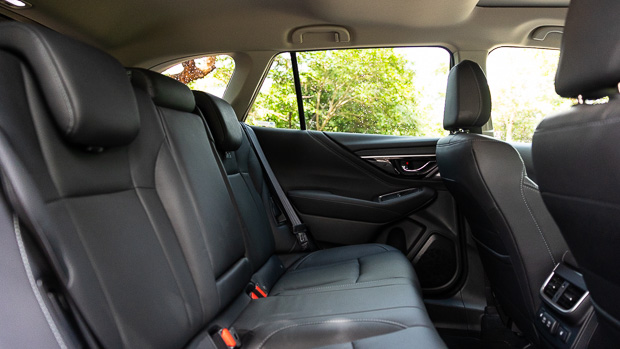 Further to our test car's wealth of equipment, Subaru has recently updated the MY22 Outback Touring with ventilated front seats and a manual under-thigh adjuster for the driver – though the Touring's has also increased to a still good-value $48,990 before on-road costs.
Following the Outback's week-long mega test abuse, it was my turn to become intimately acquainted with it. And what I quickly grew to love is its ability to nail the basics thanks to an easy-to-drive nature, huge 522-litre boot and technology that doesn't come at the expense of everyday usability.
The Outback's ride is best described as couch-like and seems well-matched with supportive seats that combine to offer a relaxing in-cabin experience as you waft down the road. And despite all the modern technology on display, Subaru has kept an array of tactile controls for functions like volume and temperature control – tasks which are often difficult to perform when relegated to a touchscreen.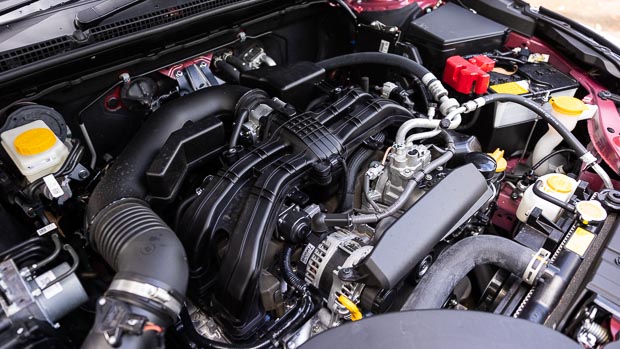 That's not to say the Outback isn't without fault. You instantly notice that the USB outlet is positioned in such a way that it makes it challenging to retrieve your phone from storage when plugged in – or even plug the cable in to begin with – and Subaru's bullish lane-keep assistance feels the need to engage every time you start the car.
I've also found the Outback's 138kW/245Nm 2.5-litre flat-four to be fairly sleepy – it seems to require lots of revs to make decent progress – and I suspect a highway journey may further expose its lack of outright grunt.
Over the remaining five months we plan to investigate every aspect of the Outback's capability with a tow-test, a 3000km interstate blast and even some moderate off-roading.
But if there's something you want to know or would like to see us do with the Outback, please send us a message on social media – we'd love to hear from you.