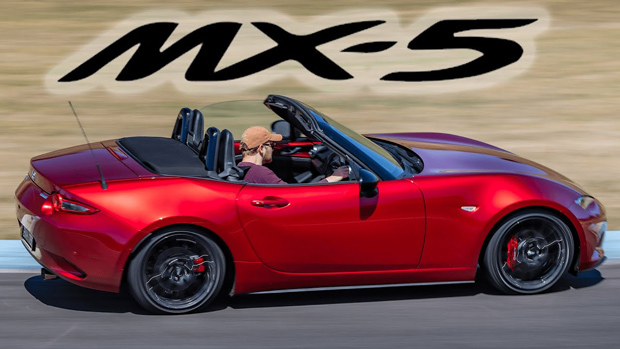 When it comes to the pronounced body roll of the ND-generation Mazda MX-5, first released in 2015, there have always been two camps: those adamant that the roll is part of the car's supple character, and critics who swear the roly-poly roadster is too unfocussed to take on a Toyota GR86 or Subaru BRZ.
Us? Well, Chasing Cars has consistently fallen somewhere in between the two sides. We adore the ND's incredible one-tonne lightness (despite its high specification) and feel that the body roll relieves demand on the modest tyres, but it's certainly not the hard-edged mod-ready racer a 'Toyobaru' is. They're just different cars.
Enter the 2022 Mazda MX-5 with Kinetic Posture Control. Not just another three-letter acronym, this tech uses inside rear-wheel braking to control roll to a surprisingly noticeable extent: we'd call it 25 percent, which is no small feat.
Kind of like torque vectoring by braking, KPC works all the time on the MX-5, even when you're not on the throttle, reining in body motion technologically rather than through the adoption of stiffer springs – the sort of suspension alteration that might have destroyed the MX-5's characteristic suppleness and country-road compliance.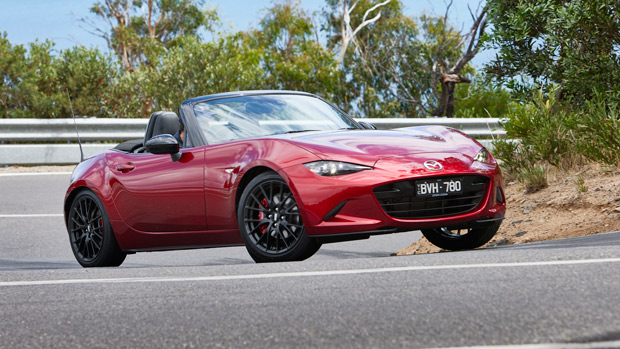 At the same time, Mazda has taken the opportunity to make other changes to the MX-5 lineup in Australia. The cult-favourite 1.5-litre MX-5 disappeared a few months ago and will not return for the 'ND3', much to our disappointment – but over 90 percent of buyers favoured the comparably big-block, 135kW/205Nm 2.0-litre that is now the sole engine available.
Six-speed manual and six-speed automatic transmissions carry over, as do the two basic shapes: the classic, lightweight, manually-retracting soft-top, and a more sophisticated (but heavier) 'Retractable Fastback' (RF) hard-top that gives the MX-5 a surprisingly differentiated aesthetic when viewed from just about any angle. Oh, and GT grades have seen 2021's white leather option replaced with a rich terracotta tan this year.
Prices are up, too, with an entry-level, cloth-trimmed MX-5 soft-top manual kicking things off at $37,790 before on-road costs. The ragtop range takes in GT models (from $44,420) and the manual-only, Bilstein-dampered GT RS ($47,420). Automatics command a $2000 premium, while a hard-top costs about $4000 more.
How does the MX-5 drive?
While it remains to be seen how much additional brake wear Kinetic Posture Control induces long-term on an 'ND3' MX-5, the technology simply works – and we're left thinking it was an intelligent integration compared to ruining the compliant suspension with stiffer, roll-reducing springs and dampers.
One of the reasons the Mazda MX-5 is such a great match for Australian roads is its suspension, which strikes a pretty good balance between vertical body motion control and well-damped suppleness. The engine might be modest (as is the weight), but the diminutive MX-5 is stunningly quick point-to-point on a curving country road, partially because it isn't thrown off by undulating, bumpy terrain.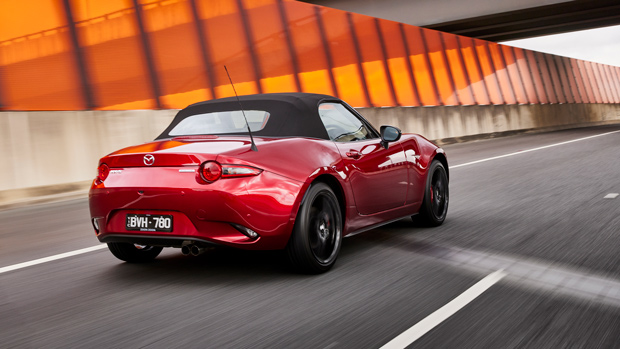 Fact is, fun Australian B-roads are rarely well maintained and are much more frequently scarred and pockmarked by a combination of temperature fluctuation, rain and regular heavy-vehicle use – so if you want a truly quick sports car usable on a variety of non-track surfaces, you need some suspension travel.
The ND MX-5 has always offered this, and as such it makes a thrilling partner – especially on hill-climbs. Move past embarrassingly dated jibes about hair-salon parking lots, slide far-down behind the wheel, and you'll be challenged to keep the smile off your face.
So the mission to contain the MX-5's admittedly lax lateral body control must have created difficult competing priorities: maintain the pragmatic country-road compliance while reining in the roll. KPC, which very gently and subtly feeds in brake to the inside rear wheel while cornering, deftly authors an amenable solution that retains comfort while dialling-down the at times tiresome side-to-side pitch.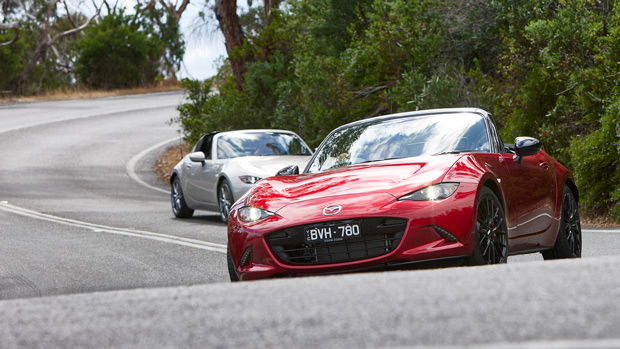 Our first test of the system was over about 20 laps at the tight and undulating Bryant Park racetrack, also known as Haunted Hills, outside Melbourne – after a similar number of laps in a 2021 MX-5 without the system. KPC's operation was evident within about two corners: it's obvious, but not imposing or unwanted.
The reduced roll induces a bit more understeer in theory, but because it's the inside rear wheel being nipped in, any plough effect seemed to basically be cancelled out. Certainly, there will be slightly more tyre wear (and brake wear from KPC's direct operation) but it made us faster – no doubt.
Thankfully, the MX-5's clear and communicative steering rack is maintained. That said, we wouldn't mind the steering ratio being reduced one of these days, as there's a surprising of wheel-twirling required on this car – you really have to keep up with it, especially if you want to disengage the on/off stability control and drift this lightweight rear-drive roadster.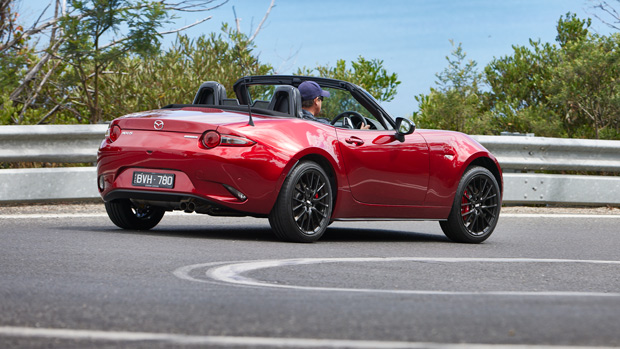 A halfway setting for the ESC would be a sophisticated addition to a future MX-5: leave stability on and the tech bites down hard when you get some attitude on the car. Turn it off and with such a short wheelbase, it'll spin quickly. Some limited oversteer on track without a full disabling would be a pleasant space.
Engine performance from the direct-injected, high-compression 2.0-litre naturally-aspirated petrol four-cylinder remains strong, given the MX-5's limited mass. With 135kW of power (181 hp) on tap, and 205Nm of torque (151 lb ft), the soft-top in particular gets up and sprints quickly.
There's no need for turbocharging here, as the high compression ratio sees the engine make plenty of torque in the mid-range – and it revs so quickly – but not quite as fast as the freer-revving and now discontinued 96kW 1.5-litre, which was our pick (but a real purist's choice – fewer than one in 10 buyers chose it). In future, it's possible Mazda will increase the compression ratio even further with a mild-hybrid Skyactiv-X engine for the MX-5.
The six-speed manual remains our pick of the two transmissions. The auto isn't bad, but its torque-converted shifts are just too slow on a technical track to be truly competitive. The manual continues to be something of a revelation, with a positive clutch, short-throw shifts. It's the manual driver's manual, this. But it could also be your first manual car – the fast-revving engine makes it easy to learn on.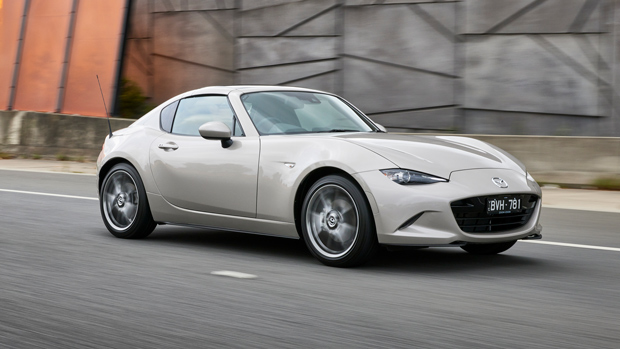 Unsurprisingly, refinement isn't the MX-5's main priority, though the soft-top is unexpectedly the superior car in this regard. The RF shape's flying-buttress roof supports clip the wind, creating more noise when driving – and that's with the roof up or down). The soft-top is actually the quieter car with its roof up.
Safety-wise, every MX-5 includes autonomous emergency braking (forwards and reverse), plus rudimentary lane-keeping assistance and blind spot monitoring. Impressive when it launched in 2015, it does not have the match of a 2022 BRZ (automatic), let alone a Volkswagen Golf GTI ($54,490), though it remains ahead of the manual BRZ or GR86 in this regard.
How is the MX-5's interior?
Little has changed in the interior of the MX-5 since the first release of the ND seven years ago. Early on, base models were upgraded from an old single-DIN stereo to a superior 7.0-inch touchscreen which remains the only infotainment system across the range, running Mazda's older software (unlike a CX-30 or Mazda 3).
Mazda makes piecemeal efforts to keep the cabin feeling fresh – mainly by changing leather colours here and there. For 2022, the upmarket MX-5 GT variants now offer a deep terracotta tan leather hue in addition to traditional black hide, but base cars have plain dark grey cloth.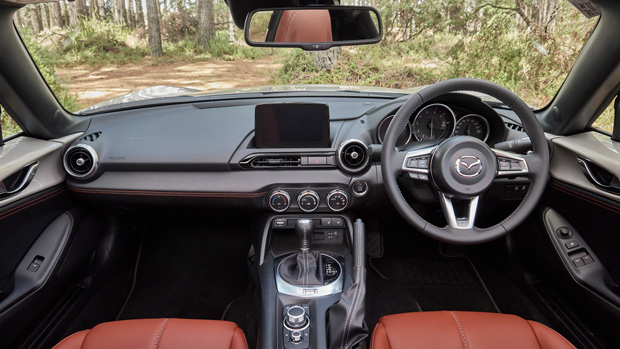 Sadly, none of the 2022 MX-5 variants in Australia are fitted with the excellent Recaro seats infrequently seen in special-edition MX-5s locally.
The Recaros would make a great addition to a high-spec MX-5 because the standard seats are simply unsupportive. We don't care that they're manual (and we like the thigh-angle adjustment dial) but the total lack of both back-lumbar and lateral side bolstering means even 90 minutes see us shifting around, uncomfortably.
That's a shame because the rest of the interior is pleasantly executed, even if the basic design is starting to date. The extension of the body colour inside, found on the door caps, remains quite chic, but we like the padded dashboard, aviation-style vents and simple analogue dials that incorporate a small digital trip computer.
Passable is what we'd call the software running on the 7.0-inch infotainment system: the graphics are a little immature, so we'd bypass it and use the (wired) Apple CarPlay and Android Auto connection every time. The Bose speakers in the GT variants are good, and incorporate dinky headrest tweeters to make it easier to hear your music with the roof down.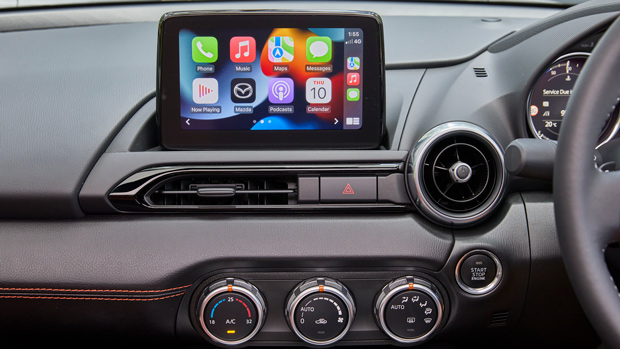 Storage continues to be pretty woeful. There's a small cargo box between the seats … and that's about it. Two stick-on cupholders can be located in two different slots, but there is no incidental storage for a phone or keys near the shifter – so when your device is plugged in, it just has to hang out somewhere random.
The MX-5 remains a two-seater only, with no back seats available on any model. The boot measures 130 litres in the soft-top while the RF has three litres fewer/more. Small, to be sure, but the cargo area does have room for a few soft bags for a weekend away – just ditch the hard-sided Rimowa for this one.
What are the MX-5's running costs?
Like all Mazda vehicles sold in Australia, the 2022 MX-5 is covered by a warranty that lasts for five years with unlimited kilometres.
Scheduled servicing takes place every 12 months or 10,000km – a little short by industry standards but probably not a serious issue for a sports car. Maintenance for the first five years/50,000km totals $1755.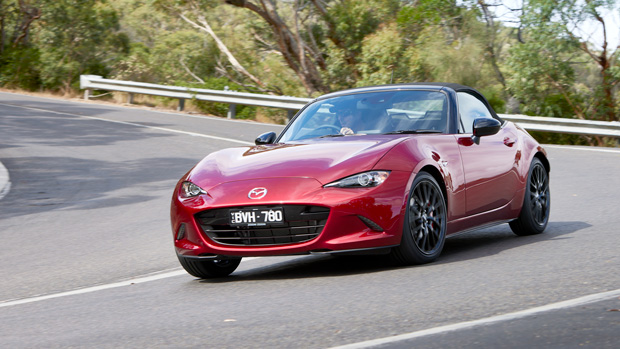 Fuel consumption isn't a huge strong point for the MX-5: despite weighing just over 1000kg and running without a turbocharger, we've never done much better than about 8.0L/100km in combined driving.
To be fair, that has a lot to do with the MX-5's free-revving, free-spirited nature that sees us chasing redline more often than in most cars.
The final verdict
Far from destroying the fun of the Mazda MX-5, Kinetic Posture Control enhances it by reining in some of the excess lateral motion of the ND chassis.
This is still a really playful, cheerful vehicle – and a seriously quick one point-to-point. Through an obsessive focus on lightness (particularly in the soft-top variants), Mazda has maintained its roadster's incredibly high fun-per-dollar quotient for 2022.
We do pine for more supportive seats and an even better hardtop model without the RF's noisy flying buttresses – but it's hard to beat the pared-back base-model roadster with a manual gearbox.