Mazda has unveiled a rotary-powered compact sports car concept which it is calling the 'Iconic SP', an obvious spiritual successor to the iconic RX-7.
The striking bright red coupe is the hero model on show for the brand at the Japanese Mobility Show, previewing potential future technology and design language for the manufacturer.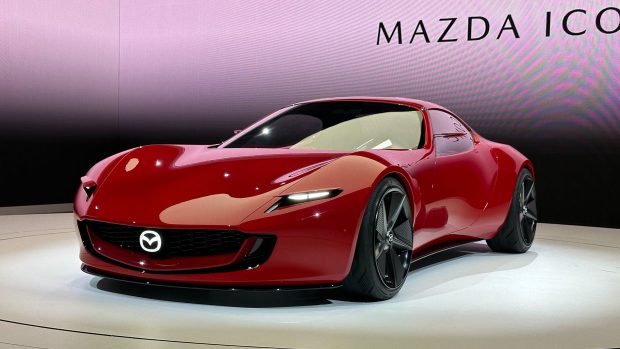 In recent weeks it had been speculated whether Mazda would debut an electrified version of its MX5 roadster, however the Iconic SP is a clear modern reimagining of the likes of Mazda's iconic RX-7 and RX-8 sports cars.
As with those, the Japanese brand has maintained its historic affinity with rotary engines for the concept, with the car including a two-rotor rotary EV system, which Mazda says 'remains compact' and enables a low centre of gravity.
It appears that like the MX-30 plug-in hybrid however, the rotary engine is simply used to top up the batteries which feed electricity to the electric motor or motors.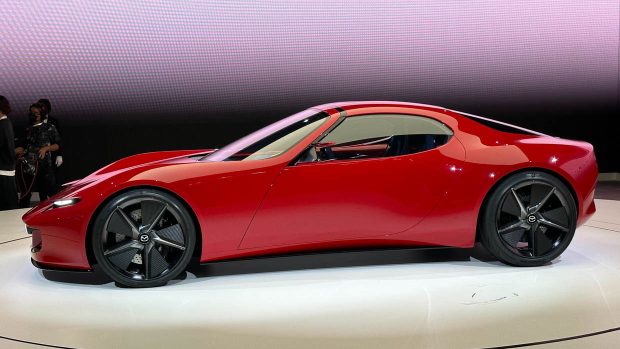 With the official release, Mazda said "batteries are charged by recyclable energy source and the two-rotor rotary engine, used for power generation, is powered by carbon-neutral fuel."
A maximum power output of 272kW and a total kerb weight of 1450kg are quoted.
Unlike other manufacturers, Mazda has been slower to capitalise on the EV race – currently the MX-30 small SUV is its only electric car sold in Australia – and the Iconic SP, as a hybrid sports car, is in keeping with this philosophy.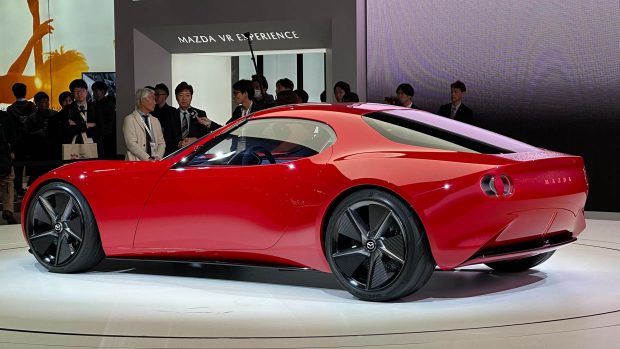 Mazda says that the mounting of the rotary in the centre of the car has resulted in the low bonnet design, adding that the two-rotor rotary EV system 'can burn various fuels such as hydrogen'.
The brands adds that 'when the battery is charged with electricity derived from renewable energy, it is possible to drive in a virtually carbon-neutral state'.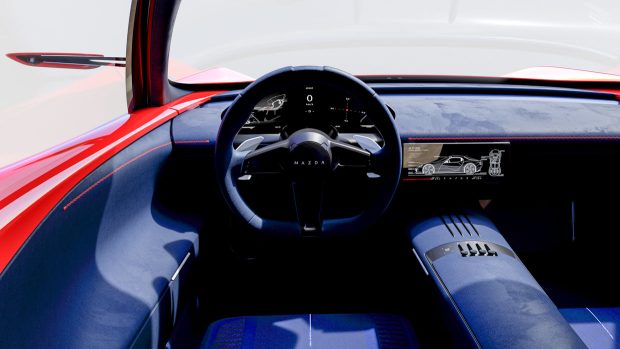 Dimensions for the coupe are 4180mm in length, 1850mm in width and 1150mm in height. This is larger than the current MX5 which measures in at 3915mm in length, 1735mm in width and 1225mm in height.
The Iconic SP is therefore more akin visually and proportionally to the last generation Mazda RX-7 which measured in at 4295mm in length, 1750mm in width and 1230mm in height.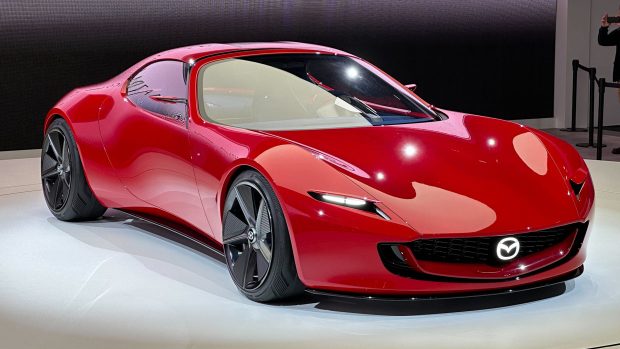 Like the old RX-7, the concept appears to feature slim pop-up LED headlights which will please fans of retro sports cars from days gone by.
Mazda has previously teased an EV sports car concept called the Vision Study which the 'Iconic SP' is clearly based on, however with rumours of an 'RX' or rotary powered Mazda sports car revival circulating for years, it remains to be seen whether the Iconic SP will make some form of real-world production debut.