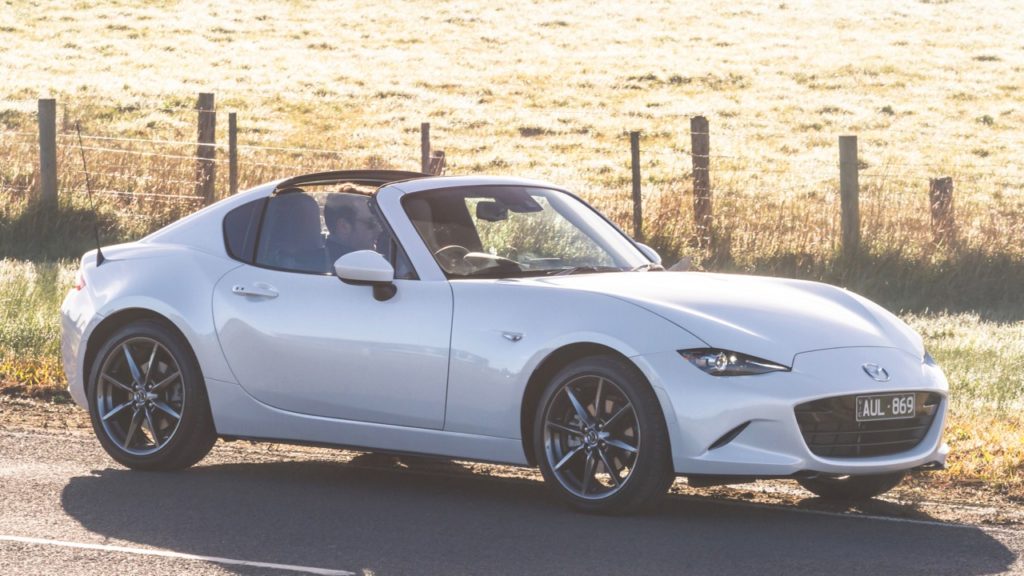 If you asked us what our idea of automotive bliss was, inevitably our mind would turn to a crisp spring morning, blue skies, enjoyed top-down in a Mazda MX-5. Simple, affordable and fun to drive, the ND-generation MX-5 has solidified its place on Chasing Cars as one of the best 'weekend cars' you can buy. That said, the diminutive Mazda has always been sweetest in its cheapest form, with a quick-revving, spirited 1.5-litre engine that keeps you on your toes. The far more popular 2.0-litre, meanwhile, has been a bit coarse and torque-happy – and not very Miata-ish.
But what if you tweaked the two-litre to give it the best traits from the 1.5-litre – a high rev limiter, a punchy top-end and better noise? Well, that's the promise of the 2019 Mazda MX-5 model year updates, which we sampled this week in near-nirvana conditions: on New South Wales' northern coastline, mid-twenties, sun shining, and not a cloud in the sky. In other words, where the MX-5 yearns to be driven.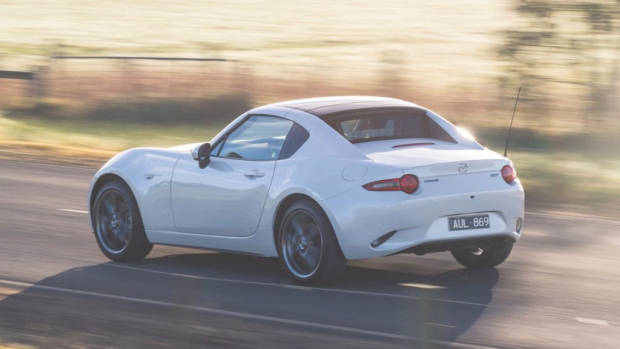 First, let's cover off what hasn't been changed: the MX-5's cabin, suspension and steering are all untouched for 2019. Picking a new one apart isn't easy: only the entry grades have a new, polished black finish to their 17-inch wheels. Otherwise, the MX-5 looks the same, aside from a cutout for the reversing camera, which at last, becomes standard equipment. Two body styles continue: a soft-top Roadster from $34,190, and a targa-style Retractable Fastback hard-top commencing at $39,400.
We expected a further change that did not eventuate: the inclusion of Apple CarPlay and Android Auto, which made it into Mazda's 2019 CX-9 update earlier this month. They weren't ready for the MX-5 – if you want to mirror your smartphone on the MX-5's standard seven-inch touchscreen, you'll have to head back to a Mazda dealer starting in October, hand over more money, and they can be retrofitted. How much? Mazda hasn't yet said.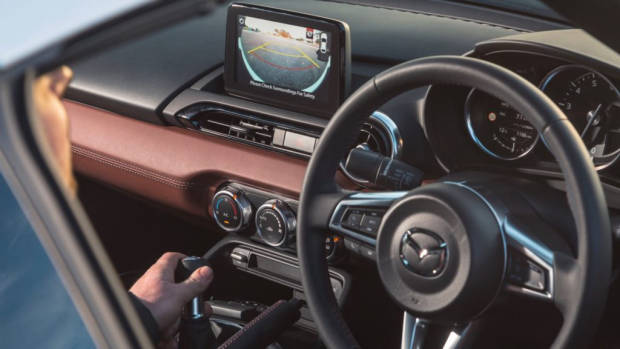 What has changed here are the powertrains. The 1.5-litre sees its outputs bumped slightly to 97kW/152Nm, up 1kW and 2Nm – but it's the big 2.0-litre engine that sees far more changes that are designed to open up previously uncharted heights in its top-end. Far more free-revving, up to a fuel cutout at 7,500rpm (up by 800rpm) results in a new peak power figure of 135kW, up 17kW or nearly fifteen per cent, while torque is up 5Nm to 205Nm.
Given the MX-5's featherweight status – it weighs just 1,021kg in the 1.5-litre manual soft-top roadster, 1,035kg once the 2.0-litre is shoehorned in, and 1,112kg at its heaviest, in a hardtop 2.0-litre RF GT automatic, the additional power is easily felt. The power to weight ratios are healthy, topping out at 130kW/tonne in the 2.0-litre manual roadster.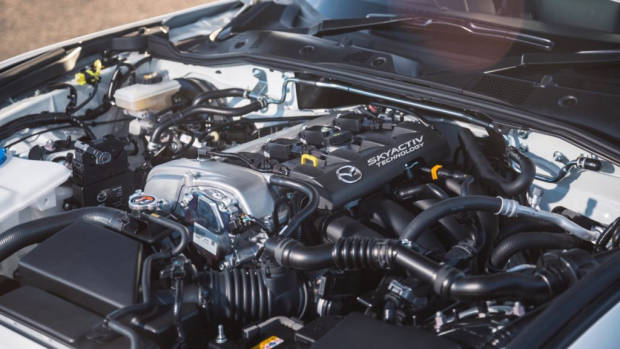 Many traits of the 2.0-litre haven't fundamentally changed: it's still torquey in the low-end and especially in the mid-range, where it feels notably stronger again. You can still short-shift the bigger engine, which makes it the pick if you intend to commute in an MX-5. And the underlying coarse engine note, sadly, is still around – though a new resonator has helped matters, and the top-end in particular does sound smoother than before.
What has changed is the sheer pace of the 2.0-litre MX-5. As noted above, the midrange torque is even stronger. From 3,500rpm, the updated 2.0-litre just pulls away from the outgoing, 118kW/200Nm version, with a far broader torque curve making the most of the Mazda's twist. And the ability to wind the engine out far further avoids unnecessary gear changes, letting you sprint to 100km/h a little quicker. More relevantly, corner exits are just that much more brisk. This is an engine with ample supply of both power and torque.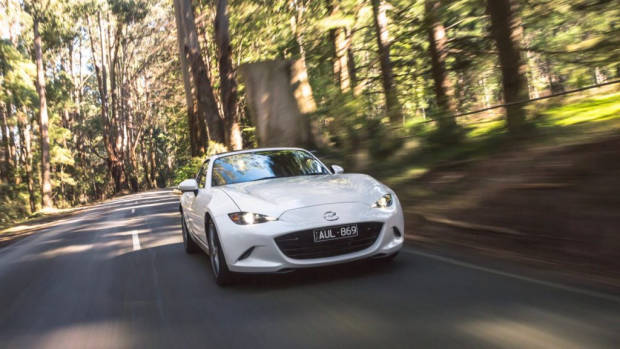 Speaking of gear changes, the six-speed manual gearbox fitted to the 2.0-litre now feels slicker with less adhesion between gates, which was a criticism we had about a number of 118kW versions that came through our garage. As before, a six-speed automatic is a $2,000 option across the range, but we approve strongly of the fact that nearly three-fifths of MX-5 buyers continue to opt for the superior, more engaging manual.
The 2.0-litre's gearbox and engine now feels more like the sweet 1.5-litre. And that's a good thing, because 95% of buyers opt for the bigger-displacement engine in Australia. Which, as it turns out, is a shame.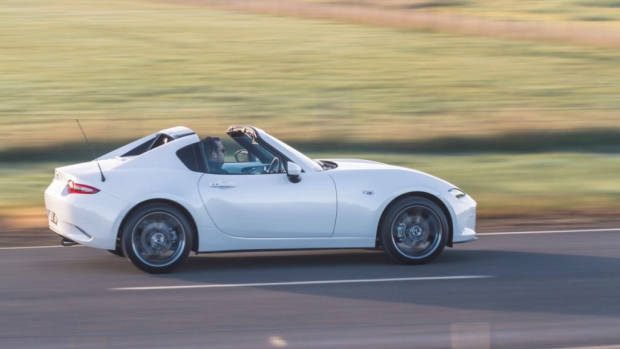 It's a shame, because while the 2.0-litre is considerably improved for 2019 – by way of being a good facsimile of the 1.5-litre – the smaller engine continues to be the absolute peach of the MX-5 lineup. The sheer popularity of the 2.0L has seen the 1.5L choice limited to just one model – a base model soft-top priced at $34,190 ($36,190 with an auto). And on the launch of the 2019 MX-5, just a single example of that 1.5-litre car was on hand.
Thankfully, we managed to wrangle a blast in the 1.5-litre to refresh our palate after a couple of hours behind the wheel of the new 2.0-litre. An hour with the smaller engine, in delightful Soul Red Crystal with new black wheels confirmed that the cheapest MX-5 is still the one to buy if you are a Miata purist. Sonorous and satisfying, the zinging little four-pot is clearly the engine the MX-5 was designed for: if only more buyers saw it that way. Sure, it's pretty slow – and you have to shift gears constantly when driving to keep this 97kW unit in its power band, but it is very rewarding.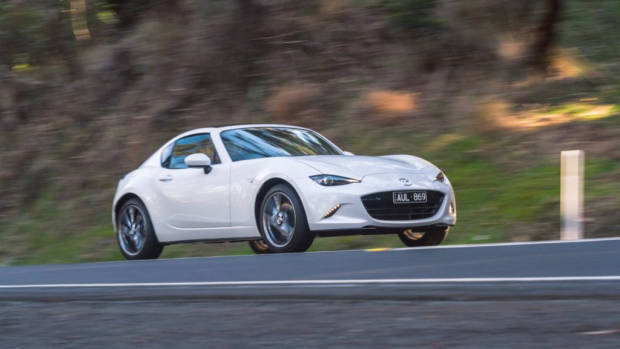 Our point here is really just to encourage readers to try both engines before making a final decision. If you're intending to run an MX-5 as a second car for spirited blasts on the weekend, it may be the case that less truly is more.
We noticed that fuel economy was slightly better on the 2.0-litre thanks to its slab of torque; in a day of hard driving, we recorded 8L/100km in the big four-cylinder, and 9L/100km in the small one. A much of a muchness.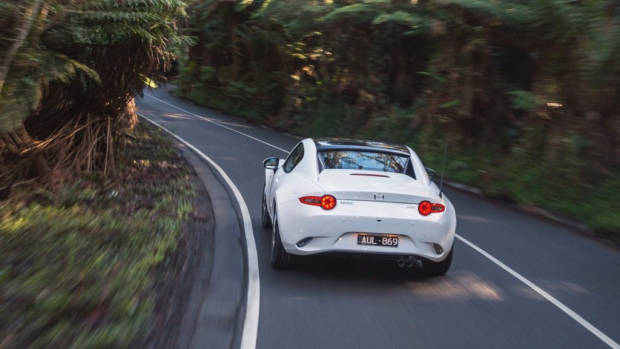 Engine and gearbox aside, either engine is packaged in a small, wieldy car with superb dynamics. The handling is simply so much fun: a hugely eager, sharp front end is coupled to good Bridgestone Potenza tyres – there's excellent grip at the front, but the only moderate lateral grip on these sneakers mean that prodding the throttle on corner exit grants delicate oversteer, letting you easily adjust your line – remember, the tiny MX-5 is rear wheel drive!
And the ride quality is excellent, too. The Mazda is softly sprung, which results in comical levels of body roll if you're coming to an MX-5 for the first time. You do learn to manage and hedge the roll pretty quickly – it lets you lean on the MX-5's chassis, rather than its tyres, while cornering fast. And a big positive tradeoff is that the ride over imperfections is very supple – far more so than the Toyota 86 or Subaru BRZ twins that many buyers also consider.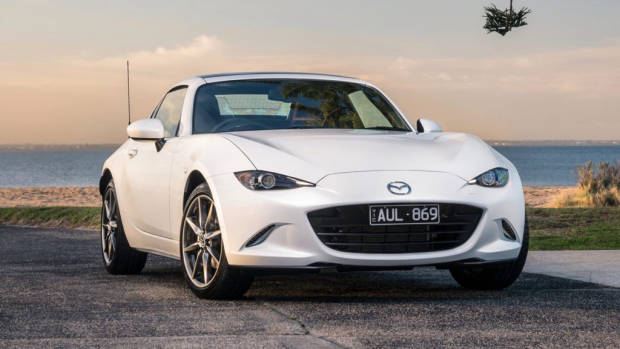 Safety-wise, the MX-5 package has been considerably broadened for 2019. All models benefit not just from the now-included reversing camera, but also from city-speed forward autonomous emergency braking, and traffic sign detection. Further, GT models have AEB that works in reverse, blind spot monitoring, rear cross traffic alert, driver fatigue detection, and passive lane departure warning.
We think the MX-5 is best conceived as a second, fun car, rather than as a daily driver, though living with this two-door isn't as hard as you might think. The cabin of the ND generation has been progressively upgraded over the years to include most creature comforts – navigation, DAB radio, a sharp, colour trip computer, supportive-enough seats with thigh angle adjustment, and a steering wheel that now adjusts for reach, as well as rake, are standard range-wide. GT models are about $6,500 more and add heated leather seats, a Bose stereo, reverse parking sensors, adaptive headlights, some softer interior trims, larger 18-inch wheels, AEB in reverse, lane departure warning, and driver fatigue detection.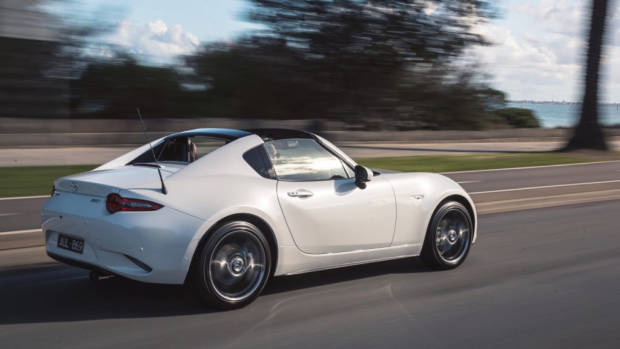 There is a boot, though at 127 litres for the Retractable Fastback and 130 litres in the Roadster, this is not a practical vehicle. At least the trunk is rectangular and not oddly-shaped; you can put a midsize piece of cabin baggage in there, or perhaps three canvas or leather bags. In other words, just enough stuff to get to work and the gym, or alternatively, to take the MX-5 away for a weekend with someone special on the passenger seat.
And that's the spirit of the MX-5 right there – an utterly delightful car to load up with a couple of bags to head away to a sunny spot, top-down, enjoying a car that is shockingly affordable once you consider the dynamic capability an MX-5 has on tap – capability that has been enhanced in subtle but important ways by the range of 2019 updates. The 2.0-litre still isn't the most scintillating engine out there, but it's a good leap better – and the 1.5-litre MX-5 remains a car after our own hearts. We'd very happily buy – and recommend – either, with broad smiles on our faces.