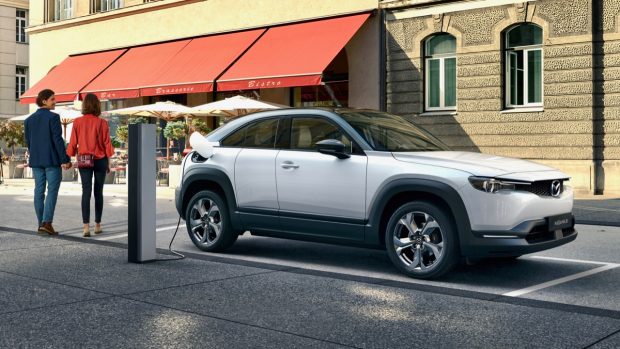 Japanese carmaker Mazda today revealed its first production electric vehicle. A full EV equipped with a 35.5-kilowatt-hour battery, the Mazda MX-30 arrives as a small SUV. Many pundits mooted that Mazda's first battery electric vehicle would take the form of a crossover. Few would have expected the finished product to be as dramatic as the 2020 MX-30 is in the metal.
In a dramatic departure from Mazda's curvaceous exterior design portfolio of the past decade, the boxy MX-30 is all sharp angles and creases. In a design flourish few will miss, the MX-30 sports suicide doors reminiscent of another bold Japanese SUV of this century, the Toyota FJ Cruiser.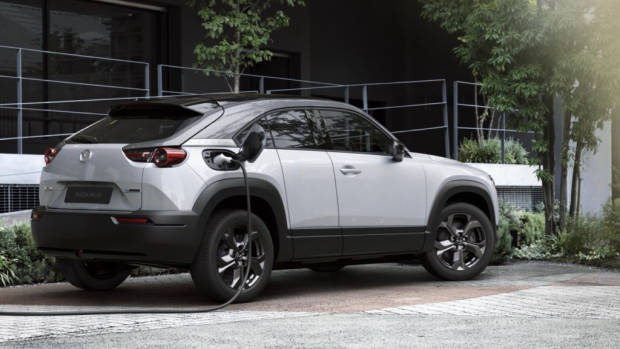 But unlike that Toyota, the MX-30 – which utilises the letter code more commonly associated with Mazda's sports cars – deploys an electric motor producing 105kW of power and 265Nm of torque. The MX-30 is the first in a series of Mazda electric vehicles. The company has set themselves a 2030 deadline for an 'e-Skyactiv' electric powertrain to be offered on every model in the Mazda lineup.
Delivering a range of around 250km in real world driving conditions, the MX-30 will be aimed at urban buyers seeking the versatility and practicality of an SUV with the zero tailpipe emissions advantages of an electric vehicle.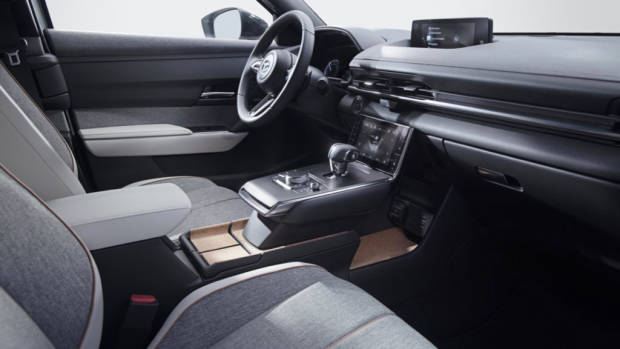 Chasing Cars drove a prototype of the MX-30's drivetrain earlier this year – underneath the body of the combustion-engined CX-30 SUV, throwing us off the scent – and the experience is relatively unlike other electric vehicles.
MORE: Watch our review of the Mazda e-TPV with the MX-30's powertrain
Designed to feel more linear and natural to drive than a Tesla Model 3 (review), Nissan Leaf (review) or Hyundai Kona Electric (review), Mazda intends for the MX-30 to help ease the transition into electrified motoring the the average buyer.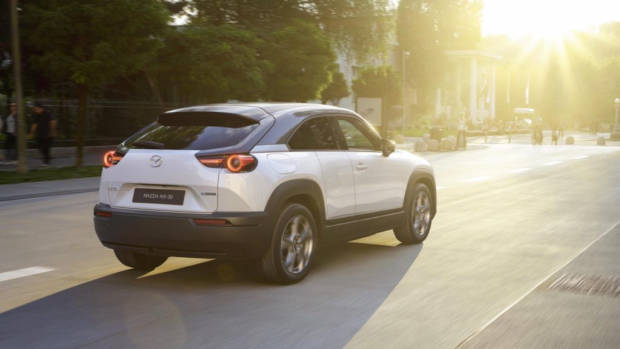 That said, the MX-30 is not destined for Australia at first, though a plug-in hybrid or conventional series hybrid version might. Underneath this SUV sits Mazda's bespoke electric platform that is modular in nature and can accommodate self-charging hybrid, plug-in hybrid and full-electric powertrains.
Mazda's 'well-to-wheel' philosophy dictates that if a market relies on non-renewable energy generation, the environmental benefits of a full EV rapidly diminish. This takes into account the substantial power and resource requirements needed in the production of the enormous batteries that go into electric cars.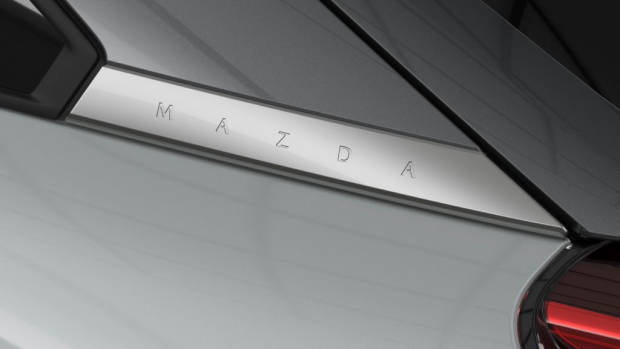 Australia falls into the category of countries with only moderate supply of renewable energy in the national grid and as such, Mazda do not feel it is appropriate to deliver full-electric MX-30s in our country.
That said, the share of renewable energy as a portion of total production in Australia continues to climb and senior Mazda product planners will continue to assess their decision, making changes where necessary.
Mazda will pitch the MX-30 into European markets with fervour, where clean energy production is more plentiful. There's also the substantial impact of the European Union's punitive taxation regimes on combustion vehicles which grow ever more tight for carmakers and car buyers on the European continent.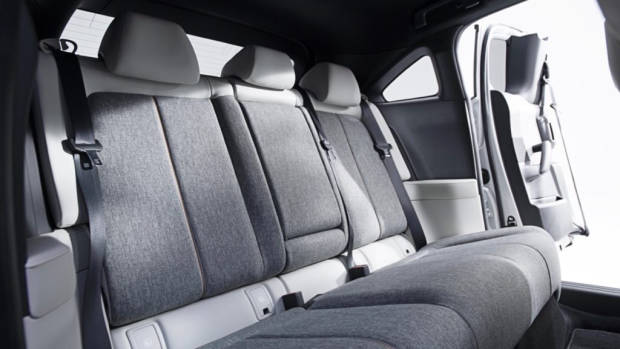 Inside, the CX-30 embraces a number of sustainable materials, with high-quality cloth seats instead of leather trim. Secondary materials feature heritage cork in a throwback to past Mazda cabins as well as plastic surfacing made from recycled bottles.
Other cabin elements are reminiscent of other modern Mazdas – including the high-set infotainment screen also seen in the new Mazda 3 and CX-30 – but the MX-30 innovates by way of a seven-inch low-set screen for climate and other controls. Drawing on the strong power supply from the battery, the MX-30 will also feature a 150-watt household power socket in some markets. That said, USB-C ports are not present.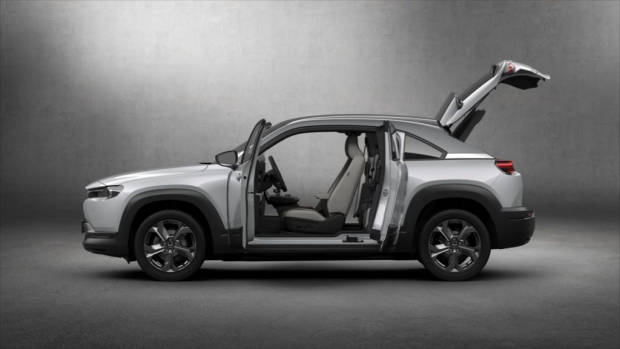 Mazda's Safety Sense technology suite is also expanded on the CX-30, with lane keep assist expanded to become road keep assist – the forward cameras can detect not just painted markings but also grass, curbs and unmarked road edges.
We expect to see the first MX-30 deliveries in Europe in late 2020, with a decision sometime next year about whether a version of this car – potentially a hybrid – will be brought to Australia.