Mazda's MX-30 small SUV – the brand's first ever production electric vehicle – has been discontinued for the Australian market after only three years.
The quirky SUV hit Australian roads in 2021 and quickly generated many headlines related to both its design and limited 200km range in the electric version. In terms of Mazda's lineup it essentially served as the more niche version of the closely related CX-30 small SUV.
Mazda said 'the decision forms part of Mazda Corporation's strategy to welcome a range of new electrified models between now and 2025 – including hybrid electric vehicles, PHEVs and BEVs'.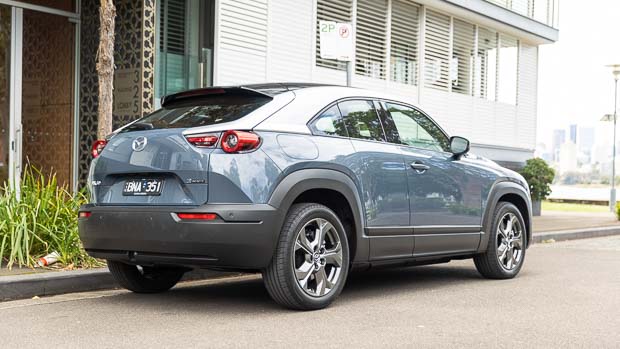 Since its debut, the MX-30 largely failed to resonate with Australian buyers. Year to date the SUV has so far delivered 480 units in Australia, as compared to the CX-30 which has delivered 9581 in that same period of time.
Even the low volume Mazda 6 sedan/wagon has sold more units (1191) over the same time period, with the MX-5 sports car not far behind the MX-30 on 382 sales year-to-date.
An experimental design inside and out
Available locally with two powertrain options – one with a more traditional four-cylinder 24-volt 'mild hybrid' and the other featuring a fully electric drivetrain – the SUV took a more style focused approach to SUV design.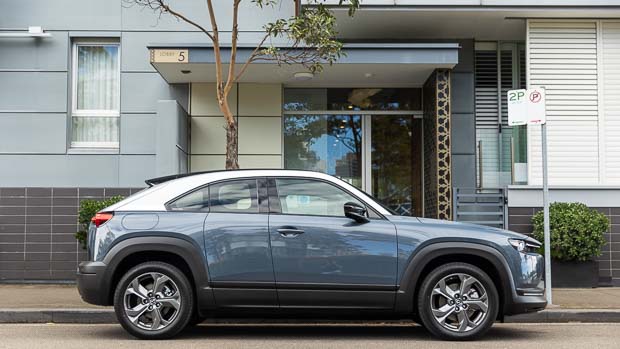 The boxy design language differentiated itself from Mazda's more typically curvaceous forms, and was also characterized by its suicide doors – rear doors hinged at the rear not at the front. These were reminiscent of the discontinued Toyota FJ Cruiser 4WD wagon, but also likely inspired by Mazda's iconic RX-8 sports coupe.
The unashamedly bold design wasn't the only aspect related to the RX-8, with a long promised and awaited rotary range extender variant for the electric powertrain, which never ended up making it to Australia.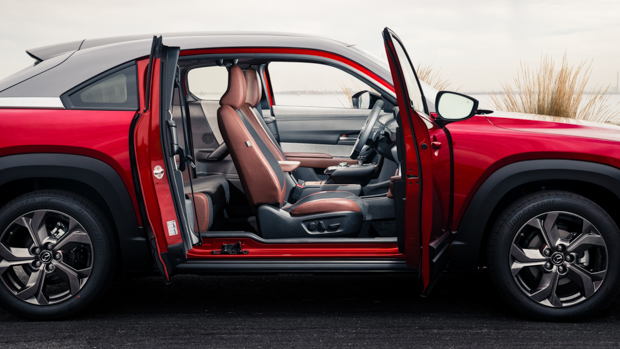 The regular electric option was widely panned for the limited 200km driving range from its 35.5kWh battery, which also came with a steep asking price of $66,410 before on-road costs. In comparison, the rotary range extender would have boosted range to over 600km, it was claimed.
What does this mean for Mazda's EV strategy?
Mazda has been comparatively slower on its electrification journey as compared to other manufacturers, recently focusing on a premium push for a new SUV lineup powered by a suite of new six-cylinder petrol or diesel engines, but also featuring a plug-in hybrid electric options.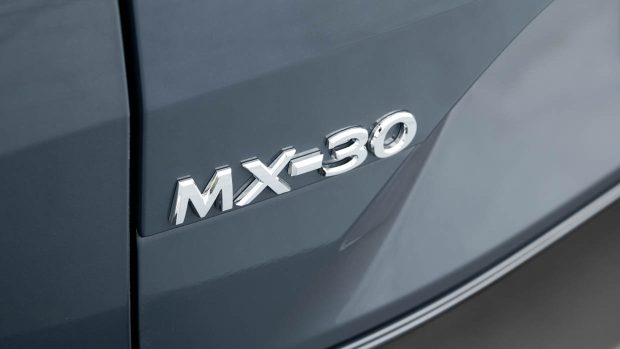 However, despite the MX-30's demise, Mazda say: 'by 2030, one hundred percent of Mazda products will be electrified and pure-electric vehicles will account for at least 25 percent of the lineup'.
Mazda Australia Managing Director Vinesh Bhindi said in a statement announcing the model's discontinuation: 'the MX-30 has since served a hugely valuable purpose, both as a technology demonstrator and also to thoroughly prepare our dealer network with the knowledge and skills required for the next phase of our brand's intensive evolution'.