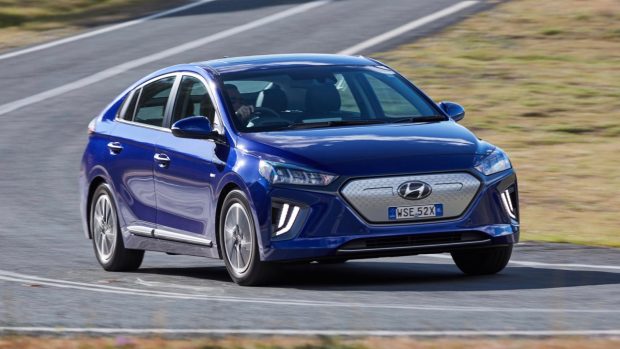 Hyundai sell the least expensive electric car offered on the Australian market. Despite that, the 2020 Ioniq Electric – which is admittedly $3,500 dearer than last year's superseded model – hardly feels cheap. Far from it: Australia's thriftiest EV is a solidly built, tech-laden liftback offering a resolved driving experience and plenty of range for $48,490.
In fact, the 2020 Hyundai Ioniq Electric has a third more range than the 2019 version, and that's the biggest reason for the aforementioned price increase. There's an almost 40% increase in battery capacity to 38.3kWh – and the bank is now liquid cooled – yielding a noticeably improved driving range of 311km, up from 204km. And that's per Europe's WLTP standards, which are supposed to better replicate the real world.
It's especially impressive when you compare the Ioniq to the new Nissan Leaf, which costs $49,990 ($54,714 driveaway). The Nissan has a bigger 40kWh capacity but is only rated for 270km of range – and the Leaf feels like the generation-old car that it really is under a new skin. In fact, the Ioniq's biggest rival is probably Hyundai's own Kona Electric, which costs $59,990 but packs a 64kWh battery good for 449km of range. But the eleven grand step to the Kona EV isn't nothing.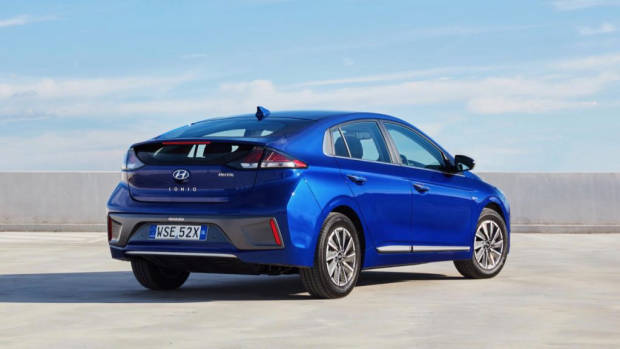 Away from comparisons with its obvious electrified rivals, the Hyundai Ioniq Electric acquits itself as basically just a good car. Inoffensive to look at, solid to drive and comfortable to ride in, it would make a suitable runabout for many people who really just want to get their own tailpipe emissions to zero, pronto.
The Ioniq is also offered in a conventional petrol-electric hybrid form, and a further plug-in hybrid version with 63km of battery-powered range delivered by charging it in the same ways as the full electric Ioniq on test here. Both hybrids are attractively cheaper but pale in relevancy compared to their full EV sibling.
That charging can be done through a variety of methods, including plugging it in to a standard powerpoint, though charging this way takes just under 18 hours. Most owners will spend a couple of thousand more to install a 7.2kW wall box in their garage, which reduces charging time to a liveable six hours. Public charging can be done with 50kW and 100kW DC fast-chargers, which will zap 80% capacity, or 250km, into the batteries in just under an hour.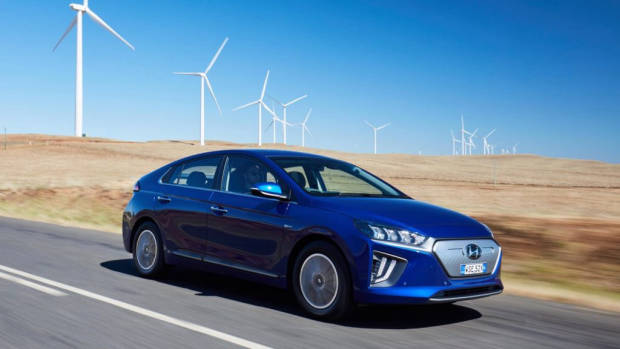 Once you're all juiced up, the Ioniq Electric drives pretty well. This is not a backbreakingly quick EV in the style of a pricey Tesla. Even Nissan's Leaf feels quicker. The Ioniq makes more steady progress, feeling kind of like it has a big-block four-cylinder under the bonnet but without any noise or vibration. Overtaking is dispatched quickly and progress is pretty effortless in town.
The handling of the Ioniq Electric is balanced and neutral. In fact, it's considerably better to drive through corners than its conventional hybrid sibling – which starts at a much cheaper $34,790 (an in-betweener plug-in hybrid, with 63km of range, starts at $41,990). The Electric is the best because even though its big battery makes it quite heavy, that weight is very low in the car, making the Ioniq feel very foursquare.
Now, you aren't getting Tesla Model 3 levels of handling, but nor does the Ioniq Electric cost Tesla money. What you are getting, though, is an Australian-tuned suspension that breathes really well with our rough road surfaces.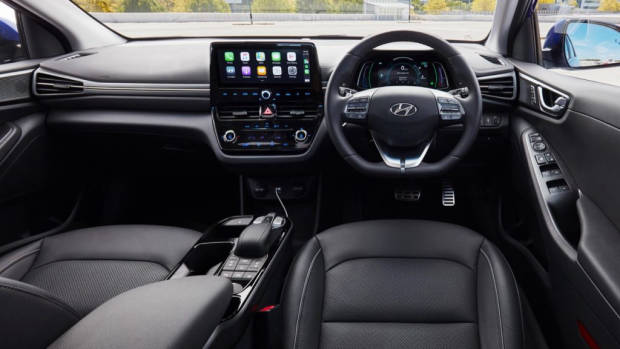 The Ioniq Electric doesn't feel like a science experiment. Anybody could drive the Hyundai – it's approachable and easy to acquaint yourselves with. That's kind of the point. This is a car that makes it easy for private and fleet drivers alike to ease into electric motoring. That's also the reason the Ioniq Electric looks conventional. If you didn't know what to look for – the slate fascia where you'd normally find a grille – you wouldn't know this was an EV.
Inside, it's something of a different story. When the Ioniq Electric launched last year, with less range, the interior was almost a carbon copy of that used on this company's petrol-powered Elantra. It was pretty boring. The facelifted car picks up a futuristic if slightly derivative piano-black control slate on the dashboard and more shiny black plastic on the central tunnel housing the gear buttons.
The new dash housing now fits a 10.25-inch touchscreen, which is fitted to every new Ioniq coming to Australia, and it's a good unit. Crisp and wide enough to show a primary function and a sidebar with more info, Hyundai's software is among the easiest to use in the car business. However, you can also connect up your smartphone for wired Apple CarPlay or Android Auto.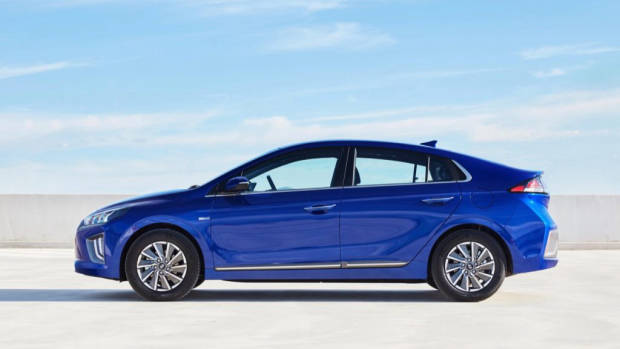 The Elite version of the Ioniq gets grey cloth seats which feel fine, but the Premium seems like $4,000 well spent, given it bundles heated and ventilated grey leather seats, with power adjustment and memory for the driver – plus LED headlights, a sunroof, automatic wipers, and a wireless smartphone charger.
Those seats up front are comfortable and supportive enough, but if we're frank, the interior would obviously not be plush enough to command a fifty-grand price tag if it were not for the electric drivetrain. In the back, three can just about fit side by side as long as they're not too tall, as the sloping roofline eats into head space.
The 357-litre boot is accessed through a large liftback and is of a reasonable shape and size. Charging cables are stored underneath the boot floor. There's a net provided to stop delicate items rolling about.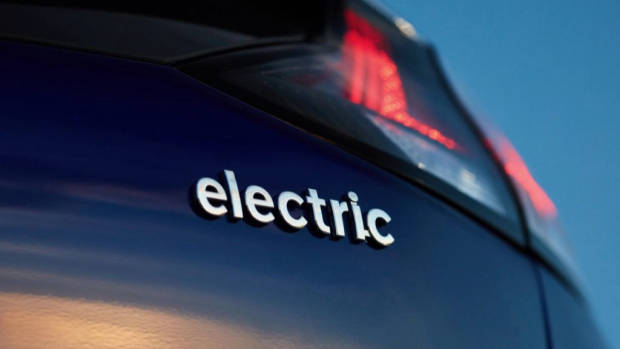 Specification is fairly generous on the Ioniq Electric. Both grades include blind spot monitoring, autonomous emergency braking, lane keeping assist and rear cross traffic alert. Convenience features include automatic headlights, 16" alloy wheels, satellite navigation, an Infinity eight-speaker stereo, smartphone mirroring tech, a leather steering wheel, and keyless entry and start.
Plus, there's also Hyundai's five-year unlimited kilometre warranty and the servicing costs are very low – it's just $160 every 15,000km, or annually – whichever comes first. That's for the first five years, at least.
We think Hyundai are still very worthy of congratulations for building Australia's cheapest electric car that you can buy today – the 2020 Ioniq Electric. Well-rounded if slightly unadventurous, the Ioniq is a really great way to get into zero tailpipe emission motoring without having to make many sacrifices at all. The 2020 update is a worthy one, having given this car the extra capacity and range that will make life easier for its owners.