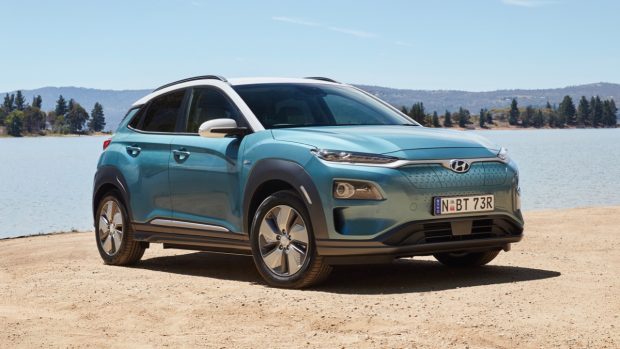 The Hyundai Kona Electric is a great leap for EV-kind. It brings long-range zero-emission driving into affordable territory for more Australians than ever – while offering sprightly performance and decent practicality.
The automotive market has a lot to give Tesla credit for. The radical American EV maker made electric motoring cool for the first time and paved the way for the technology go to mainstream – and Hyundai's zero-emission product offensive is, indeed, taking it mainstream.
While the Hyundai Kona Electric is about as far as you can get from a Tesla Model X's showy falcon-wing door experience, but the all-electric Kona is the first mainstream car to bring the best part of a Tesla – the properly long driving range – to mainstream territory in Australia.
That's because the Kona, which can travel a realistic 450km off the back of a 64 kilowatt-hour battery, is priced at $59,990. That's for the Elite variant: the two-model range also includes an up-spec Highlander grade that we drove. You'll pay $64,490 for the flagship.
Sure, sixty grand is not cheap, and the Kona Electric isn't within reach of every Australian motorist – but given the incredible popularity of vehicles in this price range on local roads, more Australians than ever now have the opportunity to buy into bona fide, zero emissions motoring.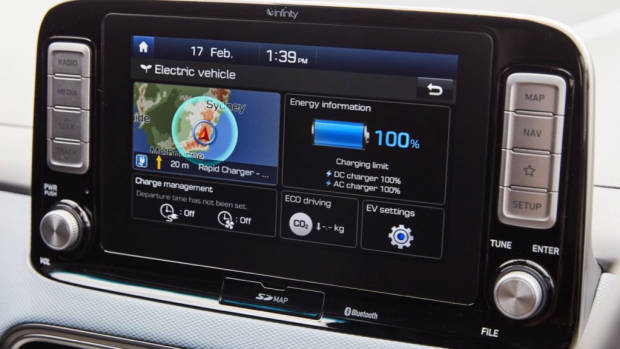 While there are a few shorter-range EVs out there for less money – Hyundai's own 220km-capable, $44,990 Ioniq Electric among them – the Kona Electric's long range is what makes it a game changer.
Range anxiety is a massive factor that turns people off considering an electric car – 220km sounds suspiciously short, even if the average Aussie driver covers just 32km per day – but 450km? That's downright decent. You'd get way past Tamworth before you ran out of juice, travelling from Sydney. Leaving from Melbourne, you'd blaze on well past Albury.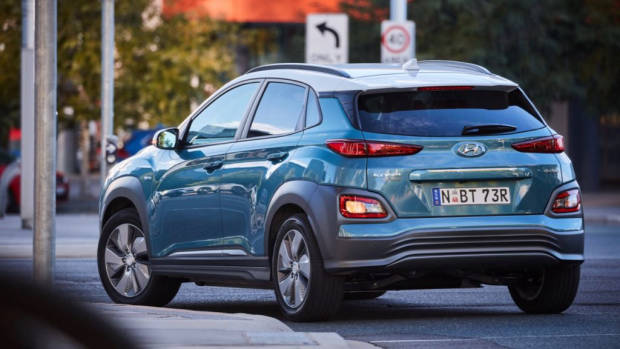 Of course, ordinary folk won't point the Kona at Tamworth or Albury – they'll point it about the suburbs, enjoying the piece of mind that you could easily drive the Kona Electric for a full week's worth of commuting before even starting to think about charging it.
Now, a 64kWh battery is pretty large and charging it up takes time. Smart buyers will have an AC wallbox fitted in their garage to allow easy overnight charging. This costs $1,950 installed, and takes just over nine hours to charge the Kona Electric from zero to 450km of range.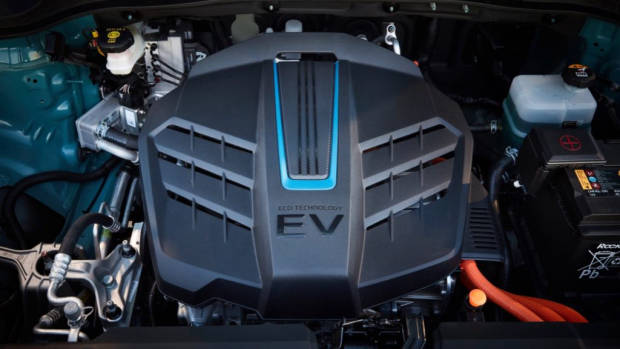 If you've got a DC fast charger near your residence or office, these can charge the Kona Electric much more quickly – 54 minutes using a 100kW fast charger, or 75 minutes with a 50kW unit – both figures get you to 80 percent range, or 360km.
You can also plug the Kona Electric straight into a standard Australian household power outlet: if there's no juice in the car, it'll take just under 28 hours to fully charge. You can see why we suggest shelling out a couple of grand on the faster AC home charger.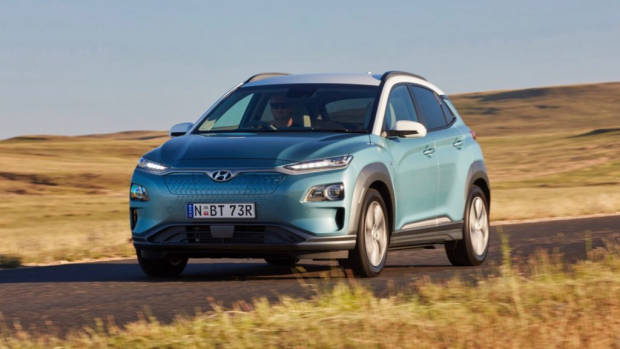 With all the technical stuff out of the way – what's the Kona Electric actually like to drive and to live with? The simple answer is that this SUV is fun to drive and genuinely practical for everyday use.
If you haven't experienced an electric powertrain before, you've got to take the Kona Electric out for a test drive. Zippy doesn't come close – it's outright fast from a standstill and it has a huge midrange surge, all available instantaneously.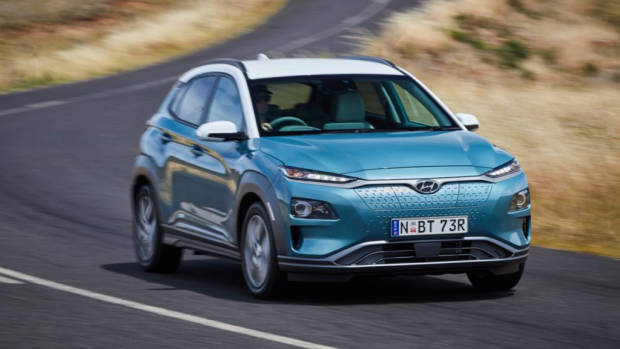 With 395Nm of torque, the Kona Electric has much more twist than even the Hyundai i30 N. And the power figure of 150kW isn't too shabby, either – this really is the performance option of the Kona range. The closest combustion option, the 1.6-litre turbo offered down the range, makes 130kW/265Nm.
That said, the figures really don't tell the story – the Kona Electric feels like a souped-up dodgem car around town, with terrific throttle response and silky smooth acceleration available at a moment's notice – all guilt free, as you're producing no emissions.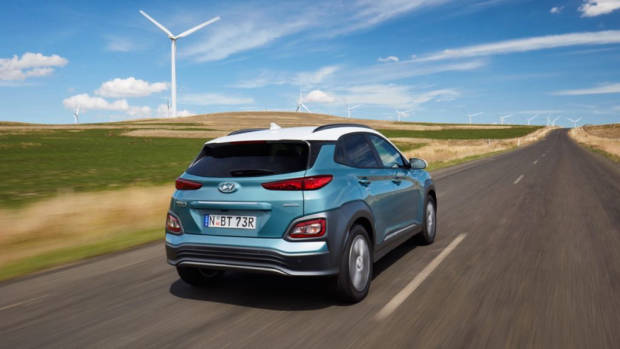 Naturally, driving it like a dodgem does use up your electric range more quickly but by and large, we found it easy to extract the Kona's quoted 'real-world' range of 449km if we drove relatively sensibly – but you don't have to drive like a grandma to get there.
Now, it isn't all completely rosy: there are some dynamic penalties for going electric, and the critical penalty is weight. A big driving range means packing in a lot of batteries, and the Kona ends up weighed around 1,700kg in the form we tested. That is a lot for such a small SUV: a turbo petrol Kona weighs about 250kg less.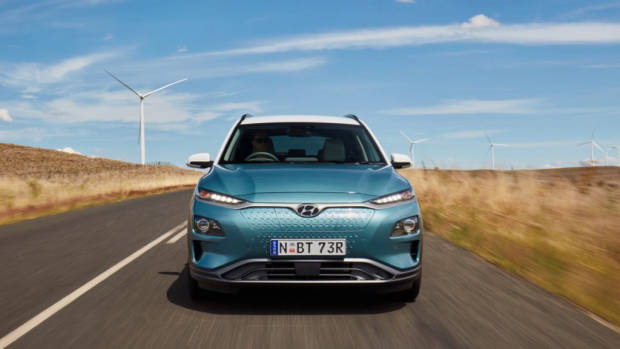 This all results in clearly detectable weight transfer when you encounter a fast S-bend: the Kona Electric isn't light-footed, but the expert suspension tune keeps the motions locked down and body control is decent.
Speaking of that suspension, the Kona Electric is clearly a member of the Hyundai family, right down to the ride quality. Like other Australian-tuned vehicles from this Korean brand, the focus is on tight control rather than outright comfort. While the Kona is cushy enough in town, big road imperfections do translate into the cabin.
Steering that strikes a balance between sporty quickness and a light, relaxed feel completes the dynamic picture. Importantly, the Kona Electric turns quickly and easily in town, with good maneouvrability. The turning circle is small and visibility is better than average.
Clearly, work has been put into making the braking feel more natural but it still takes some time to get used to the regenerative function of the Kona's stoppers. When you lift your foot from the accelerator, the car slows more than an ordinary vehicle as it recoups frictional energy for the battery. You can vary the aggression of this function but we generally like it.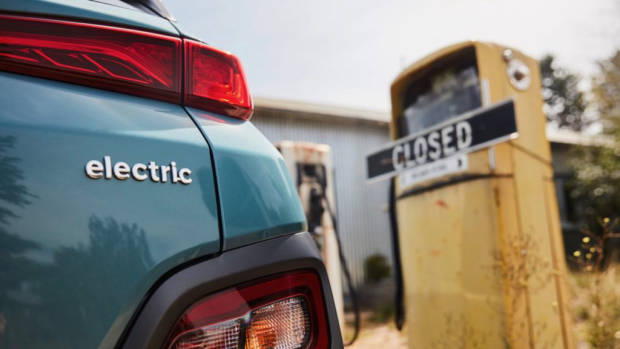 Importantly, Hyundai have differentiated the cabin of the Electric from a standard Kona. The ordinary car, which is available with two petrol engines, costs far less than the EV – in fact, you save more than $20,000 on the combustion varieties. However, in turn, the petrol Konas are not premium, and cabin materials let us down when we drove the standard car on launch.
Although you're really paying for batteries in the Kona Electric, Hyundai are pragmatic and understand that, at this price point, buyers could be stepping into a Volvo XC60. As such, the cabin gains a completely unique dashboard and centre console layout that swaps more oppressive plastics for plusher materials. There's more storage, too, as the fact there is no transmission means complex mechanicals in between the seats are not needed.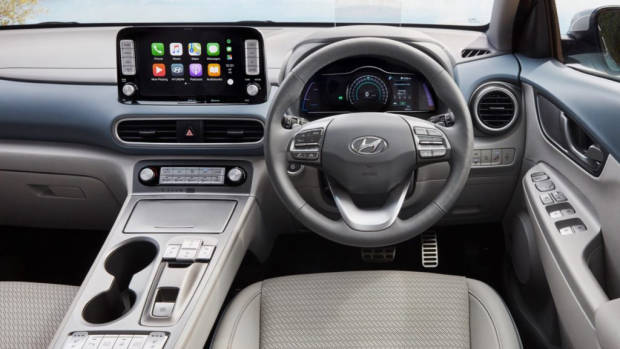 There are still some hard areas – disappointingly, this includes the door tops – but the Kona Electric is a nice place to spend time. Our test vehicle's stone leather with blue accents masterfully blended a luxurious feel with a slightly futuristic air. The Highlander's comfortable seats include electric adjustment, heating and cooling.
The onboard tech works well, and includes an eight-inch touchscreen with navigation, digital radio, Apple CarPlay, and Android Auto. There are also dedicated EV-centric readouts. The driver's screen is perhaps a little low-rent but the Highlander's heads-up display is a welcome addition.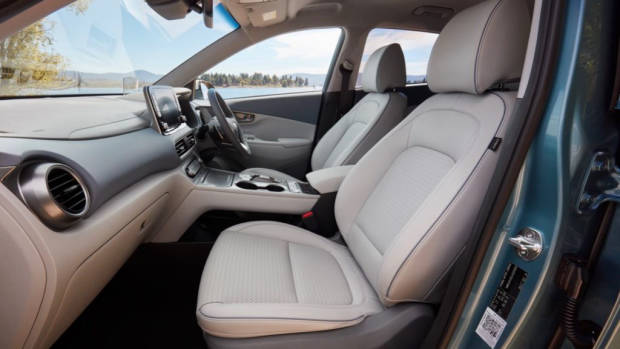 There's space aplenty in this light-filled cabin, with plenty of storage nooks – and passengers in the back will be comfortable enough, too, as long as they're under 6'2 or so. We weren't ecstatic to see that Row 2 misses out on USB ports and air vents, however.
Boot space is larger than expected at 332 litres, placing the Kona Electric well ahead of combustion-engined choices like the Mazda CX-3 in this segment on a practicality basis.
Specification is acceptable for the Kona Electric – but remembering its price, it ought to be. Both grades are fitted with Hyundai's Smart Sense safety pack that includes AEB, forward collision warning, adaptive cruise control with stop and go, lane keep assist, blind spot monitoring, rear cross traffic alert, and driver fatigue detection.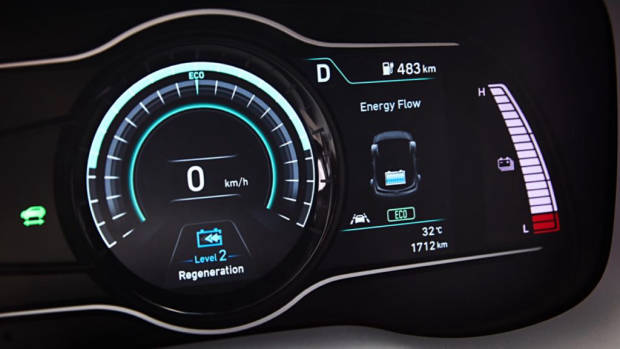 The $59,990 Elite (driveaway pricing not yet available) comes with full keyless entry and start – with convenience entry on the front doors and boot; auto lights and wipers, leather seats, and an Infinity premium stereo.
Spending $4,500 more on the Highlander feels like the right thing to do, as it is a much more complete car. You gain LED lighting all round and a sunroof; the front seats pick up heating, cooling and power adjustment; there's a heated steering wheel, head-up display, wireless smartphone charging, auto high beam, and front parking sensors.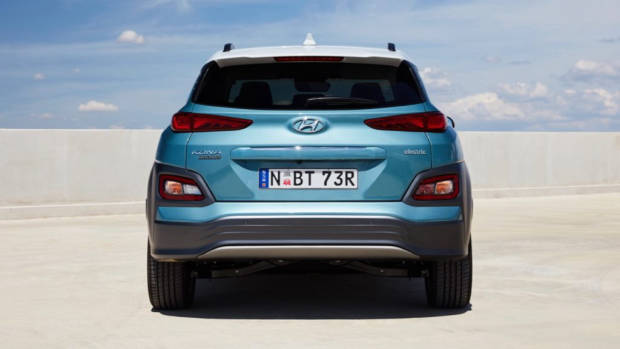 But at this price, it seems silly that only the driver's window has auto up/down movement, and a few feature omissions jar – there's no 360-degree parking camera, just a sole reverse cam; and the Elite rocks only halogen headlights and omits front parking sensors. For sixty grand, that feels nickel-dimey.
There's a five year warranty on the whole car while the battery is warranted for eight years/160,000km: great for private use but perhaps a little short on the mileage front for those seeking to push the Kona Electric into major commercial service. We guess those sorts of operators would budget for an eventual battery replacement anyway.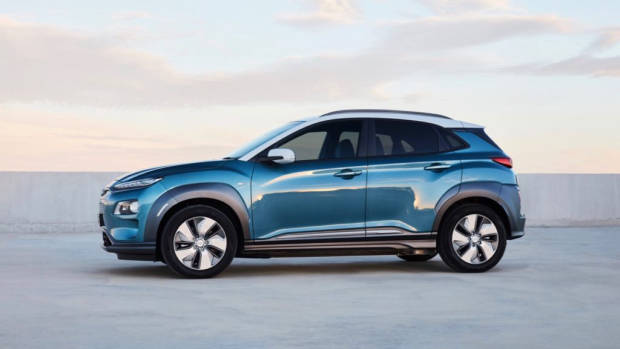 Impressively, Hyundai have made this electric car extremely cheap to maintain, with each of the first five annual services costing just $165 – that's an incredibly low five-year cost of $825.
That means that if you have a free fast charger near your house, a relatively low-cost charging membership or your home electricity provider subsidises energy used to charge an EV – your ongoing ownership costs could be staggeringly low for the Kona.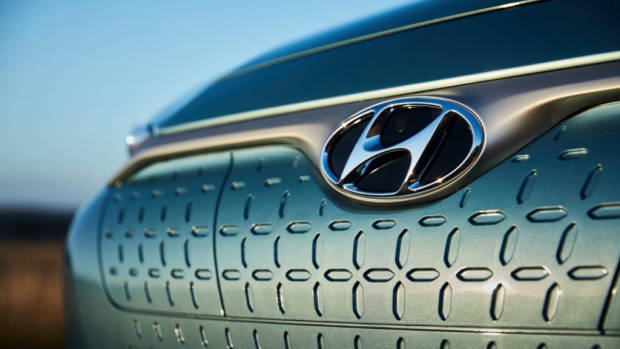 That factor, combined with the relatively low cost of entry to this vehicle, will make it a reality for many more Australians to consider switching to zero-emissions motoring.
Sure, Australia still runs in a large part on fossil fuels but as more of the electricity grid switches to renewables, the Kona Electric and other EVs get closer to approaching zero resource consumption altogether.
If Tesla is remembered for paving the way for the cool electric car, Hyundai ought to be remembered for making the electric car much more affordable for everybody.