Hyundai has reopened order books for its i20 N and i30 N hot hatches as it continues to catch-up on manufacturing delays caused by the Covid-19 pandemic.
"We are pleased to announce that i20 N and i30 N (hatch) will reopen for customer orders effective immediately," a Hyundai Australia spokesperson said. "Our existing order bank has been gradually reduced over the past year, to where we now have sufficient production supply to fulfil existing backorders."
Orders of the i30 N were paused earlier this year to allow production to "catch up", as demand outstripped supply. Orders were also paused on the i20 N in August last year.
Hyundai said wait times for new customer i20 N and i30 N orders are approximately six months "depending on the specification of the vehicle". Transport time from Turkey or Czechia, where the cars are built, is "roughly" three to four months of that, Hyundai Australia said.
The i20 N and i30 N are some of the last remaining petrol-powered hot hatch models available, with rivals such as the Ford Fiesta ST and Focus ST and Renault Sport Clio and Megane recently and permanently discontinued, as large automakers continue to divert funds to converting their entire portfolios to battery-electric vehicles (BEVs).
The i30 Sedan N was not affected by the order pauses and remains available to purchase.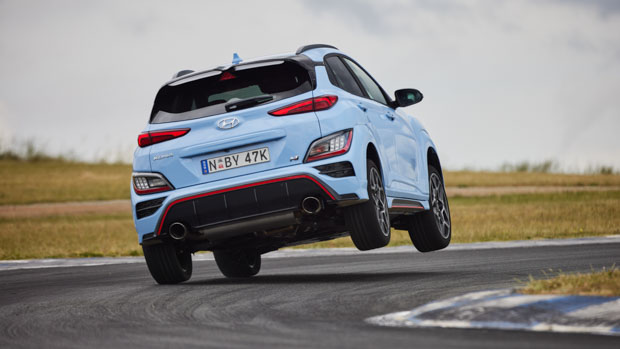 "Last batch" of Kona Ns up for grabs
Hyundai Australia confirmed a shipment of 26 Kona Ns arrived in Australia this week – and were up for grabs, with immediate delivery. "They are located in NSW, Victoria, Queensland and WA," a Hyundai Australia spokesperson told Chasing Cars.
"This is the last chance to grab a new Kona N," they added.
Powered by a 2.0-litre turbocharged inline-four producing 206kW/392Nm, the Kona N will be discontinued as Hyundai struggles to maintain petrol performance models in the face of ever-stricter emissions regulations. The i20 N and i30 N are also at risk of being discontinued, Chasing Cars reported earlier this year.