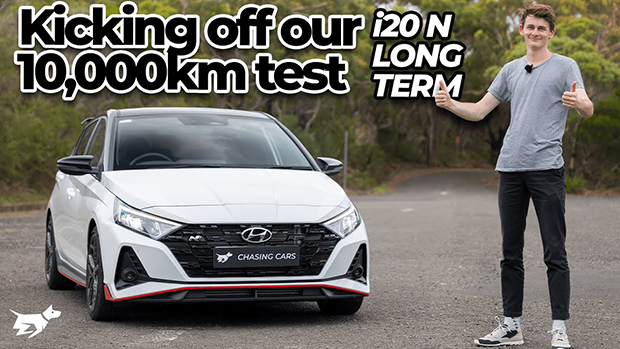 While many manufacturers seem to be turning their backs on affordable fun cars, Hyundai's N performance brand has been going from strength to strength in Australia.
The recently launched i20 N is the smallest model in the burgeoning N line-up – one that now spans i30 N hatch and Sedan N, as well as a small performance SUV, the Kona N. But it's the i20 N that has captured our attention – mostly because it's a European-market hatch sporting the full-fat N treatment and an affordable price point.
While the i20 N's footprint might be pint-sized, its fun potential certainly isn't. With 150kW of power and 265Nm of torque, a 0-100km/h claim of 6.2 seconds (which we'll be testing!), a five year/unlimited-kilometre warranty that also covers trackdays, and a $32,490 sticker price, this might be the best-value fun car in history.
In Australia, the five-door i20 N arrives fully kitted out with a 10-speaker Bose stereo, climate control, performance bucket seats and a 10.25-inch digital driver's display to match the 10.25-inch multimedia touchscreen – all of which make the i20 N's on-paper value look even better.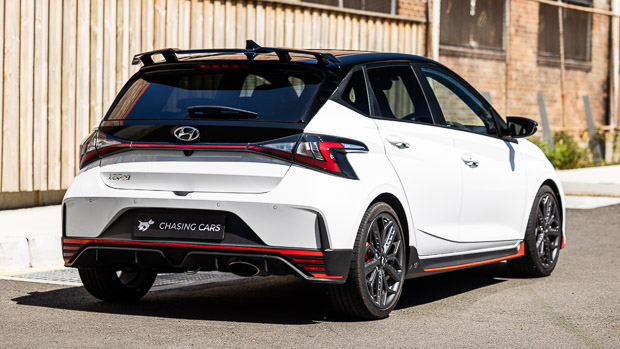 But it's not all about on-paper specification, standard equipment and theoretical 0-100km/h times because the i20 N has its work cut out in combining daily usability with outright fun. And that's exactly why we've signed on to run an i20 N for the next six months.
Staff journo 'Johnny' Law will be eagerly reporting back each month on just how deep this car's value-for-money runs and what it's like to live with every day. Is it a one-trick pony when it comes to driver satisfaction or does the smallest N deliver beyond the promises of its rear wing?
Navigate this long-term Hyundai i20 N review
We'll update this review with new entries over time as John Law details his experiences in the Hyundai i20 N, which we're running for six months and 10,000km.
Month 6: End of term – sad face
After six months, a little over 10,000kms, and a lot of giggling, is the hard-riding i20 N a car I'd want to live with every day?
| | |
| --- | --- |
| Total kilometres driven: | 11,379km |
| Average fuel economy: | 8.2L/100km |
| Running costs total: | $5601.29 ($2119.73 fuel, $340 service, $658 tyres, $2313.29 windscreen) |
The mark of a great hot hatch isn't just how fun it is on a twisty road or racetrack. Volkswagen's GTI recipe has proven successful not due to on-track prowess, but because it can do it all.
A hot hatch should be able to, for example, seamlessly transition ferrying passengers to weddings and funerals one day, to hitting the redline at your favourite racetrack, or exploring some great driving roads the next.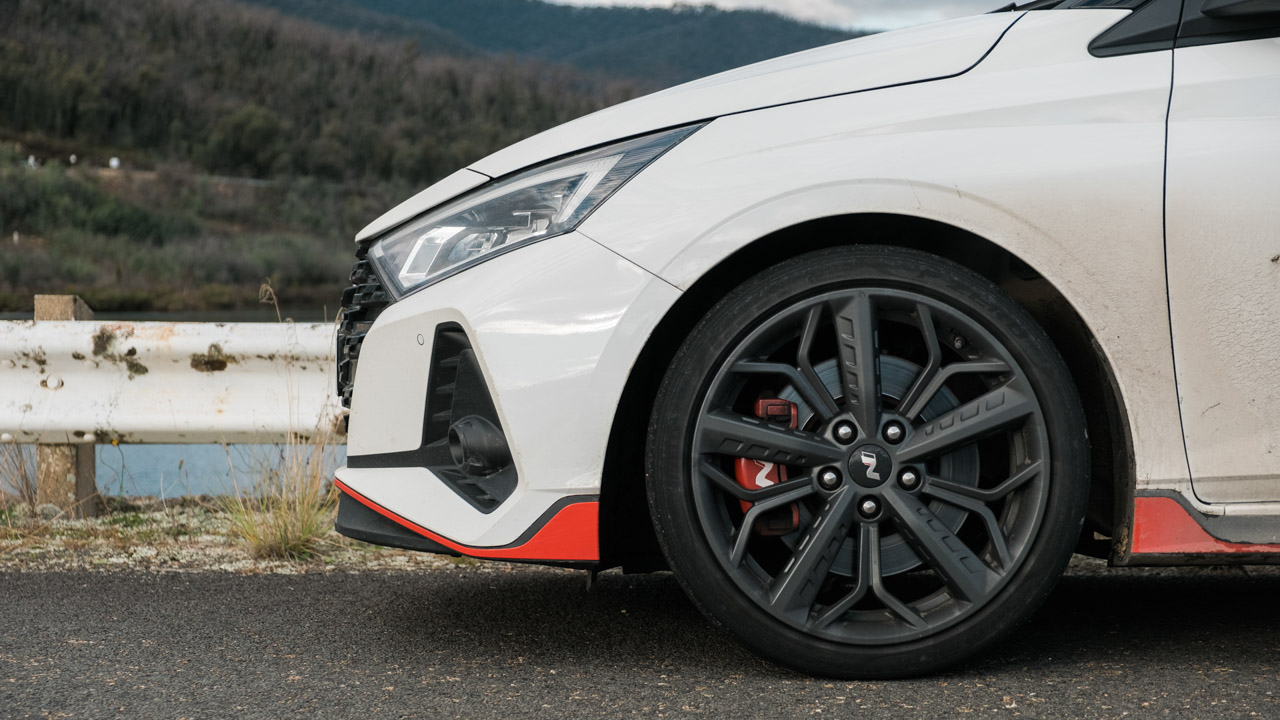 I've done all these things in the i20 N – so did this affordable hot hatch nail the brief?
In short, not quite – but living with it has revealed an awful lot about this car's character. If you care most about how much fun you have in the best moments (rather than how easy the worst moments are), then i20 N is an excellent hot hatch.
What I didn't love about the i20 N
An uncompromising and unharmonious ride is the i20 N's crucial issue. The front and rear ends just aren't in harmony the way I'd want my pride and joy to be.
If I were to own an i20 N, I'd be investing time and money into finding an aftermarket solution for the over-harsh rear end, as it grew quite annoying during daily use.
Hyundai's tuning of the i20 N also means it doesn't have the same breadth as the best hot hatches – the Golf GTI springs to mind, but so does the soon-to-die Ford Fiesta ST. Both of these cars allow the driver to dial up the speed in a linear fashion on a twisty back road or racetrack with fun to be had at every stop. It's not quite the same in the i20 N.
Instead, Hyundai's small hot hatch is either 'on', or 'off' and it essentially revolves around what drive mode you're in.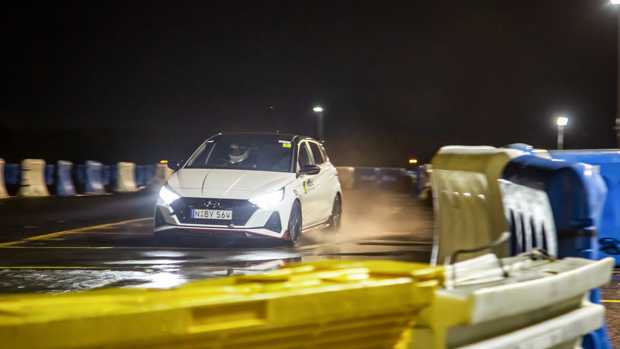 Normal mode is subdued and the eco-friendly 1.6-litre turbo–petrol four-cylinder is decidedly dull. Yet that firm ride never settles, meaning suburban commutes are done through gritted teeth.
There were also some cabin rattles and creaks that developed through our testing period. Light ticky rattles from the rear seat backrest, cabin dome light, driver's side door card were more bearable than the intrusive creaks from the dash over nasty bumps.
Hyundai has also jacked the price up significantly over our time, and at $35,990 before on-road costs with the 'TTR' black roof, these niggles become harder to bear.
The i20 N certainly has redeeming features
After begrudgingly handing the keys back last week, I still miss seeing the i20 N's pugnacious fascia and boy-racer rear wing walking out my front gate. It suits my personality better than the sleepier Polo GTI's exterior.
The i20 N's technology package is also excellent. Wireless smartphone mirroring would be nice, but plugging a phone in isn't the end of the world. The 10-speaker Bose sound system is adequate for this kind of car too.
As for sense of occasion, the i20 N's low-set buckets are some of the best seats fitted to a hot hatch (even if there is some bolster wear). Also, the digital driver's display has flame animations – that's just cool.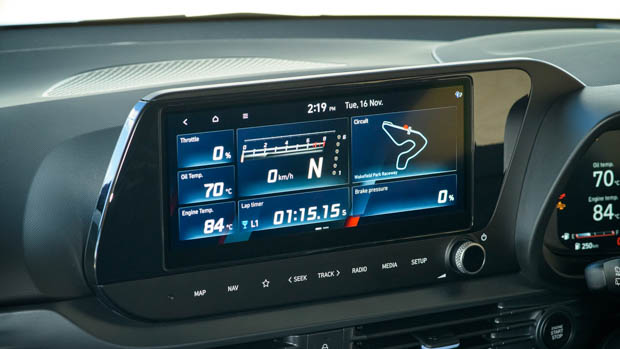 Then you get to fire up the i20 N's engine and although I bemoaned boring normal mode (in my opinion eco mode should be deleted entirely) swapping into my customised N Mode transforms the car. No it doesn't change the feeling of the dampers, but the engine is so much angrier in its note and response. I loved it.
Get the i20 N onto the roads it loves (like I did in last month's update), the racetrack, or even on three-wheels through one of the few well-surfaced roundabouts you'll find in Sydney's Inner West and any distaste for this little Hyundai is replaced by a beaming grin.
How much did it cost to run the i20 N?
The cost of i20 N ownership proved high throughout our testing, though I'll make it clear that a hot hatch encourages hard driving that a family SUV doesn't. We also had one freak incident with the windscreen that cracked significantly without a clear reason that would cost an owner $2119.73 to replace.
Tyre wear is a well-documented problem with Hyundai N Performance vehicles. Not because they're inherently hard on tyres but because the 'HN' stamped 215/40 R18 Pirelli P Zero boots are very soft.
This equates to excellent performance, but our fronts wore out after 9500km and it costs $329/corner (from a dealer, closer to $250 from an independent) for replacement rubber.
The i20 N also had three oil changes in our ownership – partially because of a mix-up explained in this video but also as fresh oil every 5000kms is good preventative maintenance for a car driven hard. Considering the performance on offer (and how often we indulged), the i20 N's long-term average of 8.2L/100km can be considered excellent.
Aside from the cost to service and maintain, the i20 N was incredibly reliable with no warning lights or faults with the infotainment system to report.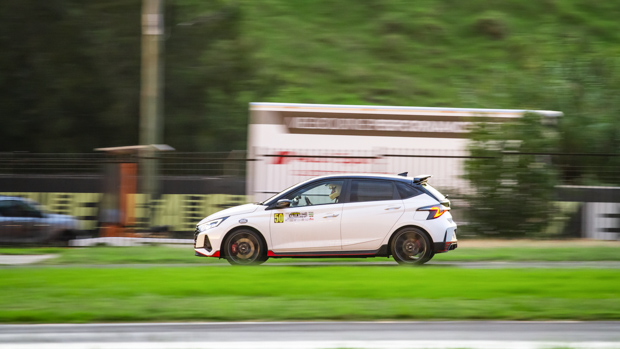 Would I buy an i20 N?
After six months and 10,000kms, would I continue living with the i20 N? Yes I would (and still might!), is the simple answer.
There are some caveats, though. I'd have to do something to sort the suspension out. I'd also probably buy a set of lightweight 17-inch alloys, tyres with firmer sidewalls, and do some exhaust work while I was at it. Once that was sorted the i20 N would feel more like 'my' car, and I think I'd fall head over heels.
I enjoyed my i20 N experience so much, I decided to keep the hot hatch fun alive. I scoured the classifieds for a project to work on and ended up with a 2002 Renault Clio Sport 172. My Clio will be getting suspension and some sound mods in an attempt to capture some of the i20 N's fiery fury.
The Hyundai i20 N is not the world's best hot hatch, but it is one that delivers on the promise fun. You need to be a driving enthusiast; this isn't a car you will enjoy wafting to work, it needs to be driven. Hard. Do that, and you'll love Hyundai's excellent second attempt at a hot hatch.
Month 5: The best driving roads in Australia
We've figured out the i20 N is fun on track and in town – if firmly suspended – but what's this spicy hatch like on some truly testing roads? 2000km later, I think I've got a better idea
| | |
| --- | --- |
| Kilometres this month: | 2209km |
| Fuel economy this month: | 8.3L/100km |
| Running costs this month: | $420 (fuel) |
Sydney and its surroundings are home to many exciting driving roads, but for every glorious minute of fun, it feels like there's an almighty traffic slog to deal with. Even when you're two or four hours from home, there's a strong chance you'll end up stuck behind a caravan taking its time.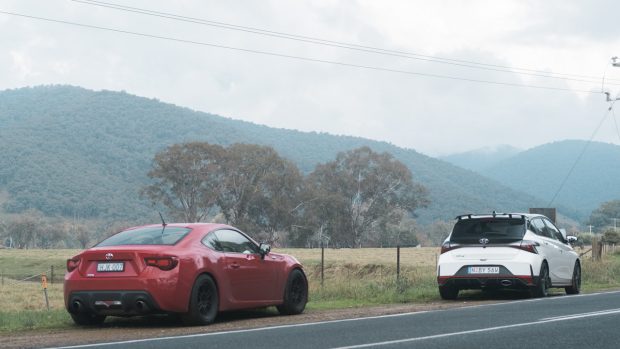 So with the intent of getting some serious kilometres on the i20 N I went looking for the least straight lines on Google Maps – a technique that usually works wonders – and plans were put in motion with a friend who would join me in his Toyota 86.
Watch the Hyundai i20 N take on Subaru's new BRZ!
I know from experience that the 'C543' – flowing from Tallangatta in Northern Victoria to Omeo along via Mitta Mitta and Glen Valley is a great place to start – and so begins the search for Australia's best driving road.
We departed the inner-Sydney Chasing Cars HQ on a Thursday night and arrived seven dull hours later, powered by equal servings of radio banter and Red Bull to keep us awake, at the retro-chic Astor Motel in Albury.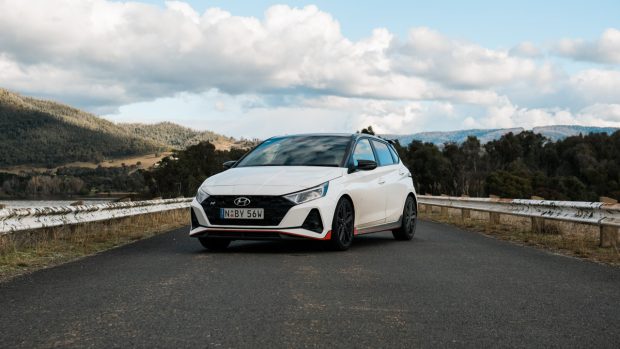 The next day marked the start of the good stuff. A lazy 10am start helped catch up on sleep lost the night before as we headed due east from the twin cities.
Initially, the C543 is fast and open with plenty of fourth gear sweepers and mid-corner compressions. These corners surprised by hampering the 4.07-metre i20 N with its short wheelbase and stiff rear suspension hopping over the gnarly mid-corner bumps and upsetting its poise compared to the effortlessly balanced, rear-drive Toyota 86.
But all was not lost for the little N. After passing the turn-off to Falls Creek, where the gums grow taller and the C543 becomes enveloped by trees as it becomes ever tighter and ever more challenging the i20 had no trouble dropping the 86 thanks to its turbo punch and sheer agility through the well-cambered second-gear bends.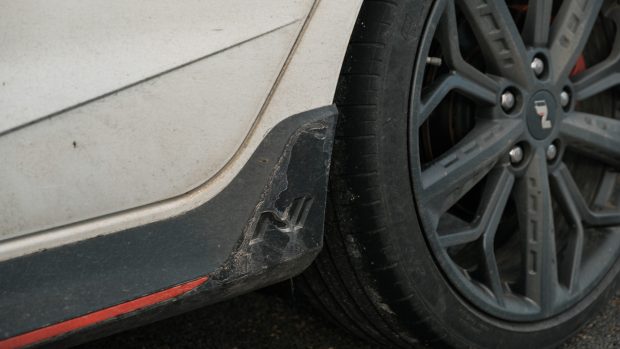 The tit-for-tat continued for the rest of the day on open roads – we only passed three other cars until we reached Omeo. After a cheeky veggie burger and chips, we rolled on towards Orbost with the valley opening up along the Tambo River.
The next morning brought two-degree temperatures and a smattering of rain to the next road, the C612. This wasn't ideal given the fast-disappearing tread of the i20's HN-marked Pirelli P Zero tyres and a route that was new to me.
Naturally, the first half and hour would best be described as 'interesting', with plentiful torque steer and front-end slip to deal with in the i20 N… that was until I got some temperature into the tyres, at which point the Italian rubber donuts miraculously became tacky again! The ride quality had suffered, but in the damp (not standing water), the rubber gripped like Carlos Sainz Senior's ST205 Celica on a Spanish special Stage.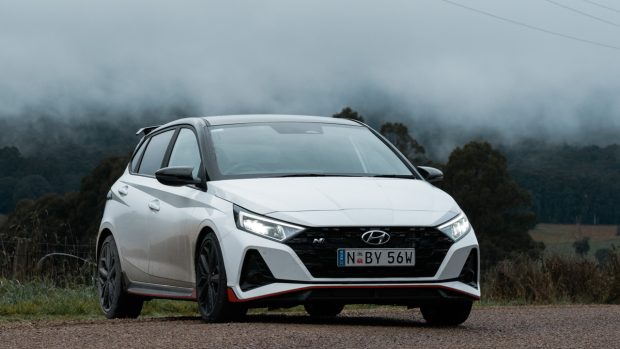 And the road, too, was like a special stage: a mix of tacky, abrasive surface, challenging cambers and a flow between the tight second gear corners all the way up to full-bore sweepers.
Giggles ensued as the i20's balance shifted all throughout the day, drifting between understeer and oversteer depending on the conditions and the amount of driver confidence available. The i20 was even happy on the 20km dirt section that ran Bonang across the Victorian border into NSW.
Following a restorative lunch and some op-shopping in Cooma the i20 N and 86 were back on the last great stretch of road. The martian landscape of the Snowy Mountains Highway that runs from Cooma to Tumut punctuates sweeping views and open bends with steep, tight, staccato hillclimbs.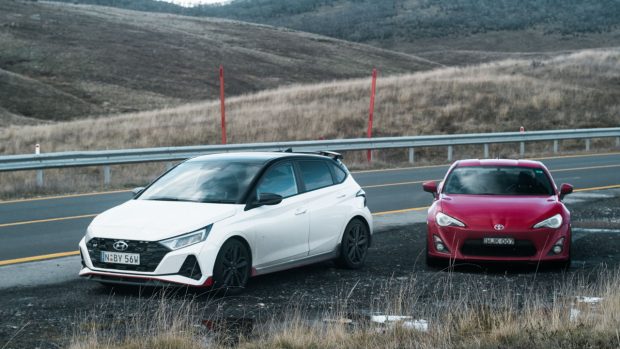 And just like that, we were back at Gundagai for the night. The idea was to cruise back down the Hume to Sydney on Sunday, but even though the i20 N's tyres were now seriously shagged after an alpine tar exfoliation the little hot hatch was still begging for more twisties… why stop now?
Over a morning coffee a new route was plotted that took Wee Jasper Road from Yass into the ACT onto the best section of the Chasing Cars Car of the Year test loop down Cotter Road, followed by a brief pit stop at Wakefield park to watch some motorsport and have a yarn with a mate.
The 86 and i20 N parted ways at Pheasants Nest service station (mostly) in one piece. The poor Hyundai's tyres were now nearly bald, and during lunch at Cooma the windscreen had cracked – most likely due to extreme temperature fluctuation. It's back at Hyundai now for some fresh rubber and screen, we'll report back what caused the windscreen failure next month.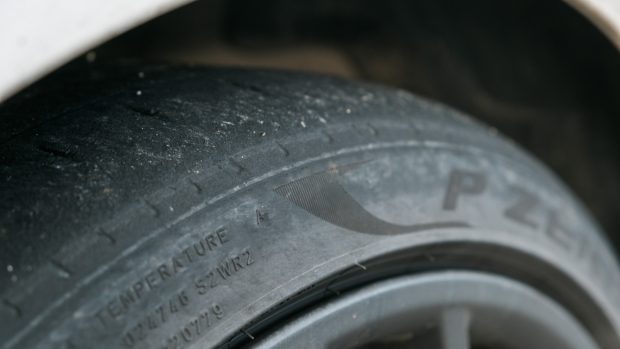 The trip totalled about 2000km and over that time I learned more about the i20 N than expected. On the public road, the i20 N's chassis doesn't have quite the adjustability or depth of a Ford Fiesta ST or Renault Clio 182, this is most noticeable from the over-firm rear suspension which, although exciting, could be unnerving at times.
There's still another five percent on the table to unlock the i20 N's potential as a truly great hot hatch. That said, when the road is right, the surface is changing in its grip levels and just bumpy enough, the Hyundai is still a total riot.
Month 4: I understand why you might not want a manual…
Motoring journalists love to harp on about manual gearboxes and purity, but sometimes the daily grind is just too much on the left leg
| | |
| --- | --- |
| Kilometres this month: | 1015 |
| Fuel economy this month: | 7.2L/100km |
| Running costs this month: | $180 (fuel) |
Before the i20 N returned to the dreary commutes of Sydney's Inner Western suburbs, it had one last moment to shine at a sunny Wakefield Park Raceway, where a whole day of hard lapping failed to cook the brakes, tyres, or any other fluids – proving just what a stout machine this hot hatch is.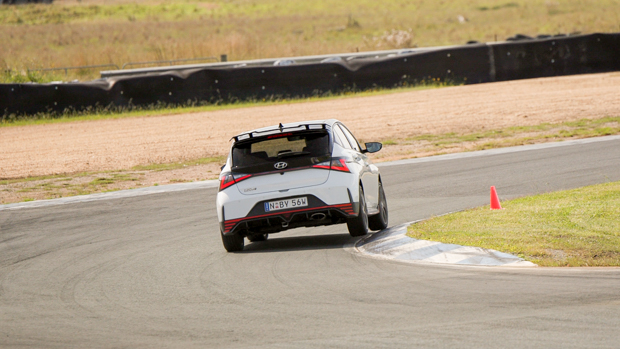 The whole day the i20 remained in N mode, bouncing off the rev limiter down the straight, smearing its rear axle around under brakes into turn two, and lifting an inside wheel at every opportunity. What a blast!
We were running timing at an event semi-organised by the N Club of New South Wales with a host of other 'N-Thusiasts' and Hyundai factory drivers offering hot laps in demo cars – an awesome day out.
I managed to return consistent low 1:11-minute lap times in the i20 N, with more left in the tank. One particularly fast tillerman managed to dip into the 1:10 range with some camber bolts giving three degrees of negative camber on the front axle and 55psi in the rear tyres (apparently an old-school front-drive speed tip!)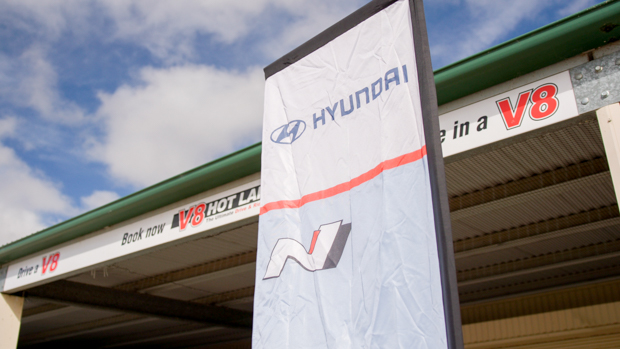 Things were going well for the i20 N, and even driving back down the Hume wasn't too bad, with the 10-speaker Bose stereo providing a clear rendition of a soothing podcast.
Then the i20 went into hibernation again for a few weeks, benched in lieu of road testing new product including an action-packed weekend driving a Chevrolet Corvette Stingray C8 and a visit to Melbourne to check out the new Nissan Z.
After returning to Chasing Cars HQ at 10pm after a 6am start that day, the i20 N felt comfortable and friendly down in the garage, and with empty roads it was an easy 20-minute drive home. The next day? Not so much…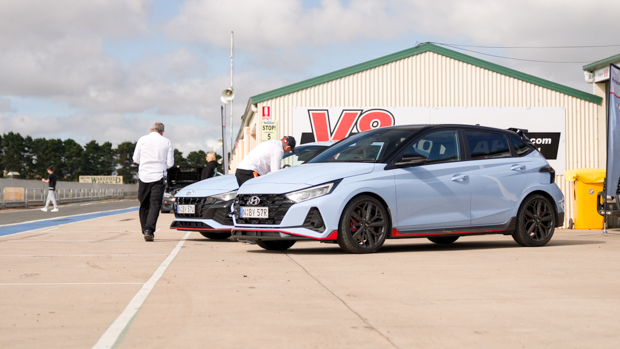 Coming out of COVID lockdowns has Sydney's traffic back in full-swing and I made the terrible decision to commute via the Cross City Tunnel. I sat in stop-start traffic creeping up the subtle incline at between 2-8km/h for 10 minutes. Not bad in an automatic, but in the i20 my left leg was teeming with lactic acid!
It's an odd complaint, I know. After all, I chose a manual long-termer in Sydney, but it's actually an odd quirk of the i20 N that its high idle speed in first gear is about 12km/h – meaning clutch control, ankle strength and concentration are needed to maintain speeds below 10km/h.
The last straw was coming over a set of those tall, nasty yellow speed humps, when the i20 N's firm rear end hopped over and led to my delicious cup of home-brewed coffee spilling all over the centre console!
Hopefully next month's trip to the Victorian High Country's finest roads will reinstate my love of the i20 N, because if you don't intend to drive the nuts off this little hot hatch, it might not be the best of its compatriots to buy.
Month 3: The i20 N racks up the kays as an unlikely support vehicle
After last month's time spent doing what the engineers intended, the i20 N was on duty slugging around with people, camera gear and returning excellent economy – though there's never a dull moment with a hot hatch
| | |
| --- | --- |
| Kilometres this month: | 1932km |
| Fuel economy this month: | 8.0L/100km |
| Running costs this month: | $334 (fuel) |
When planning an event with over 30 of the last 12 month's best cars and the whole Chasing Cars team involved, it's easy to overlook the tireless support vehicles on hand for lugging bodies, camera gear and the all-important drying towels.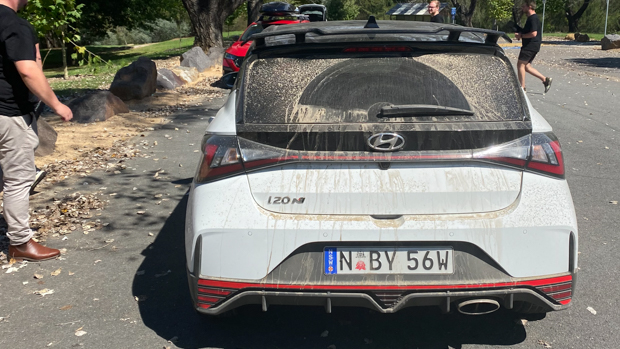 A Hyundai Staria people-mover was the star of the camera-crew show, but the pugnacious i20 N also came along to rack up some kilometres as the nippy delivery vehicle.
That meant 'my' i20 N was free from my grasp for a whole week – talk about separation anxiety! It was therefore staff journalist Zak Adkins and office manager James Lisle that put the lion's share of kilometres on the i20 – mostly with massive grins on their faces.
The i20 N's duties involved ferrying the team up and down dirt access roads – getting absolutely filthy in the process – and I'm sure some passenger's seat riders will attest to the rear suspension being overly firm. But the space on offer for four people is simply astounding given the hatch's footprint.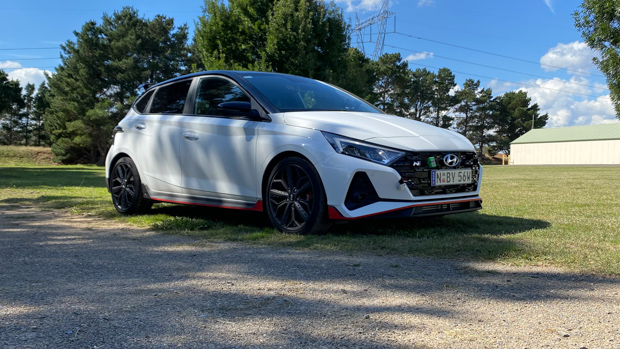 A brisk, time-sensitive blast from one end of Canberra to the other – though always within the road rules – gave Zak a chance to bond with the i20 N, and he found many of the same shining virtues in Hyundai's pint-sized hot hatch as I have.
Zak went as far as saying the 30-minute blast across Canberra was "the absolute highlight" of his week (and trust me, it was a good week!) – praising the i20 N's angry and transformative N mode, slick but physical gearshift, and go-kart-like handling.
The little i20 N also left its mark on James who had to slog down the Federal and Hume Highways from Canberra to Sydney – not traditionally a track-focused hot hatch's stomping ground.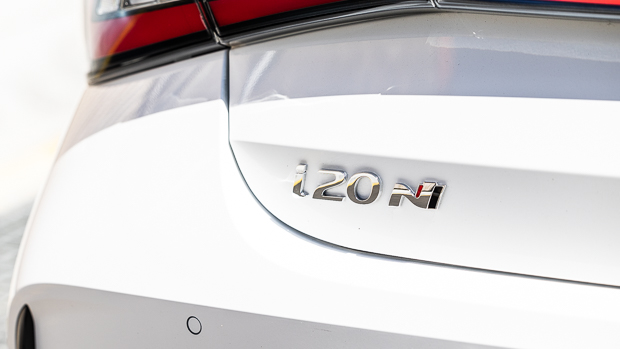 The i20 N's suspension is best described as 'uncompromising' and James found the seat to be extremely uncomfortable for his shoulders (not an issue for me), but the i20 N's fuel consumption proved tremendous. The downhill run back from Canberra to Chasing Cars HQ saw James record 4.8L/100km – right up there with a Toyota RAV4 Hybrid.
Back at home, the i20 N has spent some time resting and hasn't seen a huge number of kilometres this month. The next few months are gearing up to be busy though, with another track day and a trip to find some of Australia's best driving roads.
Month 2: white-hot competition and a chunky oil change
The i20 N is continuing to bring joy to the Chasing Cars office, but after some performance driving events we decided to drop the oil and discovered some interesting results
| | |
| --- | --- |
| Kilometres this month: | 1355km |
| Fuel economy this month: | 9.6L/100km |
| Running costs this month: | $264 (fuel), $85 (oil change) |
After a strong first-month performance, the i20 N is really starting to feel like 'my' car… when I can pry the keys away from snapper Alek's hands.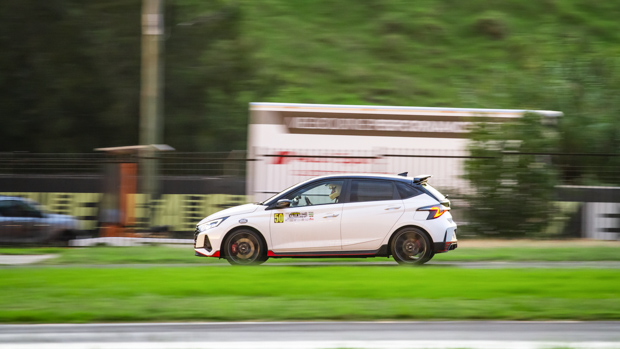 As an everyday driving experience, Hyundai's diminutive hot hatch continues to impress with the Teflon-smooth action of its manual shifter (better than the Subaru BRZ's, as we found out in a recent comparison) and the decent sound from its 10-speaker Bose stereo. Cruising through Sydney's Inner West suburbs with the drive mode set to Normal continues to be a hassle-free experience.
That said, the firm suspension annoys me when I'm just commuting – especially the mis-matched travel front to rear. The nose seems to dive a long way as you come off speed bumps, then the rear often thumps straight into the bump stops. But when we took the i20 N to the North Shore Sporting Car Club's Twilight Rallysprint event, the firm ride once again all made sense.
The Twilight Rallysprint is essentially a hillclimb course held in and around Sydney Dragway. Most corners are 90 degrees or tighter, with the grip of ever-changing surfaces made harder to judge thanks to the blasting overhead floodlights and falling rain.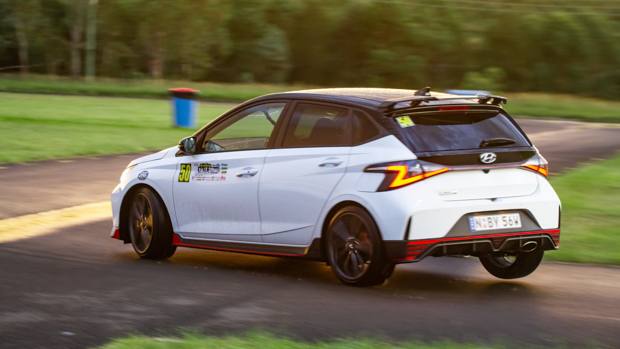 I may have only reached a top speed of 140km/h but at night with barriers and people around, that feels properly hair-raising – like living out all your Colin McRae Rally fantasies in real life.
The incessant rain meant I didn't get the full six runs in, but the four I completed were huge fun. The i20 N's front-end bite is addictive and while the rear doesn't slide around on the road like a Fiesta ST, that is actually a benefit in the white heat of competition.
Instead of having to manage a skittish back end, you can use the i20 N's aggressive turn-in and a trailing brake to pivot the nose towards the apex before nailing the gas and letting the Torsen LSD haul you out. The most satisfying part, though, is feeling the inside rear wheel get some air before thumping back down on exit – it's a proper giggle you rarely get to enjoy on the road.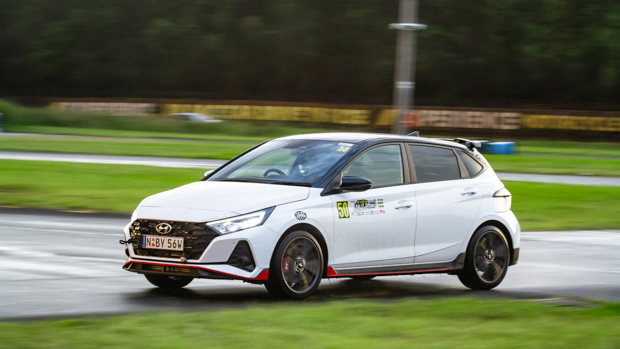 I struggle to think of a better car you can buy brand new today to take on this course than the Hyundai i20 N. Perhaps the Toyota GR Yaris or Subaru's forthcoming new-gen WRX would be quicker, but would they be more rewarding?
The i20 N has the added satisfaction of being a bit of a 'giant killer' among stripped out Subaru Impreza WRX STIs and Mitsubishi Lancer Evolutions with sequential gearboxes and semi-slick tyres. Normally, they would have been long gone, but the Hyundai's road-biased, HN-stamped Pirelli P Zero tyres did wonders on the wet and slippery night, with myself and the i20 N finishing 25th overall.
After the heat of the competition and with 4500km on the odometer, we thought it prudent to drop the Hyundai's oil and see how it was going. And it's a good thing we did, too.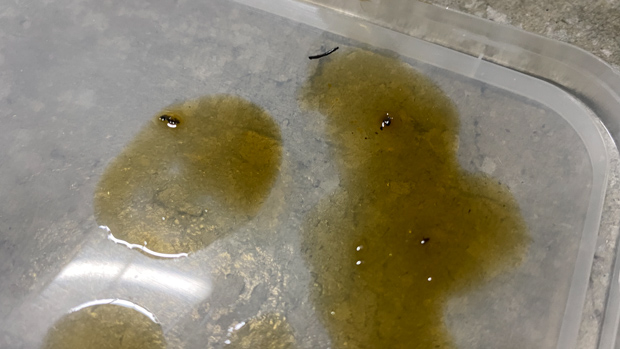 There's a page in the manual stipulating that under 'extreme conditions' the oil should be changed at six-month/5000km intervals, not the 12 months/10,000km recommended by Hyundai in normal driving.
We were greeted with some chunks and sparkles in the i20 N's surprisingly dark lifeblood, and have sent a sample off to Australian oil company Nulon to get analysed so we can confirm whether this is normal after the run-in period, or a more serious issue.
The chunky oil evidently hasn't got us too worried (thanks to Hyundai's track warranty), because as I write this I'm staring at the helmet I've just pulled out of my cupboard in preparation for Saturday's 4:30am alarm chime that will signal some more track action out at Wakefield Park.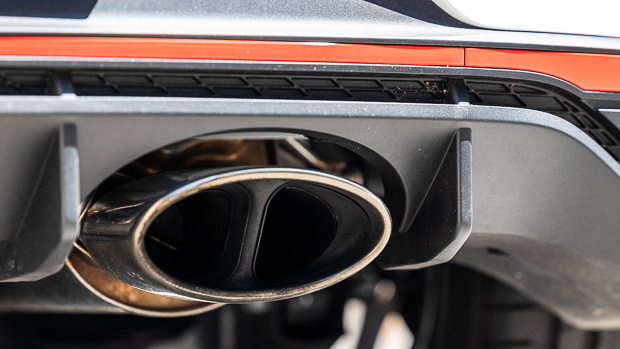 Month 1: Bringing N-style cheer to the holiday season
A baby hot hatch joins the Chasing Cars stable just in time for a well-earned break – for the driver, not the car – trading the mundanity of urban traffic for country-road twists and turns
| | |
| --- | --- |
| Kilometres this month: | 1095km |
| Fuel economy this month: | 8.6L/100km |
| Running costs this month: | $174 (fuel) |
After fiddling around with Hyundai's online configurator I had my heart set on a Dragon Red i20 N, but as I stare at the Polar White/black roof example chosen by deputy editor Nathan Ponchard, the shade of a liquid amber tree highlights the i20 N's dramatically creased bodywork and boy-racer red accents on a white car better than its other colours.
I'm happy to report that the i20 N's looks are growing on me in 'Panda' spec, even though I still long for a three-door version. I've even decided I like the rear wing – it gives the i20 N bags more race-car swagger than its chief rival from Ford, the Fiesta ST.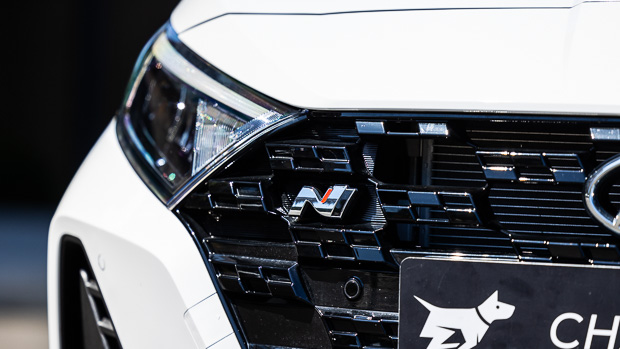 The rest of the i20 N is growing on me too, and the niggles I discovered in the first 100km – doughy throttle response, lack of auto-down windows for passengers, lame fuel filler cap hanger – don't bother me so much anymore.
Over the holiday break I clocked up (1095km) by escaping Covid-stricken Sydney for refuge at my parent's house. That meant the i20 N mostly trundled through the choppily surfaced Royal National Park at peak holiday time. I was concerned that the i20 N's firm ride would annoy me being stuck behind scores of dawdling holidaymakers, but seeing as I'm still in the honeymoon phase with the i20 N, it's tightly wound damping merely serves as a joyful reminder this hot hatch wants to have fun.
The cruisy trip south also gave me time to dial in my preference for the N mode – neatly accessed via lower paddles inside the steering wheel. My less aggressive setting (N2 on the right paddle) will be reserved for brisk road use, with the exhaust, engine and ESC all set to Sport, but with the steering in Normal (the middle setting). Meanwhile, N1 is reserved for future track use: Sport+ for the exhaust and drivetrain, and ESC completely disengaged.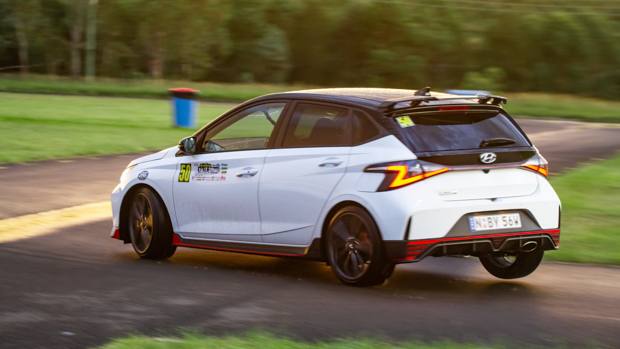 With the N2 paddle engaged, I headed out to one of my favourite stretches of road away from holidaying revellers for a 'bonding' drive. The road in question is a dead-end ribbon that's tight and full of surprising dips, surface changes and off-camber bends – a baptism of fire that swiftly confirms whether any car is up to the task of making me smile.
The i20 N's firm brake pedal and sharp steering response inspired instant confidence as the road descended, letting me choreograph the i20 N's rear end around an invisible axis below the crook of my knee as the figure-hugging, cloth-appointed seats transmitted high-definition information to my coccyx. Already, it's off to a fine start.
Then the opposite-direction assessment, which required working the i20 N's throttle and gearbox – the throw of which is meaty and mechanical, though not as well-oiled as a Civic Type R's – while conducting sweet heel-toe shifts.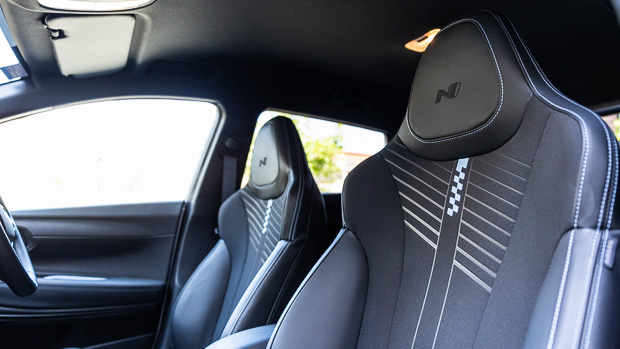 The amount of grip from the HN-stamped 215/40R18 Pirelli P Zero tyres is prodigious and the mechanical limited-slip front diff works hard in tugging the i20 N out of corners. It's all highly addictive. Only at the top did I realise how loudly I was laughing – the i20 N is like a tonic among the scores of midsize SUVs and dual-cabs we're subjected to these days and I love it.
Normally, this is where I'd counter with a "but", saying how poor the fuel economy is or something, but with only 1175kg to push around – confirmed by the Chasing Cars scales – the i20 N is averaging 8.6L/100km. And you can even feed it 91 octane regular unleaded, not that I'd ever do it!
If you can't tell by now, I'm pretty much smitten with the i20 N so far, though there are still some lingering doubts. I can't help thinking a set of lightweight 17-inch wheels with higher-profile tyres would settle the ride a bit, and I yearn for a more rambunctious, i30 N-like response from the 1.6-litre turbo four-cylinder.
Let's see how those feelings evolve over the next six months.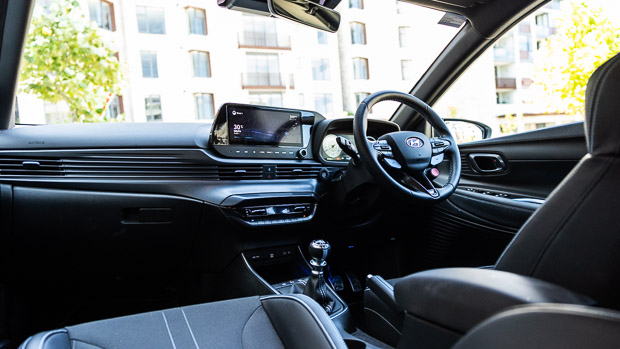 (personal notes, niggling annoyances: only driver gets auto up/down windows, lame fuel filler cap, doughy throttle response at low RPMs, engine could sparkle more, doesn't glide over bumps like an RS Clio)
Sales notes: evidently there's some HYPE! To the end of 2021, there have been 259 registrations, compared to its main rival (FiST) which has only recorded 342 despite being on sale for the full 12 months, where the i20 has only been trickling out of dealerships since October.