While many manufacturers seem to be turning their backs on affordable fun cars, Hyundai's N performance brand has been going from strength to strength in Australia.
The recently launched i20 N is the smallest model in the burgeoning N line-up – one that now spans i30 N hatch and Sedan N, as well as a small performance SUV, the Kona N. But it's the i20 N that has captured our attention – mostly because it's a European-market hatch sporting the full-fat N treatment and an affordable price point.
While the i20 N's footprint might be pint-sized, its fun potential certainly isn't. With 150kW of power and 265Nm of torque, a 0-100km/h claim of 6.2 seconds (which we'll be testing!), a five year/unlimited-kilometre warranty that also covers trackdays, and a $32,490 sticker price, this might be the best-value fun car in history.
In Australia, the five-door i20 N arrives fully kitted out with a 10-speaker Bose stereo, climate control, performance bucket seats and a 10.25-inch digital driver's display to match the 10.25-inch multimedia touchscreen – all of which make the i20 N's on-paper value look even better.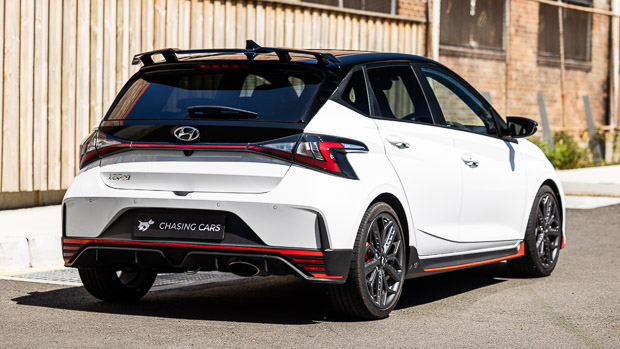 But it's not all about on-paper specification, standard equipment and theoretical 0-100km/h times because the i20 N has its work cut out in combining daily usability with outright fun. And that's exactly why we've signed on to run an i20 N for the next six months.
Staff journo 'Johnny' Law will be eagerly reporting back each month on just how deep this car's value-for-money runs and what it's like to live with every day. Is it a one-trick pony when it comes to driver satisfaction or does the smallest N deliver beyond the promises of its rear wing?
Month 2: white-hot competition and a chunky oil change
The i20 N is continuing to bring joy to the Chasing Cars office, but after some performance driving events we decided to drop the oil and discovered some interesting results
| | |
| --- | --- |
| Kilometres this month: | 1355km |
| Fuel economy this month: | 9.6L/100km |
| Running costs this month: | $264 (fuel), $85 (oil change) |
After a strong first-month performance, the i20 N is really starting to feel like 'my' car… when I can pry the keys away from snapper Alek's hands.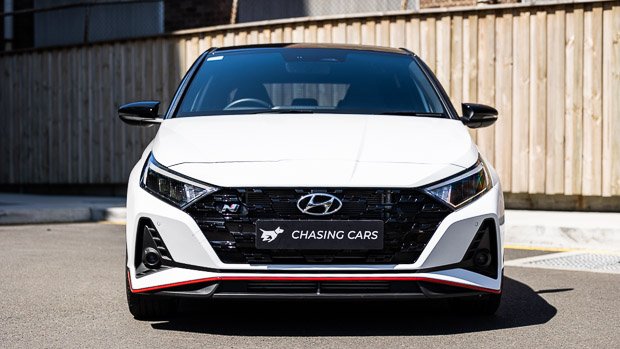 As an everyday driving experience, Hyundai's diminutive hot hatch continues to impress with the Teflon-smooth action of its manual shifter (better than the Subaru BRZ's, as we found out in a recent comparison) and the decent sound from its 10-speaker Bose stereo. Cruising through Sydney's Inner West suburbs with the drive mode set to Normal continues to be a hassle-free experience.
That said, the firm suspension annoys me when I'm just commuting – especially the mis-matched travel front to rear. The nose seems to dive a long way as you come off speed bumps, then the rear often thumps straight into the bump stops. But when we took the i20 N to the North Shore Sporting Car Club's Twilight Rallysprint event, the firm ride once again all made sense.
The Twilight Rallysprint is essentially a hillclimb course held in and around Sydney Dragway. Most corners are 90 degrees or tighter, with the grip of ever-changing surfaces made harder to judge thanks to the blasting overhead floodlights and falling rain.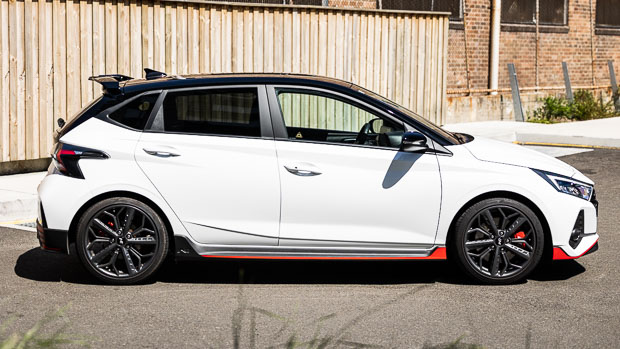 I may have only reached a top speed of 140km/h but at night with barriers and people around, that feels properly hair-raising – like living out all your Colin McRae Rally fantasies in real life.
The incessant rain meant I didn't get the full six runs in, but the four I completed were huge fun. The i20 N's front-end bite is addictive and while the rear doesn't slide around on the road like a Fiesta ST, that is actually a benefit in the white heat of competition.
Instead of having to manage a skittish back end, you can use the i20 N's aggressive turn-in and a trailing brake to pivot the nose towards the apex before nailing the gas and letting the Torsen LSD haul you out. The most satisfying part, though, is feeling the inside rear wheel get some air before thumping back down on exit – it's a proper giggle you rarely get to enjoy on the road.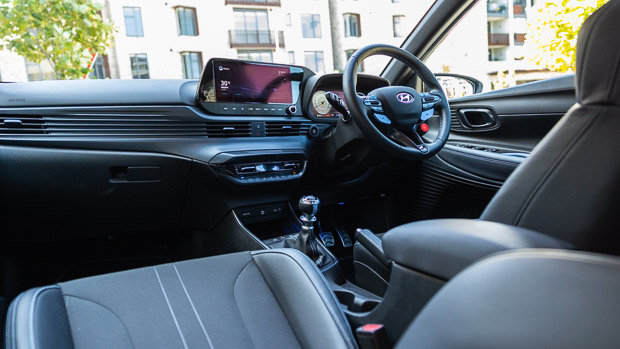 I struggle to think of a better car you can buy brand new today to take on this course than the Hyundai i20 N. Perhaps the Toyota GR Yaris or Subaru's forthcoming new-gen WRX would be quicker, but would they be more rewarding?
The i20 N has the added satisfaction of being a bit of a 'giant killer' among stripped out Subaru Impreza WRX STIs and Mitsubishi Lancer Evolutions with sequential gearboxes and semi-slick tyres. Normally, they would have been long gone, but the Hyundai's road-biased, HN-stamped Pirelli P Zero tyres did wonders on the wet and slippery night, with myself and the i20 N finishing 25th overall.
After the heat of the competition and with 4500km on the odometer, we thought it prudent to drop the Hyundai's oil and see how it was going. And it's a good thing we did, too.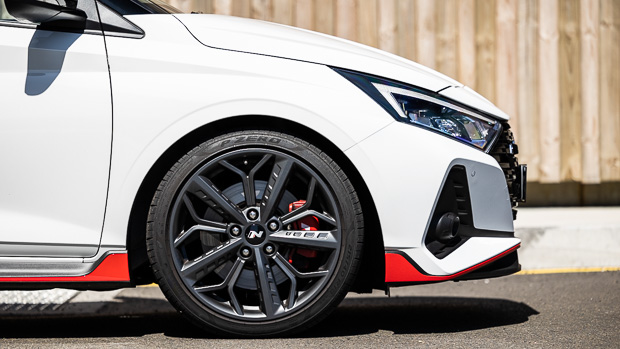 There's a page in the manual stipulating that under 'extreme conditions' the oil should be changed at six-month/5000km intervals, not the 12 months/10,000km recommended by Hyundai in normal driving.
We were greeted with some chunks and sparkles in the i20 N's surprisingly dark lifeblood, and have sent a sample off to Australian oil company Nulon to get analysed so we can confirm whether this is normal after the run-in period, or a more serious issue.
The chunky oil evidently hasn't got us too worried (thanks to Hyundai's track warranty), because as I write this I'm staring at the helmet I've just pulled out of my cupboard in preparation for Saturday's 4:30am alarm chime that will signal some more track action out at Wakefield Park.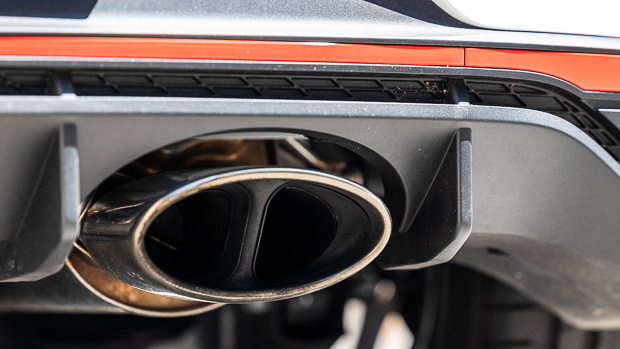 Month 1: Bringing N-style cheer to the holiday season
A baby hot hatch joins the Chasing Cars stable just in time for a well-earned break – for the driver, not the car – trading the mundanity of urban traffic for country-road twists and turns
| | |
| --- | --- |
| Kilometres this month: | 1095km |
| Fuel economy this month: | 8.6L/100km |
| Running costs this month: | $174 (fuel) |
After fiddling around with Hyundai's online configurator I had my heart set on a Dragon Red i20 N, but as I stare at the Polar White/black roof example chosen by deputy editor Nathan Ponchard, the shade of a liquid amber tree highlights the i20 N's dramatically creased bodywork and boy-racer red accents on a white car better than its other colours.
I'm happy to report that the i20 N's looks are growing on me in 'Panda' spec, even though I still long for a three-door version. I've even decided I like the rear wing – it gives the i20 N bags more race-car swagger than its chief rival from Ford, the Fiesta ST.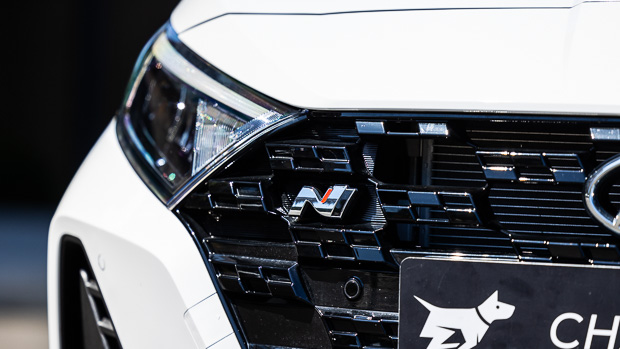 The rest of the i20 N is growing on me too, and the niggles I discovered in the first 100km – doughy throttle response, lack of auto-down windows for passengers, lame fuel filler cap hanger – don't bother me so much anymore.
Over the holiday break I clocked up (1095km) by escaping Covid-stricken Sydney for refuge at my parent's house. That meant the i20 N mostly trundled through the choppily surfaced Royal National Park at peak holiday time. I was concerned that the i20 N's firm ride would annoy me being stuck behind scores of dawdling holidaymakers, but seeing as I'm still in the honeymoon phase with the i20 N, it's tightly wound damping merely serves as a joyful reminder this hot hatch wants to have fun.
The cruisy trip south also gave me time to dial in my preference for the N mode – neatly accessed via lower paddles inside the steering wheel. My less aggressive setting (N2 on the right paddle) will be reserved for brisk road use, with the exhaust, engine and ESC all set to Sport, but with the steering in Normal (the middle setting). Meanwhile, N1 is reserved for future track use: Sport+ for the exhaust and drivetrain, and ESC completely disengaged.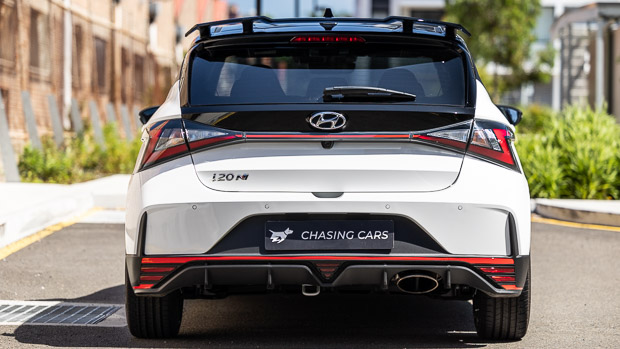 With the N2 paddle engaged, I headed out to one of my favourite stretches of road away from holidaying revellers for a 'bonding' drive. The road in question is a dead-end ribbon that's tight and full of surprising dips, surface changes and off-camber bends – a baptism of fire that swiftly confirms whether any car is up to the task of making me smile.
The i20 N's firm brake pedal and sharp steering response inspired instant confidence as the road descended, letting me choreograph the i20 N's rear end around an invisible axis below the crook of my knee as the figure-hugging, cloth-appointed seats transmitted high-definition information to my coccyx. Already, it's off to a fine start.
Then the opposite-direction assessment, which required working the i20 N's throttle and gearbox – the throw of which is meaty and mechanical, though not as well-oiled as a Civic Type R's – while conducting sweet heel-toe shifts.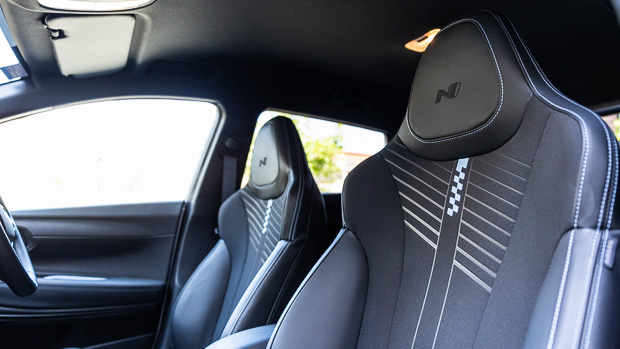 The amount of grip from the HN-stamped 215/40R18 Pirelli P Zero tyres is prodigious and the mechanical limited-slip front diff works hard in tugging the i20 N out of corners. It's all highly addictive. Only at the top did I realise how loudly I was laughing – the i20 N is like a tonic among the scores of midsize SUVs and dual-cabs we're subjected to these days and I love it.
Normally, this is where I'd counter with a "but", saying how poor the fuel economy is or something, but with only 1175kg to push around – confirmed by the Chasing Cars scales – the i20 N is averaging 8.6L/100km. And you can even feed it 91 octane regular unleaded, not that I'd ever do it!
If you can't tell by now, I'm pretty much smitten with the i20 N so far, though there are still some lingering doubts. I can't help thinking a set of lightweight 17-inch wheels with higher-profile tyres would settle the ride a bit, and I yearn for a more rambunctious, i30 N-like response from the 1.6-litre turbo four-cylinder.
Let's see how those feelings evolve over the next six months.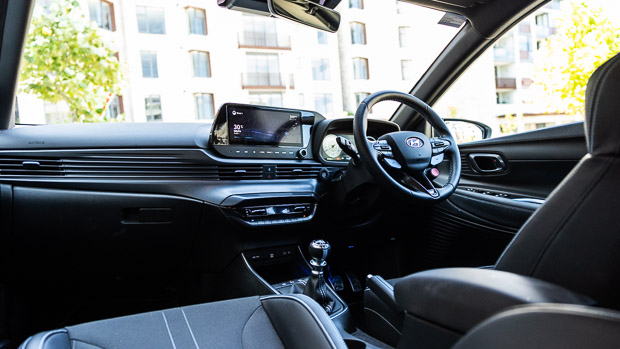 (personal notes, niggling annoyances: only driver gets auto up/down windows, lame fuel filler cap, doughy throttle response at low RPMs, engine could sparkle more, doesn't glide over bumps like an RS Clio)
Sales notes: evidently there's some HYPE! To the end of 2021, there have been 259 registrations, compared to its main rival (FiST) which has only recorded 342 despite being on sale for the full 12 months, where the i20 has only been trickling out of dealerships since October.