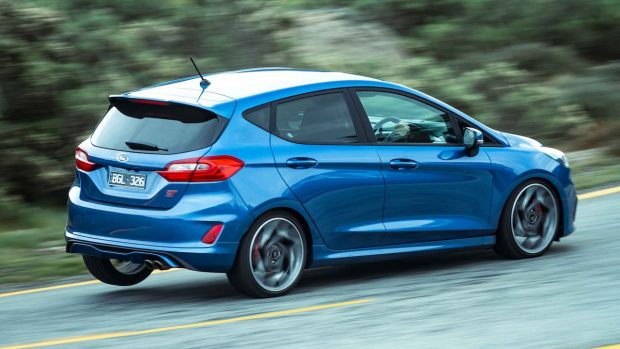 With the previous-gen Ford Fiesta ST regarded as a cult classic by hardcore hot hatch fans, the all-new, turbo-triple 2020 version has big shoes to fill.
Many dyed-in-the-wool car fans will happily admit that hot hatches are their favourite genre of performance car. And it's easy to understand why. These booted pocket-rockets combine weekday liveability with feelsome weekend thrills. Small they may be, in size and often in displacement, but hot hatches are fast cars that you can drive to the very limit without entering permanent licence-destroying territory. Hot hatches offer cheap, safe thrills unlike any other category.
So, if you build a car many hot hatch fans regard as the segment benchmark – if you build a car called the Ford Fiesta ST – replacing a cult favourite is quite a task. Thankfully, the new 2020 version of the Fiesta ST, which adopts a new engine but retains the same commitment to chassis excellence as the old car, remains the best small hot hatch you can buy.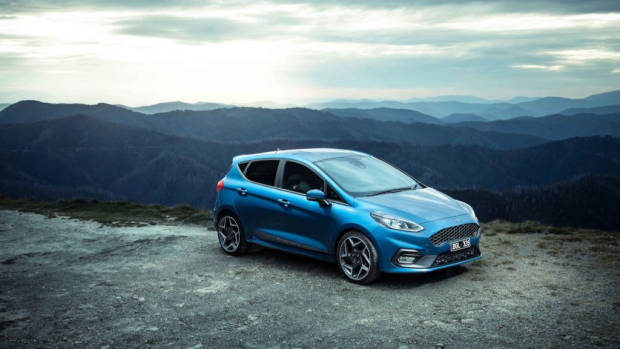 Rivals like the more spacious and mature Volkswagen Polo GTI have indeed narrowed the gap since the previous Fiesta ST left Australia's shores, and many Ford fans were left waiting too long in the intervening couple of years. But with the quick ST version of the seventh-generation Fiesta landing on our shores this month, the wait is over. Those who've been so patient will be rewarded with a car that is both great to drive, and great value.
Ford is one of many manufacturers struggling to make money importing small cars in SUV-mad Australia, and it's a sign of the times that the higher-profit ST is the only version of the latest Fiesta making the journey from the German plant in Cologne to our shores.
In a show of generosity to the fans, though, the Fiesta ST is available in just one aggressively priced specification. At $31,990 ($36,002 driveaway), the Ford undercuts its main rival, the Polo GTI, by $800 by the time the wheels hit the road. And yet, standard equipment is generous: you get supportive, heated Recaro seats up front, LED headlights, Bang and Olufsen sound, a mechanical limited-slip differential, and safety gubbins like blind spot monitoring. You pay more for all of those niceties in the Volkswagen, meaning like-for-like, the saving is more like $5,000.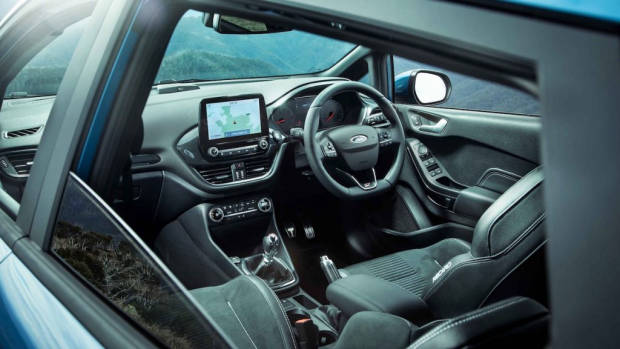 Despite very similar dimensions, the Ford is markedly pokier inside than the Volkswagen: this is a compact, shamelessly driver-focussed interior that is uncomfortable in the back seat for anyone long-legged. Two riding up front are seated with little width between and there's less cargo space than a Polo. Yet the Fiesta is practical enough, with plenty of incidental storage space, a deep 292-litre cargo area, big door bins and hey – that little back seat is perfect for gym-bag storage.
It's amazing how far even budget cars have come in terms of interior finesse, and the Fiesta ST is no exception. A broad, squidgy-soft dashboard incorporates a crisp touchscreen with easy-to-use software featuring big touchpoints. Ford's voice control software continues to be one of the best, for those who like that sort of thing, while the integrated navigation, DAB digital radio, wired Apple Carplay and Android Auto all work well. A small colour screen between the analogue gauges sums up driving and media data … while also prompting you to enter a super-simple launch control mode every time you brake to a stop!
Such an immature – yet hilarious – quirk provides an instant glimpse at the mood of the new Fiesta ST. This fast Ford is still pure chav on wheels, in the best possible way. The featherweight 1,127kg Fiesta may be German-built but the attitude is very much British grit. Forget the surprising polish inside: out on the road, the Fiesta ST is a scrappy, lively, back-chatty partner in crime that continually tempts you to push its limits, gradually reaching the lofty heights of this Ford's brilliant chassis.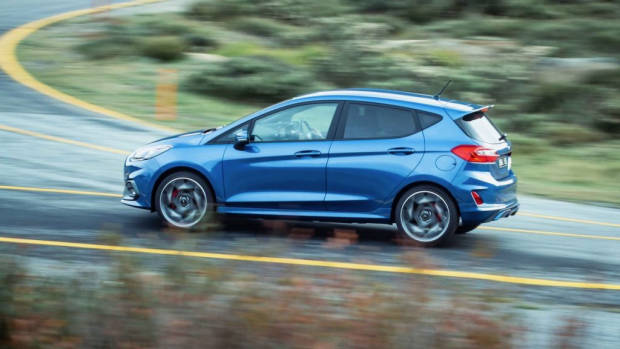 The previous Fiesta ST was renowned for its clear lines of communication between car and driver and that's still the case in the 2020 model – but there's also a brilliant duality on display. Shod in grippy Michelin Pilot Super Sport boots, the Fiesta's incisor-like front end allows you to drive surgically and rapidly without breaking traction if you commit to not lifting.
Or, alternatively, jab ESC Sport and lift the throttle mid-corner, and you'll enjoy the 2020 Fiesta ST's retained joy for indulgent tripodding as the ultra-taut rear end lifts an inside wheel for almost the entire duration of tightening-radius uphill corners. Just gently shade the brakes and the motion concludes in a controlled, grin-inducing bout of oversteer. Even under power, well-timed inputs via the chatty, firmly-weighted steering will encourage the rear end to subtly shift about. No other hot hatch allows the driver to get closer to what's going on below.
Those virtues also extend to the drivetrain. Fans rejoice: the Fiesta ST remains a six-speed manual-only proposition, with no automatic in sight or planned. Can't drive manual? No worries: this really could be your first stick-shift, because it's so natural and easy-to-drive. Perfect clutch weighting, with an intuitively located friction point, and a snicketty short-throw selector make the Fiesta's gearbox enjoyable for seasoned pros, yet approachable for more ginger first-timers. Nice one, Ford.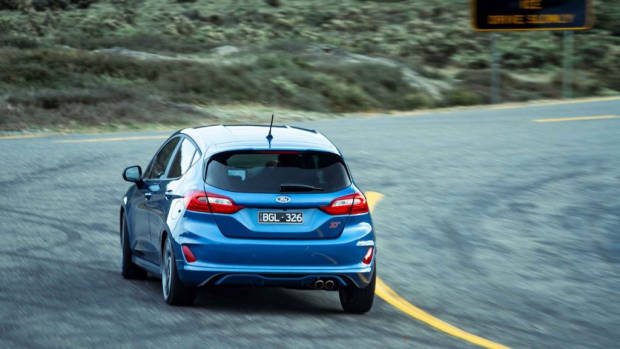 There's bigger news under the bonnet, where the four-pot engine of the previous car has been turfed in favour of Ford's golden-child of small engines: the 1.5-litre turbocharged three-cylinder that has been in development for over a decade now. The labour of love that has gone into perfecting the turbo triple is all on show here, with the ST's boosty unit now producing 147kW (up 13kW over the previous four-cylinder) and 290Nm (up 50Nm!).
The three-cylinder characteristically burbles away at low revs before building to a mechanical crescendo when revved all the way out, though we found ourselves occasionally short-shifting to make use of the chesty, muscular low- and mid-range. You aren't rewarded in terms of speed by letting the Fiesta sing, though the noise is great … when you can hear it. There is a cacophony of road noise shot up through the borderline-uninsulated wheel arches, sadly drowning the beauty of the three-pot. An aftermarket 'xhaust should fix this.
It'd be lying to suggest the ride was anything over than very firm, with a particularly stiff rear end. That stiffness is what makes many of the Fiesta ST's best virtues possible – popping an inside wheel, rotating so eagerly under throttle lift … so we're happy with the tradeoff. And in a prescient display of restraint, the stiffness in the rear stops just before the point that you are thrown from your line when encountering a traditional Australian mid-corner bump. In other words, it's just stiff enough without going overboard. No doubt, though, the adaptively-damped Polo GTI is comfier, quieter and more refined.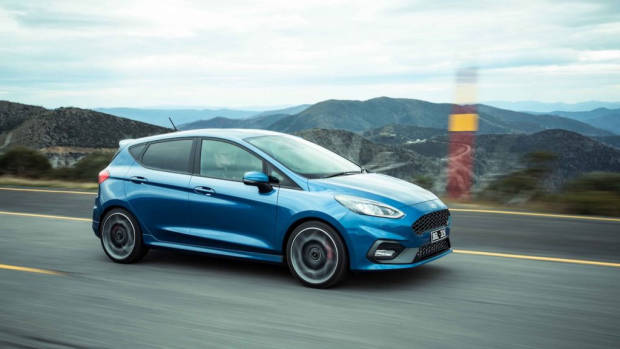 Negatives? Well, the 278mm front/253mm rear disc brakes do heat up. They're sufficient for use on Australian country roads, but repeated ten-tenths driving shows up a moderate weakness in this department. And while the steering is predictable and chatty, some on our team found the ratio a touch too quick. A test drive will quickly show up how the control surfaces suit you.
There will be few complaints about running a Fiesta ST, though. Ford's five year factory warranty applies, and four years annual servicing (or 15,000km intervals) cost just $299 apiece. Our real-world touring fuel economy was 6.5L/100km. Factor in the reasonable purchase price and modest ongoing costs and this is a lot of fun for only a little coin.
And that's the story of the Ford Fiesta ST. In some ways, what we've written might be predictable: this hot hatch is still great to drive and good to live with. But just because you're used to reading that about Ford's littlest performance car doesn't mean it isn't a major achievement. Making a car this good, and this affordable, is very difficult. Following up a cult favourite with a car that's similarly enjoyable is harder still. Yet that's what Ford have done.