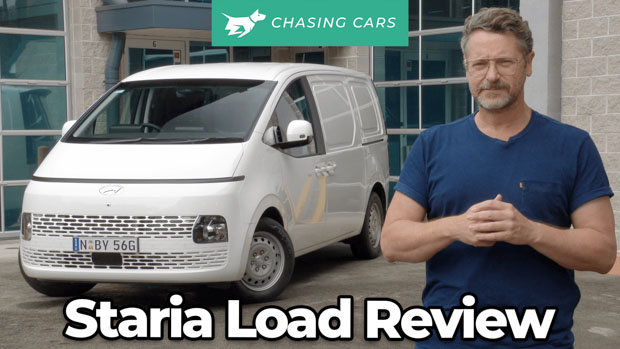 Despite its advancing years, Aussie tradies took to the Hyundai iLoad (2007-21) like a brickie to a frothy on a Friday.
Peaking at 37 percent market share in 2011, the iLoad successfully slugged it out with Toyota's evergreen Hiace for van leadership and was still going strong at the end of its career, 60,000 sales later and firmly entrenched as Australia's second most popular van.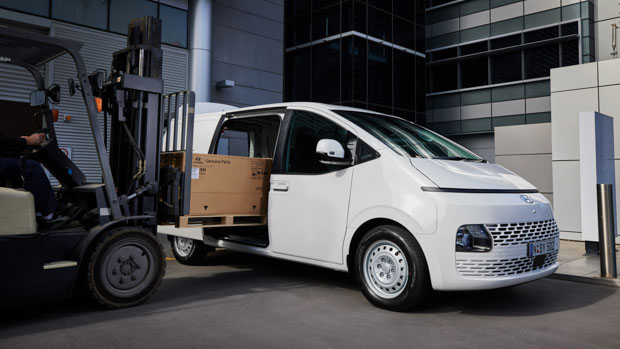 Aside from its inherent reliability and toughness, however, the iLoad was a long way from being a benchmark vehicle. Outclassed by a string of newer designs – particularly slick European units like the Peugeot Expert and Ford Transit Custom – the iLoad sold purely on reputation.
But the 2022 Staria Load ($45,740 before on-road costs) is here to flip that logic around, as well as flip the wheels that do the driving. Riding on a new N3 platform shared with its Staria people-mover sister and Hyundai's Santa Fe and Palisade SUVs – plus the Kia Carnival people-mover – the Staria Load has done a VW Transporter and switched to front-wheel drive, without compromising its payload to any serious degree.
With a leaf-sprung rear beam axle, the Staria Load's payload is rated at 1072kg, which is 26kg less than an iLoad auto's 1098kg, and 41kg less than an iLoad manual's 1113kg.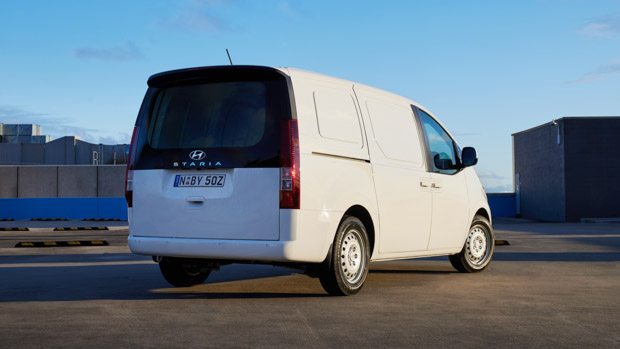 The reason there's only one payload rating is that the Staria comes equipped exclusively with an eight-speed automatic transmission, which makes a huge difference to its driveability.
And if you're concerned about that modest payload reduction, the front-drive Staria Load counters with a 2500kg braked towing capacity – up from 2000kg for an iLoad manual and 1500kg for an iLoad auto.
How does the Staria Load drive?
We were only able to test the two-seat Staria Load unladen, though having driven enough vans without a payload, it's pretty easy to tell Hyundai's new carry-all wouldn't shirk at copping a tonne inside its larger load area.
Without any ballast, the Staria Load feels effortlessly composed on the road. Even in the wet, it displays a fine sense of balance in corners and can be hustled at pace without fear of its rear-end breaking away, which is a step forward for a Hyundai van.
Combined with consistently weighted and responsive steering, the Staria Load's inherent handling ability makes it surprisingly enjoyable to drive, and not just for a van.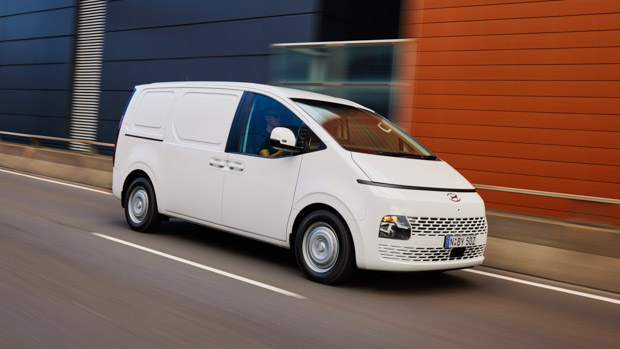 Only the Staria's unladen ride betrays its load-carrying focus, as it becomes jiggly over broken surfaces, though it's never to an offensive degree and at 100km/h-plus speeds on lumpy country roads, it feels planted and confident.
A major part of the Staria Load's advancement over the iLoad is its drivetrain.
On paper, comparing the new 2.2-litre turbo-diesel four with the old 2.5-litre shows little difference – the Staria's 130kW at 3800rpm is a minor improvement over the iLoad auto's 125kW, and its peak torque of 430Nm is slightly down on the old auto van's 441Nm.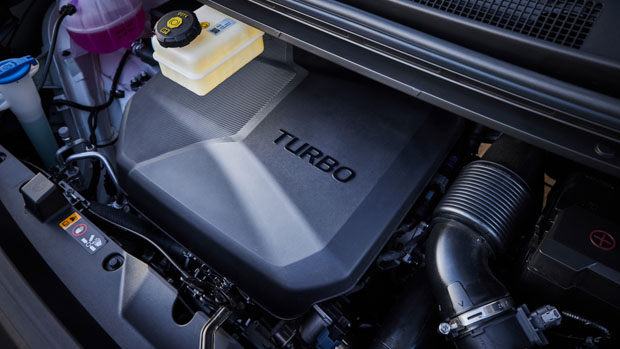 But sifting through the details reveals the true nature of the Staria Load's new drivetrain. Its maximum torque threshold spans 1500-2500rpm whereas the iLoad auto peaked from 2000-2250rpm, and where the old automatic van was only a five-speed, the Staria Load is an eight-speed.
These thoughtfully chosen ratios makes it terrific to drive, with mostly excellent refinement (apart from some occasional diesel rattle on overrun).
While the Staria's overall weight is little different to the iLoad's (1938kg versus 1949), the tractability of its new diesel engine and the breadth of its ratio spread give it real punch. And while the front wheels will snag the safety electronics if your right foot asks for too much power in first gear – especially in the wet – if you ease the Staria off the line and use its abundant torque in second gear, it provides effortless acceleration.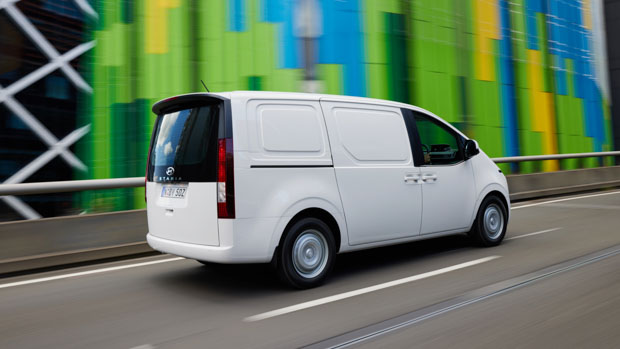 Speaking of electronics, the iLoad's traction control was notoriously obstructive when launching hard into moving traffic, whereas the tuning of Staria's traction- and stability-control systems is much more sophisticated and effective.
Indeed, the Staria Load is absolutely crammed with safety kit for a van.
First-in-class safety features include blind-spot collision avoidance assist, rear cross-traffic collision avoidance assist, and a surround-view monitor.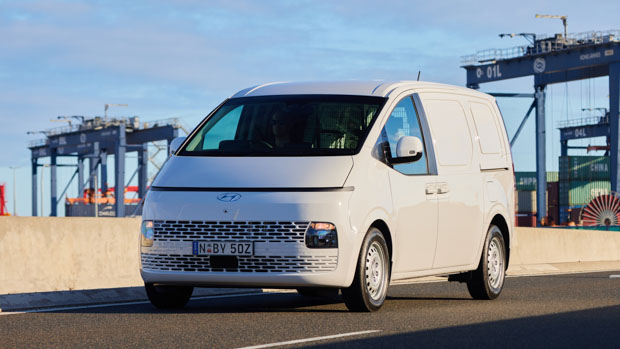 They're joined by very effective lane-holding assist with steering assist, a safe-exit warning, adaptive cruise control with stop-and-go, front AEB with pedestrian detection, junction AEB, intelligent speed-limit assistance, and front and rear parking sensors.
It also has larger 325mm ventilated disc brakes at both ends compared to the iLoad's 300mm ventilated front/324mm solid rear discs.
Hyundai is expecting the Staria Load to receive a five-star safety rating, helped by the fact it's now only available in a two-seat front layout (instead of 2+1 in the cramped iLoad) with a standard, first-in-class centre airbag – taking its overall airbag count to seven.
How is the Staria Load's interior?
If you've sat inside a Staria people mover (which is unlikely given it's only been on sale a few months), then the Staria Load's overall dash architecture should be pretty familiar. It's identical, but without all the fancy stuff.
That means goodbye to slush moulding (the Staria Load's dash plastic is hard and serviceable), lidded trays, flush multimedia and HVAC controls, and push-button gear selection. Yet the Staria Load doesn't feel short-changed.
For starters, its core equipment is substantial for a van – starting with keyless entry and including power-folding/heated exterior mirrors, one-touch power windows, a leather steering wheel and gearknob, a 4.2-inch digital instrument cluster, 8.0-inch multimedia touchscreen with wireless Apple CarPlay and Android Auto, wireless phone charging, an electronic park brake with auto-hold, and automatic headlights.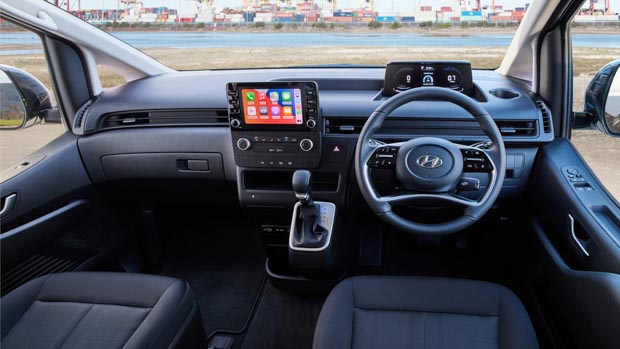 In terms of storage, the Staria Load has trays for days. There's a four-level arrangement in each front door – the second-top one featuring a non-slip rubber lining – with the bottom bin accepting an upright one-litre metal camping bottle, though incidentally rather than in a dedicated slot. And each front occupant gets a roof storage tray with a small net to prevent stuff from slipping out.
Two broad dashtop trays easily accommodate phones or iPads that are wearing non-slip covers, and the centre console gets a rubberised tray that also includes the wireless phone charger, a pop-out cupholder for the front passenger (the driver's coffee receptacle is on the dash top), a smaller tray suspiciously right-sized for cigarettes, and a bin at the bottom.
What's lacking is any dedicated bottle storage or anything to rest the driver's left arm on – the two-seat Staria is a true walk-through configuration (though not when fitted with a plastic-lined $899 cargo cage like our test car).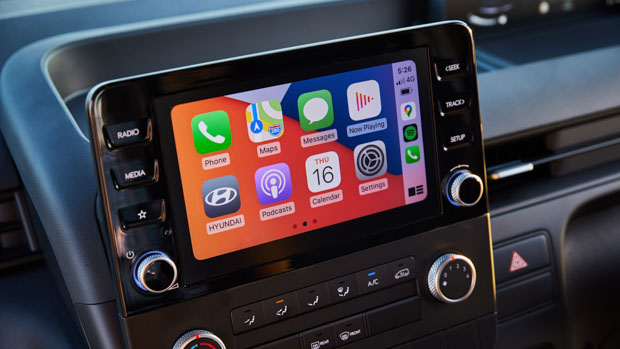 As for seating comfort, the driving position is excellent and so is the overall support from the driver's bucket, complete with crank-handle height adjustment.
The Staria's overall size, wheelbase length and load area neatly align with the rather large Toyota Hiace LWB van, while slotting in between the wheelbase lengths of rival vans such as the Ford Transit Custom.
Hyundai says the Staria Load's 2607mm load-bay length is 232mm more than an iLoad's and 77mm longer than a Hiace's. At 1436mm, it's also 96mm taller inside than a Hiace, though the big-selling Toyota smashes the Staria Load for width, with an extra 120mm between its van walls (1760mm v 1640).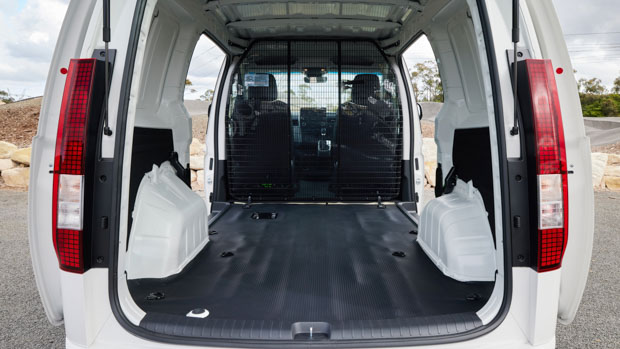 At least the Staria is slightly wider than its predecessor back there, and has a larger effective door opening width – both with the single-piece tailgate fitted to our test car and the 'twin-swing' barn doors that will become available soon, along with a Staria Load Crew version with a second-row bench.
There's also eight tie-down hooks and felt panelling along the lower sections at the rear of the load bay.
What are the Staria Load's running costs?
The official ADR81/02 government combined fuel consumption figure for the eight-speed auto Staria Load is 7.0L/100km, though we averaged a respectable 9.6L/100km. In comparison, the combined fuel figure for the previous iLoad automatic was 8.8L/100km.
Recommended servicing is every 12 months or 15,000km, with each service capped at $360, making the Staria Load's five-year service total $1800.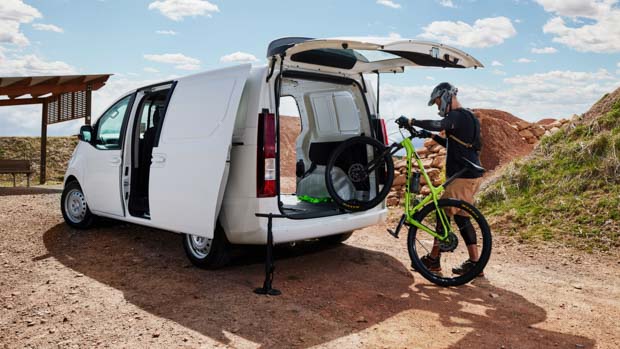 Hyundai's commercial vehicle warranty is five years/160,000km. It is worth noting that Ford and Volkswagen do not impose distance limits on their commercial warranties for the Transit and Transporter respectively.
Private buyers of the regular Staria benefit from a five year/unlimited kilometre warranty.
The final verdict
As much as the handsome old iLoad could be relied upon, it wasn't a sophisticated van – especially when it came to cabin comfort.
In comparison, the Staria Load is in another world … though whether Aussie tradies are willing to cop its futuristic appearance is something only the sales figures can determine.
As a package, it's a massively improved van, particularly in the way it drives but especially for its added safety gear and improved value.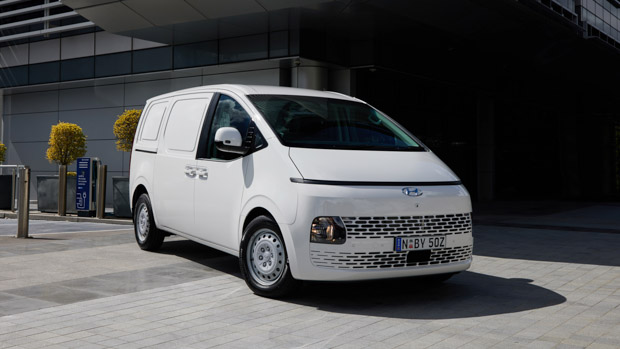 Hyundai claims that, model for model, the Staria Load is only $2530 dearer than its 14-year-old predecessor, yet that additional outlay brings decades-newer technology, comfort and driver satisfaction.
And that appeal will expand once the Crew version goes on sale later this year.