Commercial vans have come a long way this century, as Hyundai's own van story proves. The iLoad might have been a pretty basic and unrefined old thing, yet Aussie tradies rated it for its indestructibility (if not its actual comfort!), and were willing to pay over $40K for the privilege of owning this trustworthy steed.
But 'tough as old nails' isn't good enough anymore. You also need proper safety equipment for that OH&S seal of approval, as well as physio-friendly comfort and modern connectivity. And if the cost burden for all that contemporary polish is only $2530, what's not to love?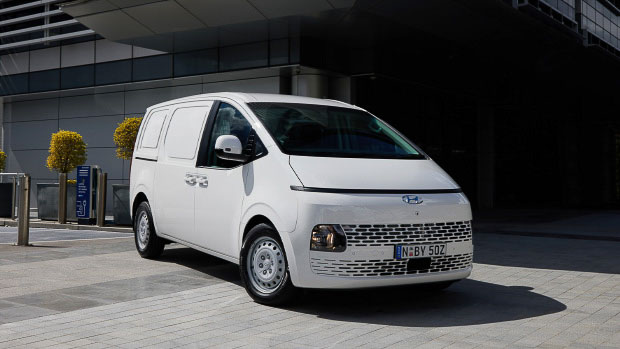 Enter the 2022 Hyundai Staria Load. Starting at $45,790 (before on-road costs), this all-new iLoad replacement smashes its 14-year-old predecessor for sophistication, to the point where Hyundai claims it has "the safety and technology features offered by no one else".
Sharing its design DNA with the high-tech Staria people-mover and its N3 platform with the Santa Fe and Palisade SUVs, the Staria Load is 20 years ahead of the iLoad when you start to pick through what it brings to the table.
We should point out, though, that in its switch to an SUV-based platform, the auto-only Staria Load is now front-wheel drive (like several rivals, but not the Toyota Hiace or the previous rear-drive iLoad).
And while its braked towing capacity is a solid 2500kg (versus 2000kg for the iLoad manual, 1500kg for the auto), the Staria Load has a slightly lower maximum payload at 1072kg (versus 1098kg for an iLoad auto, 1113kg for a manual) – no doubt aided by it retaining a rigid rear axle design, supported by leaf springs.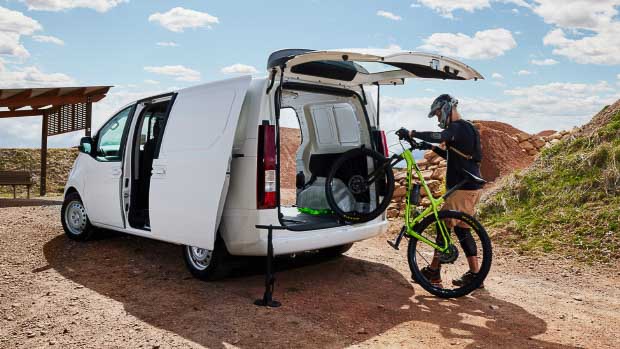 What do you get for $2530 more dough?
Available in four variants – a two-seat van with either a one-piece tailgate or 'twin swing' rear barn doors, or a five-seat 'Crew' van with flush glass in its sliding side doors and the same rear opening options as the two-seat – the Staria Load debuts with just the two-seater and a lift-up tailgate, painted in Creamy White or Shimmering Silver.
The other three Staria Load derivations will arrive in Q4 this year.
The Staria Load's container load of equipment includes keyless entry, power-folding/heated exterior mirrors, a leather steering wheel and gearknob, a 4.2-inch digital instrument cluster, 8.0-inch multimedia touchscreen with wireless Apple CarPlay and Android Auto, wireless phone charging, an electronic park brake with auto-hold, automatic headlights and front roof storage trays.  
Safety equipment fit for a passenger car
Hyundai is expecting the Staria Load to receive a five-star safety rating, helped by the fact it's now only available in a two-seat front layout (instead of 2+1 in the cramped iLoad) with a standard, first-in-class centre airbag – taking its overall airbag count to seven.
Other first-in-class safety features include blind-spot collision avoidance assist, rear cross-traffic collision avoidance assist, and a surround-view monitor.
They're joined by lane-following assist with lane-holding assist, safe-exit warning, adaptive cruise control with stop-and-go, AEB with pedestrian detection, junction AEB, and intelligent speed-limit assistance.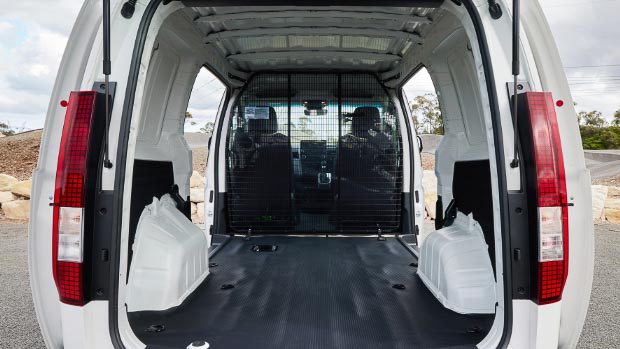 How much cargo space in Hyundai's new van?
Sized almost perfectly in line with the rather large Hiace LWB van, the Staria Load slots in between the wheelbase lengths of rival vans such as the Ford Transit.
Measuring 5253mm long overall and riding on a 3272mm wheelbase, the Staria Load packs a cargo area capable of taking three Euro-sized pallets.
At 2607mm long and 1640mm wide, its load bay is slightly wider but considerably longer than iLoad's (by 232mm), with a much larger effective door opening width.
Compared to the class-leading Hiace van, Staria Load's cargo area is 77mm longer (2607 v 2530mm) and 96mm taller (1436 v 1340mm), but loses out when it comes to width. The LWB Hiace's load area is 1760mm wide and a Transit's is 1775mm wide whereas the Staria Load is only 1640mm.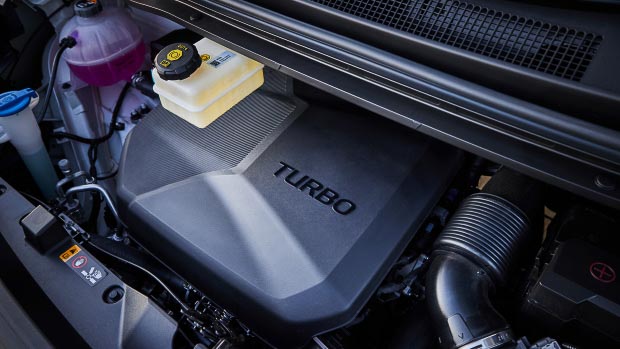 What's under the bonnet of Staria Load?
In lieu of the iLoad's ageing 2.5-litre turbo-diesel four with five-speed automatic (or a lower-powered version with a six-speed manual), the Staria Load will solely be offered with a more modern 2.2-litre turbo-diesel four and eight-speed automatic transmission.
Compared to the iLoad's engine, the smaller, newer diesel puts out 130kW (versus 125kW) and 430Nm from 1500-2500rpm (versus 441Nm from 2000-2250rpm). Given that the Staria Load weighs 11kg less overall (at 1938kg), has three more gear ratios and a broader operating range, it should comfortably eclipse the old iLoad auto for performance.
As for fuel efficiency, the Staria Load is in another world – 7.0L/100km on the official government combined cycle versus 8.8L/100km for an iLoad auto, and 8.2L/100km for a LWB Hiace auto.