Painted in refrigerator-white and wearing small 17-inch alloy wheels, there was no mistaking our test car for a base model.
But in the case of the refreshed 2021 Hyundai Santa Fe, base is ace – because this entry-level ($49,990 driveaway) grade is safe, comfortable, punchy, well equipped, and reasonably good value for money.
While families may naturally gravitate towards Santa Fe models with leather-lined interiors, the cloth-trimmed base grade should not be discounted.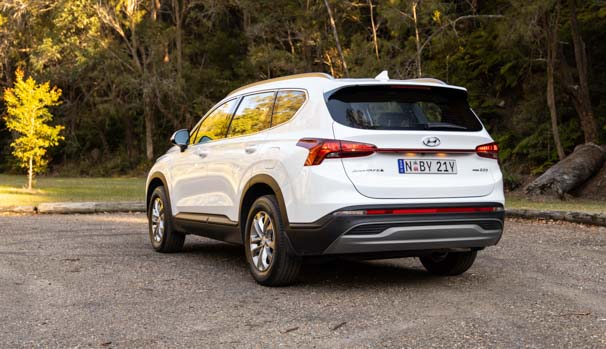 Like all Santa Fe models, the base diesel is better to drive than many rivals and, when compared to newer brands in the Australian market, you notice just how well Hyundai screws together a car.
Quality is a stand-out, but a few suspension revisions and other subtle mechanical changes to the Santa Fe for 2021 also result in a better-rounded family SUV.
How does the Santa Fe base model drive?
A high-revving 3.5-litre naturally aspirated petrol V6 engine making 218kW/350Nm is standard on the Hyundai Santa Fe, but the optional diesel is the better choice for this three-row SUV.
The thoroughly updated 2.2-litre turbo diesel four-cylinder benefits from additional aluminium components which reduce the weight of the donk. It's quieter and more economical, too, though later a Santa Fe hybrid option will join the lineup.
Plus, with a healthy 148kW of power and strong 440Nm of torque available just above idle, the diesel shrugs off heavy loads and is very happy steaming up long hills.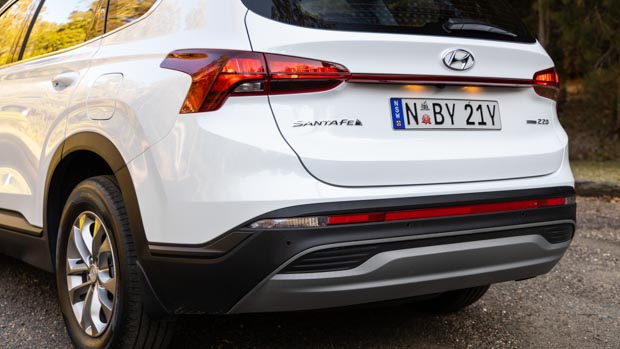 While the decision to scrap the diesel's previous torque converter automatic for a new dual-clutch gearbox rang a few alarm bells for driveability, reality shows that these concerns are quickly set aside.
With eight gears and a wet-clutch set-up, Hyundai's new DCT automatic – many years in development and shared here with the Kia Sorento – is slick, refined and engineered to feel more natural than some dual-clutch rivals. Plus, it saves fuel.
Unlike the front-drive V6 petrol, the diesel is paired exclusively with all-wheel-drive, which engages quickly and is not averse to sending significant torque rearward in slippery situations.
The Santa Fe's engine and automatic gearbox quickly fade into the background, because it's all so eminently driveable – either around town or on faster highways and country roads.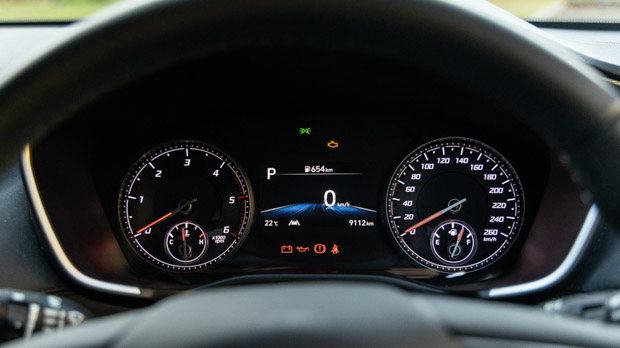 That is truer now for the ride and handling, as well.
Hyundai ushered in a facelift for the current-shape Santa Fe rather quickly and changes under the skin were not limited to the dual-clutch auto switch: there were also a number of suspension tuning changes.
The result is a much more settled ride quality. Impressively, the greater level of compliance found in the 2021 Santa Fe has not come at the expense of this SUV's inherent poise.
That combination of relaxed and settled damping with reasonably good body control and a communicative chassis places the Santa Fe alongside the Skoda Kodiaq as a real driver's choice in this upper-midsize seven-seater segment.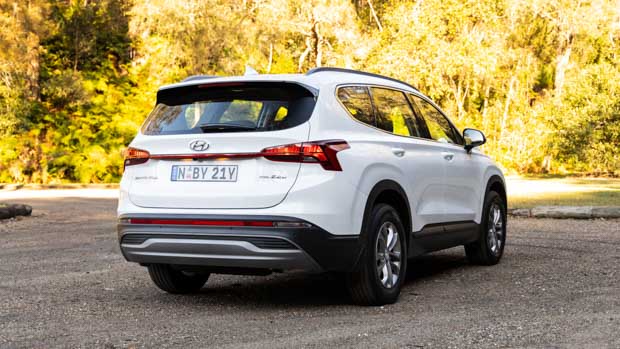 Steering feel is subtle at best but the Santa Fe lets you know what is happening beneath the car when punting it on a country road.
Of course, most buyers won't, but the controlled high-speed demeanour engages keen drivers and should be very reassuring for anybody who gets behind the wheel.
Santa Fe base model owners score the best ride quality of any grade, too, thanks to the very chunky tyres with high sidewalls, encasing (rather dowdy-looking) 17-inch alloy wheels.
Sure, the entry level isn't especially sexy to look at, but the tyres offer excellent insulation from severe bumps – the kind of imperfections that are all too common on Australian roads, both in suburbia and well beyond city limits.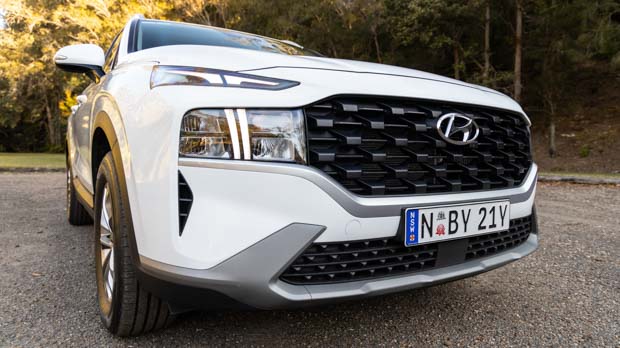 Only a slightly noticeable amount of suspension boom into the cabin disrupts the serenity.
Even the base Santa Fe packs a number of well-tuned safety systems – and the knack really is in the tuning.
Autonomous emergency braking, adaptive cruise control, lane keep assistance with lane centring, blind spot monitoring and a reversing camera are all standard – as are rear parking sensors.
How is the Santa Fe base model's interior?
An initial look at the Santa Fe's interior might leave you thinking it's a bit cheap, because the seats are cloth and the colour scheme is, well, very grey.
However, that impression of the base model is wrong. Sure, it's not glitzy in the way a Santa Fe Highlander's nappa leather pews are – but it's the quality that stands out even in the base model.
First, those cloth seats: the grey houndstooth pattern has a touch of cool to it and the seats stay just that – cool – even under the Australian sun, unlike the cheap vinyl Hyundai might have been tempted to use instead.
The seats are manually adjustable, meaning the driving position isn't as customisable as a variant with power chairs, but thankfully, Hyundai have nailed the fixed thigh angle out of the box.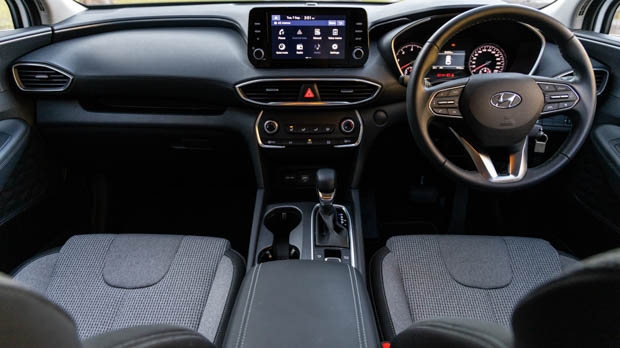 We found the seats to be deep, comfortable and well-bolstered, keeping us feeling supported over several hours in the saddle.
There is a leather steering wheel and shifter, and almost all of the secondary plastics used around the cabin are soft-touch. Unlike the Toyota Kluger GX, it seems like this base model doesn't skimp on the pleasant materials used on ritzier Santa Fe trims.
Where the base-ness of this grade is more clearly seen is in the relatively small eight-inch central touchscreen and the rather generic-looking analogue dials, split by a compact colour trip computer.
That touchscreen is just big enough to be acceptable and, while it lacks integrated satellite navigation (annoying when you're out of phone reception), it gains wireless Apple CarPlay and Android Auto – a strange outcome of Hyundai's long-running infotainment wars with the smartphone giants.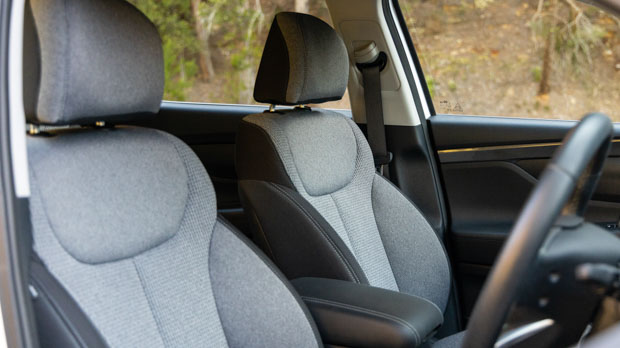 Either way, we're not complaining, because wireless CarPlay is convenient and it gives the base Santa Fe an up-to-date feel. Helpfully, you get wireless smartphone charging plus a selection of USB ports, though none are of the faster-charging and newer USB-C shape.
Space up front is generous for all body shapes and the second row is accommodating too, with shoulder-room enough for three adults. The bench is supportive, with decent under-thigh angle, and you get air vents, USB chargers and soft-touch door skins across the range.
There is a slide and recline function in the second-row bench which means you can allocate sufficient space for six-footers to sit in the third row – even in this configuration there is still reasonable room in Row 2.
That makes the Santa Fe a genuinely usable three-row SUV, though we would like to see Hyundai extend body air bag coverage to the third row in future. At present, the curtain airbags cover only the glass in Row 3.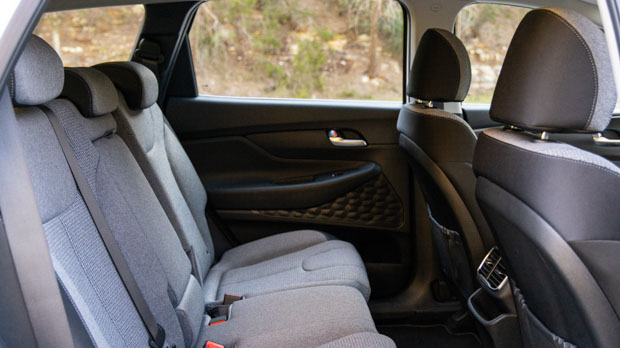 Families who will make regular use of the third row may wish to consider the larger Hyundai Palisade, which has broader airbag coverage. On a comfort level, the Santa Fe does have air vents and cup holders in the way-back.
A manual tailgate is expected on a base model, though it's worth bearing in mind that the cheapest Santa Fe diesel is still over fifty grand on the road – so perhaps a power door should be considered as a range-wide inclusion.
Still, the boot is big and square, with smart packaging: the third row seats are very easy to manually raise or lower, while the boot floor hides a cubby space fit for the cargo blind. Plus, there is an (under-slung) spare wheel for peace of mind when touring.
What are the Santa Fe base model's running costs?
For drivers who do more kilometres rather than less, the optional diesel engine begins to pay for itself quite quickly. It's about 30 per cent more efficient in the real world than the standard V6 petrol.
In our testing, the diesel Santa Fe consumed around 8L/100km in combined driving, with figures a little below 7L/100km on the highway and around 9L/100km. Those numbers are good for a large SUV of this shape and size.
Hyundai recently introduced pre-paid servicing plans for Australian buyers which lock in current-day maintenance pricing for a number of years: three, four and five year packs are available.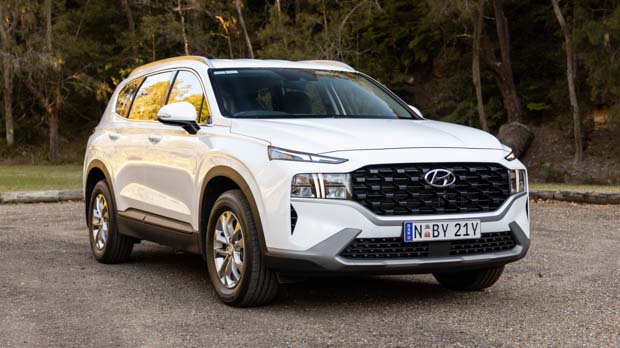 For the diesel Santa Fe, the five year pack covers 75,000km of driving and costs $2,295 – averaging $459 per year – which is, again, impressive for a diesel AWD vehicle of this type.
Hyundai covers its vehicles with a five year, unlimited kilometre warranty in Australia which is par for the course for the car industry, though it trails the seven year, unlimited kilometre warranty of the related Kia Sorento.
The final verdict
From our perspective, the extremes of the Hyundai Santa Fe diesel lineup make a lot of sense. The base car is available for under $50,000 with promotional driveaway pricing yet packs a high-quality interior, a strong and refined powertrain and a comfortable ride. However, you have to accept smaller wheels and a cloth interior.
The four-strong Santa Fe lineup offers escalating levels of luxury the more you spend – though the one-step-higher Active doesn't add an enormous amount of value on top of the base car.
Similarly, the third-rung Elite is priced close enough to the flagship Santa Fe Highlander that the top-shelf car starts to look like reasonable value with its dramatically more upscale interior that includes nappa leather seats, real metal trim, and a suite of larger digital displays.
But for those who need reliable, high-quality seven-seat transport that doesn't cost a bomb, the base diesel Hyundai Santa Fe acquits itself very well indeed.