Hyundai has ripped the covers off the 2021 Staria people mover that is set to replace the iMax people mover and possibly the iLoad commercial van. 
The Staria will be available in a range of layouts including a two, seven, nine and 11 seat configuration and can be had in at least two grades known simply as the base Staria and Staria Premium.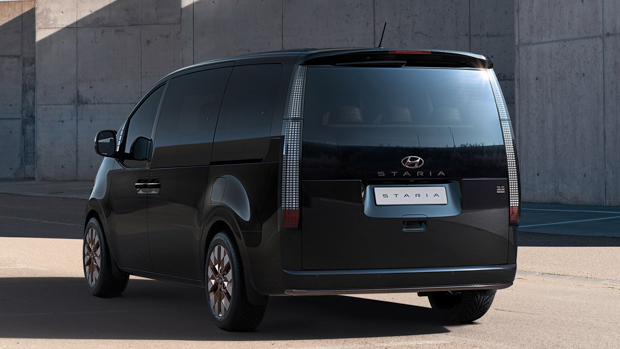 The two-seater model is designed for businesses but Hyundai Australia refused to confirm if the Staria would be replacing the iLoad or was just adding another option to the range.
Wearing a design that Hyundai has accurately stated as resembling a spaceship, the Staria Premium certainly stands out with an exterior designed to entice luxury buyers.
That starts with the single daytime running light across the front that sits above a large grille, while the sides of the Staria are uninterrupted by pillars which combined with a low belt line is said to increase visibility for all occupants.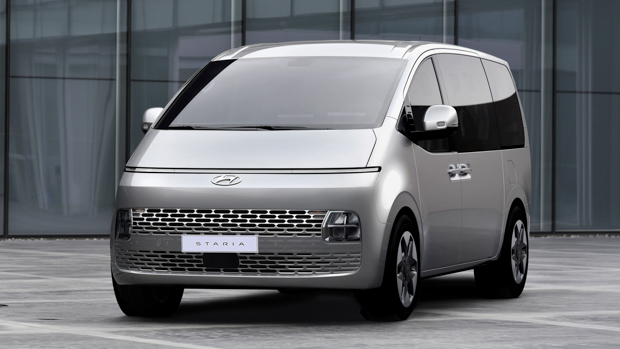 At the rear, Hyundai has fitted a truly massive set of vertical tail lights to the Staria Premium with smaller lights on the base Staria. Between them is a large rear window that leads down to a low-hanging rear bumper that is designed to help with loading difficult items.
Hyundai has fitted a more simple looking grille to the base Staria while the 18-inch crystal-style wheels are downsides for a more plain-looking item.
While there is no word yet on what might be powering the Staria the "3.5" badge on the boot strongly suggests it will be fitted with the 3.5-litre V6 petrol engine fitted to the Santa Fe, which makes 200kW of power and 331Nm in the current tune.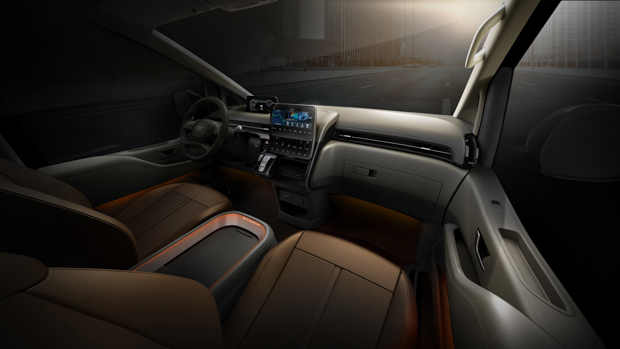 On the inside of the Staria, Hyundai has fitted a 10.25-inch display with a button-style gear shifter as previously seen on the Palisade large SUV, while other features such as the sliding cabinet-like centre console appear new. 
An additional, a digital instrument cluster sits in front of the driver and a slew of cup holders and storage bins surround the driver and passengers.
While the two-seater configuration is available on the base model, the seven, nine and 11 seater options are available in the Staria Premium, though sadly the biggest option is reserved for South Korea.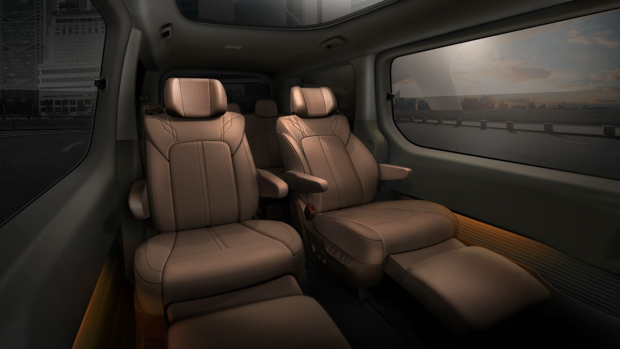 The seven-seater model is equipped with second-row chairs that can stretch out like a living roof recliner to make the experience more comfortable. Adding an extra set of chairs in the nine-seater gives second-row passengers the ability to swivel around to chat to those behind them as seen in competitors such as the Volkswagen T6.1 Multivan. 
More pricing and specification details will come as Hyundai prepares to launch the Staria in Australia in the second half of this year.