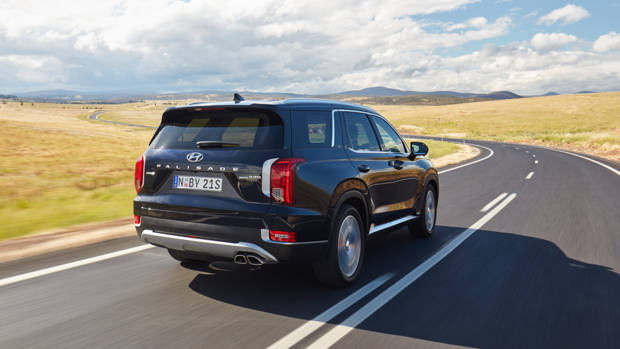 Australian families have adopted larger and larger SUVs as their transport of choice – think how omnipresent the Mazda CX-9 and the Toyota Kluger are on Aussie roads. These five-metre-plus buses have found plenty of favour on local roads due to their big boots, three-row spaciousness, and fashionable image. MPVs, these aren't.
Hyundai have competed in this space with their smaller Santa Fe. And while that SUV has sold successfully over several generations, this brand's Australian representation has been on the lookout for something considerably larger.
That meant that when the option arose to import the America-focussed, full-size Palisade, Hyundai Australia put their hands straight up.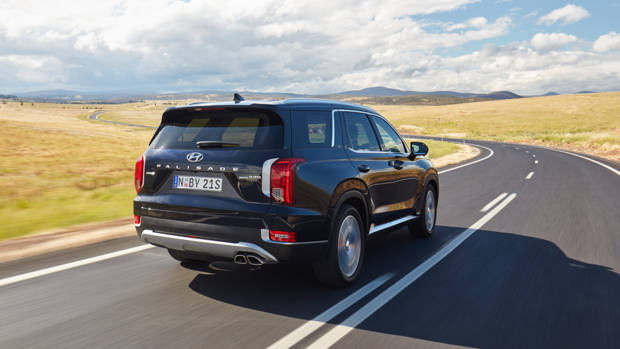 Two Palisade variants will come to Australia – a base car that kicks off at $60,000 and a lushly-specified Highlander that starts at $71,000. Both are available in a now familiar choice of 3.8-litre petrol V6 or a 2.2-litre turbocharged diesel four-cylinder.
Further, the Palisade becomes only the second large SUV in Australia to offer eight seats after the Toyota Prado – or there's a no-cost option of seven seats with luxurious captain's chairs. The Palisade is much larger and roomier than the Santa Fe, and will sit above that SUV in Hyundai's growing crossover range.
How does the Palisade Highlander drive?
Quite well indeed.
The Palisade becomes the first Hyundai SUV in recent memory to arrive on Australian roads without an exclusive local tune completed by the brand's engineers in Sydney.
That's because when Hyundai Australia received a Palisade development mule destined for an Eastern European market, it was quickly deemed that the ride and handling tune out of the South Korean factory was adequate for rough Australian roads.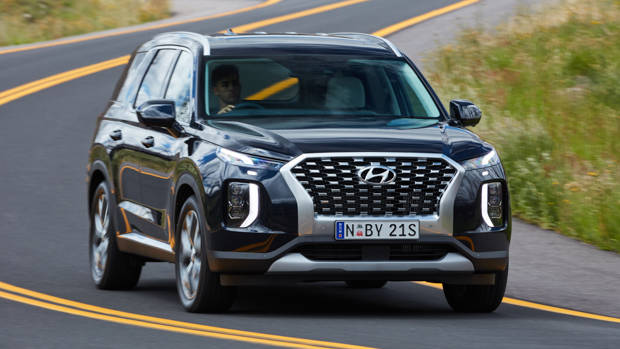 Perhaps that's a product of Hyundai's Korean engineers being embedded in the brand's hard-working Sydney engineering team over many years. Australian roads are punishing, and many Hyundai suspension tunes have been ripped apart and improved right here.
Either way, giving a very large SUV the kind of poise that the Hyundai Palisade Highlander displays on technical, fast Australian backroads isn't easy. And yet, the new Palisade soaks up substantial holes and ruts without having its composure disturbed.
It's much more sure-footed than the outgoing Toyota Kluger, for instance. The relatively firm Palisade – which runs a fixed suspension setup without adaptive dampers – coped well with a mix of pockmarked bitumen and rutted gravel roads on a spirited run between the New South Wales south coast to Canberra via the Nowra-Braidwood pass.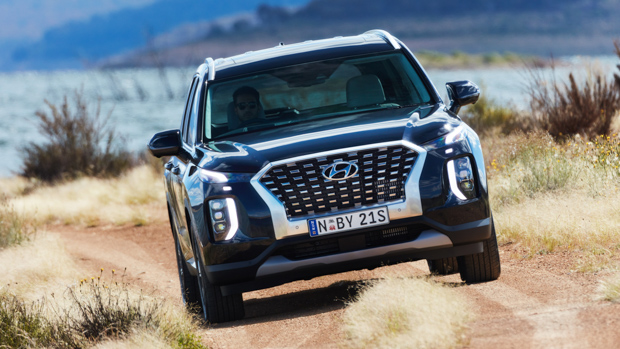 Ultimately, the Mazda CX-9 is more of a driver's SUV thanks to its more feelsome steering – by contrast, the Palisade's wheel is light and twirlable. That makes this large SUV easy to steer – particularly in town. But the absence of much feedback on a country road limits how secure you feel when pushing on.
Some rivals are less bouncy at lower speeds. Like so many other recent Hyundai crossover releases – most prominently the Santa Fe of 2018 – the Palisade's good body control on country roads apparently comes at the cost of a settled ride around town. When your eyes see a smooth road, you feel constant fidgeting from the suspension. It's subtle, but it's there.
As for engines, a back-to-back drive showed that the diesel was the clear winner – and the diesel is worth the $4,000 upgrade over the entry-level petrol V6.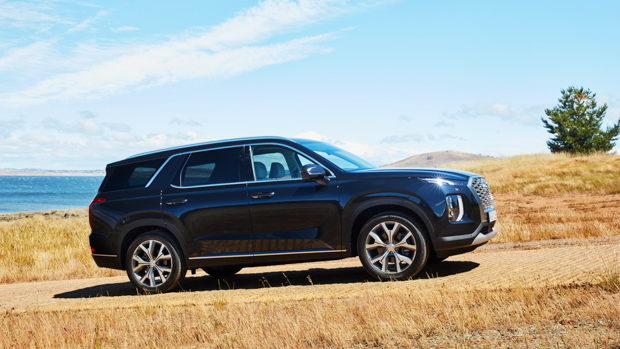 We'd try to avoid the front-wheel-drive 3.8-litre petrol. It's quite powerful, making 217kW of power and 355Nm of torque, but all that drive going only to the front wheels means the Palisade petrol spins its wheels even in dry conditions. It's worse on damp roads – plus, the petrol V6 is also the thirstier car of the pair.
Hyundai Australia made long-term representations to head office to kit out our local Palisade with the option of a 2.2-litre turbo four-cylinder diesel, teamed exclusively to all-wheel-drive. The 147kW and 440Nm diesel is a fairly expensive upgrade from the petrol, but it's a superior engine in every way for this SUV.
There's the way the Hyundai and Kia brands have refined their shared 2.2-litre diesel over the last couple of years, endowing it with the kind of hushed smoothness that belies its relatively low cylinder count for such a big car.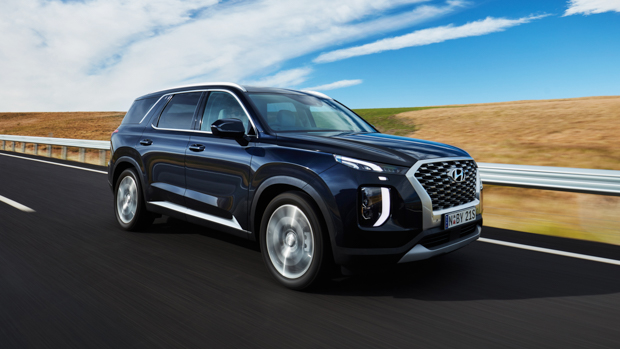 The Palisade's luxurious cousin – the Genesis GV80 – is smoother still with its inline six-cylinder diesel, but the four-pot here is quite convincing, offering a measured but steady serve of torque for easy overtaking on country roads. It isn't fast, but it's easier to gauge – and less frenetic – than the stretched big-block petrol.
Then there's the efficiency – at least 30 per cent better in the real world than the V6 petrol. As the years tick by, the savings at the bowser will make up the difference in price.
Mainly, the diesel moves ahead thanks to its exclusive AWD pairing, which means that when you plant the boot in the Palisade, it is able to put power down without fuss. When driving the petrol, we noticed plenty of torque steer and scrabble in anything approaching damp conditions. You get the same effect in a front-drive Kluger.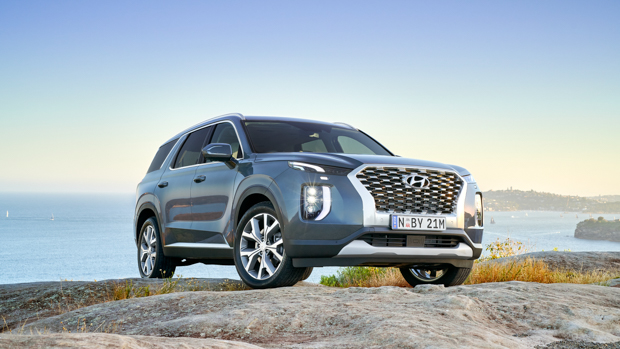 On the safety front, the Palisade is well kitted out on both grades. Autonomous emergency braking (AEB) is standard, with the function detecting cars, pedestrians, or cyclists. There is also reversing AEB as standard.
Lane keep assist with lane tracing is included, and the function is quite strong, nibbling at the wheel to keep the Palisade centred in its lane when switched on. Blind spot monitoring, rear cross traffic alert, and door-opening warning are all bundled.
The Highlander grade adds in a few extra safety features in the form of a blind spot view monitor that shows a camera feed of the blind spots in the driver's instrument cluster, as well as presenting a 360-degree parking camera on the main touchscreen.
How is the Palisade Highlander's interior?
The Palisade Highlander has the most luxurious interior ever seen on a Hyundai.
But while there are only two grades – a base model known only as Palisade, and a high-spec version called the Palisade Highlander – this vehicle is at its best if you go for the seven seat option.
No doubt, the Palisade's eight seat option (both layouts cost the same) will appeal to big families who will be keen to exploit this SUV's full potential, and perhaps step out of a MPV in the process. The eight seat Palisade has two rear benches, each with three seats.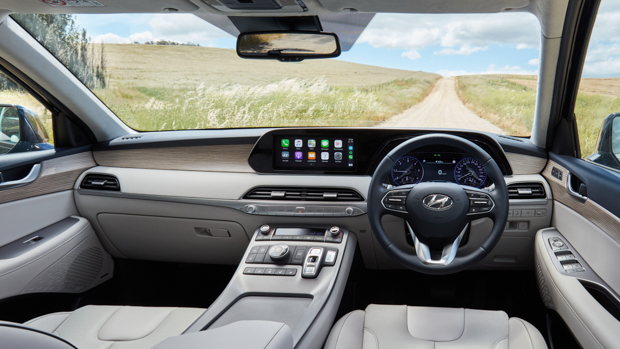 But with seven seats, you get two up front (naturally), and then two captain's chairs in the second row. The third row is a bench with three seats. But while your first impression might be that the middle row is all about lush comfort – and it does provide that – the practicality benefits are quite immense.
First, with considerable space between the two middle seats, it's possible for an adult to walk to the third row, making the Palisade such an easy SUV to live with. It's so different to how you have to clamber across a folded rear seat in a car like the Mazda CX-9 or Toyota Kluger.
But for those with children still requiring a capsule or booster seat, those can be left in situ, meaning it's so much simpler to use the third row without disturbing carefully-installed child seats.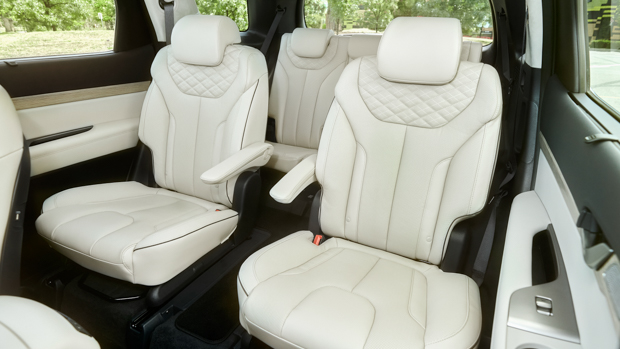 No matter which layout you opt for, though, the Palisade is comfortable in the back, with heaps of second-row headroom and kneeroom, while even the third row will be acceptable for two adults. The eighth and final seat is very compact. Great to see the Palisade has full third row airbag coverage, though, unlike the smaller Santa Fe, which only covers the third row glass.
Up front, the Palisade offers a smartly-designed cockpit that integrates a good smattering of modern technology. A 10.25-inch touchscreen is standard, and while it's not quite as easy to use as previous-generation Hyundai tech, it's still reasonably intuitive and includes wired Apple CarPlay and Android Auto, plus satellite navigation and digital radio. An Infinity premium stereo is standard-fit, too.
The front seats are reasonably comfortable and electrically adjustable, though the seat bases are a bit flat without adequate under-thigh support. And in the base Palisade, the passenger seat is manual and doesn't even have height adjustment – thankfully, this is rectified in the Highlander.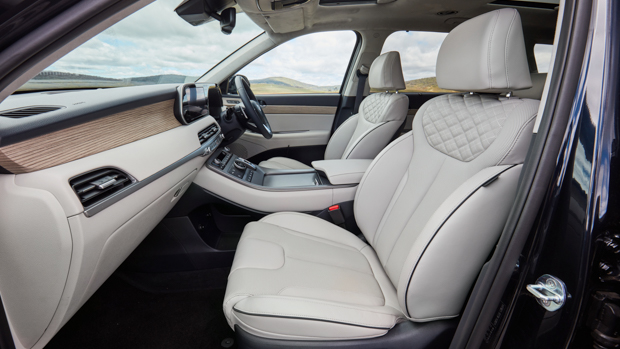 The driver's binnacle takes in analogue speedo and tacho dials and a colour screen between them. In this way, the Palisade feels half a step behind the new Santa Fe, or the new Kia Sorento, which has a fully digital instrument cluster.
Storage space is absolutely plentiful, however: the Palisade offers up 17 cupholders across the vehicle, plus acres of incidental storage – there's even a hidden spot beneath the bridge centre console that will fit a handbag or small briefcase. Shame there's no grab handles in the front row in a hangover from the left-hand-drive conversion.
While the base Palisade offers only a black leather-appointed cabin, which is a little gloomy in reality, the Highlander splashes out on personality with a choice of beige or burgundy nappa leather. The beige – or really cream – option is paired with especially attractive pinstripe wood trim that wouldn't look out of place in a Mercedes-AMG SUV.
Around the back, behind an electric tailgate, the Palisade offers 311 litres of space if you have all three rows in place – enough for the school bags or a moderate grocery shop. Fold those, and operate with two rows up, and you've got a very decent 704 litres to play with. There's space under the boot floor to stow the cargo cover, and the spare tyre is mounted beneath this SUV.
What are the Palisade Highlander's running costs?
The Hyundai Palisade offers reasonably affordable running costs.
That is particularly true of the more frugal diesel model. The petrol V6 might be $4,000 cheaper to buy, but its excessive consumption will see it cost more in the long run. Our running cost ratings apply to the diesel.
Hyundai offer capped price servicing on their vehicles, and the Palisade is covered for its first five services. Servicing the Palisade is required every year or 15,000 kilometres – whichever comes first.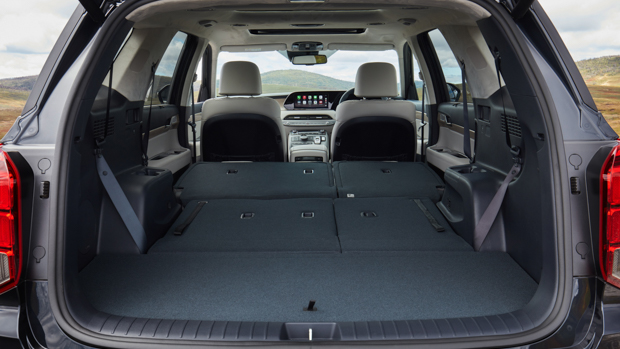 Equipped with the diesel engine and AWD system, the Palisade will cost $469 at each of the first five services – $1,407 over three years, or $2,345 over five years. That's a bit more expensive than the $399 per visit charged for the 3.8-litre petrol, however.
That said, the diesel reels the petrol straight back in when it comes to fuel consumption. Our testing showed the Palisade petrol V6 to consume about 13L/100km in mixed driving, while the diesel consumed 8L/100km.
Like all Hyundai products, the Palisade is covered by a five year, unlimited kilometre warranty in Australia, which is normal for mainstream brands.
The final verdict
The Hyundai Palisade is a very welcome addition to the large SUV landscape in Australia.
Offering heaps of space, a choice of seven or eight seat layouts, a well-packaged interior and a tough-looking exterior, the Palisade will really appeal to big families.
It's not a large range with endless choice, but smart buyers will still opt for the efficient, torquey diesel AWD powertrain that really suits this car.
We'd also strongly recommend the seven seat configuration to those who don't really need to max out the Palisade's full capacity.
With the second row captain's chairs, the Palisade is something of a game-changer among three-row large SUVs. It's such a pleasure to use and live with compared to a full second row bench that some families will wonder how they managed before.