ASK Hyundai Australia's general manager of product engineering Hee Loong Wong which model in the brand's lineup he's least satisfied with, and he'll name the Tucson mid-size SUV. 'The Tucson, really?', I ask. We've rated the Tucson's ride and handling as among the best in a class of standouts, like Mazda's CX-5 and the Volkswagen Tiguan. But Wong – affectionately known as Wongy, within Hyundai ranks – is a man that never settles. He's continually lobbying the brand's Seoul headquarters to increase the independence of his Sydney tuning workshop – and he wants the best-quality parts fitted to Australia-bound Hyundais.
So, while the Tucson rates well for its class, for Wongy, it's a relatively elementary effort compared to his more recent work which includes the well-received new i30. Under Wong's watchful eye, the Australian engineering team gave the i30 the most thorough local adaptation of any Hyundai yet. How does Wong rate the i30, then? He gives a broad smile.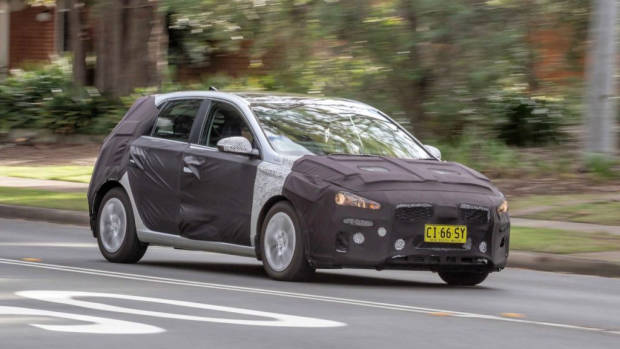 The latest Hyundai i30 undergoes urban ride testing in Sydney.
Scores of shock absorbers, stabiliser bars, dampers, and other suspension components are neatly arranged around us, on the floor of Hyundai Australia's workshop, located in Sydney's northern suburbs. They're in the last stages of Australian tuning for the Genesis G70 – Hyundai's first thrust into BMW 3 Series territory, and the first car that will be marketed down under through the standalone 'Genesis' badge. A pair of G70 mules sit idle in the shop, hidden from prying eyes by a sliding door kept firmly closed most hours of the day.
The G70s are dirty, covered in road grime. They've been out pounding the Australian pavement, as engineers from Hyundai's research and development centre in Namyang, South Korea, finalise the G70's international powertrain, brakes and suspension tunes before the car's global debut in October. Wongy and his team are out there occasionally, but their work in preparing the G70 for our roads is largely complete: Australia-specific ride and handling work has finished. Today's focus is working through the G70's default suspension setup for global markets, and the prototypes sit alongside the damper adjustment machine.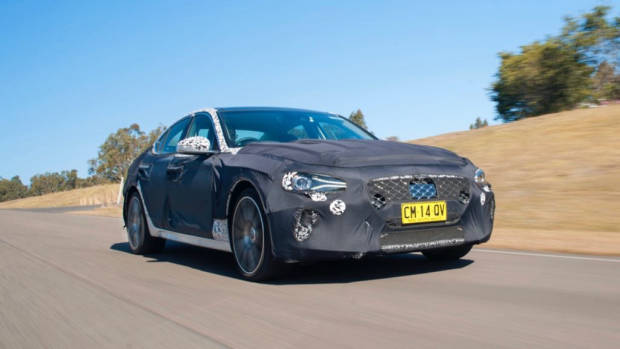 Work was underway on the G70's global tune on our visit to Hyundai's skunkworks.
Unlike the Tucson programme, which used dampers sourced from two producers – ZF and MANDO – the G70, like the new i30, will use only Korean-built MANDO dampers on the advice of Wong, and others within the company. They're perfecting two separate G70 damper setups: an adaptive system for high-spec models, including a sporty grade, and fixed dampers for the entry-level trims. Adaptive damping tech is new ground for Hyundai in Australia, but it's not new to Wong's team. The G70's larger brother, the G80, is available with an adaptive suspension overseas: that system was tested here last year.
The G80 is a facelift of the car we know as the 'Hyundai Genesis', which will be renamed once the G70 arrives on Australian shores, forming a standalone, two-model Genesis brand that is to Hyundai what Lexus is to Toyota. Like the G70, the G80 will also be available with these adaptive dampers, which feature a trick continuously-adjusting mode that responds to changing road conditions without driver intervention.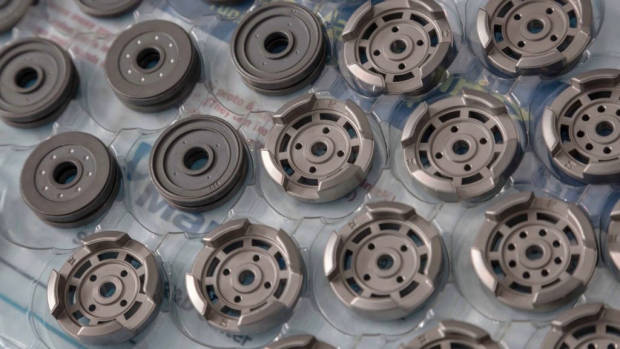 Camouflaged Hyundai mules have become a relatively common sight for residents around the brand's North Ryde headquarters, embarking on a pockmarked urban metropolitan route to iron out low-speed discomfort. That's important for Australian buyers, but the data that is collected is globally relevant. The Sydney observations are shared into Hyundai's digital cloud, assisting engineers in Seoul, and similar workshops in America and Europe. The same goes for data collected on Wong's high-speed, rural test route, which includes the demanding Wollombi and Great North Roads of the Hunter Valley. These are roads that mix sweeping bends, technical hill climbs, and undulating, pitted surfaces that, driven hard, spit out a badly-tuned suspension and expose a weakly-calibrated steering rack.
The Hunter run has been of great interest to Hyundai's Seoul-based engineers, who rotate in and out of the Sydney skunkworks a few months at a time. Inner-city roads might not differ much between developed nations, but Australian rural roads are unique. Our wide, open landscape snakes inwards from the coast, around occasional hills and valleys. Our roads aren't dramatic like Europe, nor are they straight and smooth, as in America. They're our own: often rudimentarily surfaced, and the further you get from the capitals, the faster you'll reach the end of the bitumen and head onto fiercely-corrugated red dirt and gravel.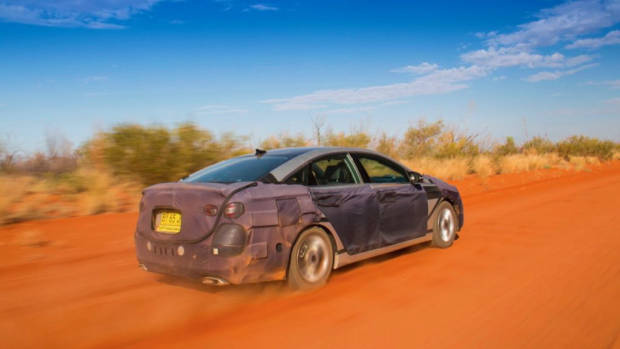 Gruelling outback testing is completed every summer.
Keep following the dirt, and you'll eventually reach Australia's outback, a genuinely distinctive environment offering super-hot summer temperatures. This is a particularly useful stress test, and it's become a tradition for Seoul- and Sydney-based Hyundai engineering teams to decamp in high summer to Cobar, in western New South Wales, to subject the next generation of product to the extreme climate. There, the prototypes sit, chequered in camouflage and plastered with a warning to prying eyes not to photograph these 'trade secrets' under development.
Whether it's the apexes of Wollombi, the plains of Dubbo, or Cobar's near-50º January sun, Australian conditions aren't easy on a car. They can be the undoing of imports, if attention isn't paid to ride and handling on tough surfaces. Our rural roads are one reason the legend of the Australian car for Australian conditions stuck around. But Hyundai's efforts in the country are vital: public relations manager Guido Schenken volunteers that 30% of sales come from regional areas. "Our local development is big on body control and B-road performance", Schenken says, citing the dirt-road testing of the original Genesis.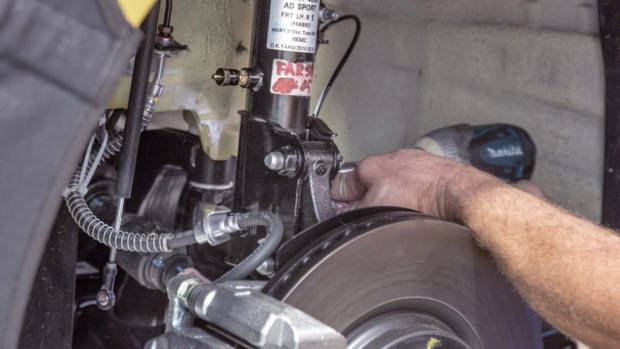 Hyundai's local tuning programme isn't new: it commenced in earnest in 2013 with the MD model Elantra. Since then, plenty of space – and an increasingly generous budget – has allowed Hyundai's North Ryde HQ to be fitted out with identical machinery to the R&D centre in Namyang. All the toys are here to fit, adjust and test steering, chassis and suspension hardware. Software isn't forgotten about, either. Not only can testing data be uploaded, but flashes for systems like stability control – Australians have unique ESC tastes, preferring a relaxed and intelligent tune – can be downloaded into prototypes.
Wong and his team are kept busy here. The G70 might be the focus now, but before this it was a fortnight on the new Ioniq electric car. The Ioniq is a Prius-sized hatch that we'll have more to say about in the near future. Schenken's optimistic about the Ioniq, telling me "we're pushing for the whole range" – and he expects strong interest from government buyers in the full-electric Ioniq EV model that Hyundai's Australian planners are prioritising.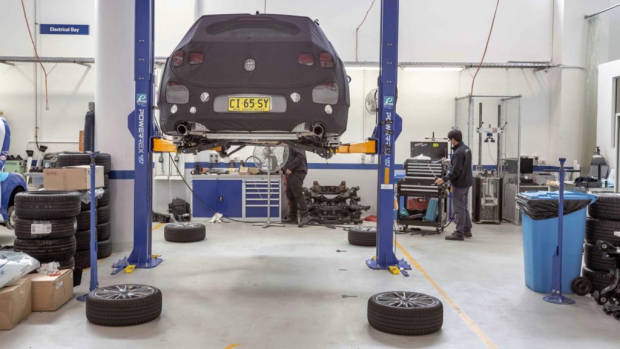 And prior to the Ioniq, substantial work was finalised here on the Kona – Hyundai's critically-important new small SUV, which launches in October. So far, the Kona has been driven by journalists only within the confines of Hyundai's testing facility in Korea. Small SUVs, with their short wheelbases, additional ride height, and the burdensome mass of an all-wheel-drive system, makes getting a crisp handling and ride balance tough – so there's anticipation to see how the Kona stacks up when pushed.
Those expectations are high, as the new i30 has raised our expectations of what this crack team of Australian engineers can do. We praised the third-generation i30, which launched in May, as the best Korean car ever. That's partly down to its European lines and decent value, but the ride and handling calibration elevate the new i30 to something special. Three months were spent getting the car right; various steering and stability control profiles were considered, and more than two hundred damper builds were tested before the Australian team selected two for production – one for the sporty SR models, and one for the comfort-oriented grades. Asked to single out his biggest victory with the i30, Wong names convincing Namyang R&D for a range of thick springs. At 3.9kg, Australian-delivered i30s ride on the most robust springs of this model, anywhere in the world. He is also proud he has convinced Namyang to allow Australia to do its own tune on Electronic Stability Control (ESC) to allow later, more progressive intervention.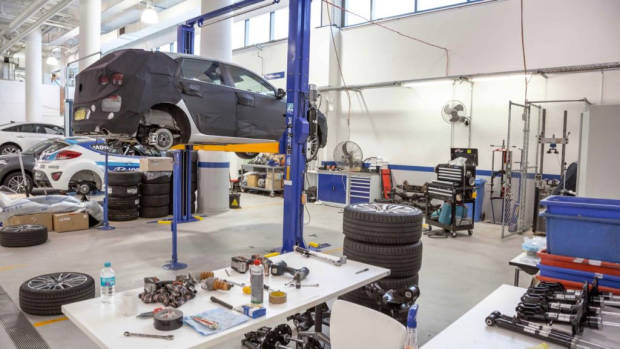 There's a buzz about the place given the recent positive response to the new i30.
There's been little rest since the i30's post-launch victory lap. How the Kona is received is the next test – but Wong's animated talking about the Genesis G70 that will trail it to market by a few months. The Kona? It's a small car – Hyundai does them well. The G70 is a far bigger risk, driving headlong into tough aspirational territory. Besting the C-Class, A4 and 3 Series won't be easy, but you start with good bones: the ride and handling. So, will G70 have that taken care of, I ask? Wong says so. "It'll be as good [in its own class], or slightly better, than the i30 SR." If that's the case, then this G70 – Hyundai's low, wide, adaptively-damped, rear-driven, twin-turbo-six juggernaut into luxury ground – will be in with a shot.
Like the new i30, the G70 will bear strong hallmarks of the Australian contribution to its development. We won't make cars here anymore, but we increasingly shape cars. Local tuning programmes combine Australian engineering smarts with the unique challenges our conditions pose for car design. Local tuning delivers an advantage in the Australian market – it can make a good 'world car' feel great, properly attuned to our roads – but more critically, it sends the important lessons learned on our tough, varied roads, back to headquarters, baking Australian know-how into global products. Local tuning work, like that being done by Wong's team, is the next era of the Australian car industry. That's something to be proud of.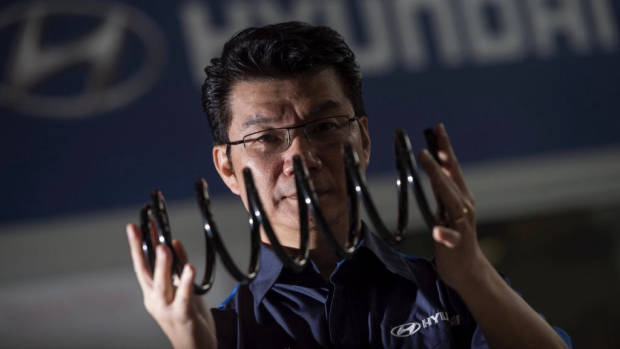 Header image: Thomas Wielecki.