Because vehicles are so costly to develop and fully replace, nearly all cars receive at least one facelift during their lifespan – but normally, facelifts are pretty superficial. That's not the case for the updated 2024 Hyundai Sonata N Line sedan, which lands in Australia this month.
Dramatically restyled at the front end and inside, the 2024 Sonata retains much of the turbocharged mechanical package of the pre-facelift car but with what we see as a substantial uplift in perceived expense.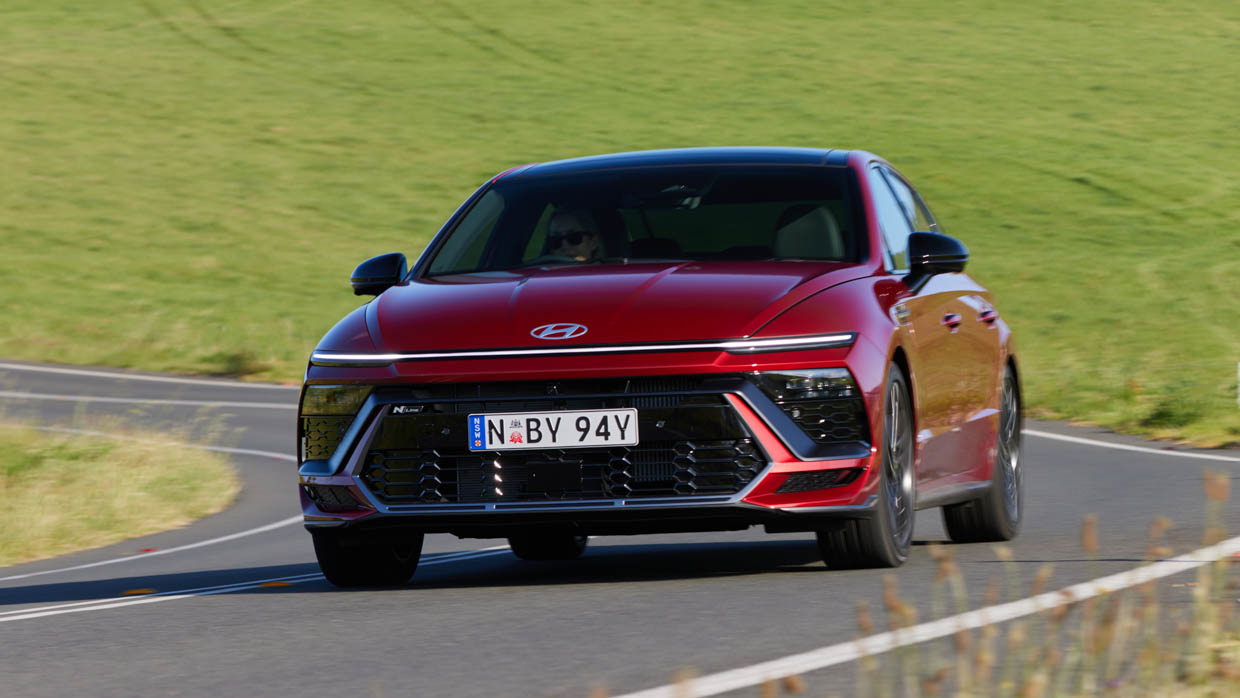 The price of the single-variant Sonata N Line has increased (by $3435 to $55,500 before on-road costs), but there's a long list of added features, and the upgraded presentation featuring more sophisticated lighting accounts for some of the new premium.
With the facelifted Sonata now landing in Australian Hyundai dealerships, we tested two examples of the 2024 sedan in Sydney and regional New South Wales over a number of days. This process included independent performance and braking testing at the Chasing Cars test track.
What is the Hyundai Sonata?
The Sonata is Hyundai's midsize sedan. Once the most-sold vehicle in South Korea, its popularity in its home market has gently waned but it remains an extremely important model for the brand in markets that favour sedans, including the United States.
In South Korea, the Sonata sits beneath a larger and more premium Grandeur model that was evaluated by Hyundai Australia but was determined not to be an appropriate fit. Locally, the Sonata is the last stop in petrol-powered Hyundai sedans before jumping to the Genesis G70 2.0T (from $63,000).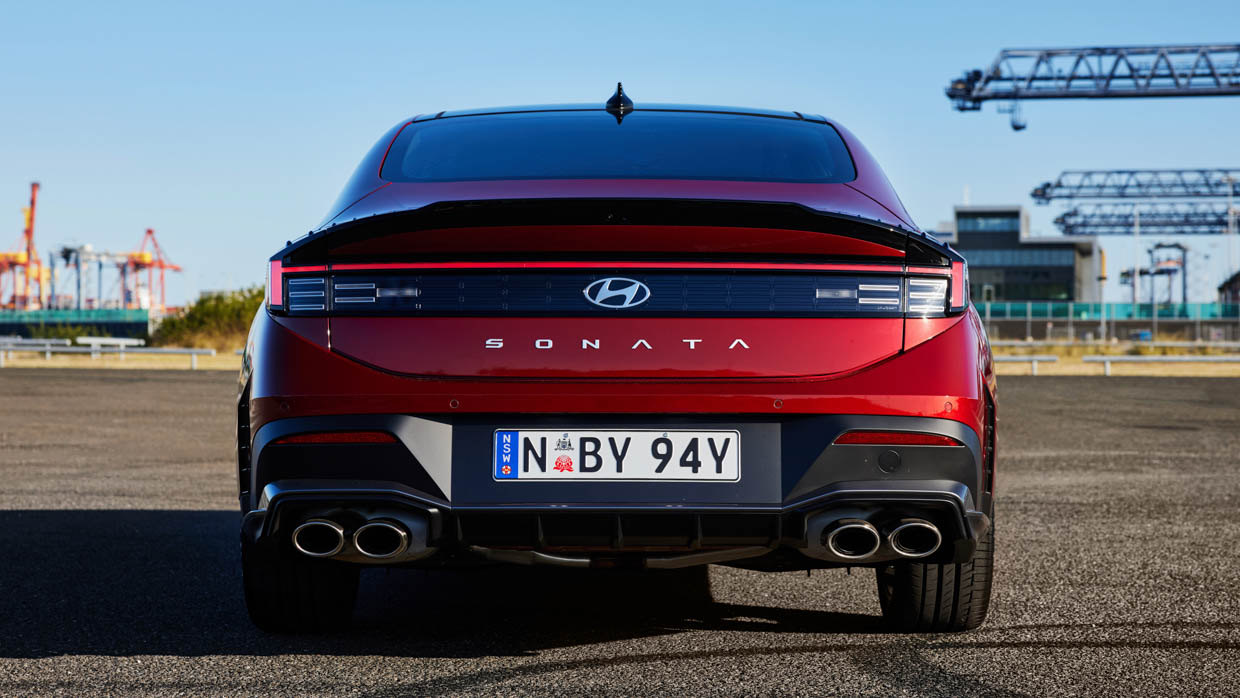 A close alternative to the Sonata in the local Hyundai lineup is the fully-electric Ioniq 6, which eschews combustion engines for rear-wheel drive (RWD) or all-wheel drive (AWD) with up to 614km claimed driving range.
In Australia, sedans are a low-selling segment with the notable exceptions of the Tesla Model 3 (10,877 deliveries in 2022) and the Toyota Camry (9538 deliveries in 2022). By comparison, Hyundai delivered 536 examples of the Sonata last year.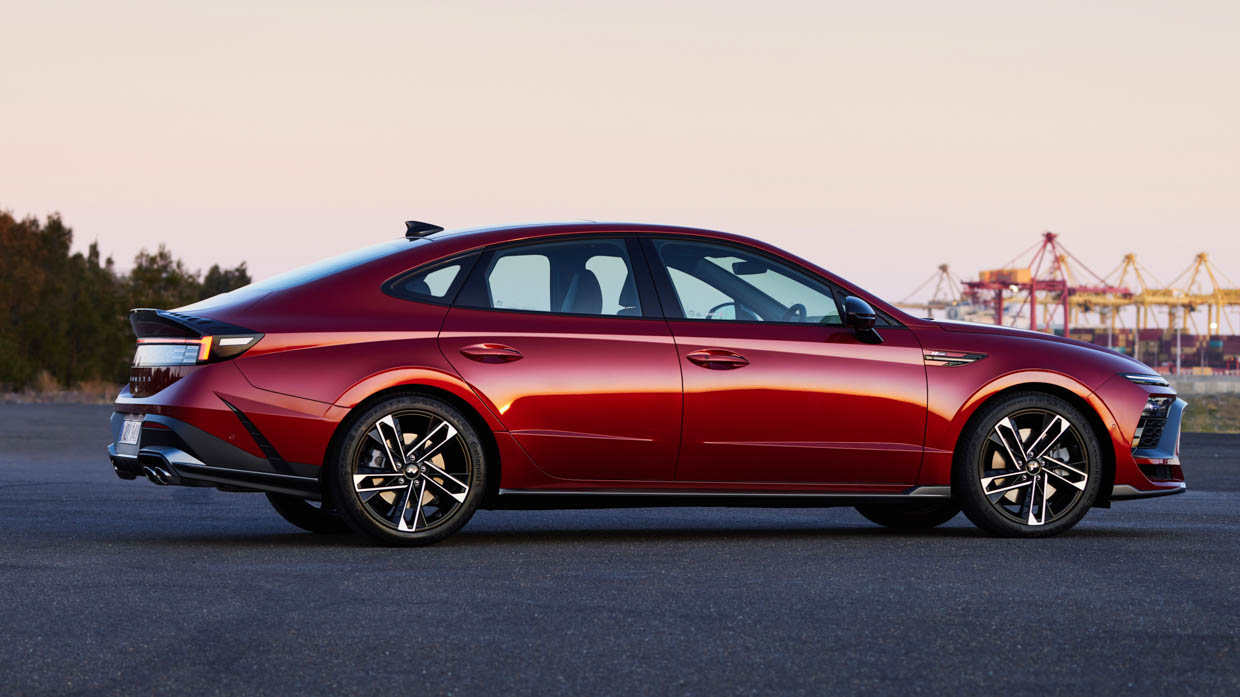 But high sales volume isn't the target for the Sonata locally, senior Hyundai Australia executives told Chasing Cars. Instead, the Sonata is considered an important model deserving of respect due to its 34-year heritage on the Australian market.
Plus, the pre-facelift version of this eighth-generation Sonata outsold Hyundai product planning expectations, guaranteeing that the facelifted sedan would be sold locally.
What are the changes for the 2024 Sonata?
The most obvious changes for the 2024 Sonata are aesthetic. The previous version's wide-eyed headlights, which incorporated a novel upswing that faded to chrome detailing, have been abandoned in favour of a more minimal and lower-set design.
A remarkably low bonnet sweeps down to the Sonata's 'robocop'-style visage that places adaptive LED headlights beneath a full-width 'horizon' light bar. The Hyundai logo is now two-dimensional.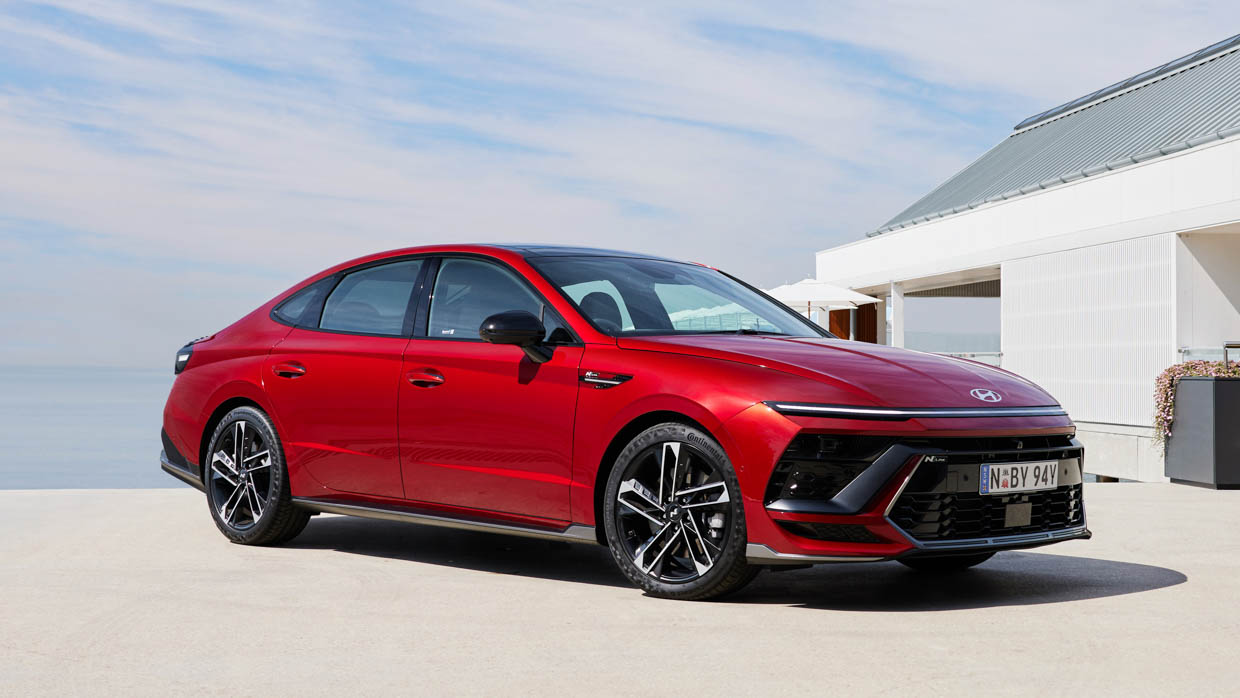 The same badge treatment features at the rear, where the aesthetic changes are not as severe. The tail lights have been restyled and are now joined by a contrasting black panel. Quad tailpipe outlets have changed form from trapezoidal to oval.
Inside, the entire dashboard has been replaced. It now bears stronger resemblance to the instrument panels of the unrelated Ioniq 6 EV. An unusual change is the relocation of the automatic transmission selector to the column, as in Hyundai's electric models.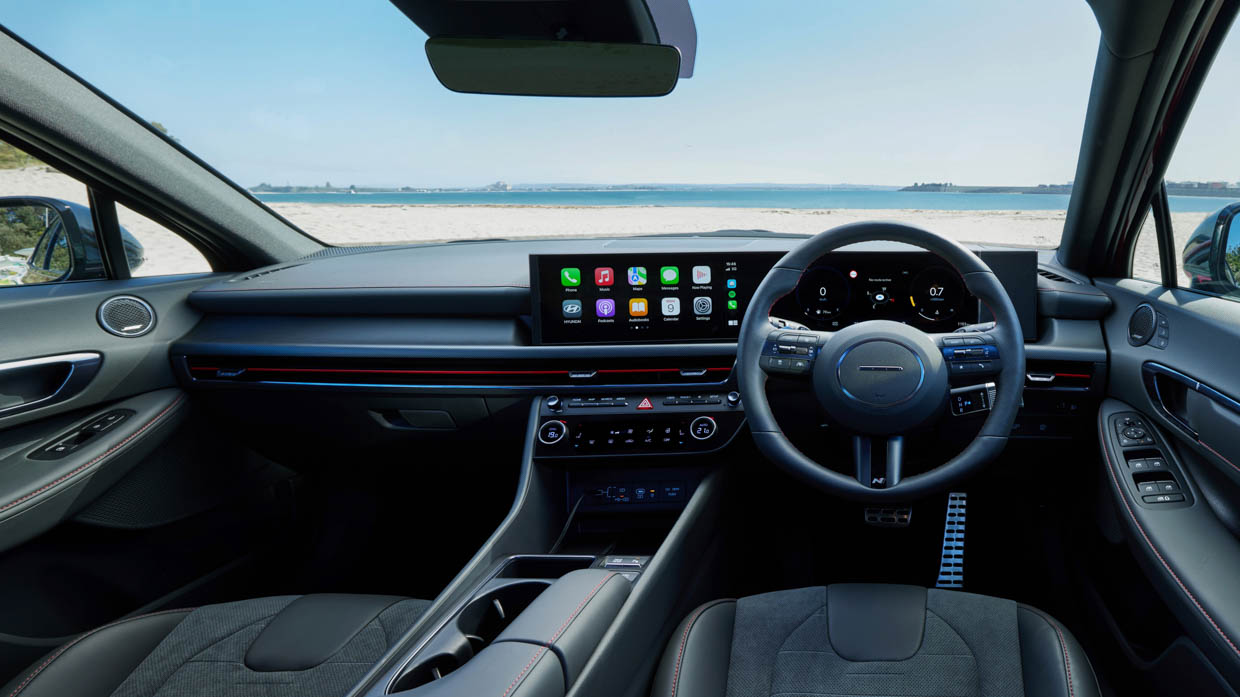 Twin 12.3-inch displays run Hyundai's new CC&C infotainment system; the hardware is capable of wireless Apple CarPlay and wireless Android Auto, but these features have not yet been switched on. A future software update will likely add this capability.
Other additions for for 2024 include:
Redesigned five-spoke, 19-inch alloy wheels
Over-the-air update capability
Hyundai Bluelink connectivity (five-year subscription)
New three-spoke steering wheel design
Separate 6.6-inch climate touchscreen
Larger 10-inch heads-up display
New chassis reinforcements
Revised subframe bushes and rear trailing arm design
Reversing AEB
Motorcycle and scooter detection for forward collision warning
Intelligent speed limit assist
New colours: ultimate red, biophilic ink, and aero silver (matte)
There have been no changes to the Sonata's 2.5-litre turbocharged petrol four-cylinder engine for 2024. It continues to provide 213kW of power at 5800rpm and 422Nm of torque between 1650-4000rpm.
The Sonata continues to be front-wheel drive (FWD) only, and it uses the same eight-speed, wet dual-clutch automatic transmission as the brand's i30 N hot hatch.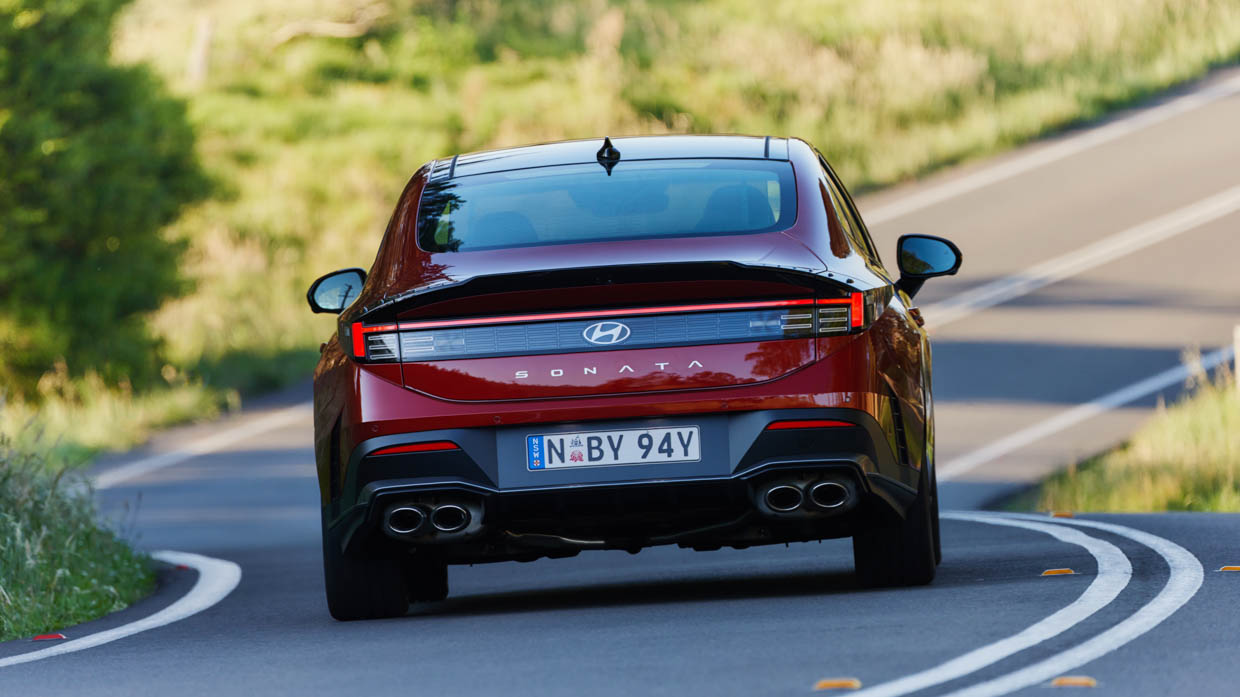 Other Sonata varieties, such as a hybrid model, are sold overseas but this powertrain was not available to the Australian arm.
A luxury grade with additional brightwork and a light interior was available to local planners, but the decision was made to retain the Sonata only in athletically-styled N Line form.
What features are standard and optional on the 2024 Sonata?
Sold only in N Line form, the 2024 Hyundai Sonata costs $55,500 before on-road costs in Australia, or about $60,400 driveaway in New South Wales.
In addition to the new features for 2024 noted above, the Sonata includes the following standard equipment items:
Dual-projector LED headlights
Double-laminated acoustic front/front side window glass
Panoramic opening sunroof
Quad exhaust pipes
Dual 12.3-inch infotainment displays
Satellite navigation
Apple CarPlay & Android Auto (wired for now, wireless coming soon)
Bose stereo
Wireless smartphone charger
Nappa leather and suede seat upholstery
Heated and cooled front seats
12-way electrically-adjustable driver's seat with massage function and memory
Four-way electrically-adjustable front passenger seat
Heated steering wheel
Interior ambient lighting
Power rear sunshade and manual rear side sunshades
Heated rear seats
Active sound design modes
Adjustable launch control
Power boot lid
360-degree parking camera
The only options relate to paint colours:
Premium paint ($595): nocturne grey metallic, ultimate red metallic, biophilic ink mica, abyss black mica
Matte paint ($1000): aero silver
The standard, no-cost paint colour is serenity white mica, as seen in our 2024 Sonata video review.
What is the Sonata's interior like?
The 2024 upgrades have improved what was already one of Hyundai's highest-quality interiors. After the recent alterations, the Sonata is only a couple of degrees off a Genesis G70 in terms of its cabin materials.
There are some giveaways that you are not in a luxury car – such as a lack of richer materials like genuine metals or woods – but the Sonata is not priced like a premium vehicle.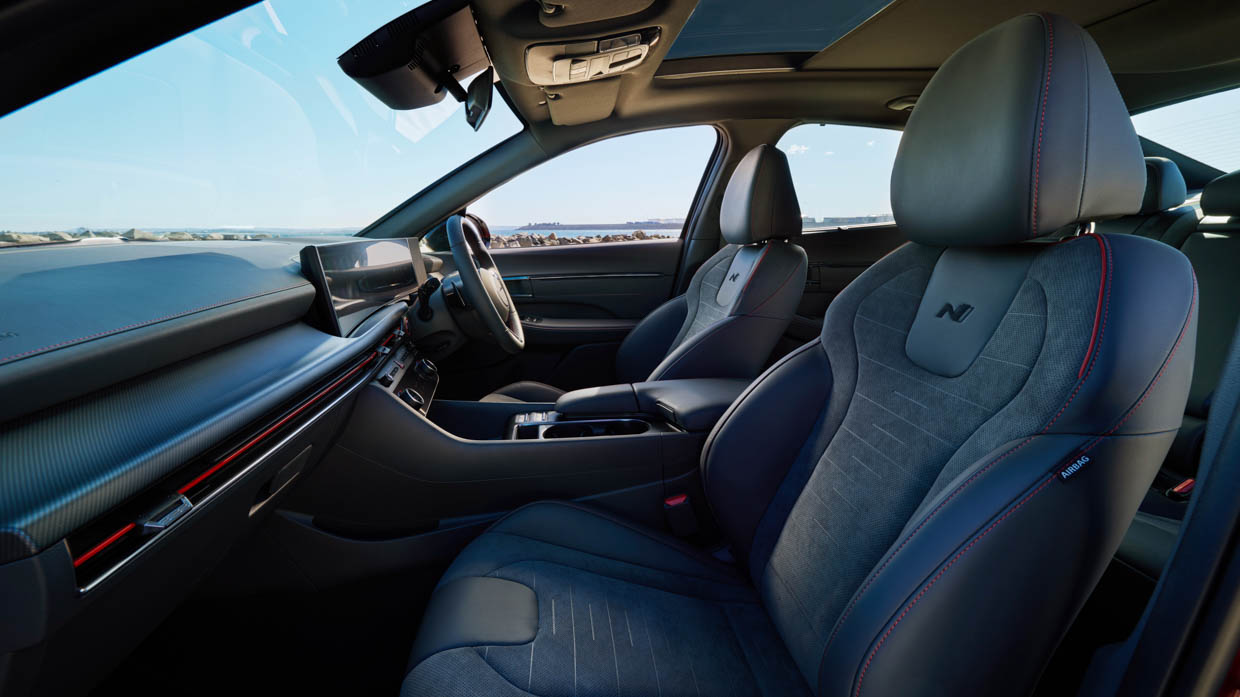 Because the Sonata is only sold in Australia as an N Line, its exterior and interior are subtly athletic rather than overtly sporting. If you want a harder-edged interior with fewer frills – but higher performance overall – the $50,200 i30 Sedan N would be a better fit.
The Sonata tries to walk the line between feeling sporty and luxurious at the same time, and it mostly succeeds.
For our tastes, the interior is a bit dark, dominated by its charcoal-coloured nappa leather and seats and black headliner. Some red highlights do brighten up parts of the cabin.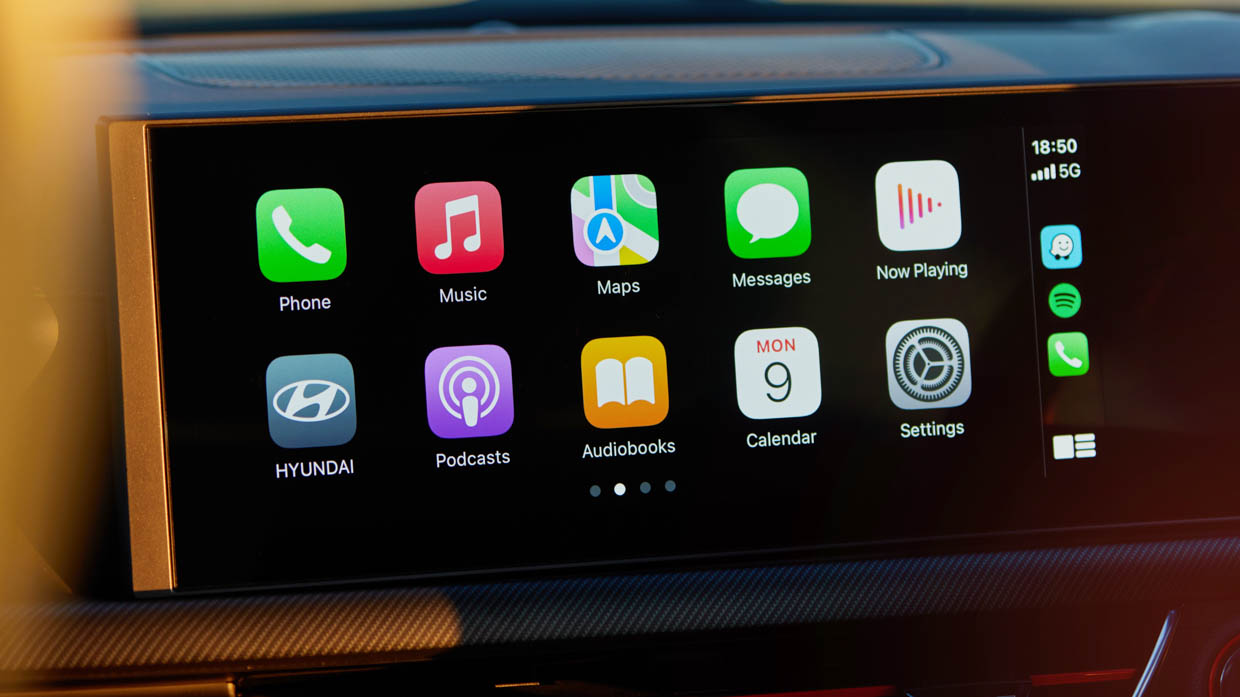 Overseas, Hyundai sells less sporty and more luxurious versions of the Sonata with beige or grey interior colour options.
The front seats themselves are comfortable and supportive, and standard seat cooling is a saving grace for Australia given how warm black-coloured interiors become in summer.
But while the Sonata N Line driver is lavished with seat massaging, adjustable lumbar and side bolsters plus a full range of seat adjustments, the front passenger is very much a second class citizen.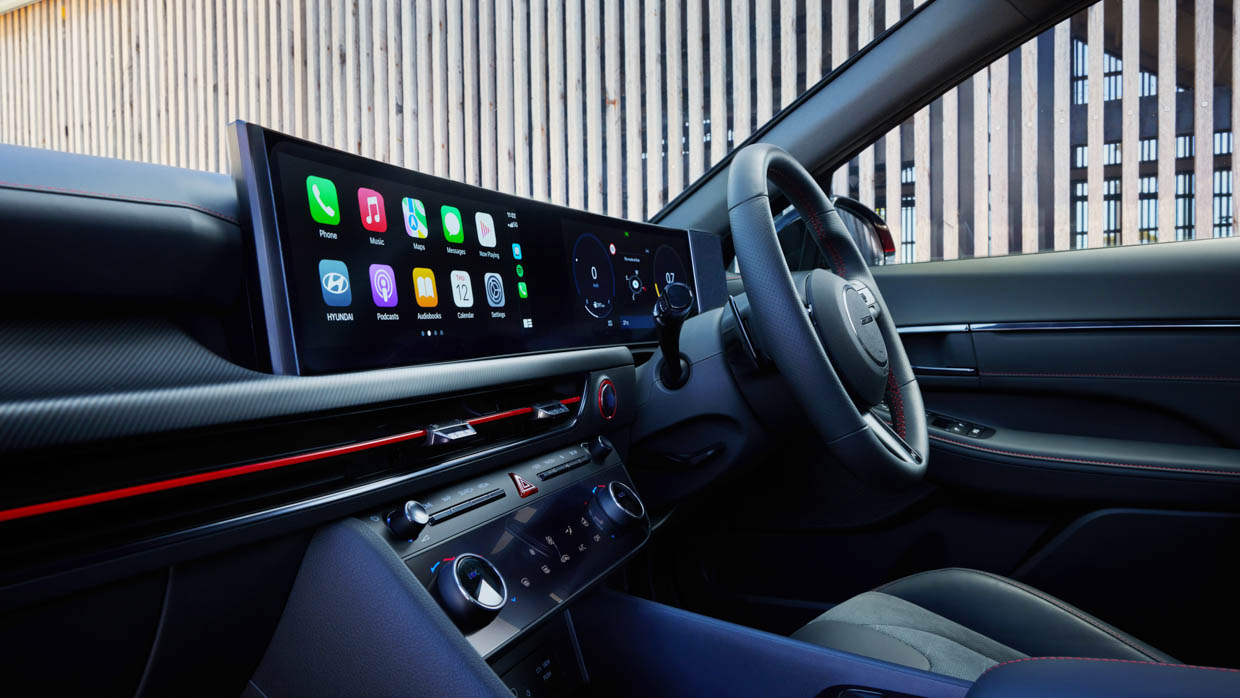 In a rare noticeable example of cost minimisation, the Sonata's passenger seat has only the most basic fore/aft slide and backrest power adjustments. The lack of lumbar support became noticeable from the passenger seat over our test.
For the driver, ergonomics are generally reasonable, and there is plaienty of adjustment in the restyled leather steering wheel.
Interacting with the Sonata's upgraded infotainment system is relatively easy. You don't get a rotary controller, as in the Mazda 6, but the central touchscreen is big, bright and the redesigned software package is intuitive with mature graphics.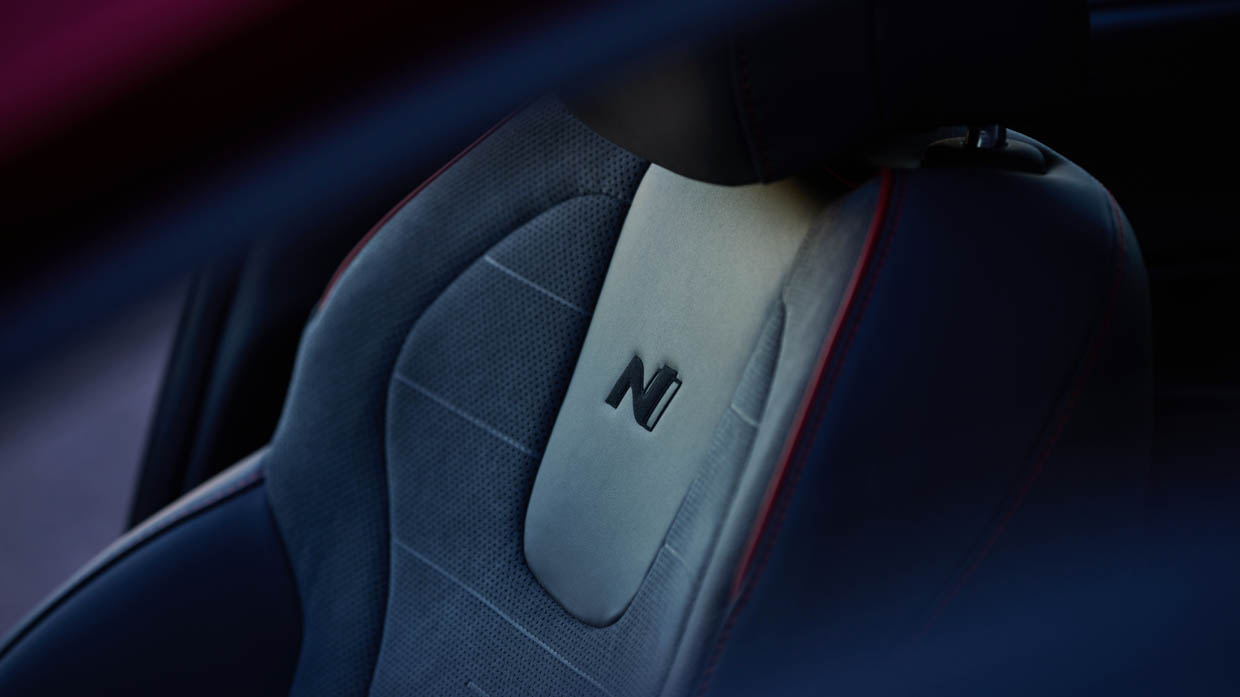 The digital driver's display still lacks customisability, with the Skoda Octavia (the 2022 Chasing Cars Car of the Year) remaining the benchmark for infotainment inclusions in this segment.
Possibly the most impressive faucet of the Sonata's interior is the extent of premium materials, which outflank most of this brand's other models. Soft-touch plastics dominate most secondary surfaces including even the rear doors.
Also noticeable is the amount of space, which rivals midsize and even some large two-row SUVs. Four adults are comfortable in the Sonata – including those in the back seats, which feature air vents, USB-C ports and sunshades on all sides.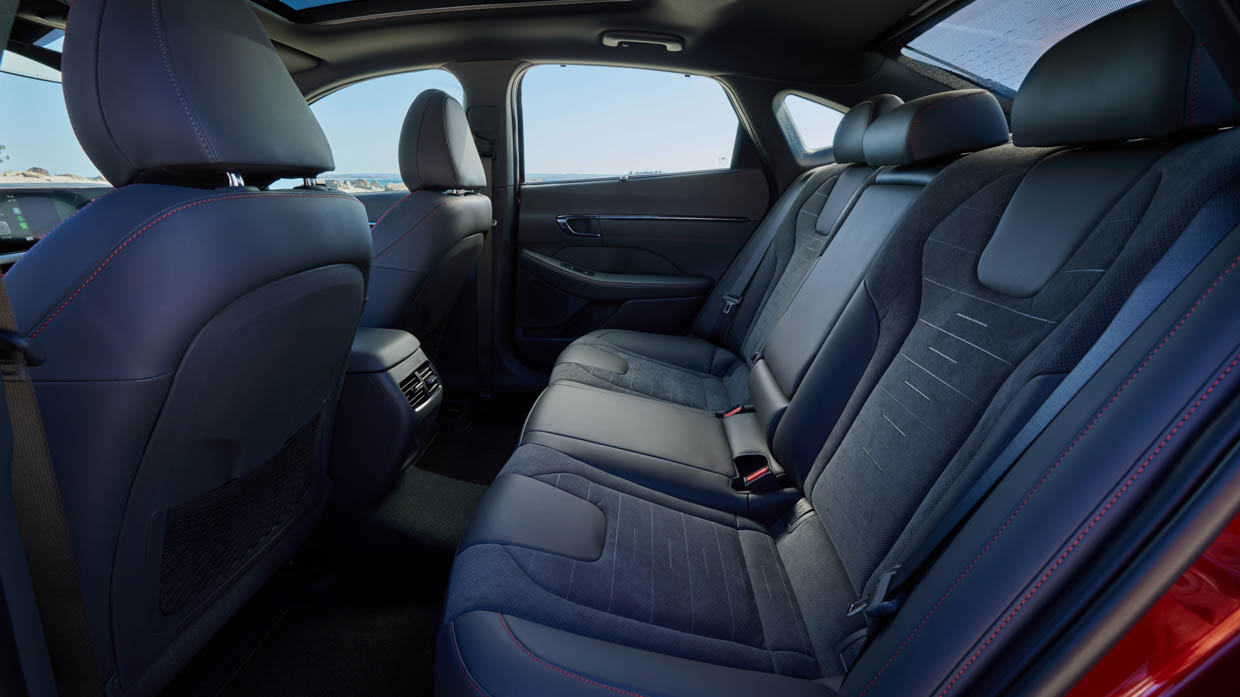 Being a sedan, clearly the Sonata lacks the big-boot practicality of SUVs, or competing station wagons like the Mazda 6 and Skoda Octavia, though the 480-litre cargo capacity is reasonable.
A space-saver spare wheel is included beneath the boot floor.
What is the Sonata like to drive?
Much like the exterior and interior concept, the driving dynamics of the Sonata N Line have been tuned in an attempt to blend a bit of luxury with a bit of sportiness.
In that mission, the 2024 version mostly succeeds, though the Sonata ultimately trails an adaptively-damped Skoda Octavia RS in terms of striking the best balance of ride and handling in the segment.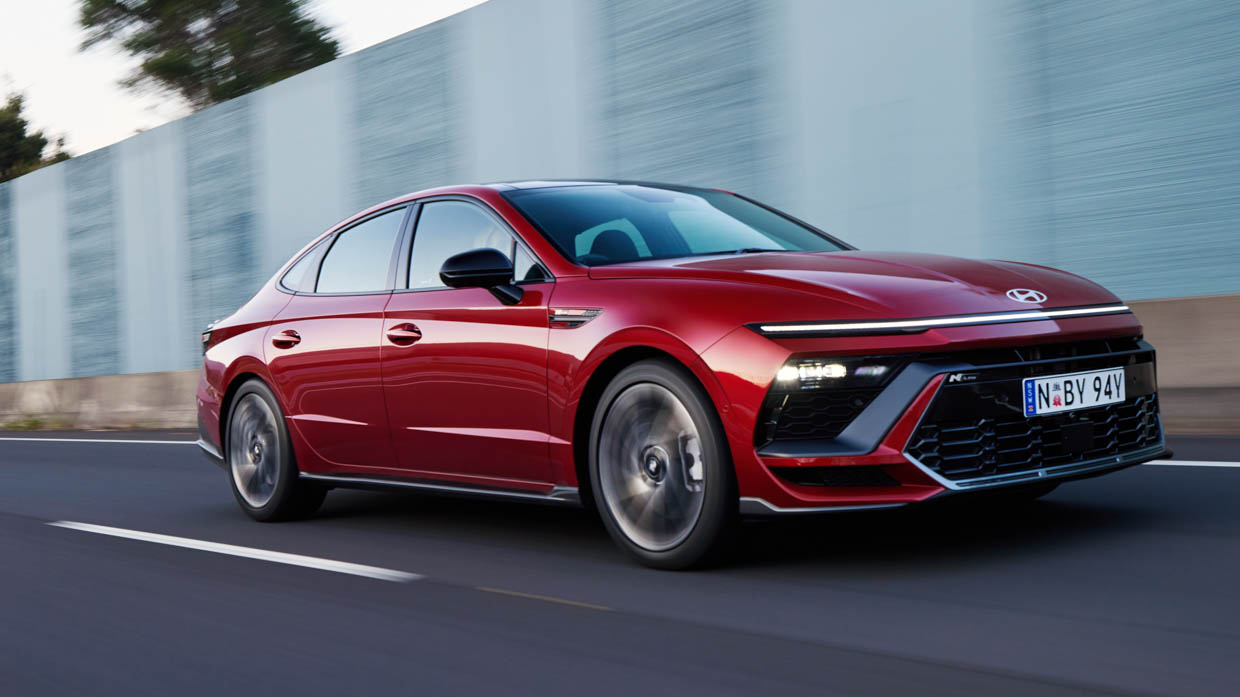 Aside from a few minor chassis alterations, the mechanical package of this sedan did not change alongside the facelift. In our view, the suspension would have benefitted from more attention.
The Sonata's ride quality is reasonably comfortable but there is a stiff edge that doesn't quite suit the grand-tourer character of this big sedan. Some fizziness in the ride hasn't quite been dialled out.
Unlike the slightly cheaper (and sportier) i30 Sedan N – or the Octavia – the Sonata doesn't benefit from adaptive dampers, so you can't soften or stiffen the ride at will.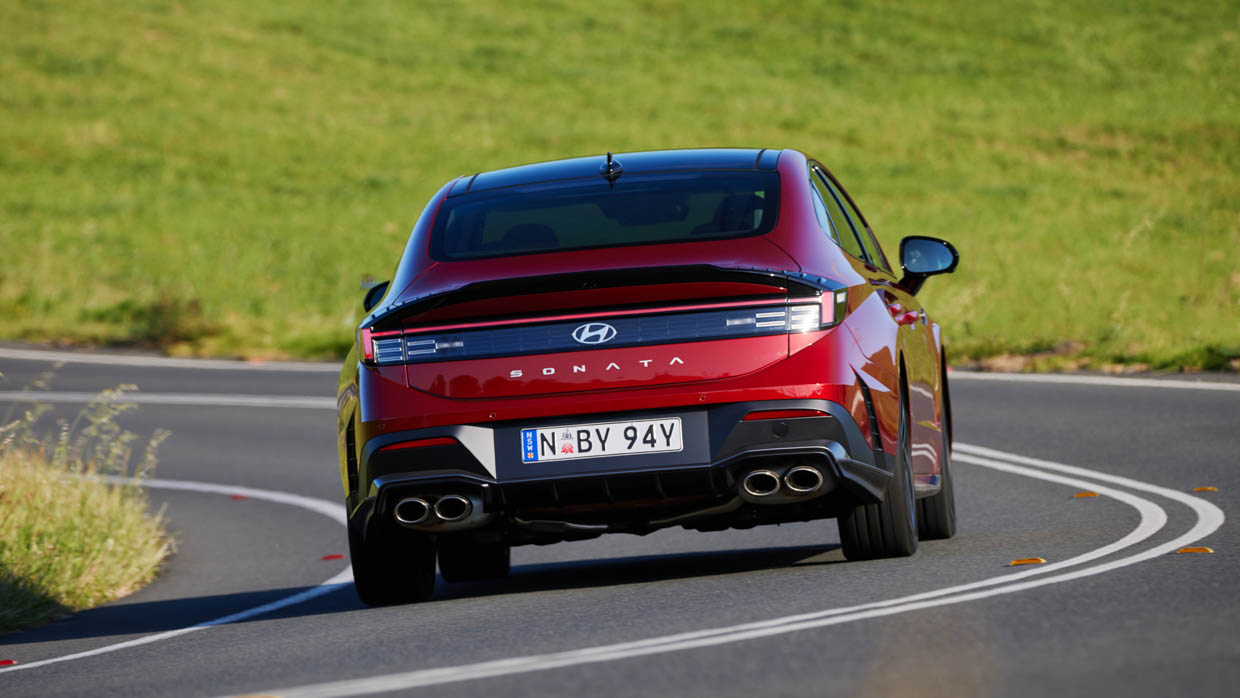 Still, it's not a dealbreaker and given the athletic pretense of the Sonata N Line, quite a few buyers will prefer more road feel rather than less.
While the suspension isn't as resolved as we'd like, the handling is well-sorted. Despite its relatively large 2.5-litre engine and its FWD nature, the Sonata has a zealous and enthusiastic nature in the corners.
Grip levels from the Continental tyres are high and fairly quick steering means the Sonata darts towards the bend of an apex with a neutral balance much of the time.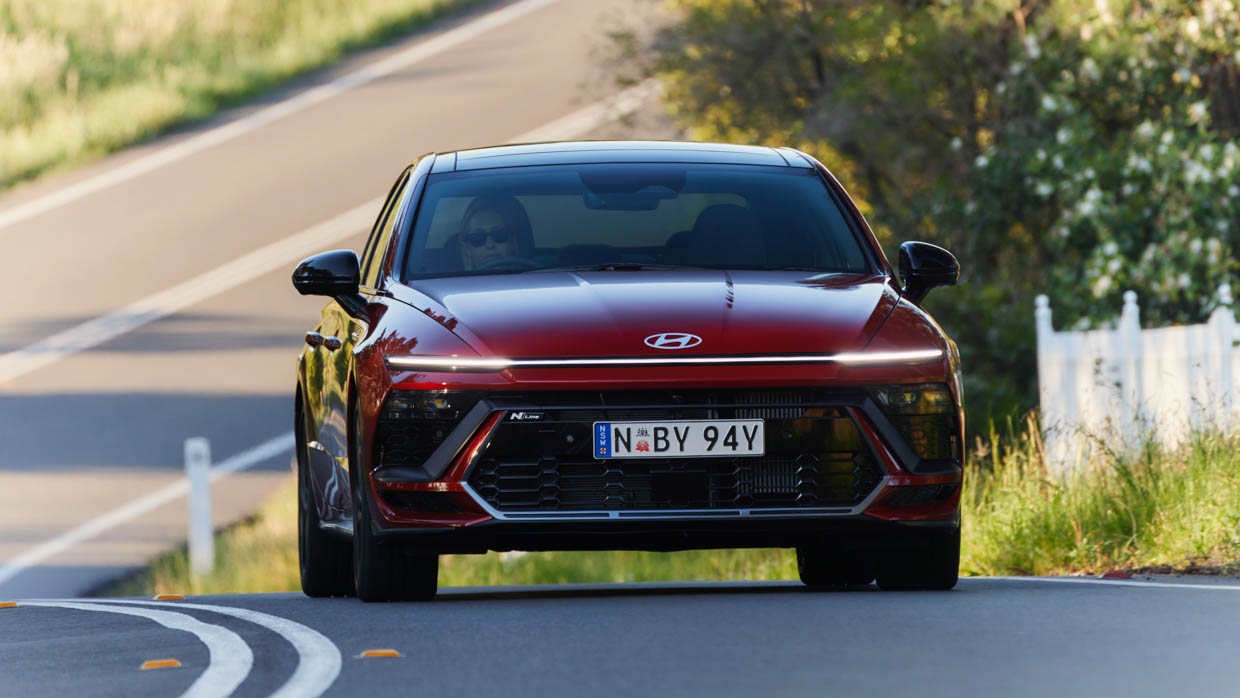 There is only one real shortcoming with the handling, and that's the lack of a limited-slip differential (LSD) on the front axle – again, it's a feature both the i30 Sedan N and the Octavia RS pack.
An LSD allows drive to be apportioned to the wheel with available grip. The lack of one becomes apparent especially in cars with a lot of torque when you accelerate out of corners and spin up the unladen wheel. The Sonata, which packs 422Nm, is such a car.
When it comes to the powertrain, the Hyundai is more than adequate at this price. Hailing from the 'Smartstream' family of engines, the 2.5-litre turbo petrol four-cylinder used here offers good performance and refinement.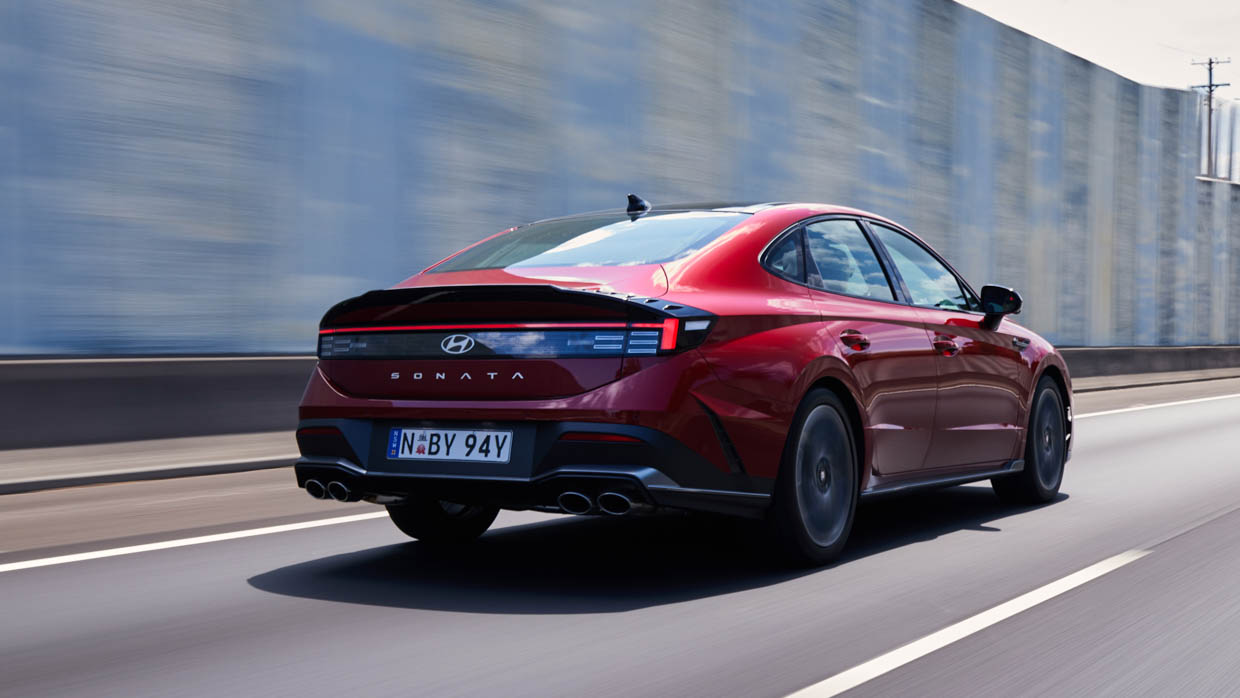 It is well-matched to the heavy duty, wet dual-clutch automatic transmission, which shifts promptly through its eight forward gears while avoiding most roll characteristics of dual-clutch transmissions.
Chasing Cars conducted independent performance testing of the 2024 Hyundai Sonata N Line at our test track. Here are our results:
2024 Hyundai Sonata: 0-100km/h acceleration tests
| | |
| --- | --- |
| Best time | 6.01 seconds |
| Run 1 | 6.03 seconds |
| Run 2 | 6.01 seconds |
| Run 3 | 6.23 seconds |
Here's how the Sonata's acceleration compares to close rivals in our independent testing:
2024 Hyundai Sonata N Line: 6.01 seconds (25º, dry)
2023 Skoda Octavia RS sedan: 6.06 seconds (20ºC, dry)
2023 Hyundai Ioniq 6 Dynamiq RWD: 6.51 seconds (24º, dry)
2023 Hyundai i30 Sedan N Premium manual: 6.71 seconds (20ºC, dry)
2022 Peugeot 508 GT wagon: 7.65 seconds (24º, dry)
2022 Toyota Camry SX hybrid: 7.77 seconds (17ºC, dry)
While testing the Sonata's acceleration and braking performance, we noticed that the sedan appears to protect its running gear by only allowing a small number of launch control activations in a given period.
Torque seems to be limited in first gear but the engine's performance comes on strong after the initial shift to second gear.
2024 Hyundai Sonata: 100-0km/h emergency braking tests
| | |
| --- | --- |
| Best stop | 35.31 metres |
| Run 1 | 35.31 metres |
| Run 2 | 36.29 metres |
| Run 3 | 35.32 metres |
And here's how the Sonata N Line's braking performance compares to the same rivals from above:
2023 Hyundai i30 Sedan N Premium manual: 32.71 metres (20ºC, dry)
2023 Skoda Octavia RS sedan: 34.28 metres (20º, dry)
2023 Hyundai Ioniq 6 Dynamiq RWD: 35.19 metres (24º, dry)
2024 Hyundai Sonata N Line: 35.31 metres (25º, dry)
2022 Peugeot 508 GT wagon: 37.17 metres (24º, dry)
2022 Toyota Camry SX hybrid: 37.51 metres (17º, dry)
Quantitatively, the Sonata's braking is about average for the class – but it is worth noting that these stops are generally better than an equivalent SUV due to lighter weight.
Is the Sonata a safe car?
The Sonata is unusual in that it does not possess a five-star safety rating from ANCAP. The reason for this is that the Sonata did not have a centre airbag when it launched.
ANCAP has not tested the Sonata and it remains officially 'unrated' for safety in Australia.
Hyundai sells a large number of Sonata units in the United States. The local testing body there, IIHS, rated the Sonata as a 'top safety pick', which is the second highest overall rating.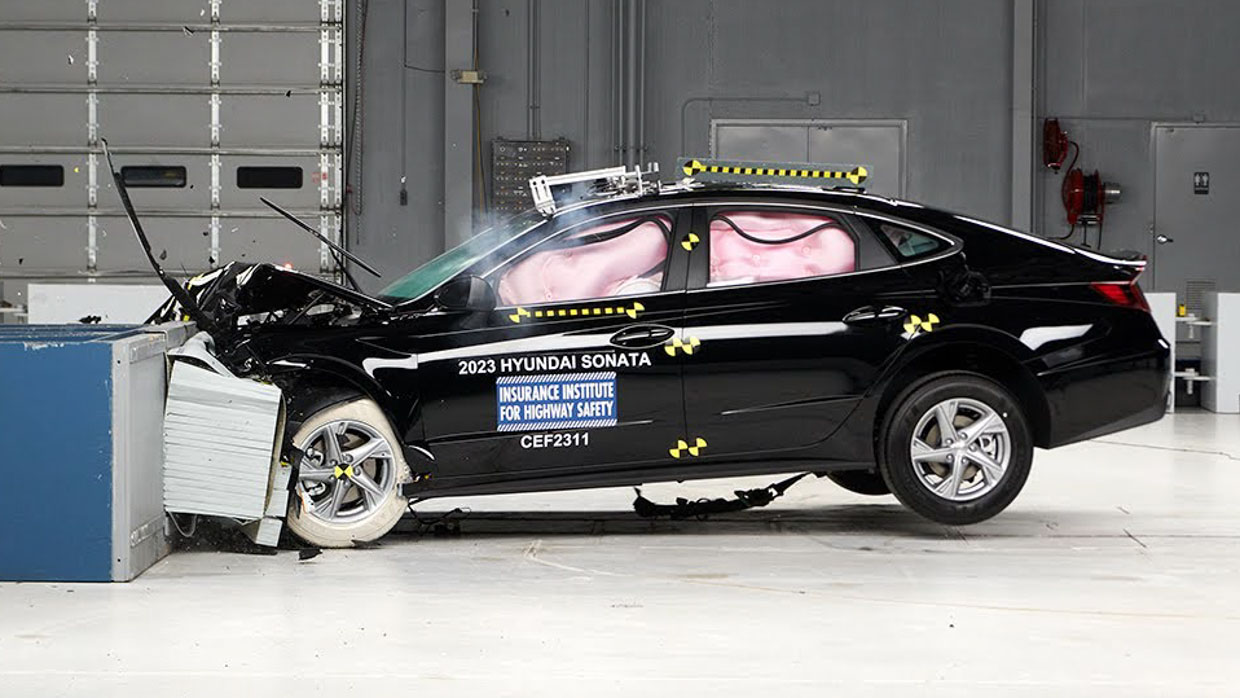 Tests of the US-built, US-market Sonata, which differs only slightly to the Korean-built version, yielded mostly good results except for a poor rating for the moderate overlap front test and an average side impact result.
Those tests may not be entirely relevant to the Australian car, which remains officially unrated locally.
What are the Sonata's running costs?
A result of the Sonata using a powerful turbocharged petrol engine is that its fuel economy is on the thirstier side in town – expect 10-12L/100km while commuting.
The Sonata's thirst becomes considerably more manageable on the open road. We recorded 7.0L/100km on a faster run on country roads.
At an average of 10L/100km at a petrol cost of $2.00/L, an Australian driving 15,000km annually would spend $3000 per year on fuelling the Sonata N Line.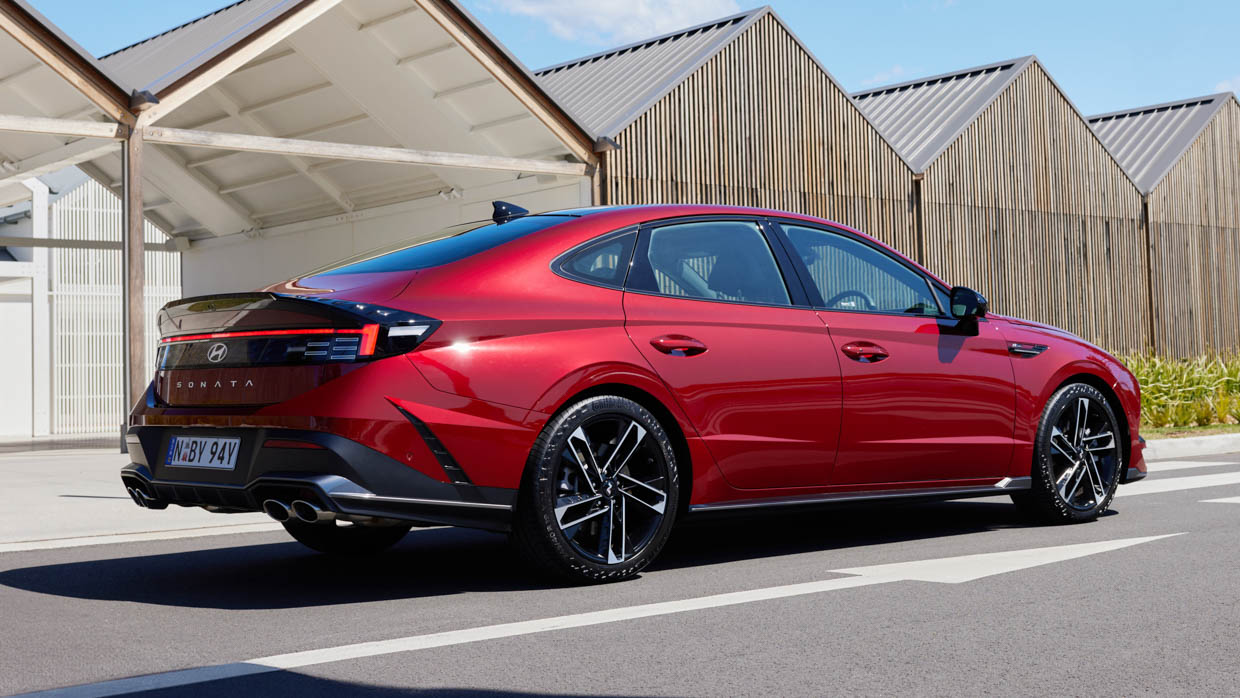 Hyundai has a new car warranty that lasts for five years with unlimited kilometres. This coverage, the industry standard, applies to the Sonata. It trails Skoda's seven year unlimited kilometre warranty in this segment.
Scheduled maintenance for the Sonata comes up every 12 months and 10,000km – a little earlier than the 15,000km intervals seen on some rivals.
Servicing is reasonably priced, though, with annual maintenance capped at $350 for the first set of five visits. That means the five year/50,000km outlay on scheduled maintenance will be $1750.
The honest verdict on the 2024 Hyundai Sonata
Like many sedans and station wagons, the Hyundai Sonata costs thousands of dollars less than an equivalent SUV model.
For Australians who don't mind eschewing a more fashionable high-rider – the savvy minority who understand the inherent benefits (and now cost savings) associated with non-SUV motoring – the Sonata is a sharp deal.
That was already true of the pre-facelift version of this eighth-generation model.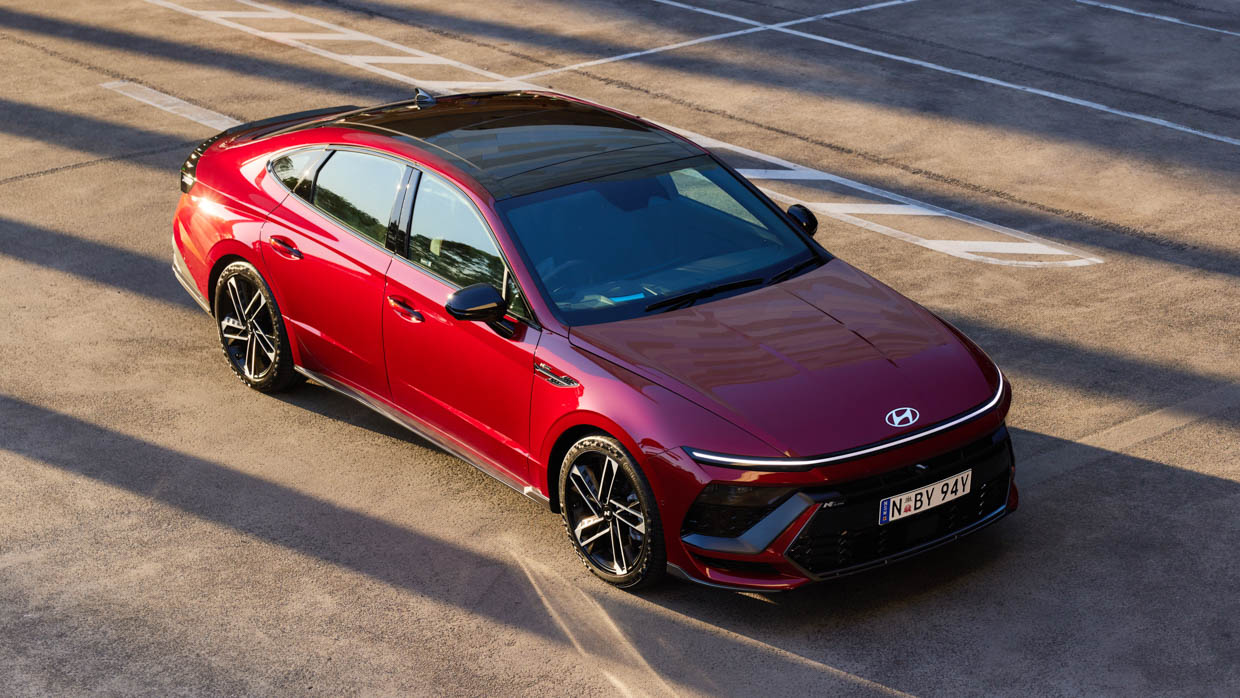 It might cost modestly more, but the substantially upgraded 2024 Sonata arguably represents even better value now, punching well into premium aesthetic and specification territory.
While the driving experience isn't quite perfect, there is no denying that the Sonata is a vast amount of car for the money. That's just one of the charms that makes it so easy to appreciate.