Australian motoring journalism holds a global reputation for toughness and detail – as well as tenaciously fought Car of the Year awards. It was with this heritage in mind that a 10-strong team from Chasing Cars embarked on our first Car of the Year award scheme, where the 20 best new-generation cars, SUVs and 4WDs from the past 12 months faced off for COTY glory.
Chasing Cars started up in a dorm room nearly a decade ago but it's taken until 2022 for us to feel ready to start an annual Car of the Year program: this is an award that needs to be done right. In our eyes, that means finding a clear overall winner rather than segment victors, though this year, a separate Electric Vehicle of the Year was also named. We expect that an EV will simply be the Car of the Year in the near future.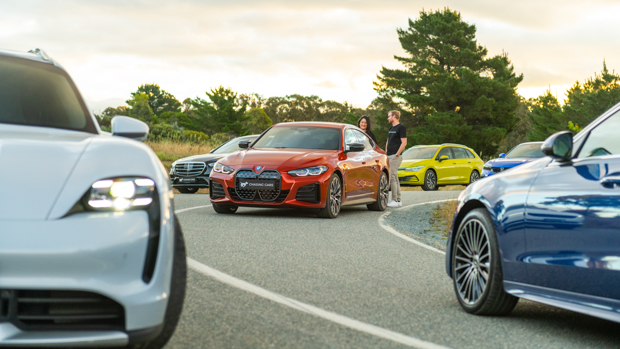 Other COTY schemes have taken place on hallowed ground in Lang Lang or the You Yangs: we've branched out and made use of the superb country roads and tough suburban terrain of the Australian Capital Territory – a relatively small but varied piece of land carved from New South Wales that contains Australia's capital, Canberra.
Sitting just inside on the Canberra side of the border is the tightly-proportioned Sutton Road proving ground, where we based much of our testing before embarking on varied loops on public bitumen. With a challenging two-kilometre road loop replicating the more haphazard country-road construction standards of the 1970s, as well as irrigated stability-control testing zones and bitumen skid pads galore, Sutton Road is a natural home for COTY.
Our April COTY occurred before conditions became excessively cold in Canberra – we were testing on classic 20-something-degree days and in the dry, aside from our sprinkler-driven artificial water creation to challenge tyre and stability-control tune alike.
A strict eligibility window saw us consider all new-generation cars launched on the Australian market between 1 April 2021 and 1 April 2022. Nearly 50 models were theoretically eligible; our four-strong judging team whittled this list down to the 20 cars with an especially strong shot at winning the COTY trophy. From that 20 cars and 39 variants were selected – an acknowledgement that some models have significant variation.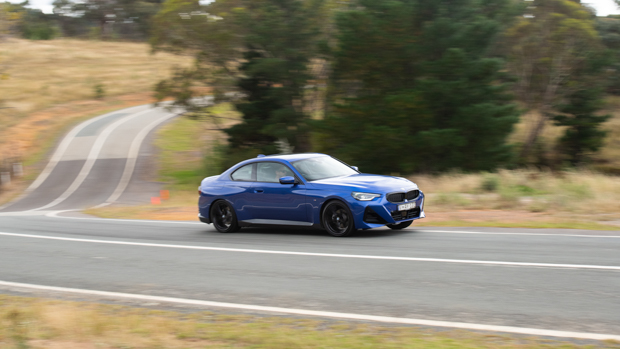 Mere facelifts and other smaller model changeovers weren't allowed – nor were all-new models with ranges that included 'dud' powertrains, inadequately tuned safety systems, or poor-value variants. And we certainly didn't waste our time with the mediocre.
Instead, the 20 cars trucked to Canberra represented a best-of-the-best, A-team list from the last 12 months – cars that have impressed our road-testing team, journalists and photographers in our experiences from the past year.
Contenders for the 2022 Chasing Cars Car of the Year
That left us with the following list of candidates for the inaugural Chasing Cars – Car of the Year:
Each of these vehicles has, in our view, moved its segment and the new-car market as a whole forward in the past 12 months – but to what degree? To be our Car of the Year, a model had to advance the car-making game, for sure, but it also had to nail a variety of other criteria.
We laid down seven categories that our judges kept strongly in mind.
Our judging criteria
1. Fitness for purpose: does the car achieve the mission for which it was engineered?
2. Intelligent packaging: are smart or novel solutions implemented in the cabin and cargo area?
3. Integration of technology: is the cabin tech easy to navigate, clean, crisp and fully-featured? Does it make life easier?
4. Able assistance of the driver: does the car have a generous suite of safety tech, and are these features tuned effectively?
5. Reward behind the wheel: does the car perform, ride, and handle in a way that engages the driver?
6. Money well spent: does this car represent good value for money, both at the time of purchase and over its lifespan?
7. Advancement of the automobile: does the car move the car industry forward?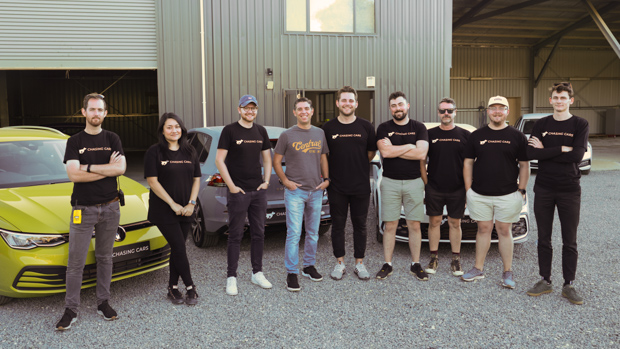 Our Car of the Year team
The entire Chasing Cars team – coordinator and fleet manager James Lisle, journalists Thomas Place and Zak Adkins, staff photographers Alek Hoskins and Kyle Riordan, and additional snappers Eddie Yabsley and Aaron Wishart – contributed to our Car of the Year, in addition to our four judges:
• Tom Baker, editor and founder of Chasing Cars
• Nathan Ponchard, deputy editor and chief judge
• John Law, journalist and road tester
• Melissa Ong, guest judge
With a controlled environment at Sutton Road and the superb roads of the Australian Capital Territory at our disposal – plus the 20 best new cars of the past 12 months – we got on with the job.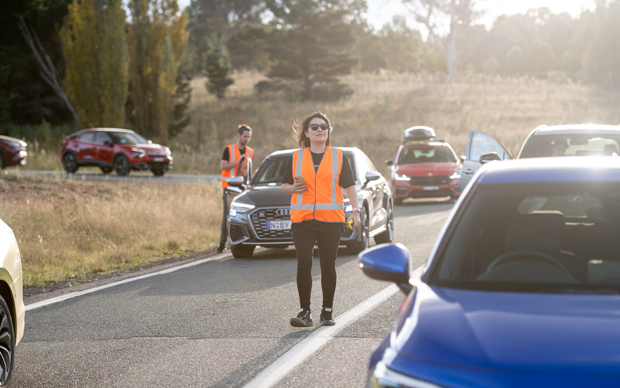 Round one: the proving ground
All 20 cars – and 39 variants – trucked to Sutton Road were subjected to scrupulous testing at the proving ground. Static testing came first: how does the car look? Is the interior spacious and ergonomic? How much can you fit in it?
These questions were answered before a wheel was turned. But once wheels began to turn on the two-kilometre test track, they flew – this was a space for us to ascertain the dynamic limits of each car, to understand suspension tunes, steering, engines and electric-motor calibration.
Twenty models entered Sutton Road but only 10 would leave for the second round of testing. No car that joined us on our first COTY was middling in any way – this was already a cream-of-the-crop test – but our judges were looking for greatness.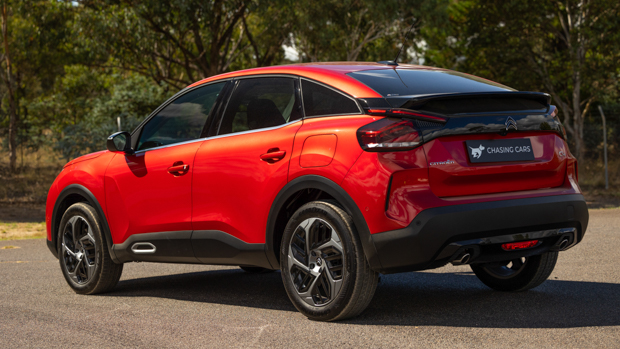 Finalist: Citroen C4 ($37,990 before on-road costs)
Pros: ride comfort, memorable styling, packaging, value.
Cons: unsporting body control, unambitious cabin tech, artificial steering.
Aside from acknowledging its unusual coupe/hatchback/SUV form factor, we'll skip the French cliches. The $37,990, single-variant Citroen C4 Shine is simply a good urban crossover, given that it achieves what most buyers want in this segment: ride comfort for use in Australian cities characterised by their broken-up pavement. When it comes to fitness for purpose, the C4 makes a strong argument.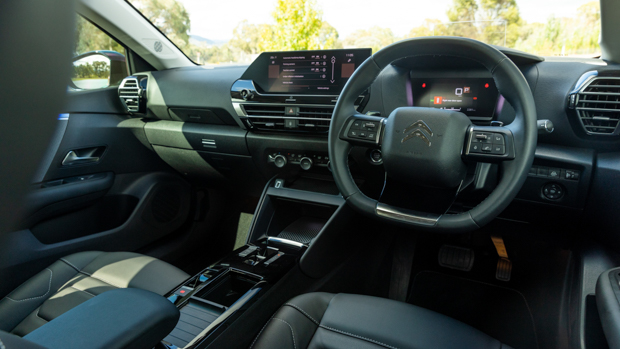 As on its launch, the C4 impressed with excellent compliance from its cushy suspension, reminiscent of Citroen ride from days gone by. The form works, too, with a decent back seat and boot, while the driver's seat is genuinely comfortable. The price is fair given the spec on board, and modern Citroens enjoy strong reliability and feel-good factor.
So, what went wrong for the C4? The plush suspension ultimately comes at the expense of body control at higher speeds – less of an issue on inner-city roads, but the Citroen can't keep up with an equivalent Mazda on a tough Australian country route. It's not particularly frugal, either, despite its modest three-cylinder petrol engine – and the cabin and safety tech feels a generation behind in both graphics and tuning.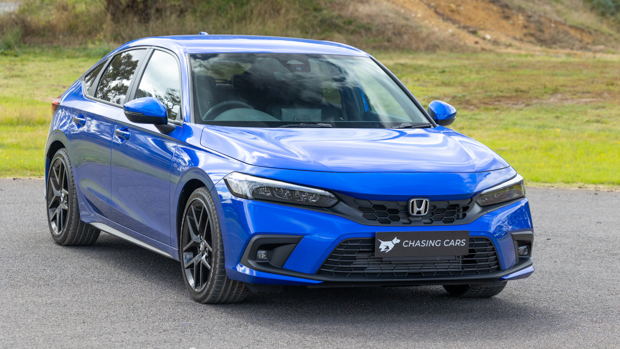 Finalist: Honda Civic ($47,200 driveaway)
Pros: Handsome design, willing turbo engine, cheap servicing, best-in-class handling.
Cons: High price, some specification deficiencies, unresolved ride quality.
Most industry observers were shocked by the single-trim Civic VTi-LX's ambitious $47,200 (driveaway) pricing on launch, especially given specification went backwards in some ways compared to the outgoing generation. You won't find leather and a sunroof here, even though the VTi-LX sits above the most expensive Mazda 3. Honda would like us to view this car as an Audi A3 rival – a car that was also present at COTY.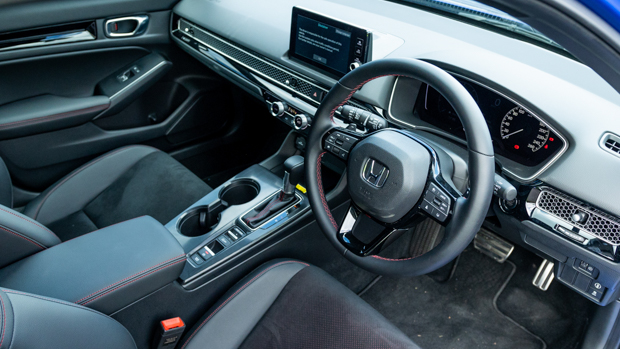 Put simply, the Civic isn't A3-grade material, but it is a sincerely sweet small car – one that packs possibly the best chassis in the segment if crisp steering and very keen handling are key virtues for you. The next Type R should be simply excellent, especially because the new Civic trades boy-racer styling for a handsome visage. The Bose stereo, spacious packaging and torquey turbo engine also scored points.
But in an era of tightening value, the Civic's price was impossible to ignore: it's a good, well-made and enjoyable car, but not quite one that can match a base-model A3 for finesse, especially when it comes to technology in the cabin – which in the Honda is merely adequate. The ride, too, is acceptable but not overtly comfortable on urban roads. Our judges lamented that the Civic was $47,200, and not $42,700 driveaway. When it comes to our money well spent criterion, the Civic is up against it.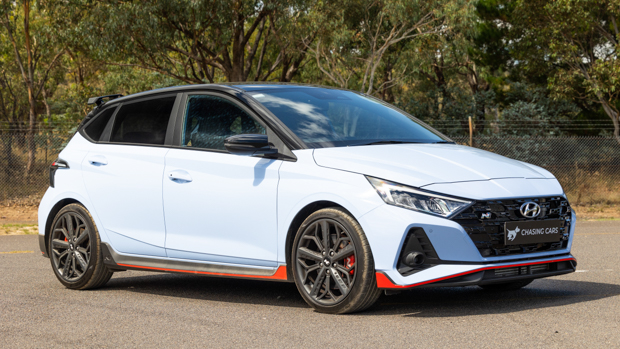 Finalist: Hyundai i20 N ($32,490 before on-road costs)
Pros: great value, feisty attitude, decent packaging, track warranty.
Cons: rev hang on upshift, abrupt ride quality, just one spec.
We love our long-term Hyundai i20 N, so it may surprise that this affordable hot hatch didn't progress beyond the first round of COTY testing. Ultimately, it comes down to the fact that the i20 N gets the affordable-hot-hatch recipe so right, but it lacks adequate bandwidth to progress beyond this (admittedly likeable) niche. As a cheap first-new-car with a turbo engine, manual gearbox and LSD, though, the i20 N makes 1.2 tonnes of sense.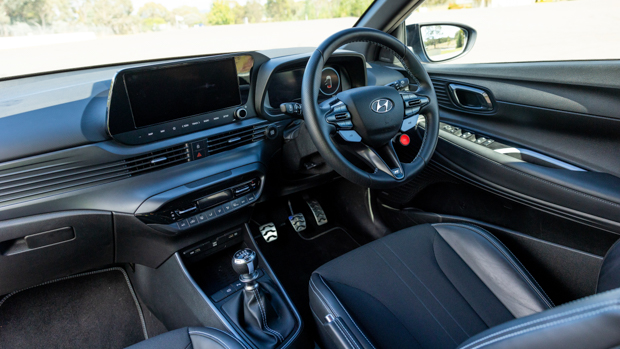 Our judges warmed quickly to the feisty nature of the i20 N: if Volkswagen's Polo GTI enjoys fencing, the i20 N is a little cage-fighter, making maximum use of its Tucson-sourced 1.6-litre turbo engine and six-speed manual 'box. Neither of these parts were developed with the cheapest N-car in mind, but Hyundai's engineers have done their best adapting them for use here, and the i20 is a quick car as a result. It's also a cheap car: in 2022, $32,490 for all this is genuine value. Little surprise the i20 N is in short supply.
There is an endearing element of 'cobbled-together' about the i20 N, and it does manage to feel like more than the sum of its Hyundai-family parts – though it doesn't quite match a Fiesta ST for hard-driven clarity. Middling steering feel and evident rev-hang in the manual are problematic here too, and it lacks the everyday usability, safety and tech of a dual-clutch automatic Polo GTI. We'd love an i20 N as a second car, but this throwback FWD hot hatch just doesn't move the game along enough for COTY glory.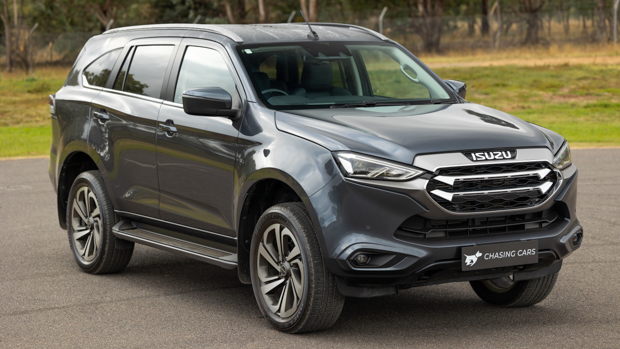 Finalist: Isuzu MU-X (from $48,900 before on-road costs)
Pros: proven engine, smart packaging, ride quality, safety credentials.
Cons: unfinished stability-control tune, missing a modern powertrain, mediocre cabin tech.
Ute-based 4WDs serve a clear purpose in Australia. Often used as beasts-of-burden for heavy towing duties, these wagons use tried-and-tested underpinnings. In the past, pragmatic but rarely desirable, the latest Isuzu MU-X has successfully challenged these preconceptions. It not only looks more sophisticated but is an altogether more modern vehicle, and one of our judges felt it had pushed the utility segment further than any other vehicle this year.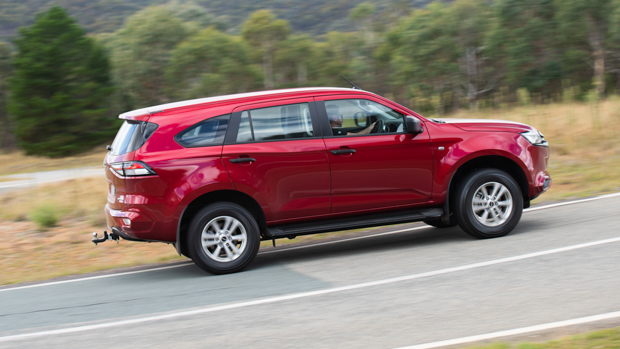 Buyers love Isuzu's proven four-cylinder diesel engine and it remains here, in upgraded and more powerful form, as a boon for reliability. Another boon is the lift to a 3500kg towing capability, matching larger 4WDs. The MU-X's interior is leaps-and-bounds beyond the last car and many rivals, with modern smartphone mirroring and far more comfortable seats. And the huge, adult-accessible third row – packaged under-floor – is implemented intelligently: MU-X had the most sincere seven-seat accommodation at COTY.
The flipside of Isuzu's retention of the diesel is that the MU-X doesn't really move its segment forward from a powertrain perspective. Some buyers will welcome the fact hybridisation is eschewed, but this is still a high-CO2 proposition. The bigger problem is that while this Isuzu's chassis is far more capable than the previous car, it's prevented from shining thanks to a completely unfinished stability-control tune that indiscriminately grabs at the brakes in country-road cornering. The low-res graphics of the touchscreen and trip computer also failed to move our judges.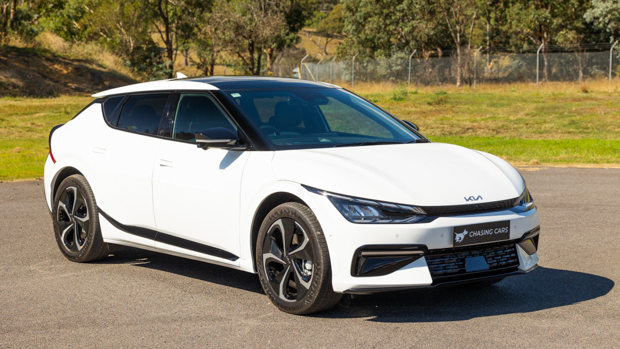 Finalist: Kia EV6 (from $67,990 before on-road costs)
Pros: suspension compliance, RWD-model chassis balance, GT-Line cabin, long warranty.
Cons: high price, cabin plastics, stodgy steering tune, scarcity.
We were enamoured by the Kia EV6's suspension compliance on the car's launch – held on the same roads used for our COTY testing. Finally, an EV that wasn't a Porsche Taycan seemed to ride properly on Australian roads at challenging speeds: no surprise the damping tune was completed here on local roads. With available rear-wheel drive or all-wheel drive, the EV6 looked promising, both on paper and in the metal. This is a dramatically-styled Kia many buyers seem to appreciate.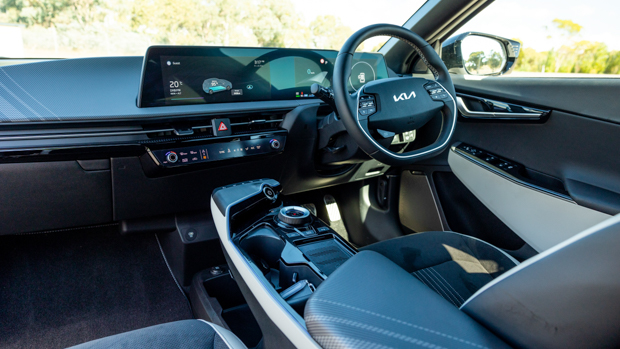 Sharing its Hyundai Ioniq 5 cousin's e-GMP platform, circa-500km range and 350kW charging architecture – limited to around 240kW in reality – the EV6 is practical for road trips, and it's a big car, too, with substantial cabin room, even if the boot isn't to the same standard. But it's really the ride quality that shines, especially at higher speeds where urban pitter-patter is dialled out. And we love the supple, not-overpowered feeling of the rear-drive models, especially the well-equipped GT-Line RWD – our pick.
COVID destroyed many opportunities in the car industry. Sadly, these included the ability for Kia Australia to give the EV6 an Australian steering tune. As a result, a stodgy steering rack borrowed from overseas makes an imperfect match to the solid suspension tune. But there's also the Kia's high price, being generally more expensive than the more avantgarde Hyundai, the extremely limited supply, and the cabin materials, which feel distinctly more $40K than $70K.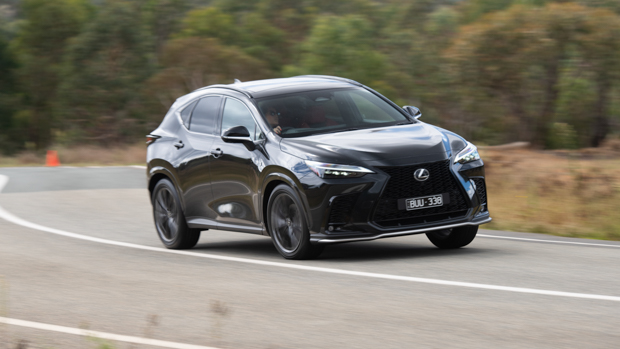 Finalist: Lexus NX (from $60,800 before on-road costs)
Pros: hybrid economy/power balance, available PHEV, level of choice.
Cons: value, doesn't feel as substantial as rivals, some surprising quality concerns.
Given the level of success found by the Toyota RAV4 with buyers and critics alike, big things were expected from its luxury counterpart – the second-generation Lexus NX. On launch, the new NX clearly demonstrated superior ride and handling to its mediocre predecessor, and the inclusion of a plug-in hybrid with 69km of electric-only range, undercutting rivals on price, seemed enlightened. But with 17 variants, the NX range was more expensive than before.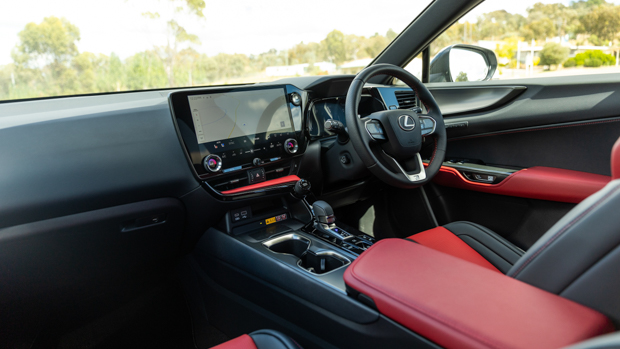 Certainly, the NX is better to drive than the old car. The hybrid engines are a standout, delivering strongly on their promise to blend power and real-world efficiency. For those more engaged with charging, the PHEV allows zero-emission weekday driving and a surprising turn of speed – though even the regular hybrid is quick enough, as is the torquey (but quite grainy) 2.4-litre turbo model.
But the NX doesn't share the hewn-from-granite feel of an Audi Q5 – not in the doors, or the cabin plastics, or the steering – and this was the first Lexus in some time where we noted rattles on more than one example. The much-maligned touchpad infotainment is gone – but while the large new touchscreen looks crisp, the software has a difficult menu structure and Australia misses out on wireless smartphone tech, for now.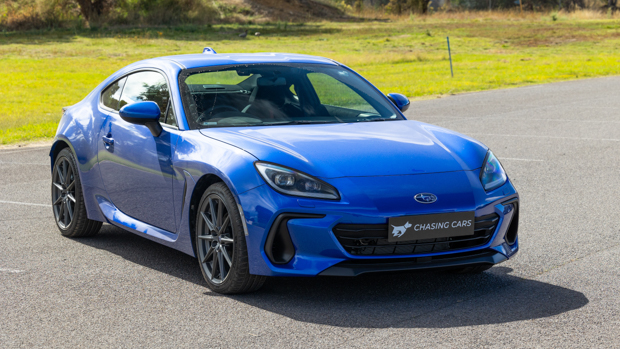 Finalist: Subaru BRZ (from $38,990 before on-road costs)
Pros: steering feel, communicative chassis, torquier engine, styling.
Cons: basic cabin tech, not efficient, no modern safety aids with manual.
Affordable, rear-wheel drive cars were once commonplace in Australia but they have become an extreme rarity aside from the Subaru BRZ – the two-door, boxer-engined twin of the Toyota GR86. The T-badged version remains at least six months from landing in Australia, so the Subaru currently has a free run among RWD motoring enthusiasts, packing a bigger 2.4-litre flat-four engine that solves the previous version's infamous torque hole.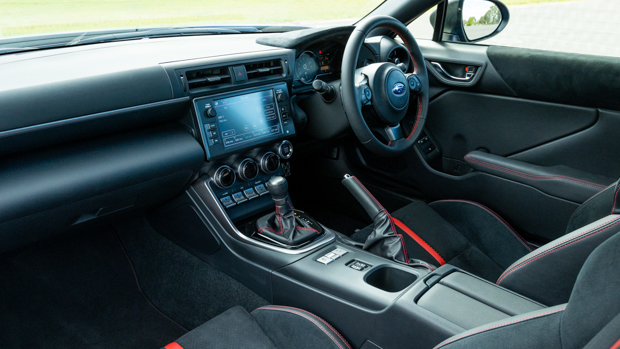 Sharing many platform components with the previous BRZ, the new-gen BRZ nonetheless represents a significant refinement of the existing recipe. It's quieter, a little more comfortable, and has more modern tech – and the interior is more liveable. Thankfully, though, the core appeal of the BRZ is retained: a feelsome, communicative chassis that combines great steering with well-tuned stability control. The fact it's quicker underfoot now only helps.
But these things were refinements of the previous car's admitted faults – they don't move the industry forward. That finding becomes more clear when you consider that, unlike the Hyundai i20 N, the BRZ is not available with any modern safety aids if you opt for a manual transmission. We get this is a sports car – but AEB is a basic expectation these days. Plus, the clutch/shift feel still isn't perfect here, and the pumped-in engine noise won't be to all tastes.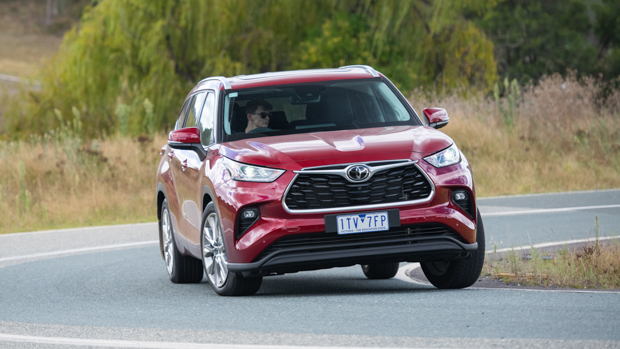 Finalist: Toyota Kluger (from $47,650 before on-road costs)
Pros: hybrid efficiency, smooth V6 engine, spaciousness, build quality.
Cons: low-rent infotainment, mute steering feel, safe styling.
Australia's favourite SUV is Toyota's midsize RAV4, especially in hybrid form – meaningToyota was smart to extend the recipe to the more practical seven-seat Kluger. In new-generation form, the Kluger is still available with a lusty petrol V6 but an economical petrol-electric powertrain is now on the menu with remarkably few compromises.
If this American-built crossover is one thing, it's big: seven adults fit and the boot offers school-bag space even with all pews in place. It's comfortable, too. The ride is soft and always compliant, and the seats are supportive and large. This is classic Toyota: the Kluger gets the job done, but more efficiently now.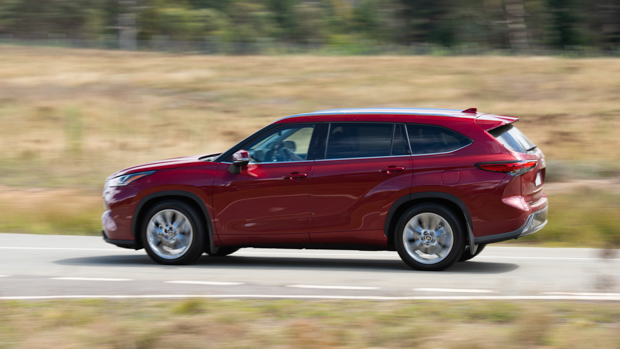 It's just a shame that some of the magic that makes the RAV4 so popular is lost here. The crisp ride and handling that surprised us so much with the smaller hybrid Toyota crossover doesn't quite make it through to the surface here; the Kluger can corner, but it's not that happy about it. The hybrid powertrain feels that much more pushed in a larger, heavier package as well. And what's with Australia getting a smaller, lower-res infotainment screen than the Americans get?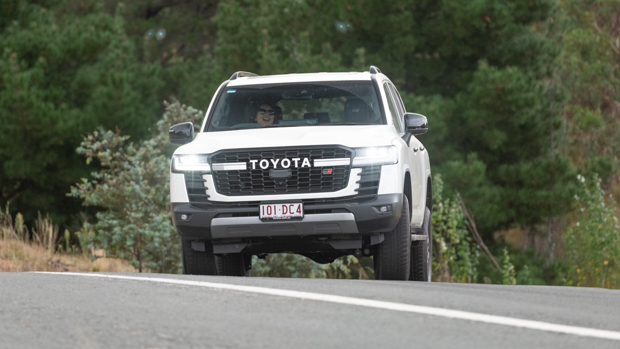 Finalist: Toyota Land Cruiser 300 Series (from $89,990 before on-road costs)
Pros: muscular V6 diesel, handling, comfort, off-road ability.
Cons: some specification deficiencies, lacks modern smartphone tech, scarcity.
Land Cruiser and Australia go hand in hand, and the much-anticipated 300 Series has generally been received well locally – for the rare buyers who can get their hands on them. Extreme scarcity amid severe production delays mean the previous-shape Land Cruiser still massively outnumbers the new car, which has swapped its V8 for a more efficient twin-turbo-diesel V6 engine encased in a similar, traditionally-styled body.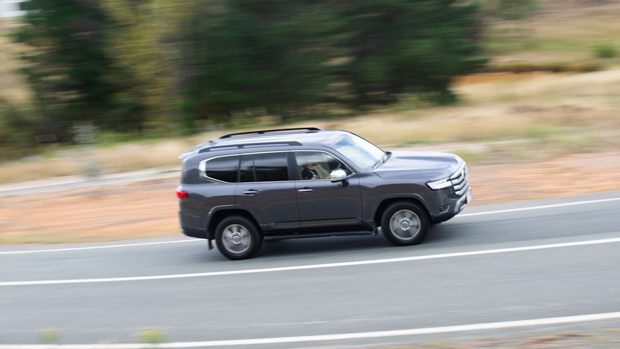 The good news is that the six-cylinder engine is a great unit. More torque than the old V8 and more efficient cooling means the LC300 scoots off the line with remarkable zeal, helped by solid tuning of the 10-speed automatic. Road driving is better now, thanks to more crisp handling and slightly firmer ride quality that reins in body control by some degree. Quality still feels sky-high, an attribute on which the Cruiser's reputation rests.
But you have to pay for the privilege – especially considering that even the mid-range VX makes do with vinyl seats and a manual tailgate. You'll be paying more than $130,000 for a luxurious-feeling Land Cruiser, especially if you are after a desirable GR Sport. That was once Lexus money. Some buyers may malign the lack of wireless smartphone tech, too; this vehicle still feels distinctively old-school on this front.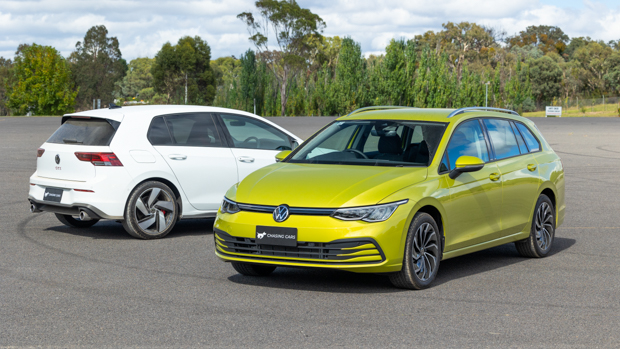 Finalist: Volkswagen Golf (from $34,690 before on-road costs)
Pros: powertrain choices, ride, handling, packaging, bank-vault quality.
Cons: higher prices, frustrating cabin tech, some spec cutbacks.
Available as a well-packaged hatch or even more practical station wagon, the Volkswagen Golf remains a mainstay of Australian motoring for a reason – this car effectively bridges the gap between the mainstream and the premium, with a distinctly German feel across the range, from the now entry-level Life to the classic GTI. The new R, with its trick rear differential, didn't arrive in time for COTY testing.
Dynamics and interior packaging continue to be the Golf's stunning selling points in its class. In Australia this model may retain older-generation engines than those used in Europe but they remain more punchy, frugal and refined than so many rivals, while the ride and handling strike an even better balance than the Mk 7.5, especially at the lower end of the range thanks to chunkier tyres. The Golf in all trims manages to be both comfortable and sporty. It's supple, great to drive, and desirable.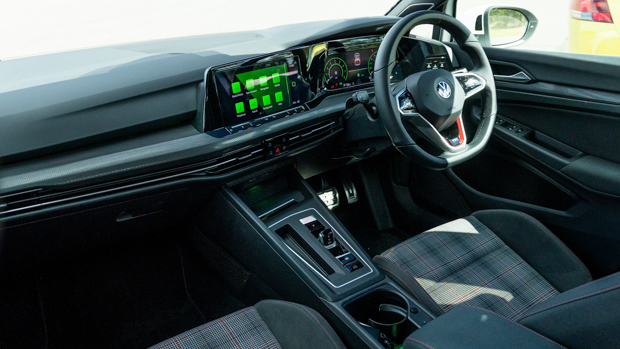 We just wish that Volkswagen hadn't decided to proceed down a path of modernisation for modernisation's sake. The interior adopts a radically simplified technology concept, abandoning easy dials from the old car in favour of an underpowered touchscreen that incorporates all climate control – too many taps, too much delay. We're also not convinced the looks retain the crispness of the previous version.
The eighth-generation Golf is in some ways a victim of the unbridled success of the Mk 7.5 version that is correctly lauded as a high watermark among small cars. Prices are increasing industry-wide – including the Golf – but memories of the superb Mk 7.5 for $10K less live in our memory, as does the additional cabin quality and easier-to-use tech of that car. It's not that the new Golf isn't up to the job: it's that the old one was so good, and the Golf's new Skoda Octavia and Audi A3 cousins use similar parts to superior effect.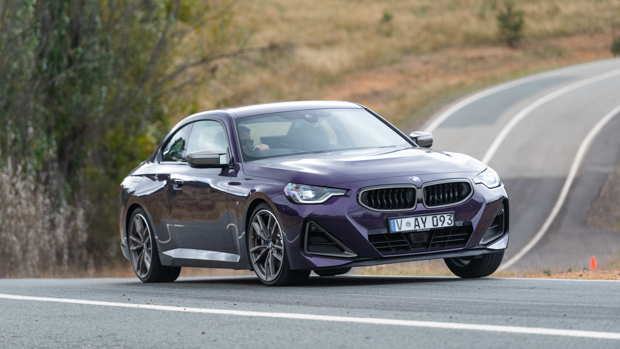 ROUND TWO: onto challenging country roads
Ten of our strong field remained at Sutton Road, while another 10 proceeded to fast-paced back-to-back testing on one of the finest road loops on the east coast of Australia, skirting the boundaries of the ACT's Brindabella mountain range. High speed limits, blind and variable corners, and at times broken pavement combine with stunning vistas: testing here is both a pleasure and a challenge for car and driver alike.
On the basis of their performance in static assessment and controlled dynamic testing at the proving ground, the judges elected the following pack of 10 to move on to the next stage of testing: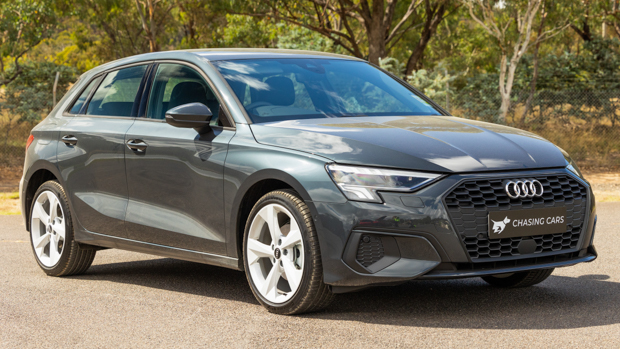 Finalist: Audi A3 and S3 (from $46,300 before on-road costs)
Pros: frugal mild-hybrid petrol, brawnier S3, class-leading tech, ride/handling balance.
Cons: needs options to feel luxe, interior quality trails the old A3.
Like the new Golf and Octavia, the latest Audi A3 and S3 have adopted the Volkswagen Group's even more sophisticated MQB Evo platform – allowing the adoption of more frugal engines, and bestowing the title on the base A3 of being Australia's most fuel-efficient petrol car aside from series-parallel hybrids. The hot S3 is more powerful than ever, too, while cabin tech gets a boost for the 2020s.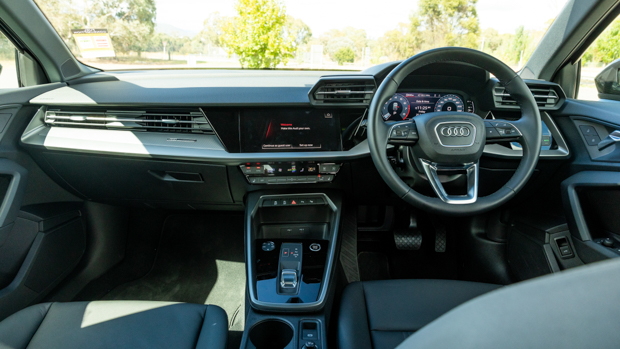 Styling changes might be classic-Audi evolutionary, but the new A3 represents a step change inside, adopting the same always-online tech as this brand's bigger cars. The tech game, solid on the previous A3, gets supercharged here; it's hard to resist the conclusion this car is best-in-class on this front. The ride and handling, too, are superior to rivals and the spread of powertrains is pitch-perfect. There's tangible value here.
In some ways, though, we're reminded of the BRZ: the new A3 improves elements of the old car rather than fundamentally moving the benchmark forward. Plus, the bank-vault-like quality of the previous A3 isn't replicated here; the cabin plastics take a marked step down, which is disappointing. Plus, both A3 grades need options to feel properly luxe, driving their prices higher.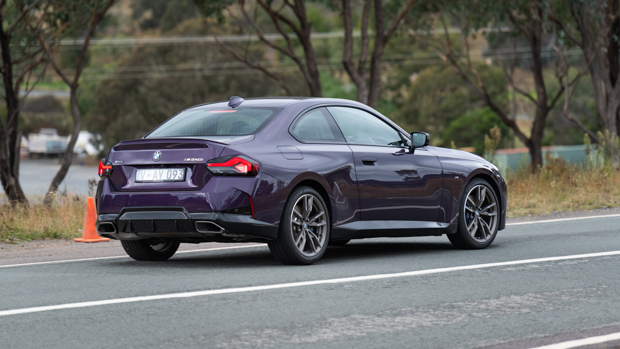 Finalist: BMW 2 Series coupe (from $61,900 before on-road costs)
Pros: 220i's balance, M240i's brawn, intuitive cabin, commitment to classic BMW recipe.
Cons: short three-year warranty, viscous steering, 220i deserves an LSD.
BMW's 2 Series coupe is a delightful throwback these days, combining so many attributes of 'classic' BMW that the brand is running away from elsewhere in the range: handsome, conventional three-box styling, two doors, rear-wheel drive, and (relatively) low weight. With many other BMW models populating the range, the 2 Series coupe is allowed to be driver-focused. A new M2 – and a 230i midpoint – will follow.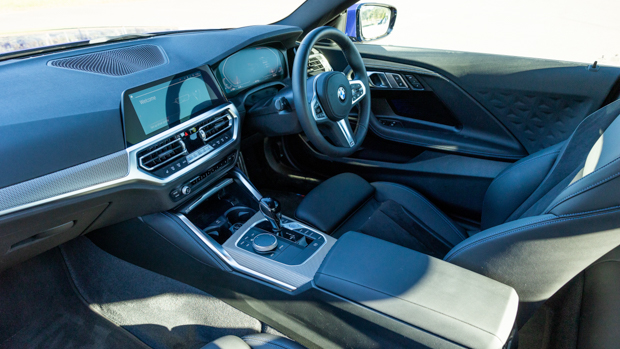 Presently, buyers can choose between a not-fast but well-balanced 220i with rear-wheel drive, with luscious chassis balance and an attractive starting price, or a dearer and far quicker M240i that is only available with AWD (RWD can now be had overseas but this is not pegged for Australia). They feel like two separate cars – the balance and the brawn. Both, however, give keen drivers plenty to love, while the styling really appeals – as does the intuitive, well thought-out interior design.
But why BMW persists with a three-year warranty perplexes us; it's now costing the brand credibility in a market where five-year coverage is the norm, even in the luxury sphere. And while recent BMW models, including this new 2 coupe, have started to re-introduce more steering feel, the electric rack remains a far cry from the best BMWs of the early 2000s. If we're being picky, a four-cylinder rear-drive model with an LSD would be the pick here; the imminent 230i was announced after our COTY testing.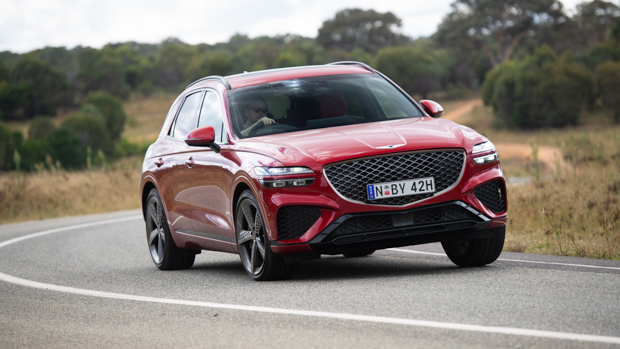 Finalist: Genesis GV70 (from $66,400 before on-road costs)
Pros: lusty petrol engines, playful handling, sumptuous interior, ownership package.
Cons: sky-high fuel consumption, ride on passive dampers, limited cabin tech, some quality flaws.
We think Hyundai was right to pour resources into the Genesis brand: there's potential for good cars with the H-badge to be even greater when given the Genesis touch that brings additional luxury in the cabin and more sophistication under the skin.
The GV70, available in Australia with petrol and diesel engines – and, soon, full-electric power as well – has been lauded in other markets for its level of accomplishment despite being a first-generation product.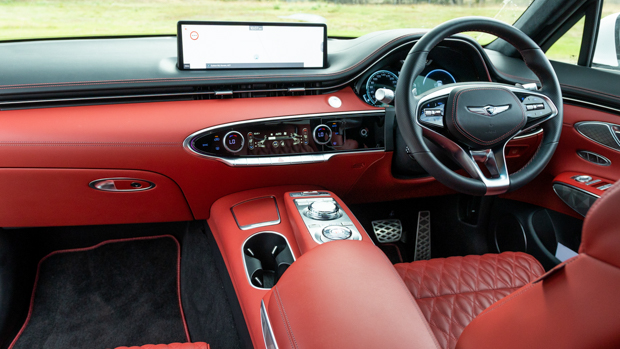 We can see where our colleagues are coming from. A gorgeous chassis affords the GV70 more playful, more fun handling than its straightlaced German rivals, let alone the new Lexus NX, which it definitely outclasses behind the wheel. You can have rear-wheel drive, but the AWD models are also clearly rear-biased, which keen drivers will love; the lusty 3.5-litre V6 in particular is like an Audi SQ5 with its hair down. The interior is sumptuous even on the base model, and servicing is included for five years.
But there are unfinished elements here. Hyundai has struggled for a long time with turbo-petrol fuel economy and the GV70's consumption is outrageous in four- and six-cylinder petrol form, near 20L/100km. Plus, the ride on passive dampers, applying to all four-cylinder cars, is lacking in compliance and feels unluxurious in urban areas – plus we suffered a few quality flaws, including a V6 model which went into limp mode twice during our testing.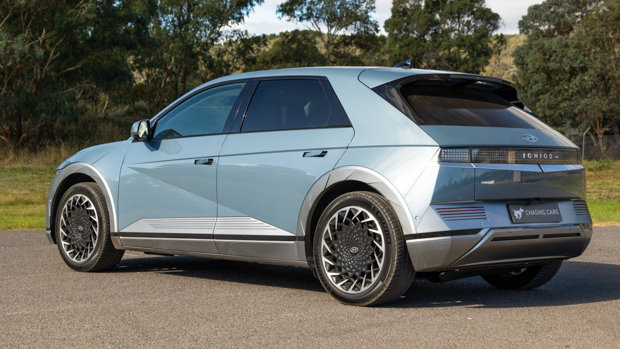 Finalist: Hyundai Ioniq 5 (from $71,900 before on-road costs)
Pros: chic design, interior packaging and finish, comfort, steering, high charging speed.
Cons: high-speed body control, lacks a cost-leader model, shorter warranty than EV6.
Subjectively, our judges preferred the avant-garde, '80s-futurism-inspired shape of the Hyundai Ioniq 5 to the related Kia EV6 – but this was not the reason the Hyundai version of the e-GMP electric car progressed to the second stage. That was down to the far-better interior finish and altogether more lush character, despite the cars sharing similar pricing.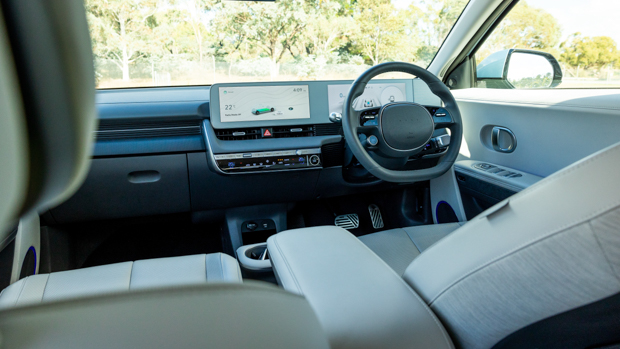 Love-or-hate-it shape aside, the Ioniq 5 is a great stab at Australian-style long distance motoring with an electric powertrain. Real-world 400km+ range blends with very high charging speeds to become practical for road trips where compatible chargers exist (Melbourne-Brisbane, for instance). The interior is comfortable and quality is high, and the Hyundai scores superior steering feel to its Kia cousin.
We think the Ioniq 5 deserves to gain the Group's new frequency-selective dampers, though, which would dial out some pogo-like hesitancy in the body control at high speeds – noticeable when a keen driver hits a country road with pace. Plus, the fact that only a top-spec Ioniq 5 is available in Australia (in RWD or AWD) keeps the price high, while supply remains quite thin on the ground.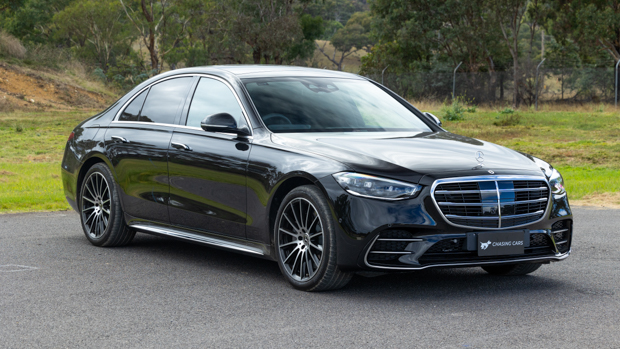 Finalist: Mercedes-Benz S-Class (from $244,700 before on-road costs)
Pros: refinement, agility, quality, dignity – the finest combustion-engined limo ever
Cons: finds bump stops when pushed, and if you want full-electric, you need the uglier EQS
Including the S-Class at COTY has a precedent: it's won the similar Wheels award in the past on the basis of advancement. Many have regarded the 'Sonderklasse' as the greatest car in the world, but the latest S has to share Benz's flagship limelight with the new, fully-electric EQS that was not ready in time for our COTY testing. In this country, the S-Class is available only with petrol engines – not even plug-in hybrids.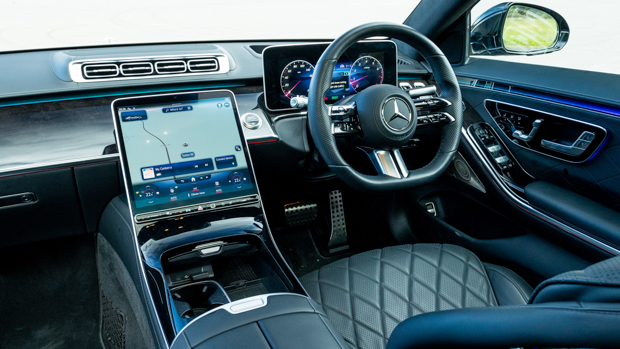 We wish the EQS looked like an S-Class, because the top Benz has such elegance, such dignity – not just because it is now the only M-B sedan to offer the three-pointed star on the bonnet (though this certainly helps). From the sumptuous driver's seat, it is difficult not to feel like you've made it, with a superb view down the long bonnet through the 'gunsight' star badge. But vibes are just one thing; the remarkable agility and ultimate refinement of the latest S-Class seal the deal. This is a bucket-list car.
Agile as it may be, there are ultimately definable limits to the S-Class, and it will find its upper bump stops on the punishing undulations of our ACT testing roads – but only when driven at unruly speeds. It's obviously very expensive (and exclusive), however we think a fully-electric model in a traditional S-Class body would bode very well for a facelift or future new generation. For now, though, much of the S-Class's refinement and spirit can be found in the new C-Class.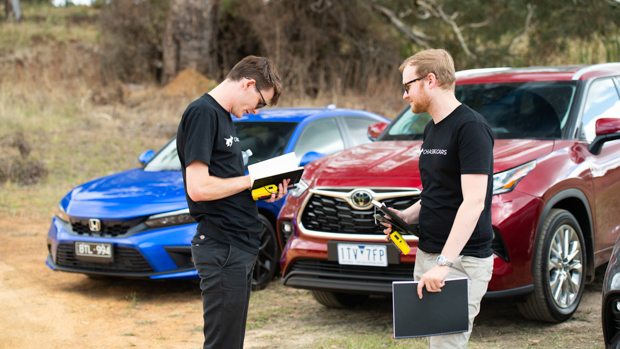 ROUND THREE: in the suburbs and under the microscope
Having retired for a second vote informed by our seven criteria, the judges made another heavy-hearted cull ahead of the third, and toughest, round of evaluation for our first COTY.
Demanding high-speed loops in the Brindabellas had found glory, greatness and shortcomings in equal measures among the first half of our 'top pack', while a consideration of value, breadth and commitment to advancement meant selecting our final group of five was reasonably straightforward.
Proceeding to a network of amazingly illsurfaced urban roads around Canberra, additional static assessment and an uncompromising investigation into acquisition and ownership costs were our final quintet: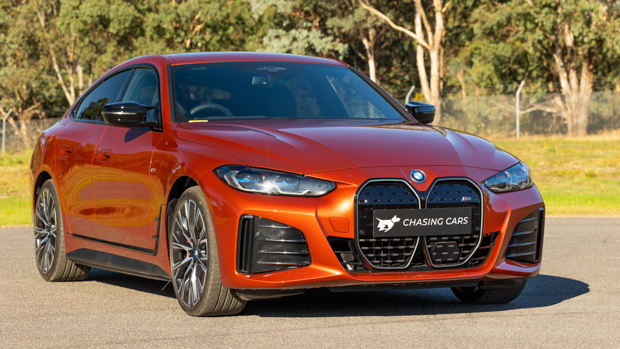 Honourable mention: BMW 4 Series and i4 (from $76,900 before on-road costs)
Pros: choice of petrol or electric, classic BMW chassis dynamics, packaging, ride.
Cons: short vehicle warranty, steering feel, i4 M50's range, polarising front-end.
Among many luxury carmakers committing wholeheartedly to abandoning combustion engines tout de suite, BMW has backed in its own 'power of choice' philosophy – in the medium-term, every model line will be available with petrol, hybrid, fully-electric and even diesel powertrains, depending on the market. The first BMWs to debut this approach in Australia are the X3 midsize SUV and the new 4 Series Gran Coupe.
We admit we're intrigued by the approach – engineering physically near-identical cars with a local choice of full-petrol or full-electric powertrain. Whether you want the convenience of the last years of ICE or a step into the world of battery-electric motoring, you can have it in a conventional BMW body – if you don't want one of the Munich brand's avantgarde dedicated EVs, like the iX large SUV.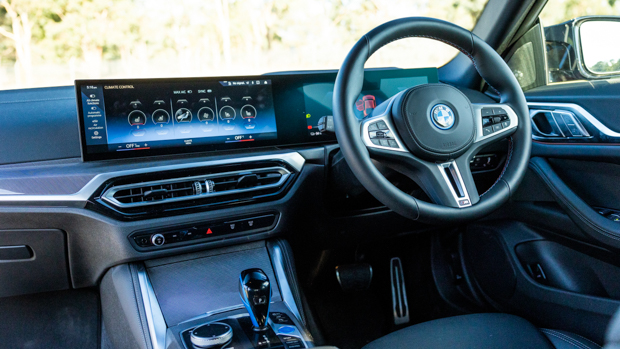 In the case of the 4 Series Gran Coupe – and i4 Gran Coupe – it's a compelling strategy. In petrol form, this car is what you'd expect: smooth combustion engines, RWD or AWD, reasonably light weight, and super-supple chassis dynamics. The electric versions, named the 40 (RWD) or M50 (AWD) deliver much the same experience, except in warp-speed in dual-motor form. Only BMW-spotters will know the difference visually, which is the point. The electric i4 doesn't shout zero-CO2. It's the anti-Tesla Model 3.
We were sorry the longer-range, rear-drive i4 wasn't available for our COTY testing, as while the AWD i4 M50 is amazingly quick, it suffers a range cut to around 400km; acceptable, if not generous. Sadly, the steering feel still isn't back to E39/E46 levels, despite other makers managing to develop their electric racks back to a more feelsome nature. There's also the polarising front-end design that feels unnecessarily attention-seeking given the car's creditable nature. But for us, the three-year vehicle warranty has become untenable for BMW, now that everyone else has adopted five years.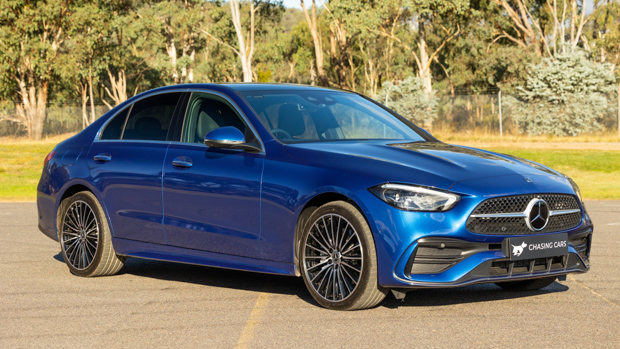 Honourable mention: Mercedes-Benz C-Class (from $78,900 before on-road costs)
Pros: superb ride on passive dampers, willing C200 engine, interior quality, styling.
Cons: no wagon for Australia, no PHEV for Australia, significant price jump.
Industry types and buyers really loved the two-generations-old 'W204' Mercedes-Benz C-Class, but less-so the intervening 'W205' that saw quality reverse. Thankfully, the new 'W206' doesn't just imitate the latest S-Class in styling terms; it also picks up a good serve of that car's refinement and demeanour. Build quality is also better, though the latest C-Class served a number of specification surprises.
The main one is that going beyond the C200 isn't really worth it. The 1.5-litre turbo-petrol engine in the 'cheapest' C-Class is willing, strong, fuel-efficient and it even sounds good. But the cherry is that the entry-level C-Class suspension is the package to go for; this has become extremely rare in the world of German luxury cars, which usually require a suspension upgrade to ride properly. Not so the W206, which has expertly-tuned passive dampers perfectly suited to Australian roads.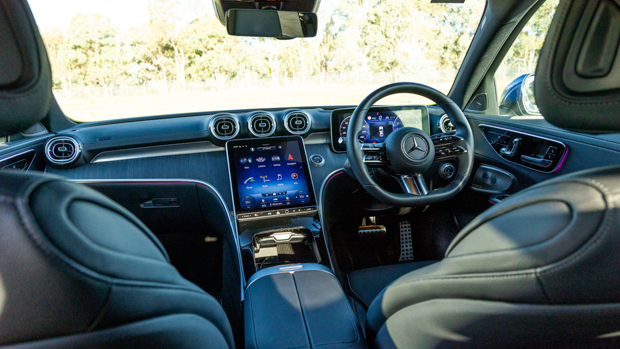 By contrast, the up-spec C300 Australians can also choose feels quicker but more grainy engine-wise, while optional adaptive dampers send the ride backwards. Where the passive set-up is an ideal 'one mode' arrangement, the adaptive units have too-boaty 'comfort' and too-stiff 'sport' choices. You can skip these upgrades. Sadly, Mercedes-Benz Australia decided not to allow buyers the choice of the practical station wagon sold overseas this time around, and nor is the impressive new C-Class plug-in hybrid on the menu for the time being.
But the major sticking point is the price of the new car. Rising inflation in automotive and the economy at large means this isn't a phenomenon limited to Mercedes-Benz, though a dramatic leap in C-Class pricing has isolated the new model from its rivals for the time being. Combined with a new national price, no-discount policy, even a lightly and sensibly optioned C200 now exceeds $90,000 driveaway, which buys a well-equipped and more powerful competitor car.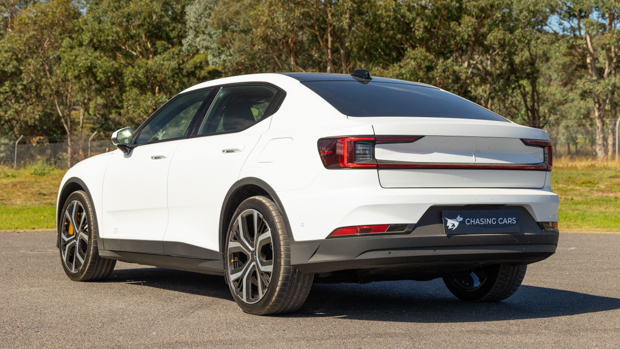 Honourable mention: Polestar 2 (from $59,900 before on-road costs)
Pros: attractively priced, ballistic dual-motor version, Volvo-like interior, build quality.
Cons: too-stiff urban ride, Weavetech upholstery, high consumption, slow-ish charging.
Finally, another electric car manufacturer has taken on behemoth Tesla on both price and product specifics. The Swedish-engineered, Chinese-built Polestar 2 is a sedan-shaped liftback with five seats in non-SUV format, offering single- and dual-motor powertrains, claimed 400km+ range and good build quality, all for a starting price of around $60,000.
That formula sounded good to us, which is one reason we took on a Polestar 2 dual-motor Performance as a long-termer – a properly ballistic compact car with 300kW of power by way of two muscular electric engines with a 50:50 split. Even the single-motor, FWD versions perform quite strongly, and this is a neat-looking car outside and in, with clear Volvo roots. The Google-led cabin tech has a learning curve, but once you are all signed-in to the onboard apps, things work as they should.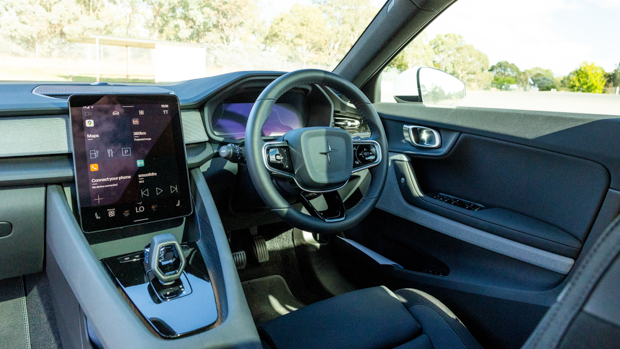 But while the Polestar 2 has superb high-speed compliance and a fun, fleet-footed nature to it, it suffers a tragic foible that struck it out of the running at a late stage, despite looking like it could strike a stunning overall COTY win: quite poor, too-stiff urban ride quality. Punishing on our broken-up suburban loop, the judges couldn't tolerate the suspension tune, which needs a substantial rework.
It was the poor ride that claimed the Polestar 2's attempt at overall honours, though high electricity consumption (especially in the dual-motor version) did not help its case – nor the relatively 'slow' DC rapid-charging when compared to benchmarks like Taycan and Ioniq 5. Plus, the curious lack of Apple CarPlay on our test vehicles meant it did not feel as compatible as the other new vehicles in our field.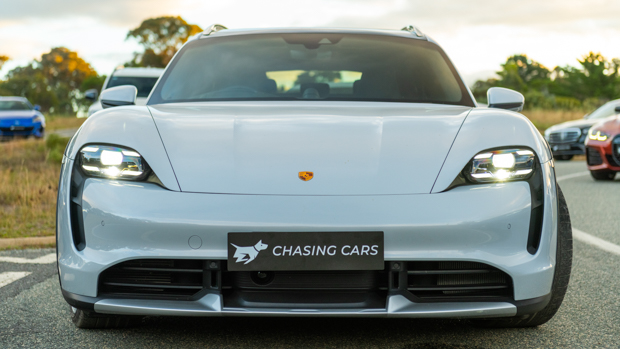 Finding our first Car of the Year and Electric Car of the Year
Electric Car of the Year 2022: Porsche Taycan Cross Turismo (from $176,600 before on-road costs)
Pros: best ride/handling balance of any EV, steering, compliance, interior, charging speed.
Cons: price, consumption, moderate range, short (standard) vehicle warranty.
If the bolt-from-the-blue Porsche Taycan sedan reset our expectations of what an EV was capable of in terms of reward behind the wheel, the slightly raised and cladded Taycan Cross Turismo station wagon has only extended those fruits to a more practical package.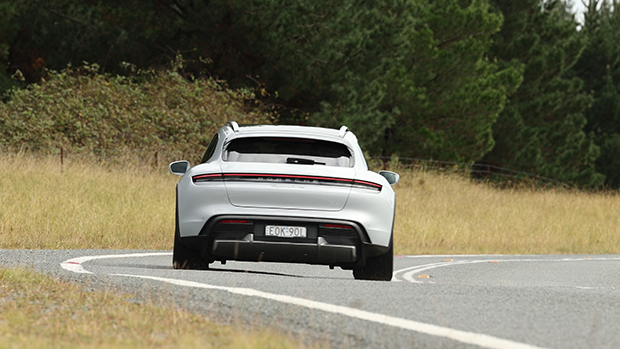 The significant expense involved in purchasing a Porsche Taycan was not lost on our judges – starting at $176,600, this is a very costly and indulgent vehicle. But merely having an expensive price is no barrier to glory at COTY – if, and only if, this expense is matched to respective value for money. Despite the massive price, the Taycan Cross Turismo still manages to come off feeling, rather unexpectedly, like a bargain.
That's because you can divide your life into pre-Taycan and post-Taycan phases. Once you've driven this vehicle, you're left in no doubt that the future of motoring is electric, but also that this future is nothing to fear – far from it. The Taycan is a stunning piece of automotive engineering, combining rapid and smooth forward progress, zero tailpipe emissions, and ride and handling that sets a benchmark for large performance cars as a whole – not just electric ones.
From about the first corner and bump onward, it's immediately evident that utterly vast resources and expertise have been put into the development of the Taycan's chassis, which carries the slightly larger Cross Turismo body just as well as the sedan – if not a bit better thanks to a slightly superior overall balance.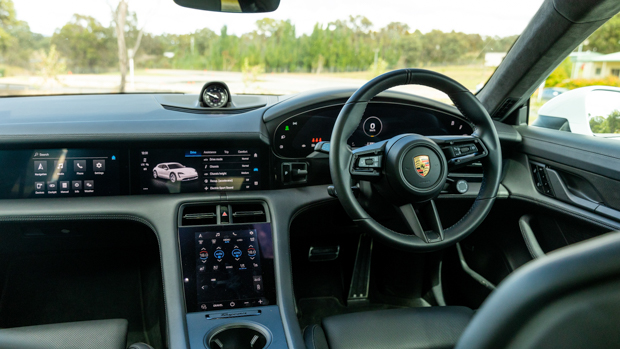 The fact the wagon has standard air suspension, the model's fastest charging and an extended long-range battery that affords more power simply means this is the most sensible way to have your Taycan.
From the 'base' Taycan 4 Cross Turismo right up to the Turbo Cross Turismo, this car makes a huge amount of sense if you have the cash to splash on buying one. It would be a lie not to admit there was daylight between the Porsche and the nearest EV in the COTY finalist standings – the Polestar 2. Partially because of their vast mass, it's simply a fact that nearly every EV suffers from some ride or handling problem … but not the Taycan Cross Turismo. The circa-400km range may not be sufficient for some. For everyone else, however, this is as close to electric perfection as you can currently find.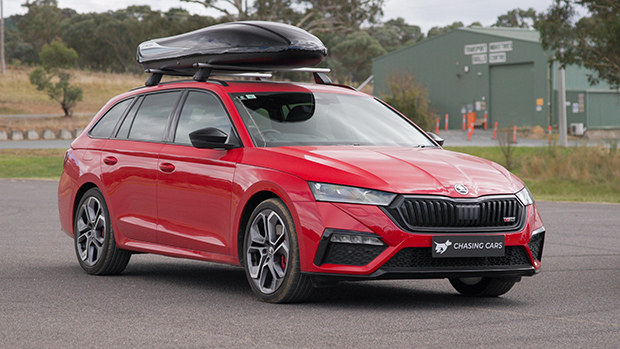 Car of the Year 2022: Skoda Octavia (from $33,890 before on-road costs)
Pros: pricing, breadth of the range, refinement, packaging, RS's tenacious performance.
Cons: no RS AWD, Scout or iV hybrid models for Australia.
How did the Skoda Octavia manage to beat such a strong field? Well, not by reinventing automotive benchmarks but by making them more accessible to everyday Australians than ever. New-car prices may be generally rising but refinement and dynamic sophistication of this level has never been so attainable. It's the way the new Skoda Octavia truly delivers a premium experience at an affordable price that allowed it to become our first Car of the Year.
The Octavia's election was unanimous among our four judges because after a gruelling week of testing at high speeds, low speeds, going straight and sideways, as well as stopped while its packaging, value and technology were under close investigation, the Skoda continued to hit high after high.
The accolades started with the low $33,890 list price of the base-model Ambition liftback, which packs a punchier-than-expected 110kW turbo-petrol engine and an eight-speed automatic transmission – plus high interior quality, comfortable seats and a level of refinement that belies its approachable price.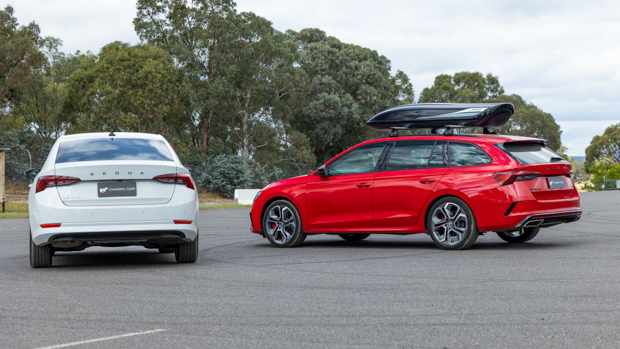 But true value is found in the Octavia Style grade, especially when optioned with available tech and luxury packages that add comforts like heated and powered leather seats, a sunroof and adaptive dampers. For under $50,000 driveaway, an Octavia feels, and looks, like a luxury car.
In particular, we were deeply impressed by how Skoda has turned around the patchy refinement of the related previous generation by better insulating the rear suspension and adding optional electronic dampers that further suppress urban bumps. The low-speed ride is now excellent, and quiet.
A mid-range Octavia specification steps up to a more premium Volkswagen Group 140kW engine and a quick-witted dual-clutch automatic, delivering a noticeable uplift in performance. Currently, this grade is called the Limited Edition and while impressive, it doesn't quite make the mark of the Style – or the RS – and it is set to be replaced with a more aggressive-looking Sportline model in the near future.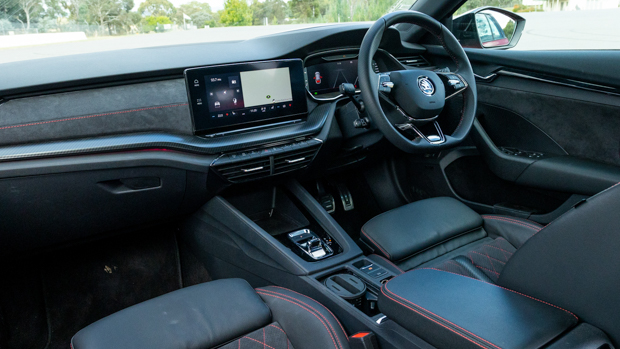 Part of the reason for this is that the Style and RS share the Group's latest-generation adaptive damper option with multiple stages of adjustment across a broad scale, allowing a perfect-for-Australia balance of body control, compliance and comfort. All Octavias have a surprising turn of speed on a country road, largely because of their expertly-judged suspension, but one variant stands above the rest.
That is the desirable Octavia RS, which can be had as a relatively sparsely-equipped 180kW liftback or wagon, or with all the fruit through popular option packages – the latter demonstrating how we would specify this car. Even at about $65,000 driveaway, a fully-optioned Octavia RS wagon still manages to feel like good value. In some ways, it is reminiscent of how Volkswagen might configure a Golf GTI wagon, but it's larger and more practical again, with a character and a refinement all of its own.
This is testament to the increasingly blurred lines in the Volkswagen Group. Skoda was once relegated to awkward-cousin status, certainly below VW in the hierarchy. At some point in the last decade the brakes were taken off this Czech brand, which now has a habit of building cars that are the equal of their Volkswagen counterparts in terms of quality but are a bit bigger and a bit easier to live with, despite generally still being a bit cheaper.
In the cabin, the Octavia is bigger than a Golf but not as cavernous as a Passat – so it's well-sized for Australian cities. Plus, little concessions to everyday life did not go unnoticed by our judges, including the fact that in the Skoda, more climate-control functions remain 'static' on the touchscreen – accessible with one touch – than in the more convoluted VW iteration of the same software.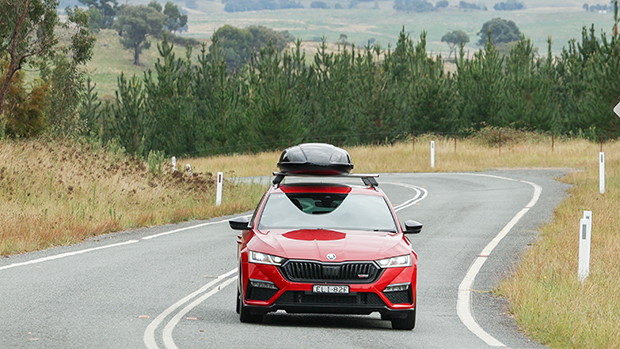 All Octavias have comfortable seats and quality stereos, but especially if you tick the available luxury package that brings leather, electric lumbar, heating, cooling in the RS, and a warm, acoustically-good Canton sound system. On the safety front, the basics – and more – are standard range-wide, including high-speed AEB, adaptive cruise control and lane-keep assist. Further up, conveniences like a 360-degree camera can be optioned in. At least as importantly, the safety assistance features are properly tuned, and subtle.
Speaking of options, ticking a seven-year service pack also extends the Octavia's vehicle warranty out to seven years, matching industry leader Kia's coverage – a crucial clincher for the Octavia's "money well spent" campaign at COTY.
If there was one criterion where the judges felt compelled to argue in relation to the Skoda, it was advancement of the automobile. But these arguments were quickly resolved. While the Octavia is similar in sizing, styling and substance to the previous version, so many rough edges have been polished to make this feel like a totally new platform – not just an adjustment of the existing MQB chassis.
In the past, the only Octavia to seriously consider was the RS, which felt like the sole impressive member of an otherwise bland line-up. That's no longer the case. You can now buy any Skoda Octavia and feel like you're buying one of the best-resolved cars the Volkswagen Group has ever made.
That's why we awarded it our first-ever Car of the Year.