The 2022 Hyundai Ioniq 5 midsize SUV – the brand's current flagship electric vehicle – is sold in Australia in two range-topping variants with just a choice of rear-wheel drive (RWD) for $71,900 before on-road costs, or all-wheel drive (AWD) for $4000 more.
But running changes applied to the Ioniq 5 in the United States and United Kingdom will not immediately come to Australia, with a spokesperson for Hyundai Australia telling Chasing Cars that it will not introduce a larger 77.4kWh battery pack found in the Kia EV6 that shares the Hyundai's e-GMP architecture.
A Hyundai spokesperson confirmed that there are no plans to bring the bigger battery pack (which increases the WLTP range claim by a not-insignificant 29km) to Australia for the time being.
Instead, the Australian-specification Ioniq 5 Long Range will continue with a slightly smaller 72.6kWh battery, but a smaller 58kWh Standard Range battery is on the way, set to be slotted into cheaper Ioniq 5 trim levels for Australia. The brand says "up to three variants" will feature in the Ioniq 5 range locally in future.
Additionally, Hyundai Australia would not be drawn on whether it will follow foreign markets in adopting new ZF Sachs frequency-selective dampers for the Ioniq 5 locally – a technology imminently launching on the Kia EV6.
Cheaper Ioniq 5 on the way to Australia soon
Hyundai Australia will bring in the smaller 58kWh battery to give it a price-leader in the dedicated EV space and a stronger rival to the Tesla Model 3 (from $59,900), the Polestar 2 (from $59,900) and the Kia EV6 (from $67,990).
Pricing and final specification for the new Australian variants is still to be confirmed, however we do have insight into the standard-range Ioniq 5 recipe as it is currently on-sale in the UK.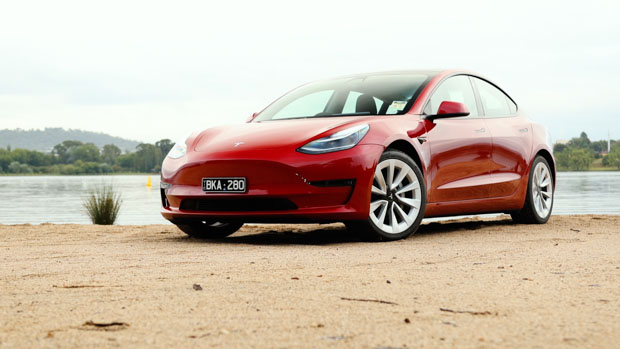 In Australia the Ioniq 5 is only available in a single variant that is equivalent to the range-topping Ultimate in the UK. According to a Hyundai Australia spokesperson, the UK's three-grade lineup is similar to what we could eventually see here.
The standard-range Ioniq 5 is available in the same three trim levels as the long-range: SE Connect, Premium and Ultimate.
The base model standard-range SE Connect looks well equipped with handsome cloth seats and smaller 19-inch alloy wheels though without sacrificing technology as it still gets a digital driver's display and large 12.3-inch central touchscreen. 
In its more affordable permutation the Ioniq 5 has a 58kWh lithium-ion battery pack that shortens the WLTP-rated range from 485km to 400km.

The smaller battery pack doesn't impact the Ioniq 5's 800-volt electrical system that allows DC ultra-rapid recharging speeds up to 350kW. 
A single electric motor producing 125kW of power and 350Nm of torque is the only drive option for the standard-range battery, with twin motors and 225kW/605Nm restricted to the long-range variants.
With Hyundai already flagging three variants as a possible range for the Ioniq 5 in future, it's possible the Australian arm will apply its current naming conventions with a base car known as Ioniq 5, a mid-spec called Elite and a top-shelf variant – in essence, the current version – badged as Highlander.
How much lower can the Ioniq 5's price go?
Because the Ioniq 5 is currently available only in one highly-equipped specification in Australia, it is one of the more expensive midsize EVs when considering starting price – particularly in light of the circa-$60K Polestar and Tesla options.
In the UK, the difference in price between Ultimate long range rear-drive (£44,635) and base-model SE Connect standard range (£37,365) suggest that an Ioniq 5 base model could start at $60,000 before on-road costs in Australia.
Final specification, pricing and model lineup for the Ioniq 5 standard range remain to be confirmed by Hyundai's Australian arm.
We also know there are further changes to Ioniq 5 specification globally that Australian cars won't see for now.
These tweaks include the availability of digital mirror tech (as seen on the Genesis GV60 and Audi e-tron), further optimised charging protocol and the adoption of Sachs Smart Frequency Dampers.
Hyundai Ioniq 5 2022: prices in Australia
All prices listed are before on-road costs.
Ioniq 5 RWD: $71,900
Ioniq 5 AWD: $75,900