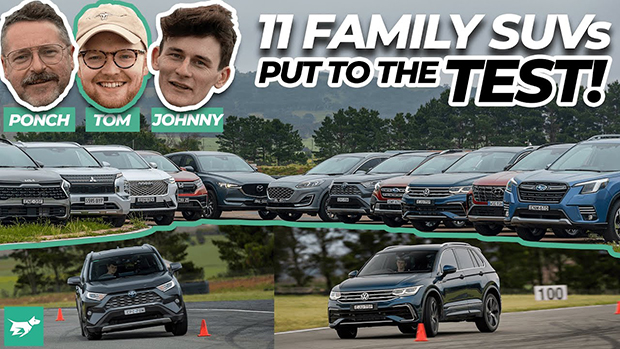 Midsize SUVs are Australia's favourite type of family car. Last year, more than 180,000 Australians picked up a medium-sized crossover: that's a staggering 18 percent of all cars and light commercial vehicles. Only 4WD utes sell more strongly.
Midsize SUVs make sense for many families. Mostly seating five – but sometimes seven – these vehicles offer a higher driving position than their passenger car equivalents. They're easier to get babies into. And more often than they used to be, they're decent to drive.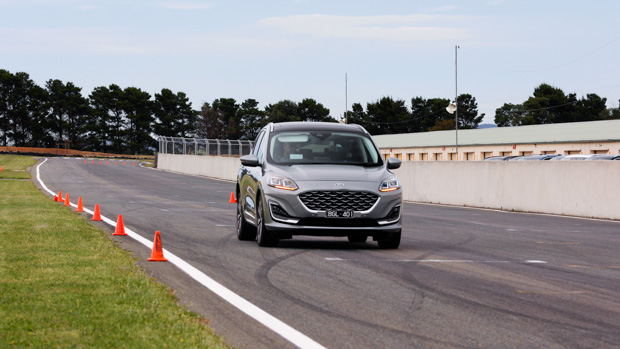 Making the right choice isn't easy: under $60,000, there are nearly 20 models vying for your attention. They're all roughly the same size – we informally use 4.7 metres long as a cutoff between "midsize" and "large" – but these cars are remarkably different to ride in, and to live with every day.
That's why Chasing Cars assembled 10 of the best choices, along with one wildcard station wagon – to make it a little easier to work out which family chariot makes the most sense for you in 2022.
Skip to the part that interests you
The cars in this megatest represent 83% of midsize SUV sales, led by the uber-popular Toyota RAV4 hybrid – though the Mazda CX-5, Mitsubishi Outlander, Hyundai Tucson and Subaru Forester all found more than 10,000 buyers last year.
We also brought along the Kia Sportage, Honda CR-V, Volkswagen Tiguan, Haval H6 and Ford Escape, in descending order of sales – plus the Subaru Outback as a point of comparison from the wagon world. We excluded any car with less than one percent market share.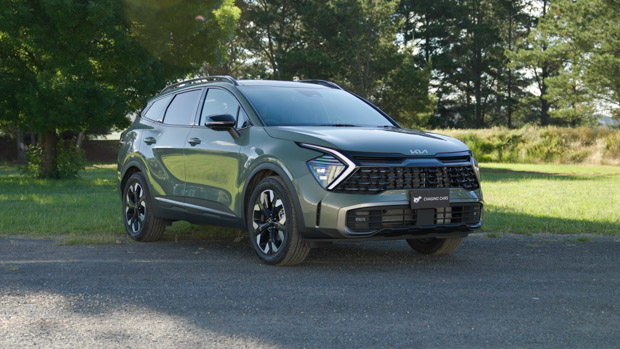 There's a fantastically detailed video version of this megatest viewable at the top of this page, or on the Chasing Cars YouTube channel, stitched together by our talented AV professionals. Make sure to catch that.
But it's here you'll find our detailed tables and the final order of proceedings. We'll go through each of those categories in turn, as we address in the video version.
Which SUVs are competing?
Manufacturers of midsize SUVs tell us that it's often the highest-specification trim in their range in Australia that sells the best. That's why we concentrated on bringing a circa-$50,000 specification of vehicle to this megatest, though many of the findings will also relate to more affordable versions of these vehicles.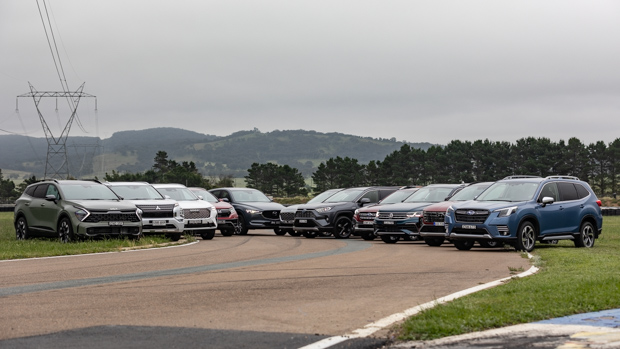 Our eleven entrants took in:
Toyota RAV4 Cruiser hybrid AWD (MY21): $46,415
Mazda CX-5 Akera turbo petrol AWD: $52,080
Mitsubishi Outlander Exceed AWD: $47,990
Hyundai Tucson Highlander N Line turbo petrol AWD: $51,000
Subaru Forester 2.5i-S AWD: $44,190
Kia Sportage GT-Line diesel AWD: $52,370
Honda CR-V VTi LX AWD: $53,200 (fixed driveaway price)
Volkswagen Tiguan 162TSI R-Line AWD: $53,700
Haval H6 Ultra FWD (MY21): $38,990 driveaway (MY21)
Ford Escape Vignale FWD: $46,590
Subaru Outback Touring AWD: $47,790 (MY21)
While in each case we aimed to have the all-wheel drive version of the model competing, that wasn't always possible. Ford and Haval both chose to submit a front-wheel drive vehicle.
Value for money
It's obvious enough to say that the Volkswagen Tiguan was the dearest vehicle in our test, while the Haval H6 was the cheapest – but that would mask much of the truth of value. While we're always sensitive about spending other people's money, our assessment here goes to the question of how far a car drives your dollar. Do you get what you pay for?
For ease of reference, all cars tested here had LED headlights: the Escape, Forester and Outback enjoy adaptive LED beams, while the Tiguan gives you segment-best matrix LED tech. All SUVs included at least cable-driven Apple CarPlay or Android Auto smartphone mirroring: the Outlander and Tiguan can do it wirelessly.
All bar the Tiguan included a sunroof as standard, and all bar the H6 give you navigation and DAB digital radio. All except the vinyl-trimmed Escape had seats upholstered in at least partly-real leather, while all have a touchscreen except the CX-5.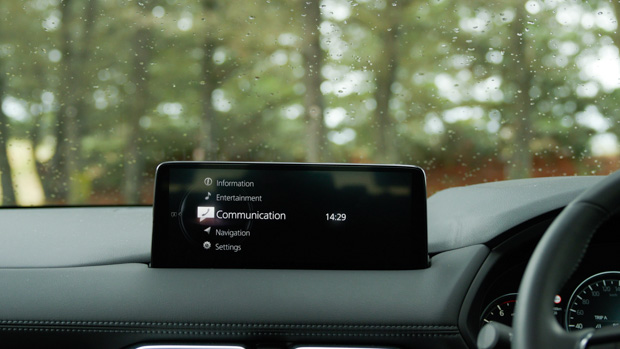 Even with a price rise on the horizon for its light 2022 facelift, the RAV4 Hybrid undoubtedly does: in fact, given the sophisticated hybrid system on offer with its electric AWD system, the Cruiser on our test felt like downright good value at $46,415 before on-road costs. Fully soft door skins throughout joined a quality 11-speaker JBL stereo, easy-to-use 8.0-inch touchscreen and an informative digital instrument cluster to feel like a semi-premium option.
A facelift is also coming for the Mazda CX-5, but the current iteration feels quite fresh in Akera turbo petrol form ($52,080). In one way, that's thanks to the fact it dips into the smaller CX-30's parts catalogue to pinch a crisp, thin-bezelled 10.25-inch display, though this can only be driven via rotary dial, not by touch – not that this bothers us. Its 10-speaker Bose stereo impressed. We appreciated cooled nappa leather and passenger-side power seat adjustment.
Mitsubishi's brand-new Outlander Exceed makes a significant value play promising seven quilted leather seats for $47,990. The interior is a grand upgrade from the mediocre previous generation, building in a new 8.0-inch touchscreen with convenient wireless mirroring. A 10-speaker Bose stereo and 12.3-inch digital instrument cluster make it clear that the now-Nissan-controlled Mitsubishi is trying much harder.
The new-for-2021 Hyundai Tucson hit our price target on the head at $50K in Highlander N Line turbo petrol form. The twin-pronged range can go luxe as a standard Highlander with cream or brown leather, or sporty with the N Line mod that brings red-piped suede seating – but oddly, lesser tyres. Twin 10.25-inch screens look crisp, though the odd Hyundai-Kia bug of mirroring switching from wireless in base models to wired in higher grades persists.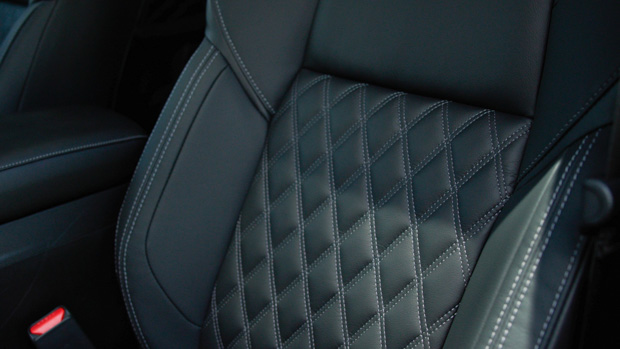 We managed to snag a freshly-facelifted Subaru Forester 2.5i-S, which continues to wear a segment-sharp price of $44,190 despite having quite a few trimmings. The eight-speaker Harman-Kardon stereo was acceptable but the 8.0-inch touchscreen continues to be peppy and easy to understand, though the analogue instrument cluster looks really dated. There's heaps of space – but if you want nappa on your Subaru chairs, you'll need an Outback.
Driven straight off its launch to our testing site was the polarisingly-penned Kia Sportage GT Line diesel ($52,370). Sharing Tucson's platform, the Sportage nevertheless gets a few tricks of its own, including bigger twin screens (12.3-inch), and differently-shaped seats that we found a little more supportive. It comes in green (win) – shame about the very dark interior.
Honda's CR-V VTi LX received a light facelift in 2020 before moving with its sibling models to controversial fixed driveaway pricing in 2021. At $53,200 all-in, it's more or less the 'same' price as the Tucson – but it soldiers on with a small 7.0-inch touchscreen. The seats are expensively trimmed, though, and all the basics are here: it simply looks, and feels, dated.
Bright-eyed in facelifted form, the Volkswagen Tiguan 162TSI ($53,700) was the most extravagant of our group – nearer to sixty grand than our target of fifty, moreso factoring in a $2500 package adding a 10-speaker Harman-Kardon stereo, HUD and a 360-degree camera – we forewent a $2000 sunroof, making this the sole slicktop on test. Basic inclusions take in a rorty engine shared with the Golf GTI, supportive R-Line seats, and a 9.1-inch touchscreen. We had asked for the $53K 162TSI Elegance trim – but Volkswagen couldn't rustle one up in time.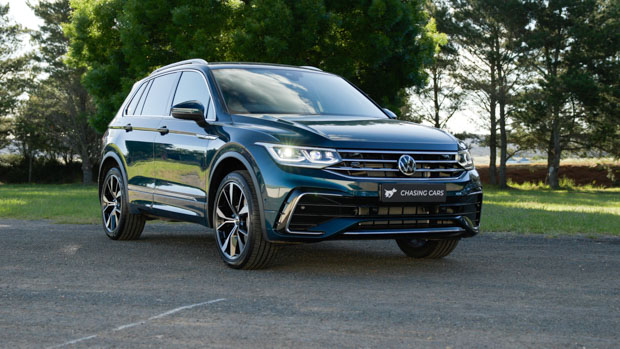 Least expensive was the Haval H6 Ultra ($38,990 driveaway), which takes a huge swing at its more established rivals on price. The finishes could use more polish – as could the graphics on the 12.3-inch touchscreen and large digital cluster – but the basics are there (albeit not navigation or digital radio). And there's no arguing with how much car you get for the money.
Ford's Escape is a surprisingly slow-seller in Australia, given that the top-shelf Vignale ($46,590) is actually pretty good value. The seats go without real leather – and it does show – but the rest of the package works well, including the 10-speaker B&O stereo, simple-to-use 8.0-inch touchscreen and a 12.3-inch digital cluster. The Escape was the only vehicle on test to have keyless access to all five doors (not just the front pair and boot): good attention to detail.
But what about our wildcard? The Subaru Outback Touring ($47,790, MY21) feels a cut above the pack in many ways without breaching the $50K target. Nappa leather, a huge 11.6-inch touchscreen, smartly-packaged integrated roof racks and
Cost of ownership
When it comes to predictable ongoing costs, we looked at a range of factors: scheduled servicing for 100,000km, fuel consumption, and comprehensive car insurance from Budget Direct.
Warranty
While we don't have a perfect view into negotiations around individual warranty repairs over the life of a vehicle, which can certainly differ by brand and by dealership, we can say that every SUV here has a five year, unlimited kilometre warranty – except for three.
The Haval H6 and Kia Sportage win when it comes to warranty coverage from new, with both providing seven years/unlimited kilometres. The Mitsubishi Outlander is the most restrictive out of the box at five years/100,000km, with a substantial caveat: if you commit to servicing with Mitsubishi annually, the warranty can extend to 10 years/200,000km.
Servicing
Servicing arrangements differed very significantly, both in terms of maintenance intervals, and especially in terms of cost.
On a time basis, no SUV on test required servicing more than annually, but some are needier, sooner, than others. The CR-V, CX-5 and Tucson turbo petrol (and Sportage, if it had the turbo petrol) request a dealer visit every 10,000km; for the Forester and Outback, it's every 12,500km. The rest of the pack manage 15,000km between services, though the H6 demands its first stop at 10,000km before switching to the longer interval.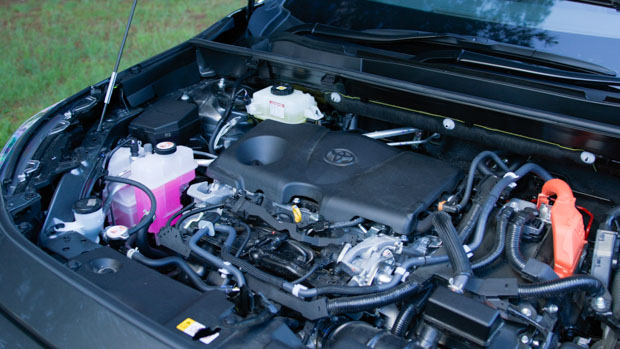 Significant gulfs opened up in servicing pricing, noting that not all capped price servicing programs include all necessary items and most are subject to change in prices – your mileage may vary. We aimed to provide a cost for servicing across 100,000km spent with the vehicle, though few manufacturers provide clear, capped servicing across that period.
A sweetener meant to smooth Honda's switch to fixed pricing included a new cheaper servicing programme that limits the CR-V's servicing to $625 – total – for its five visits to 50,000km, but then it's uncapped. The Subaru siblings both cost just over $2400 over their five stops to 62,500km before their prices lose their cap.
Also very cheap to service was the Toyota RAV4, which sets you back $1150 in scheduled maintenance until the capped-price system runs out after five visits at 75,000km. The same limit applies to the Volkswagen Tiguan, though it wasn't cheap: $3708 if you go a la carte, though you can buy a 'care plan' upfront when purchasing the car to limit this spend to $2700 for these five services.
Mazda let us know that it'd cost about $4382 to comprehensively service the CX-5 turbo petrol across its ten visits on the way to 100,000km, including all optional bits and bobs, while the same number of visits would cost $3690 for the Hyundai Tucson 1.6-litre turbo.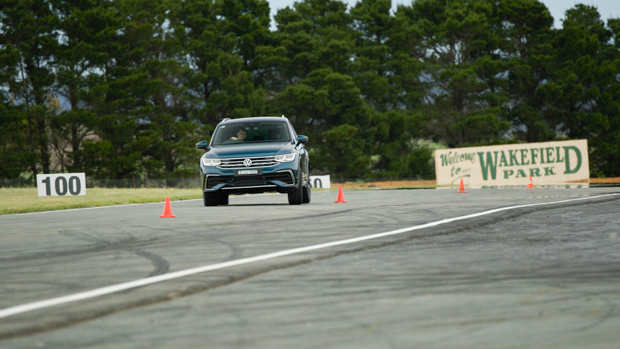 Long capped-price servicing programs mean that at current prices, the Mitsubishi Outlander will cost just $1693 across seven visits to 105,000km. The same number of visits to 105,000km will see Ford Escape paying $2525, or $3624 in the diesel-fuelled Kia Sportage.
It's not a perfect science, given some capped-price service programs here run out as early as 50,000km while others continue without a defined end, but we can provide a 'service costs per 1000km of driving' metric.
That puts the CR-V out in front at $13, while the RAV4 ($15) and Outlander ($16) are close behind. From there, it's a jump to the Escape ($24) and Sportage ($37), before moving on to the Tucson ($37), both Subarus ($38), and the CX-5 ($44). The Tiguan is either $49 or $36 depending on whether you don't, or do, pre-pay for servicing.
Fuel consumption
Time and weather constraints on this megatest precluded scientific testing of fuel consumption, so this time around, we'll have to rely on the baseline of official ADR fuel consumption numbers. These understate real fuel consumption, but they are at least a fair baseline for comparison. In fact, that's what these numbers are for.
The vehicles on test were motivated by a broad range of powertrains: naturally aspirated petrol, turbo petrol, petrol-electric hybrid, and turbo diesel.
Still, there was one SUV way ahead on limiting fuel use: the Toyota RAV4 hybrid, which has a claim of 4.8L/100km on 91-octane petrol. We've been able to get close in the real world. Unsurprisingly, the second-best was the diesel-fuelled Sportage, at 6.3L/100km.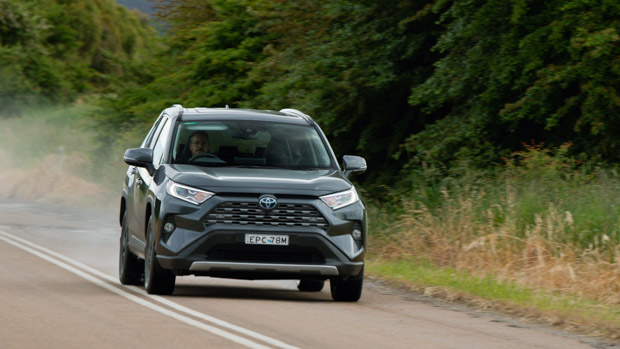 From there it was a jump to the Hyundai Tucson turbo petrol at 7.2L/100km, the Subaru Outback on 7.3L/100km, and the Subaru Forester and Haval H6 jointly at 7.4L/100km – all on minimum 91-octane petrol. The Mitsubishi Outlander, despite not having a turbo, only managed 8.1L/100km on 91.
Somewhat unsurprisingly, the most powerful vehicles on test used the most fuel. All with turbo petrol engines, the CX-5 used 8.2L/100km, the Tiguan 8.5L/100km, and the powerful Escape 8.6L/100km – but while the VW and Ford require dearer, premium 95-octane, the CX-5 can make do with 91. Feed it 95 and it actually makes a touch more power than the Escape…
Fuel spend: annual, then over 100,000km
In order to provide an indicative figure for annual fuel spend, let's inflate these numbers by 30 percent to get much closer to real-world fuel consumption. We'll assume a driving distance of 15,000km per year, and costs of $1.70 for E10 petrol and diesel, and $1.85 for 95-octane petrol. That produces this ranking:
Toyota RAV4 hybrid: $1592
Kia Sportage diesel: $2089
Hyundai Tucson turbo petrol: $2387
Subaru Outback: $2420
Subaru Forester: $2454
Haval H6: $2454
Mitsubishi Outlander: $2686
Mazda CX-5 turbo petrol: $2719
Volkswagen Tiguan 162TSI: $3067
Ford Escape: $3103
Extrapolate those numbers out to 100,000km of driving and there is a significant gap between the fuel-efficient and the thirsty:
RAV4 hybrid: $10,613
Sportage diesel: $13,927
Tucson turbo petrol: $15,914
Outback: $16,134
Forester: $16,361
H6: $16,361
Outlander: $17,907
CX-5 turbo petrol: $18,127
Tiguan 162TSI: $20,447
Escape: $20,687
Comprehensive car insurance from Budget Direct
Our video of this megatest provides an indicative quote for comprehensive car insurance for each SUV.
Disclaimer: median premium. Comprehensive policies, paid annually and purchased for the first time between 1/10/20 and 1/10/21. Individual circumstances and policy terms may vary. Please quote for yourself. Subject to meeting underlying criteria.
Remembering that everybody's situation varies, and premiums will vary based on factors insurers take into account like where you live, how you garage the car, who drives the car and their driving history, here's how the SUVs in this test ranked.
Ford Escape: $800
Kia Sportage: $809
Haval H6: $843
Subaru Outback: $856
Hyundai Tucson: $862
Subaru Forester: $869
Mitsubishi Outlander: $870
Honda CR-V: $902
Mazda CX-5: $911
Toyota RAV4: $1047
Volkswagen Tiguan: $1065
Convenience and safety technology
Each SUV on test here is high-technology: it's not really possible to market a new family car in Australia – or at least rate well with us – these days without a good smattering of safety technology.
Convenience tech in the cabin can be lifesaving in its own way – no distractions, thanks – but while great interior technology isn't mandated, we are scrupulous in assessing how touchscreens, driver cockpits, navigation, Bluetooth, smartphone mirroring, and even how stereos work.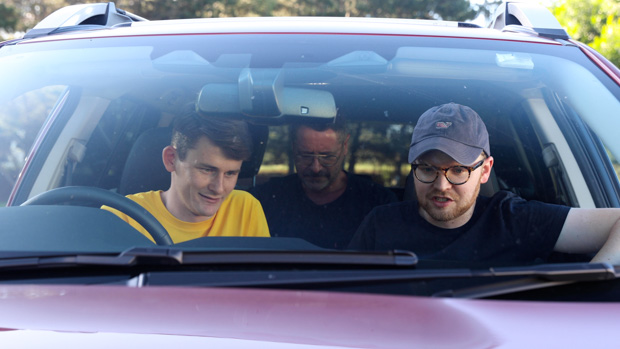 Safety tech
Most of the SUVs on test have been rated for their crash and safety performance by ANCAP, and each has a five-star rating earnt between 2016-2021, but note that the new-ish H6, brand-new Outlander and brand-new Sportage have not yet been tested.
Newer five-star scores mean more because over time earning five stars has become tougher. Standards for semi-autonomous assistance systems keep increasing and new requirements for injury prevention have been integrated since 2020, including a demand to prevent head clashes in the interior.
Two of our entrants were rated by ANCAP in 2021 on the current, toughest protocol:
| | | | | |
| --- | --- | --- | --- | --- |
| 2021 tested | Adult | Child | Ped | Safety |
| Outback | 88% | 91% | 84% | 96% |
| Tucson | 86% | 87% | 66% | 70% |
Three of the SUVs were tested in 2019:
| | | | | |
| --- | --- | --- | --- | --- |
| 2019 tested | Adult | Child | Ped | Safety |
| RAV4 | 93% | 89% | 85% | 83% |
| Escape | 92% | 89% | 82% | 77% |
| Forester | 94% | 86% | 80% | 78% |
Three entrants were tested in 2016 or 2017:
2016-17 tested
Adult
Child
Ped
Safety
Tiguan
96%
80%
68%
68%
CX-5
95%
80%
78%
59%
CR-V
35.76/37, no detailed scores available
Semi-autonomous safety technology
Every SUV on test included some level of semi-autonomous safety technology, normally bundled together in a suite.
Each model has forwards autonomous emergency braking, though some go further and include
Every SUV on test includes forwards autonomous emergency braking as standard. Some go further and include reversing AEB. This tech automatically brakes the vehicle if an object is detected behind the car while reversing. Chasing Cars considers reversing AEB to be a key safety feature on SUVs, even though it is not (yet) an ANCAP requirement.
The Volkswagen Tiguan, Mazda CX-5, Subaru Outback, Subaru Forester, and Mitsubishi Outlander all include reversing AEB. We encourage the rest of the pack to adopt this technology.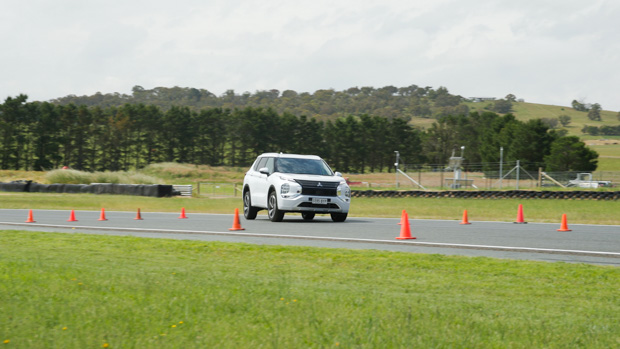 All contenders also include a form of lane keeping assist. Our testing revealed the Tiguan, Sportage, Tucson, Outback, Forester and Escape to be capable of stronger and more accurate lane centring, while the RAV4, Outlander, CR-V, H6 and CX-5 either pogoed off the edges of the lane, or merely alerted the driver when departing the lane.
We appreciate that high-specification versions of the Kia Sportage and Hyundai Tucson show you a live, high-definition camera feed of your left or right blind spot when you activate the indicator – this is the best blind-spot monitoring tech on the market. The Honda CR-V shows you your left blind spot via a camera, but the view is much grainer, and unusable at night.
All other vehicles do include blind spot monitoring, but it's by way of a traditional sensor light found in the mirror.
Screens, smartphone mirroring and stereos
These days, most of us like our cars to have a good tech package in the cabin. In this set of family haulers, we were looking for big and bright screens that were easy to interact with on the go: switching your navigation and media should be easy, as should pairing a new phone.
The ability to wirelessly mirror your smartphone to the car's screen was regarded as a substantial plus, because this increases the likelihood that you won't be tempted to steal a glance at the phone on the run. All contenders can do this with a cable, but not everybody wants to plug their phone in every single drive.
And a crisp, loud, punchy and distortion-free stereo was something we looked for, too. Our judges are interested in music and reached a consensus on the relative quality of each sound system on test.
Biggest isn't always best, but the largest screens on test belonged to the Kia Sportage, which adjoins twin 12.3-inch units in a beautiful, Porsche Taycan-aping, curving glass panel. No cowl? No problem: these displays were bright enough to ward off direct sun. The same is true of the 10.25-inch units in the Hyundai Tucson which runs the exact-same software.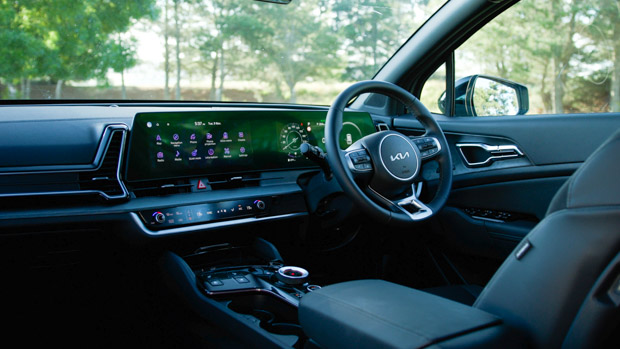 The Sportage does benefit from notably more real estate, but both the Tucson and Sportage's near-identical packages are snappy and reasonably well laid-out, though more functions are buried in menus than they once were.
It might be one of the older vehicles in the segment, but the Volkswagen Tiguan's tech suite is the most mature here. With a 9.1-inch touchscreen running an older (but more intuitive) operating system than, say, the new Golf, the Tiguan also brings a 12.3-inch digital instrument cluster that allows you to display a full map ahead of you. It's the only car here with that power, which feels like a sixth-sense while navigating back streets.
Along with the Tiguan, the Mitsubishi Outlander is the only vehicle here to provide wireless mirroring of Apple CarPlay and Android Auto. We were surprised to find a relatively low-res 8.0-inch touchscreen on this new-for-2022 model, but the screen is mounted high, and it's located next to a 12.3-inch digital cluster with some cool graphics, shared with the forthcoming Nissan X-Trail that the Outlander shares its platform with.
Subaru's pair of entrants might share a dated-looking analogue cluster with a compact, nineties-style trip computer – but they both have a very snappy, easy-to-use touchscreen.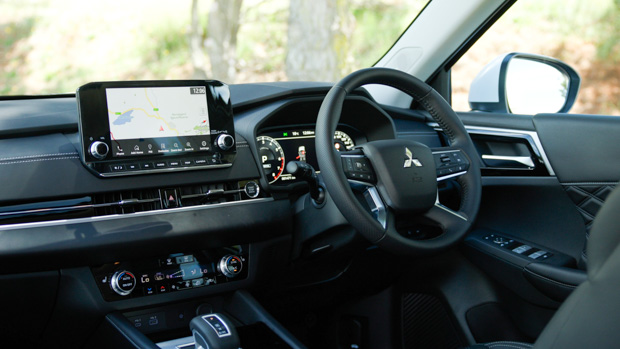 In the Forester, it's a very conventional 8.0-inch landscape unit, but in the Outback, it's an 11.6-inch vertical screen kind of like that used in a Volvo V60 Cross Country … but without the mature fonts and colours. But while the graphics look undercooked, the software could hardly be more intuitive. Both Subaru models also have a smaller colour screen at the top of the dashboard for displaying trip, nav or media data.
It's something of a contest between the Honda CR-V's small 7.0-inch touchscreen and the Haval H6's big 12-inch display for least sophisticated graphics, however. Honda's system is just old, with Windows 95-esque menu graphics, and the new Civic is the only model in Australia with the brand's much-improved newer software.
The Haval lacks integrated navigation and digital radio, but its main problem is its bizarre and arcane menus, oddly-placed functions and an overuse on unintuitive shortcut systems. More physical buttons – for heated seat controls, for instance – or a detailed user-experience review of the system and redesign of the menu system would likely solve this problem.
Ford's Escape uses a combination of a solid 8.0-inch touchscreen running the brand's intuitive and fast Sync 3 software, built around clear tiles that activate different navigation, media and settings functions. Plus, there's a 12.3-inch cluster … that sadly doesn't do much that analogue dials wouldn't do. The flat-looking graphics that ape real dials should have given way to a Tiguan (or even Outlander) style digital instrument pack.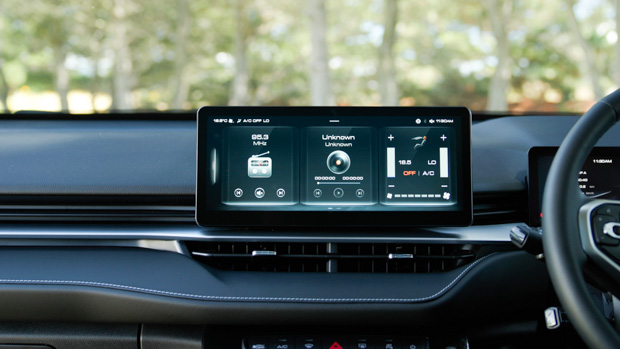 The Toyota RAV4 and Mazda CX-5 fall into a rather acceptable, unremarkable category when it comes to interior tech. Both are fine: the RAV4 runs an 8.0-inch touchscreen and 7.0-inch instrument display that are quite easy to use, though glare is a significant problem, occasionally eliminating any visibility of the digital speedometer.
Avoiding the glare issue but sharing the Escape's lack of digital-instrument cluster imagination, with no media or mapping display to speak of, the CX-5 has at least pinched its CX-30 sibling's superior 10.25-inch display. It's not a touchscreen, but the graphics look clean and mature, and the clicky rotary dial that drives the tech feels satisfying under-hand.
But what about stereo quality? Here's how our judges rated the speakers and the acoustic in each car using the same track:
| | | |
| --- | --- | --- |
| Model | Stereo | Judged quality |
| CX-5 | 10sp Bose | Very good |
| Escape | 10sp B&O | Good |
| Forester | 8sp H-K | Good |
| RAV4 | 11sp JBL | Good |
| Tiguan | 10sp H-K | Good |
| Tucson | 8sp Bose | Good |
| H6 | 8sp | Above avg |
| Outback | 12sp H-K | Above avg |
| Outlander | 10sp Bose | Above avg |
| CR-V | 8sp | Average |
| Sportage | 8sp H-K | Below avg |
There was a clear consensus that the Bose system in the CX-5 delivered the clearest bass, mid and treble tones from our test track, with excellent clarity and lack of distortion.
We also timed how quickly it was possible to pair a new Bluetooth device to each of the vehicles – and we timed how long it took to input the same destination, and to commence navigating, using the integrated map:
| | | |
| --- | --- | --- |
| Model | Start nav | Pair phone |
| CR-V | 23 sec | 50 sec |
| Outlander | 23 sec | 19 sec |
| Sportage | 23 sec | 21 sec |
| Outback | 26 sec | 26 sec |
| Forester | 28 sec | 18 sec |
| CX-5 | 33 sec | 29 sec |
| Tiguan | 40 sec | 23 sec |
| Tucson | 44 sec | 26 sec |
| RAV4 | 44 sec | 48 sec |
| Escape | 73 sec | 37 sec |
| H6 | No nav | 42 sec |
Practicality and comfort
In the course of our testing, we picked up surprising differences in the packaging of the 11 SUVs in this comparison. Efficient packaging is an art: how can you make a car as small as possible on the outside but as big as possible on the inside, where it really counts?
Some manufacturers are better than others at this difficult task – making a car more fuel-efficient and easy to park, yet spacious enough to fit child seats easily while swallowing up the whole tribe's stuff in the boot.
Midsize SUV is a relative term, of course. Informally, we regard the category to include vehicles of between 4.5 and 4.7 metres in length. In this megatest, all models fell into this bucket, bar two: the 4.71m-long Outlander (which makes up for its 1cm indiscretion by bundling seven seats with AWD, uniquely in this segment), and our 4.87m-long Outback wildcard.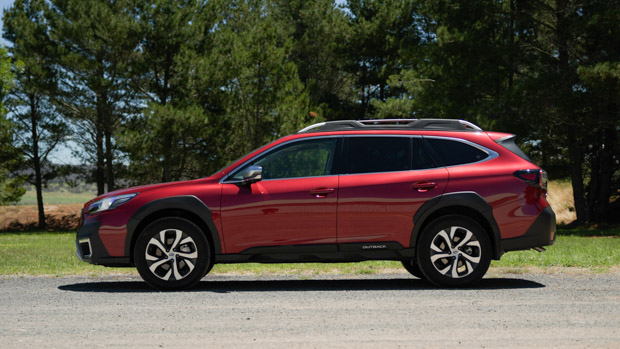 Length, width and height
There was more a 20cm difference between the Outlander and the shortest SUV here – the Tiguan, yet the far smaller Tiguan has 28 percent more boot space than the Mitsubishi in five-seat mode. There is often some fiddling to produce a bigger number (in VW's case, the second row has to be slid some way forward on rails to get to its figure), but much of the difference is found in disciplined packaging.
Here's a helpful summary of the dimensions of these vehicles to help gauge whether it'll fit in your garage or parking spot – and how high the roof is for fitting accessories like roof racks, and for washing purposes, sorted from shortest to longest.
| | | | |
| --- | --- | --- | --- |
| Model | Length | Width | Height |
| Tiguan | 4509mm | 1839mm | 1645mm |
| CX-5 | 4550mm | 1840mm | 1675mm |
| RAV4 | 4600mm | 1855mm | 1685mm |
| Escape | 4629mm | 1883mm | 1670mm |
| CR-V | 4635mm | 1855mm | 1689mm |
| Forester | 4640mm | 1815mm | 1730mm |
| Tucson | 4640mm | 1865mm | 1665mm |
| H6 | 4653mm | 1886mm | 1724mm |
| Sportage | 4660mm | 1855mm | 1685mm |
| Outlander | 4710mm | 1862mm | 1745mm |
| Outback | 4870mm | 1875mm | 1675mm |
Boot space
We looked closely at boot space, and the actual dimensions of the boot – including claimed literage, the width of the boot opening, the load height of the boot, and the depth of the space – both with seats up and seats folded.
| | | | | | |
| --- | --- | --- | --- | --- | --- |
| Boot | Claimed size | Opening width mm | Load height mm | Depth (seats up) mm | Depth (seats folded) mm |
| Tiguan | 615L | 1000 | 740 | 1050 | 1710 |
| H6 | 600L | 1010 | 800 | 960 | 1850 |
| RAV4 | 580L | 990 | 670 | 1020 | 1870 |
| Escape | 556L | 1030 | 740 | 1030 | 1800 |
| Sportage | 543L | 1035 | 740 | 1010 | 1845 |
| Tucson | 539L | 1035 | 740 | 960 | 1810 |
| Outback | 522L | 1090 | 730 | 1090 | 1960 |
| CR-V | 522L | 1050 | 650 | 960 | 1850 |
| Forester | 498L | 1090 | 810 | 905 | 1825 |
| Outlander | 478L | 1060 | 770 | 1230 | 1830 |
| CX-5 | 442L | 1045 | 740 | 860 | 1700 |
People who need to load up long items – like a bicycle or flat pack furniture – will benefit from the van-like Subaru Outback, which provides nearly two metres of depth with the seats folded: wagons have their benefits! That said, the RAV4 wasn't far behind, offering up an impressive 1.87m of depth.
Points go to the CR-V for having the lowest load height, making it easy to lift heavy bags in or out – again, the RAV4 was very close behind. Perhaps because of its focus on rugged lifestyle activities, the Subaru pair nabbed the gong for widest boot opening, with both the Outback and Forester providing a big, 1.09m-wide aperture.
Spare tyres: full-size and space saver
A full-size spare tyre was once considered a sacred cow of family motoring in Australia, but the feature has become harder to find in recent years – particularly as manufacturers have looked to integrate independent rear suspensions, all-wheel drive systems, premium stereos with boot-mounted subwoofers and, in some case, seven seats.
Each of these luxuries impedes the room where a space-saver spare could be located, creating the need for compromise – so it was not surprising that more than half our pack forewent a full-size spare for a less confidence-inspiring space-saver.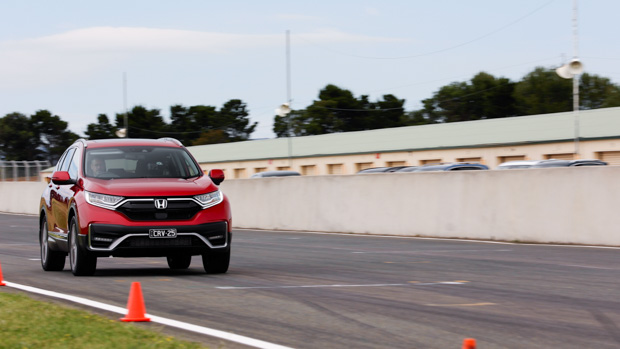 In the group retaining a full-size spare sits the Honda CR-V, Subaru Forester, Subaru Outback, Kia Sportage and Hyundai Tucson.
Buyers of the Mazda CX-5, Ford Escape, Haval H6, Mitsubishi Outlander, Toyota RAV4 and Volkswagen Tiguan make do with a space-saver – this is a factor worth keeping in mind if you do a lot of very remote country driving.
Ground clearance, weight, spare tyres
Few people take midsize SUVs off road – but we believe some level of gravel ability is necessary for any vehicle sold in Australia, given that the preponderance of roads on this continent remain unsealed.
Some vehicles on this test do offer reasonably significant ground clearance, making them more suitable than others for buyers who need to access more remote campsites or trail-heads – but for any difficult off-road driving, we would usually recommend a vehicle with a true 4WD system.
| | | |
| --- | --- | --- |
| Model | Ground clearance | Kerb weight |
| Forester | 220mm | 1576kg |
| Outback | 213mm | 1661kg |
| Outlander | 210mm | 1760kg |
| CR-V | 208mm | 1636kg |
| Tiguan | 201mm | 1785kg |
| Escape | 190mm | 1621kg |
| RAV4 | 190mm | 1745kg |
| CX-5 | 183mm | 1720kg |
| Sportage | 181mm | 1759kg |
| Tucson | 181mm | 1560kg |
| H6 | 170mm | 1593kg |
Ground clearance ranged quite significantly in this group, from the really-quite-low Haval H6 (170mm), to the really-quite-high Subaru Forester (220mm). It's worth noting that the Outback, despite delivering very car-like handling, offers remarkably generous ground clearance of 213mm.
When it came to mass – which can be important, if not decisive, for factors like maneouvrability and efficiency – every vehicle on test fell in a relatively narrow kerb weight range of 1560kg (Tucson turbo petrol) to 1785kg (Tiguan 162TSI).
Front seat comfort
On the whole, we were impressed in this comparison at how comfortable these midsize SUVs were. Hundreds of kilometres of assessment were carried out on each vehicle, including on roads with very poor surfacing. Seat comfort is a safety feature for the driver, but we also have a strong expectation that the front passenger is not treated as a second-class system.
Sadly, our hopes of finding passenger seats with broadly the same level of comfort as the driver's pew were dashed on nearly every vehicle. Only Tiguan and Outlander provide a full range of power adjustment for the front passenger. The others lack squab angle adjustment, lack power adjustment (some), or lack seat height adjustment entirely (CR-V and, very noticeably, RAV4 – though this is being rectified in the Cruiser grade in 2022).
Thankfully, the driver's seats on the test were much better. Standout performances included the Volkswagen Tiguan, which packs indulgently-bolstered, supportive chairs for both front occupants – plus the Honda CR'V's shapely seats and the Toyota RAV4's comfy driver's pew.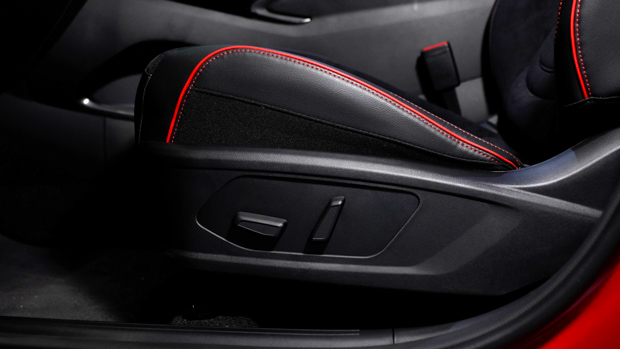 On the other side of the ledger, we didn't appreciate the Haval H6's lack of thigh angle adjustment, which leaves the driver's knees floating, forcing the pilot to brace against… something. There's not much to do other than grit your teeth. And for such a rapid vehicle, we were surprised at how the Ford Escape's otherwise-good seats lacked much lateral support.
Another feature central to seat comfort in Australia is seat ventilation, or cooling. Demand for this feature has sprung up relatively quickly over the last few years, but it's now something we look for – particularly as this test was conducted in very late spring. It was warm.
In this group, only the Mazda CX-5, Haval H6, Kia Sportage and Hyundai Tucson offered cooled seats, though they are becoming standard-fit later this year on the Subaru Outback Touring and Toyota RAV4 Cruiser. All models had seat heating, which is relevant in most parts of Australia for only a short window in winter-time.
On the quantitative side of the ledger, we measured how much space was present in the driver and passenger seats of each vehicle, examining legroom and hip height for the driver, and headroom for both seats.
| | | | | |
| --- | --- | --- | --- | --- |
| Model | Hip height | Legroom | Headroom | Passenger headroom |
| Outback | 685mm | 120mm | 90mm | 80mm |
| Escape | 730mm | 230mm | 100mm | 80mm |
| Outlander | 730mm | 130mm | 100mm | 90mm |
| Tiguan | 740mm | 150mm | 100mm | 100mm |
| CR-V | 740mm | 110mm | 70mm | 80mm |
| Forester | 750mm | 120mm | 110mm | 110mm |
| CX-5 | 770mm | 130mm | 100mm | 100mm |
| H6 | 770mm | 120mm | 125mm | 80mm |
| Sportage | 780mm | 130mm | 70mm | 60mm |
| Tucson | 780mm | 120mm | 60mm | 60mm |
| RAV4 | 790mm | 150mm | 50mm | 40mm |
Is a tall person going to use the passenger seat? Something like the Forester, Tiguan or CX-5 will suit best – and you'd have to avoid the RAV4 until Toyota updates the 2022 Cruiser grade with height adjustment in February.
Hip height, or slide-in height, is a key consideration for some drivers – particularly people with hip, back and leg issues. None of the vehicles on test were 'low' or sporty – even the lowest, our wildcard Outback, was reasonably accessible. Among the SUVs, there was a 6cm difference in hip height between the lowest (Escape and Outlander) and the highest (RAV4).
Rear seat comfort
Perhaps the best evidence for the fact that midsize SUVs are not created equally is found in the second row. Back seat space differed very significantly in this test. 13cm differences in headroom and 7cm variances in legroom were recorded.
But the quantitative measurements don't explain the whole story – they rarely do. The least spacious back seat belonged to the Mazda CX-5, but it was also one of the more pleasant second rows to ride in, thanks to its soft and comfortable materials, and a properly-angled seat base. It may not suit baby seats as well, but if your kids are a little older, they will prefer it to a more Spartan back seat like that found in the Escape.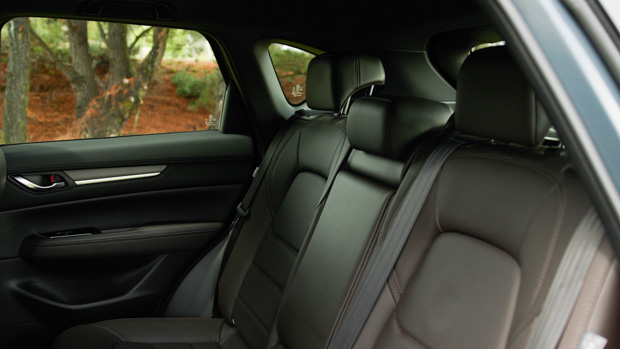 We were pleased to note that all contenders in this megatest included rear air vents, which is crucial in a hot country, and especially if you plan to carry children in the back – for keeping car sickness at bay. Some models (Tucson, Sportage, CX-5) rather indulgently include outboard rear seat heaters.
| | | | |
| --- | --- | --- | --- |
| Model | Legroom | Headroom | Between 2 pax |
| CR-V | 180mm | 65mm | 270mm |
| Tucson | 180mm | 60mm | 260mm |
| Forester | 170mm | 40mm | 240mm |
| RAV4 | 170mm | 110mm | 250mm |
| Outback | 160mm | 105mm | 280mm |
| Sportage | 150mm | 70mm | 260mm |
| H6 | 130mm | 90mm | 290mm |
| Outlander | 130mm | 35mm | 260mm |
| Tiguan | 110mm | 70mm | 250mm |
| Escape | 100mm | 40mm | 230mm |
| CX-5 | 50mm | 70mm | 230mm |
As you can see, there are big differences here. Those need to maximise headroom – perhaps to carry taller teenagers – will benefit from looking in the direction of the RAV4, Outback, H6 and Tiguan. Second-row headroom was very limited in the Outlander, which has a strange hump in the roof, while the Forester and Escape were not as generous as we'd expect.
Fitting baby or child seats
We tested the fitment of two child seats to each SUV on test: one forward-facing seat to suit a toddler or young child, and a rear-facing capsule for an infant.
Two trained judges were timed completing this task simultaneously to safe completion, before our 5'10" tester was seated between the two fitted child seats in order to provide a judgment as to whether an adult can comfortably fit here.
| | | | |
| --- | --- | --- | --- |
| Model | Door opening | Time to install | Fit adult between? |
| CR-V | 1170mm | 3.5 min | Acceptable |
| Forester | 1100mm | 2 min | Easy fit |
| Outback | 1100mm | 3.5 min | Acceptable |
| Tucson | 1070mm | 4 min | Difficult |
| Sportage | 1055mm | 3 min | Acceptable |
| CX-5 | 1040mm | 5 min | Acceptable |
| Tiguan | 1000mm | 2.5 min | Acceptable |
| Outlander | 985mm | 3.5 min | Acceptable |
| H6 | 980mm | 2.5 min | Easy fit |
| Escape | 970mm | 3 min | Difficult |
| RAV4 | 910mm | 5 min | Acceptable |
If you need to fit child seats, the Forester is the easiest SUV to do this with on balance. It took just two minutes for our judges to fit both seats, and fitting an adult between the seats in this relatively wide vehicle was easy. The Haval H6 wasn't far off here.
This was a more difficult task in the Toyota RAV4, which has doors that simply don't open wide enough – while the small back seat of the CX-5 made the task pokey. Both cars took the judges five minutes, working together, to install both seats.
Driving dynamics
SUV dynamics were once woeful: no longer. Every vehicle here is at least safe to drive, with predictable handling, acceptable levels of grip, and sufficient engine performance to feel liveable every day.
That said, while the midsize SUV category has achieved a level of performance, ride and handling that makes virtually any car "good enough", there are standouts on both sides of the ledger. Some SUVs here were a pleasure to drive, while others revealed shortcomings – particularly in our controlled testing.
We completed hundreds of kilometres of on-road testing for this comparison, on both smooth pavement and the kind of scarred and broken country roads you will encounter on virtually any road trip in Australia.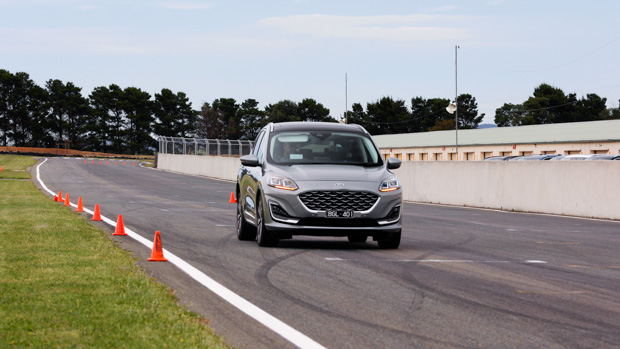 To bring out even more precise observations, we also made use of Wakefield Park Raceway, about 90 minutes southwest of Sydney, to perform measured performance testing for acceleration (0-100kmh), overtaking power (80-120km/h), braking (100-0km/h), a six-cone slalom with a U-turn, and an emergency lane change and avoid exercise.
Every vehicle was tested in direct succession, on the same part of the track, over three hours, and in the same weather conditions: mid-twenties and cloudy.
Acceleration (0-100km/h)
Outright performance is not the goal of a midsize family SUV – but it will be of interest to many buyers. There is little doubt that brisk performance to accelerate out of a roadhouse and back up to 110km/h on a major highway is a safety feature.
We strapped a VBOX device to each SUV on test, with Chasing Cars deputy editor and experienced vehicle performance-tester Nathan Ponchard completing three runs from 0-100km/h on Wakefield's straight. The best 0-100km/h time recorded is presented here.
| | | |
| --- | --- | --- |
| Model | Engine | 0-100km/h time |
| Tiguan | 2.0T 169kW/350Nm | 6.59 sec |
| Escape | 2.0T 183kW/387Nm | 7.08 sec |
| CX-5 | 2.5T 170kW/420Nm | 7.20 sec |
| H6 | 2.0T 150kW/320Nm | 7.83 sec |
| RAV4 | 2.5 hybrid 163kW | 8.29 sec |
| CR-V | 1.5T 140kW/240Nm | 8.72 sec |
| Sportage | 2.0TD 137kW/416Nm | 8.98 sec |
| Tucson | 1.6T 132kW/265Nm | 9.33 sec |
| Outback | 2.5NA 135kW/245Nm | 9.89 sec |
| Forester | 2.5NA 136kW/239Nm | 9.99 sec |
| Outlander | 2.5NA 139kW/245Nm | 10.30 sec |
Unsurprisingly, there was a correlation between higher power and quicker acceleration times. The sprightly Tiguan, helped by its seven-speed wet-clutch DSG automatic, threw itself down Wakefield's straight in under 6.6sec – impressively nearly half a second quicker than the Escape despite The VW's 164kg weight and 21kW power penalties.
We were a little disappointed to note that one the field's newest entrants, the 2022 Outlander, required more than 10 seconds for this task – while the smaller Outback was absolutely leisurely at 9.99sec – but we were impressed by the RAV4 hybrid's electrically-boosted 8.29sec run.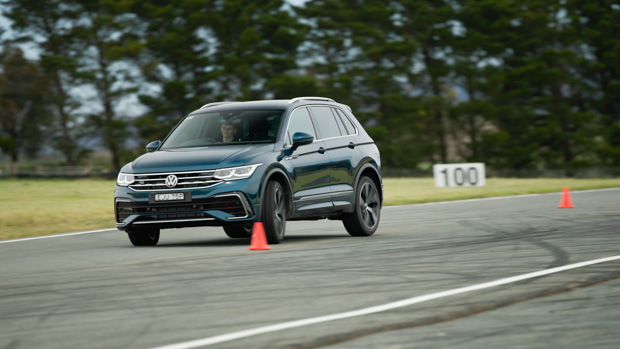 Overtaking power (80-120km/h)
You've just pulled out from behind that slow caravan on a single-carriageway country road. How quickly can you get around the lumberers? Adequate passing power isn't something we think about day-to-day in suburbia, but on those road trips you want to take with your new SUV? It's something to think about – so we did, across three timed runs. The shortest time is presented here.
| | | |
| --- | --- | --- |
| Model | Engine | 80-120km/h time |
| Escape | 2.0T 183kW/387Nm | 4.29 sec |
| Tiguan | 2.0T 169kW/350Nm | 4.63 sec |
| CX-5 | 2.5T 170kW/420Nm | 4.72 sec |
| H6 | 2.0T 150kW/320Nm | 4.97 sec |
| RAV4 | 2.5 hybrid 163kW | 5.59 sec |
| CR-V | 1.5T 140kW/240Nm | 5.81 sec |
| Tucson | 1.6T 132kW/265Nm | 6.19 sec |
| Sportage | 2.0D 137kW/416Nm | 6.20 sec |
| Outlander | 2.5NA 135kW/245Nm | 7.09 sec |
| Outback | 2.5NA 138kW/245Nm | 7.11 sec |
| Forester | 2.5NA 136kW/239Nm | 7.25 sec |
Most rankings stayed the same here, with a few swaps. With 80km/h already aboard, the Escape's power and weight advantage overwhelmed the Tiguan for first place, very tidily dispatching the maneouvre in just 4.29sec.
The Tucson's petrol engine also found its feet, (just) swapping places with the diesel-fed Sportage – while the Outlander managed to best both Subarus, with the Forester phoning in a slovenly 7.25sec result – compared to the Ford, that's nearly three additional seconds that you are travelling on the wrong side of the road – not cool.
There's a fascinating difference to notice here between the turbocharged cars (plus the RAV4 hybrid – the torque from the electric motors gives similar results to a turbo at speed) and the naturally aspirated vehicles. There is almost a second separating the Sportage from the Outlander here.
Braking distance (100-0km/h)
Bringing nearly two tonnes of metal, fluid and driver to a rapid stop from country highway speeds to a complete stop is a huge stress to put these machines through – but we did it anyway, because when you need to throw out the anchors, some of these SUVs brake far more efficiently than others.
Three runs were undertaken, but due to the increased urgency of braking distance as compared to acceleration, we've chosen to present both the shortest and longest stops recorded by each model.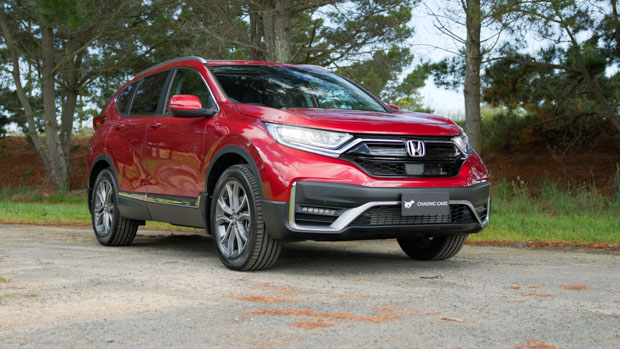 | | | |
| --- | --- | --- |
| Model | Shortest stop | Longest stop |
| CR-V | 36.75m | 36.80m |
| Escape | 36.91m | 38.80m |
| RAV4 | 36.92m | 38.56m |
| Tucson | 38.44 | 40.69m |
| Forester | 38.58m | 39.61m |
| Outback | 39.31m | 40.29m |
| CX-5 | 39.35m | 40.66m |
| Tiguan | 39.46m | 40.16m |
| Sportage | 41.17m | 41.88m |
| Outlander | 41.21m | 41.89m |
| H6 | 41.46m | 44.30m |
Here, the Honda CR-V emerged as the clear victor, demonstrating uncanny consistency across all three attempts – just 5cm separated its shortest and longest stops. Honourable mentions go to the Escape, RAV4 and Forester, which kept their longest stops to under 40 metres.
We noted with some concern that even the best runs for the Outlander, H6 and heavily diesel-donked Sportage were over 41 metres in length, while the Haval's stopping power ballooned alarmingly to 44.3m in its worst attempt.
Six-cone slalom: up, U-turn and back
Agility, body control, visibility, maneouvrability and turning circle efficiency were measured by Chasing Cars journalist John Law with a six-cone slalom on Wakefield Park's back straight.
Stability control was left in fully-on mode, representing how virtually all drivers will operate a midsize SUV. Three runs were undertaken, with the intention to drive the slalom as quickly as possible. Touching a cone invalidated the run.
| | |
| --- | --- |
| Model | Slalom time |
| RAV4 | 18.34 sec |
| CX-5 | 18.49 sec |
| Tiguan | 18.64 sec |
| Outback | 18.84 sec |
| Tucson | 18.91 sec |
| Escape | 19.05 sec |
| Forester | 19.25 sec |
| CR-V | 19.27 sec |
| Outlander | 19.62 sec |
| Sportage | 19.65 sec |
| H6 | 19.97 sec |
The results from our slalom test were remarkably consistent, with the 'longest' time (H6) actually only 8 percent beyond the quickest (RAV4). Tester John Law noted the RAV4's tight turning circle and immediate hybrid punch out of the U-turn as its winning features here.
Mazda's CX-5 – long-praised as a driver's choice in this segment – was not far behind, while the Tiguan's quick dual-clutch auto and the Outback's car-like stance helped.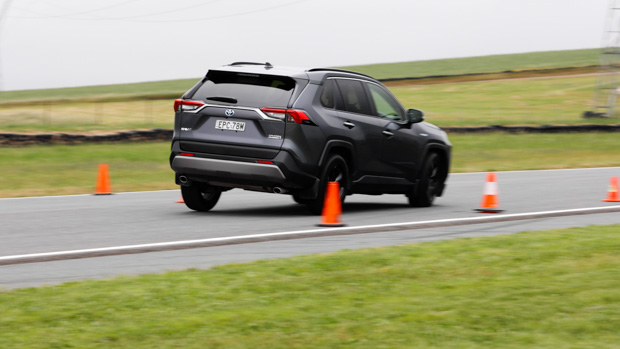 Emergency swerve-and-avoid
We replicated a country road obstacle avoidance situation between turns two and three at Wakefield. The test vehicle entered the gate on the correct side of the road before swerving to avoid a hypothesised obstacle – pedestrian, bear, kangaroo – in its lane, before immediately recovering. We measured the fastest speed that each model at which each model could successfully complete this test without knocking over a cone.
| | |
| --- | --- |
| Model | Fastest avoidance speed |
| Tiguan | 84km/h |
| H6 | 80km/h |
| Sportage | 78km/h |
| CR-V | 77km/h |
| Tucson | 77km/h |
| Forester | 77km/h |
| Escape | 76km/h |
| CX-5 | 73km/h |
| RAV4 | 73km/h |
| Outback | 70km/h |
| Outlander | 68km/h |
The Volkswagen Tiguan's adaptively-damped suspension, excellent body control and expertly-tuned stability control allowed it to bowl through our avoidance maneouvre at a fast 84km/h without issue.
By contrast, the second-running Haval H6 (80km/h) was far less finessed with softer suspension responses – we noted its stability control was slower to act – but it should be congratulated for its ability to complete the test quicker than many better-known rivals.
We were surprised that the RAV4 and CX-5 – otherwise dynamically capable vehicles – could muster up just 73km/h: blame that on bitey stability control systems; their chassis were capable of higher.
Disappointingly, the new Outlander repeatedly suffered from power steering bind, with tester Law unable to recover the steering for the re-entry portion of the test at any speed higher than 68km/h.
Engines and gearboxes
How things can change so quickly: had we completed this megatest a decade ago, most of the vehicles present would have been powered by diesel engines.
Fast forward to 2022 and just four of the 11 vehicles present in this comparison are available with diesel power: the Sportage (as tested with a 137kW/416Nm 2.0-litre), Tucson (which shares Sportage's engines), Tiguan (147kW/400Nm 2.0-litre) and CX-5 (140kW/450Nm 2.2-litre).
Diesel donks still make sense for buyers who need to cover serious mileage – and they'll need to head in the direction of Volkswagen, Mazda, Kia or Hyundai while those options are still available. Ever-smaller volume means these diesel choices will probably keep shrinking.
So it was petrol bowsers we were (rather expensively, in November 2021) filling most of this four-cylinder fleet from this megatest. Just three were fully naturally aspirated: the Subaru siblings with their horizontally-opposed 2.5-litre making 138kW/245Nm in the Outback but 2kW/6Nm less in the Forester, plus the Outlander, which now uses Nissan's inline 2.5-litre, producing 135kW/245Nm.
The preponderance of entrants were turbo: the 1.5-litre CR-V (140kW/240Nm), 1.6-litre Tucson (132kW/265Nm), big-block 2.5-litre CX-5 (170kW/420Nm), and the two-litre crew composed of the punchy Escape (183kW/387Nm), Tiguan (162kW/350Nm) and H6 (150kW/320Nm).
The RAV4 was the sole hybrid-powered entrant, beefing up its 2.5-litre four-cylinder with three small electric motors for a system output of 163kW. Toyota doesn't state total torque as the contribution of the hybrid system varies, but it's always felt like 300-350Nm to us. Uniquely, the RAV4's $3000 AWD system works via a third motor on the rear axle.
While you can specify entry-level Sportages and CX-5s with a manual gearbox, few do, and all cars here had an automatic transmission of some variety. All had AWD bar the Escape and H6, on which the tech is a $3000 and $2000 option, respectively.
Three had seven-speed dual clutch autos (the Tiguan and H6 typically heavier-duty wet-clutch, dry-clutch in the Tucson). Four were continuously variable or similar (RAV4, CR-V, Forester and Outback). That left four conventional torque converter auto-boxes: eight-speeders in the Outlander, Sportage and Escape, and a six-cog in the CX-5.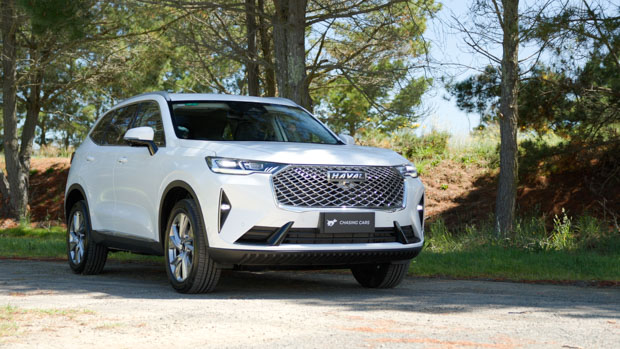 The performance testing data shown above tells most of the story. You need to seriously boot the Outlander and Forester to get them moving and to keep them moving on the open road – the Outback too, albeit to a slightly lesser extent. The difference is that the Mitsubishi's conventional transmission makes this a slightly less frustrating experience from an auditory perspective, in comparison to the screaming Subaru CVTs at wide-open throttle.
It's confusing that Subaru Australia chooses not to offer the fun-to-drive new Outback with the 2.4-litre turbocharged petrol engine offered in the US market, and a Forester XT would also be a hoot.
The point is, the performance of this trio is just acceptable, while the other vehicles on test deliver a higher level of performance. While both the RAV4 and CR-V have to make do with relatively mediocre CVT-type transmissions, their additional low-end torque from either a turbo (Honda) or hybrid system (Toyota) keeps the revs lower for longer, leading to a more serene, peaceful driving experience. The RAV4's responsiveness under throttle is particularly satisfying, given the immediate contribution from its hybrid system.
Chubby is how you'd describe the performance of the CX-5's biggest-in-test 2.5-litre turbo engine. Fed cheapo 91-octane, it'll give you 170kW of power: turn the heat up to 98-octane and you'll see more like 184kW – but it's the diesel-esque 420Nm of torque that governs the experience. There is loads of pulling power and you don't need more than this smart auto's six gears.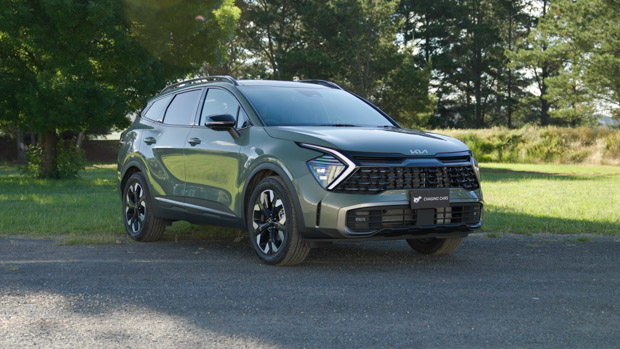 Where the CX-5 is studious yet muscled, the Haval H6 is scrappy. It uses every one of its 150kW to maximum effect, scrabbling off the line (the lack of AWD hurting it, somewhat). It revs strongly for a force-fed engine, while sounding decent, and its dual-clutch auto isn't a bad one.
The Tucson and Sportage ranges offer the same three engines, but the turbocharged ones are the only desirable units until hybrids hypothetically arrive later in 2022. The turbo petrol, as tested here in the Hyundai, is a relatively sweet little unit which belies its relatively low 265Nm torque figure, but it's held back by the indecisive, old-school dry DCT gearbox that hunts far too much.
That makes the diesel the engine of choice in the Korean pair, particularly given it's now paired to an eight-speed conventional auto that is much smoother than the DCT – but the diesel is heavier, and it noticeably blunts the handling. Plus, it's pretty gruff. Perhaps the hybrid, as sold overseas, would give these cars the engine they really deserve.
Along with the RAV4's frugal-yet-powerful hybrid engine, the standout engines here are Ford and Volkswagen's two-litre turbos. The Escape feels hot hatch quick everywhere: it's amazing that this engine is standard rangewide. Such high performance makes the Escape a great road trip partner – this is a secure SUV backed by a quick and rorty engine. It's actually a bit much for front-wheel drive, though, making $3000 AWD feel annoyingly expensive.
Volkswagen intelligently makes AWD standard on the 162kW/350Nm engine that has been the crowning glory of the Tiguan Mk II range since its 2017 launch. Talked up at the time as the Golf GTI motor – really, this 'EA888' donk is found in more than 20 Volkswagen Group products in Australia – this is actually just a well-balanced, warm powertrain that gels very well with its snappy seven-speed DSG automatic. It delivers everywhere.
Ride and handling
Our controlled testing in the slalom and swerve-and-recover maneouvres reveal a surprising amount about body control, chassis balance and traction, but there's no substitute for significant on-road testing to learn what a car is really like. Race tracks don't have many bumps, after all.
It is cliched but Australian roads really are different, with a very wide range of surfaces from cobblestones in Sydney's historic Rocks district to endless sun-cracked coarse chip with meandering, off-camber corners on rural highways to extensive gravel sections. This country tests suspension tunes and separates the sophisticated from the unfinished quickly.
And it actually doesn't take a local Australian suspension tune to get it right – though it can certainly help. Take Kia's new Sportage, which has a passive suspension tuned on harsh Victorian country routes – it has a supple, calm demeanour even on the most broken up stuff, and earned high marks for its composure, even if our judges pined for a lighter front end.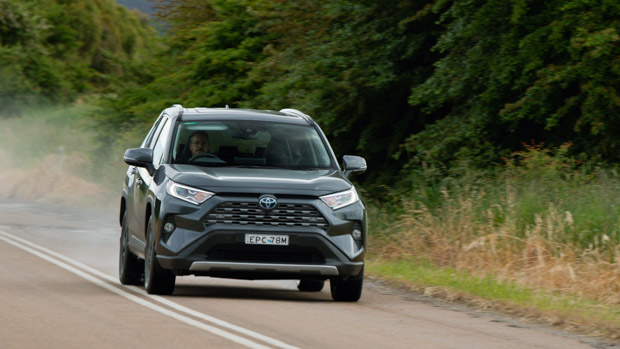 The same is true for the Hyundai Tucson, which counters its cousin with a NSW-derived damper setup and a sweeter Australian-fettled steering rack – lockdowns meant there was no time for Kia to deviate from Korea's tiller tune – meaning the Hyundai edges ahead as the slightly more pleasant of the relations to pilot.
But the engineers of the Volkswagen Tiguan didn't spend any time tuning their vehicle for Australia, and yet, it's the best to drive on test – by a noticeable margin. The engine and gearbox pair well but it's the R-Line's adaptively-damped suspension that breathes with our rough stuff yet provides Golf GTI-apeing body control when it gets curvy – plus near perfectly-weighted steering. If you like driving, you get what you pay for with the Tiguan.
One of the clearest 'most improved' awards of the last decade in motoring would go to the Toyota RAV4: the current generation brought not just the hybrid powertrain Australians have fallen in love with, but also vastly improved handling. There is communication and feel to the driver and while the Toyota's limits are a touch lower than the VW and maybe the Koreans, you know where the car is, the steering ratio is great and the ride is soft and pliant.
Meanwhile, the Escape is tearing up the road a few kilometres ahead, having already overtaken (in the best time on test) and left you in its turbocharged dust. The Ford is pacey, as we've established, but it backs up its speed with a Eurocentric handling package that favours a firmer ride – albeit not uncomfortably so – with the best steering here. It's a fun car to drive with intent, this one, but when the Escape is capable of all this, why are the seat side bolsters so flat?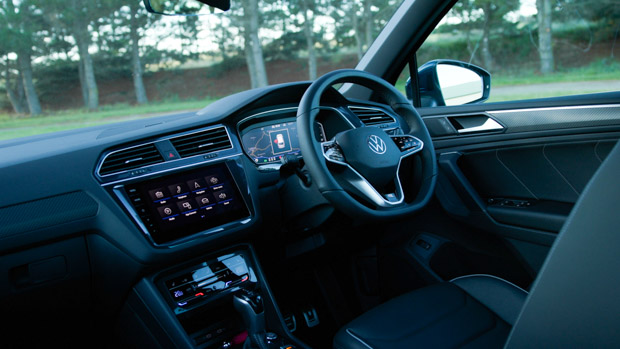 They might be slow in a straight line, but the Subaru brethren on test are surprisingly enjoyable to drive. They're both composed, but it's the Outback wagon that has genuinely high limits on road not reflected in some of its test scores. It's tossable, and despite the very long body, there's heaps of communication from the chassis. You feel the rear end working with you every step of the way. The Outback is so good on a B-road that it's a great shame it feels floaty and a bit unsure on a straight highway: the steering in particular does not firm up sufficiently at 110km/h, with too much on-centre play.
The Forester is better here, with more steering stability at higher speed, even if it's not quite as fun on a curving road. What the Foz has in spades is visibility: the looks are a bit awkward, but that gawky, enormous glasshouse means you can actually see out of it. Very pragmatic.
Mazda are proud to make driver's cars – indeed, many of their commercials are centred around the concept of horse-and-rider. And it's not just a platitude: the CX-5 is, indeed, a driver's choice in this space. Like many Mazdas, you need to drive it harder than the VW or Toyota to get the best out of it, but push on and it rewards with sweetly-responsive handling and great steering. The ride on 19-inch wheels is often a little choppy, though.
Honda's CR-V might be dated inside, but its dynamics have held up well. It's more than just okay to drive, with a well-balanced and considered suspension tune that is soft but offers decent body control. You can hold a higher pace than you might expect, and the small steering wheel conceals pleasantly meaty weight.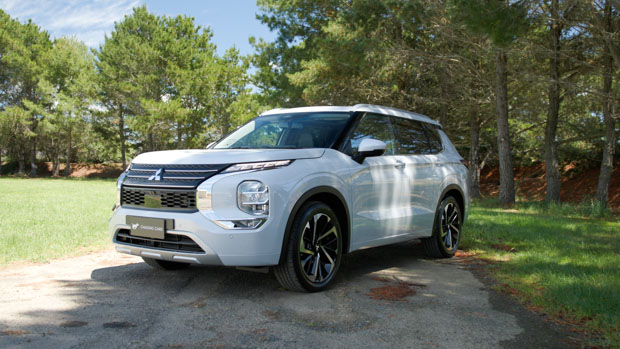 There is no disputing that Mitsubishi's new Outlander is a huge step forward from the dreary old model outside and in: it's got some real visual appeal, the cabin is lush, and quality seems quite decent. But the suspension needed further iteration, particularly on the 20-inch wheels standard on the Aspire, tested Exceed and Exceed Tourer grades.
The 20s look great but they're running in a thin sidewall – way too thin to disguise the undisciplined suspension that slaps through potholes before the loose body control at the rear bucks the Outlander about too waywardly. The Tiguan also runs on 20s, but its suspension is leagues ahead in both control and comfort. More work is required.
The Haval H6 rides a little better than the Mitsubishi. Like many of the cars from GWM – the group formerly known as Great Wall – improvement is coming on very quickly. The basics here are acceptable: total body control is fine, less wayward than the Outlander – it's more the fine tuning of the dampers to make the H6 more compliant through urban potholes and across level-crossings in the country. And the steering needs a complete rethink: it's inconsistent and dead on centre, but once you load it up, it can be fairly rewarding.
Verdict: best midsize SUV revealed
These large segment tests are a significant effort that involves the entire Chasing Cars team in Sydney and input from our support crew in Brisbane – but we really enjoy putting them together.
Being able to test nearly every model from an entire class back-to-back, at one place, at one time, is to understand the state of the art – what the best car in the segment is capable of, and where others need to measure up.
It's not surprising that the midsize SUV segment is so good, because it's so competitive. This is the size and shape of vehicle that nearly 200,000 Australians bought last year.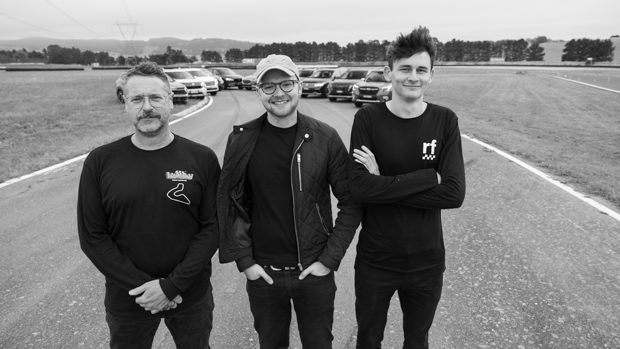 While we think the Haval H6 and Mitsubishi Outlander need additional finesse to reach their potential, there's no bad car here – you could happily own any of these vehicles.
But some will make you happier, or at least more satisfied, than others.
Our judges awarded an Honourable Mention to the Mazda CX-5. It is getting on now – indeed, a deep facelift will arrive in Australia in the coming months, set to give the CX-5 a lift before Mazda's all-new rear-drive-platform SUVs arrive later on.
But even the CX-5 that is on the road right now still shows many rivals how to perform in this segment. Its interior plushness and quality was the best on test, while its strong engine offers excellent performance.
Third place and Chasing Cars bronze award: Subaru Forester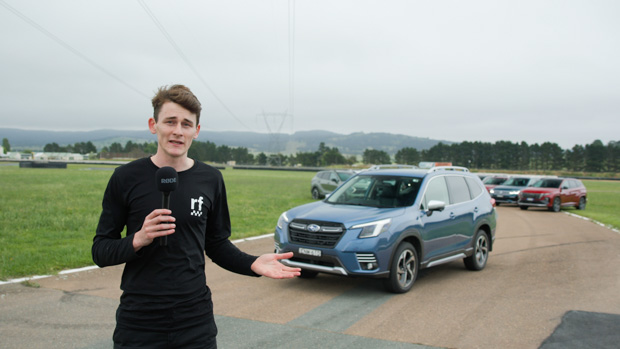 Third place and a Chasing Cars bronze award went to the Subaru Forester: it's just so bloody practical. The Forester is truly family-friendly. Our judges found that this was the easiest crossover on test to fit two child seats into, by some margin. Once they were in, an adult can sit between them – no problem. The rear doors open wide, the boot is the widest here, and the glasshouse is massive: visibility is excellent.
We were surprised by the Forester's road manners after its lacklustre performance in performance testing. It's too slow off the mark and its overtaking performance is laggardly – there's no getting away from that. The 1.8-litre turbo from the Japanese market needs to come to Australia. But the Forester's supple suspension and keen steering meant it was reasonably fun to pilot on a country road while being calm in town.
Subaru have also priced the Forester very keenly. At $44,190 before on-road costs, even the poshest Foz is ten grand cheaper than the dearest vehicle on test. In a market that seems to be getting more expensive every week, this refreshed our judges.
Second place and Chasing Cars silver award: Volkswagen Tiguan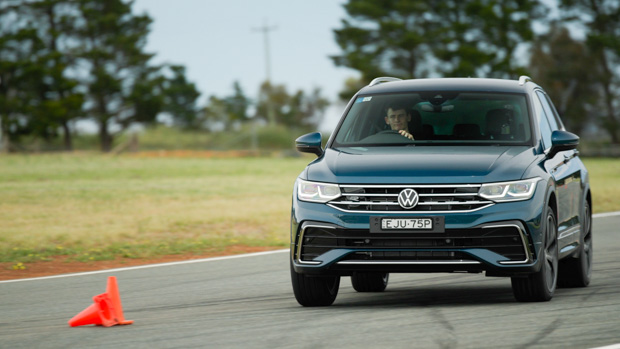 It was the most expensive on test and the second oldest, following the CX-5 – but the Tiguan still shows nearly every SUV here precisely why it deserves its semi-premium billing. Sure, it's an extravagance in 162TSI R-Line form, and the fact that desirable features are optional even at this level of expense is eyebrow-raising. Yet when looking at this handsome truckster, and especially from behind the wheel, it still feels worth it.
Punchy, powerful, refined, supple and sophisticated, the Tiguan is a driver's delight and would be elevated further into premium territory if the interior didn't rely as heavily on harsh secondary materials. Thankfully, the bits that count: the supportive leather seats with extensive adjustment, and the stitched leather sports steering wheel, are cut from better hide.
First place and Chasing Cars gold award: Toyota RAV4 hybrid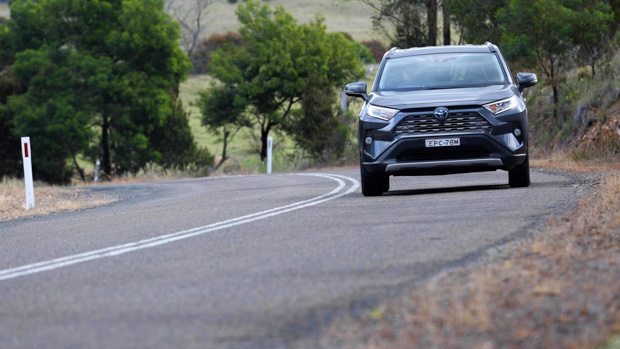 Believe the hype: the Toyota RAV4 hybrid is the best midsize SUV in Australia. Clearly, our judges' consensus decision aligns with that of many families on this continent – though this wasn't a popularity contest. The RAV4 didn't win because it sells well; it sells well because it keeps winning, fair and square.
The Toyota RAV4 is a fit-for-purpose vehicle that moves the game on in this segment. It demands few compromises, playing with turbocharged rivals in acceleration times, and winning on tests of agility, while sipping 40 percent less fuel than some vehicles here.
It carries the network and dependability of the Toyota badge – but this factor is no longer a byword for dreary to drive. To the contrary, the RAV4 impressed our judges with its considered balance of suppleness and country-road control. It's a good SUV to drive and one that dramatically reduces your carbon footprint without having to accommodate significant lifestyle changes that not all are ready for, as yet.
Quite simply, the RAV4 is worth waiting most of a year for.
Final order
Highly commended: Mazda CX-5
3rd place and Chasing Cars bronze award: Subaru Forester
2nd place and Chasing Cars silver award: Volkswagen Tiguan
1st place and Chasing Cars gold award: Toyota RAV4 hybrid