The staggered launch of the latest-generation Hyundai Tucson midsize SUV is now complete in Australia.
This rival to the Mazda CX-5, Toyota RAV4, Honda CR-V and forthcoming Kia Sportage is now available in an exceptionally broad range – 14 different varieties of Tucson are now available in Australia.
While the arrival of the new Tucson saw delays for the optional turbocharged petrol and diesel engines, as well as the sporty N Line exterior/interior package that is optional across every variant, there is now good availability across the range.
Stock of all Tucson variants now available
Speaking with Chasing Cars, a spokesperson for Hyundai Motor Company Australia (HMCA) said the manufacturer "now [has] all Tucson variants – trims and engines – on the ground and in dealerships.
"We have good current stock availability and production supply across all variants."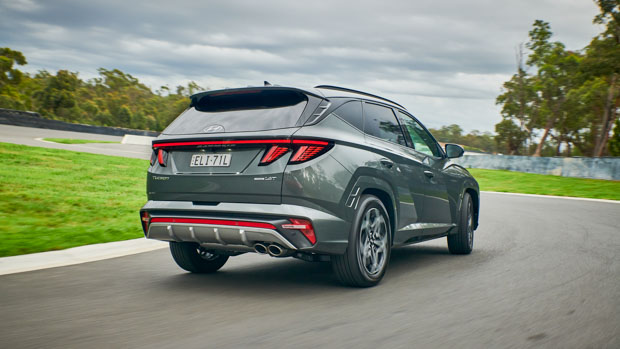 Hyundai has noted the strong preference among buyers for the Tucson N Line trim package, which can be paired with any of the three engines and base, Elite and Highlander variants.
"Half of our current supply mix are newly-launched N Line variants," Hyundai's spokesperson said.
In fact, there are hundreds of Tucson N Line examples on the ground in Australia, available for immediate or near-immediate delivery, with timelines dependent on the buyer's state and whether the dealer needs to swap stock with another outlet.
Full Tucson range now in Australia
The news around better Tucson stock availability means that September is "the first month that the full 2021 Tucson range is available in Australia," according to Hyundai's spokesperson.
The ongoing pandemic-induced lockdown situation in New South Wales, Victoria and the Australian Capital Territory has failed to dampen the prospects of the midsize SUV with the brand confirming that orders "have remained strong, even with the two biggest regions in lockdown."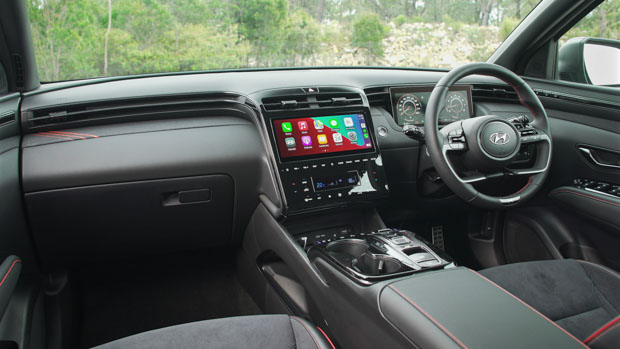 The fourth-generation Hyundai Tucson, internally named NX4, launched in Australia in May 2021 initially only in two-litre naturally aspirated petrol guise.
Sitting between the Kona small SUV and Santa Fe large SUV in Hyundai's Australian lineup, the Tucson has traditionally been a favourite of family buyers.
Tucson price and specs in Australia
The front-wheel drive base engine produces 115kW of power and 192Nm of torque, driven through a standard six-speed torque converter automatic transmission, with prices commencing from $34,500.
On the engine front, the Tucson range progresses to an optional 1.6-litre turbocharged petrol four-cylinder engine making 132kW/265Nm, and then onto the flagship 2.0-litre turbo diesel, which produces 137kW/416Nm.
Both turbocharged engines – the 1.6-litre petrol and 2.0-litre diesel – add all-wheel drive. The turbo petrol is mated to a seven-speed dry dual-clutch automatic, while the diesel uses an eight-speed torque converter auto.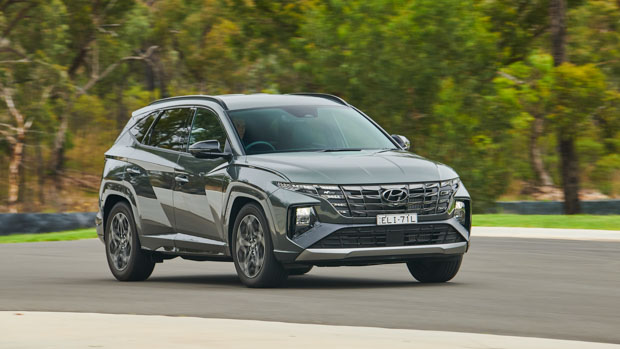 Three trim grades are available, with the base model kicking off at $34,500. The mid-tier Tucson Elite starts at $39,000, while the flagship Highlander can be had from $46,000.
However, the Tucson is unique in the Australian midsize SUV market in that a sporty N Line exterior and interior appearance package can be added to any grade, bringing with it more luxurious seating, bigger wheels, more aggressive styling and even better infotainment in some grades.
The N Line adds $3,500 to the cost of a base two-litre Tucson, $2,000 to the cost of an Elite 2.0-litre and $1,000 to the cost of the base petrol Highlander.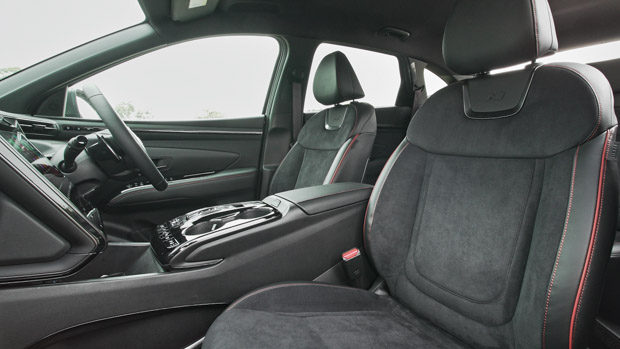 Based on existing customer orders it is expected that the N Line option will be specified on about half of Tucson units sold in Australia.
Hyundai Tucson 2022: prices in Australia
All prices listed are before on-road costs.
Tucson (base) 2.0-litre: $34,500
Tucson (base) N Line 2.0-litre: $38,000
Tucson Elite 2.0-litre: $39,000
Tucson Elite N Line 2.0-litre: $41,000
Tucson Elite turbo petrol: $43,000
Tucson Elite diesel: $45,000
Tucson Elite N Line turbo petrol: $45,000
Tucson Elite N Line diesel: $47,000
Tucson Highlander 2.0-litre: $46,000
Tucson Highlander N Line 2.0-litre: $47,000
Tucson Highlander turbo petrol: $50,000
Tucson Highlander N Line turbo petrol: $51,000
Tucson Highlander diesel: $52,000
Tucson Highlander N Line diesel: $53,000