Korean carmaker Hyundai has taken the virtual covers off a significant mid-life update for its Tucson midsize SUV that brings with it a brand new interior, exterior styling updates, and confirmation on timings for long-awaited hybrid powertrains to join the Australian lineup.
The changes inside the Tucson are the most significant aspect of the facelift, which will see the interior design brought into line with other Hyundai models, including the integration of Hyundai's familiar dual digital instrument cluster and media display.
Importantly, Hyundai has also confirmed that when the updated model goes on sale locally in 2024, it will come with the debut of a new hybrid powertrain variant for Australia.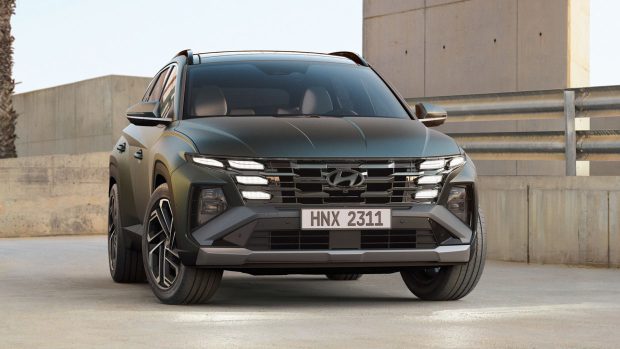 A hybrid option has been available with the current fourth-generation vehicle overseas since it launched in 2020, however this is the first time it will make it to Aussie shores.
What's changing for the 2024 Hyundai Tucson?
The most significant updates for the facelifted Tucson take place inside the vehicle, which now takes on the familiar look and feel of other Hyundai vehicles such as the Kona small SUV and Santa Fe large SUV.
That includes the more contemporary and horizontal-themed design elements, as well as what is expected to be the same dual 12.3-inch screens for the core touchscreen and instrument cluster that are featured across other models in the Hyundai range.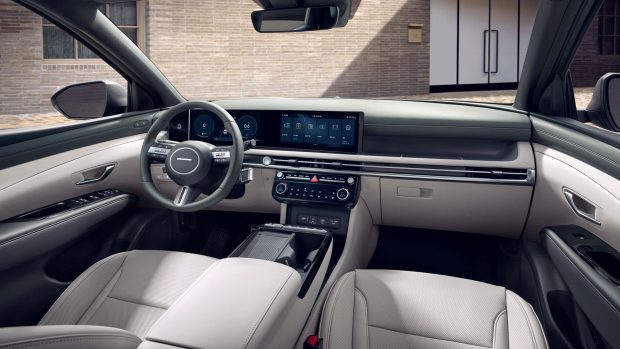 As well as this, the updated interior will bring with it Hyundai's now commonly used column-mounted shift-by-wire shifter that has unlocked additional storage space in the centre console.
There are also new air vent designs and a new climate control panel, which retain physical dials for temperature controls.
As well as this, Hyundai's familiar new steering wheel design joins the range, now utilising Hyundai's familiar four-dot design which represents morse code for the letter 'H'.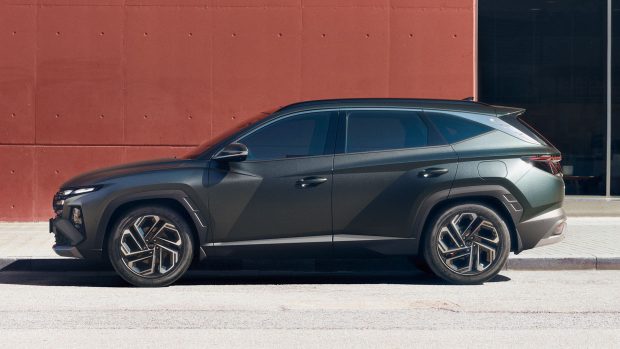 The exterior changes are more subtle, with the familiar look and feel of the fourth-gen car maintained albeit for a few tweaks to the front fascia including a more square-shaped grille design, redesigned alloy wheels, and updated bumpers.
Full powertrain lineup not yet confirmed
Aside from confirming that a hybrid will join the range, Hyundai hasn't yet revealed full detail on what will power the updated range.
Currently a choice of three engines are offered across the lineup including a 2.0-litre naturally aspirated petrol inline-four cylinder, a 1.6-litre turbo-petrol inline-four cylinder, or a 2.0-litre turbo-petrol inline-four cylinder across three different grades.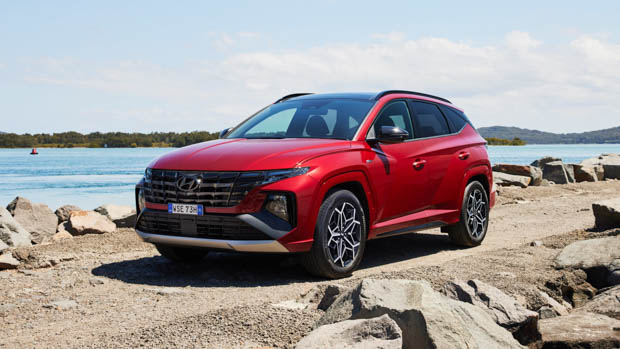 Hyundai has offered a hybrid version of the Tucson featuring a 1.6-litre turbo-petrol engine paired with an electric motor in Europe since the current fourth-generation went on sale three years ago.
News that the local range will feature a hybrid when it goes on sale next year will bolster the Tucson's sales proposition in Australia, which is already competitive in the important midsize SUV segment.
So far this year the Tucson has shifted 17,935 units, delivering a 10.6 percent market share. This places it fourth in the segment behind the segment leading Toyota RAV4 (24,986), Mitsubishi Outlander (20,000) and Mazda CX-5 (19,404).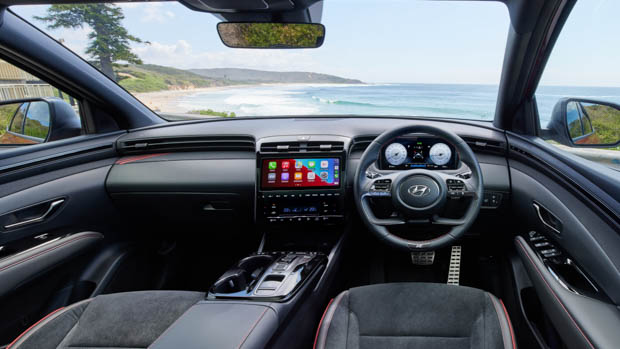 The Tucson is Hyundai's second best-selling vehicle locally this year, just behind the i30 small car which has delivered 18,013 units year to date.
The new Tucson – along with its new hybrid powertrain option – will go on sale locally in mid-2024.