After launching in 2017, the fifth-generation Honda CR-V has come in for a mid-life nip and tuck to bolster its chances against the ever-expanding selection of midsize SUVs.
There are subtle changes afoot for the 2021 Honda CR-V, with added active safety features, technology and tweaked styling.
Looking at the updated CR-V from the front, it will only be dedicated fans who can pick the changes. That said, these mid-life design alterations have been successful in decluttering the front bumper, and we like the classy shadow chrome exterior trim on the top-shelf CR-V VTi-LX AWD on test.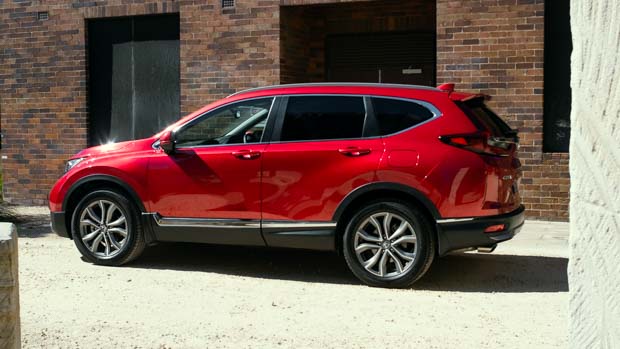 The other big change comes to the variants. Honda has smartly simplified the CR-V range to make it easier for buyers to find a variant that suits their budget and needs.
You can get your hands on a CR-V for as little as $31,300 ($35,029 driveaway) in Vi front-drive form, though this base model doesn't benefit from the recently-added safety gear applied to more expensive grades.
The rest of the range has variations on the 'VTi' theme – the T symbolising a turbocharger – with seven-seaters denoted by a '7' in the variant name.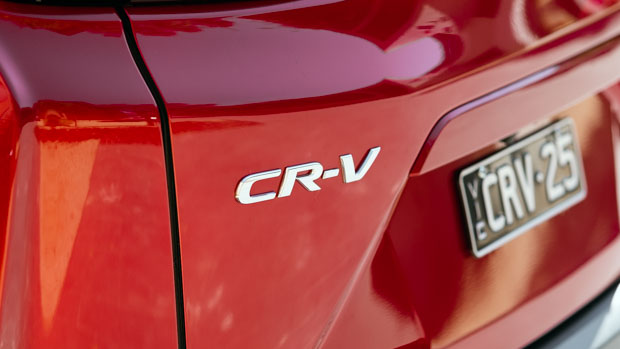 On test we have the $53,200-driveaway VTi-LX, the most luxury CR-V you can get and a direct competitor for the Toyota RAV4 Cruiser Hybrid ($48,413) and Mazda CX-5 Akera ($52,490).
It's worth noting up front that Honda Australia's recent move to fixed driveaway pricing means the quoted price – $53,200 – is what you will pay on-road anywhere in Australia.
How does the CR-V VTi-LX drive?
Every VTi-badged CR-V is powered by a 1.5-litre turbocharged four-cylinder petrol engine which develops 140kW of power and 240Nm of torque. These aren't class-leading outputs, but they put the CR-V on par with a 2.5-litre Mazda CX-5 while delivering lower fuel consumption in theory.
There is one outlier in the CR-V lineup – the entry-level Vi – which is powered by a more modest non-turbo two-litre four-cylinder with 113kW of power and 189Nm of torque.
Notably absent from the Australian CR-V range is the hybrid engine that is available in the United States. This two-litre petrol combined with two electric motors produces 158kW of power, and could really boost the appeal of the CR-V locally due to its lower running costs.
The hybrid would also give Honda a very direct rival to the 160kW Toyota RAV4 Hybrid, which has proven extremely successful in Australia.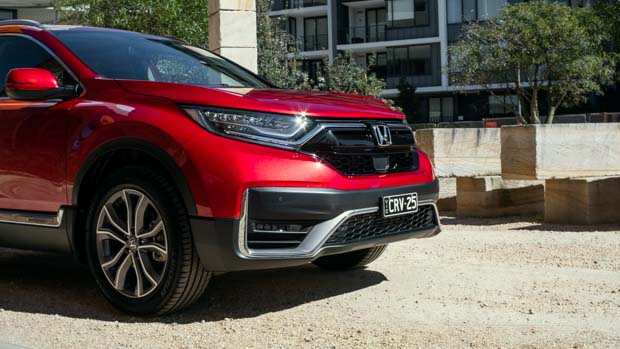 The CR-V VTi-LX tested benefits from all-wheel-drive which will help it get further when grip is at a premium. In practice, it's quite reluctant to shuffle power to the rear axle. All CR-Vs use a CVT style automatic which we found to be mostly okay, with only occasional hesitancy at lower speeds.
If those oily parts sound familiar, they should do. The engines are the same found in the upper variants of Civic small car with which the CR-V shares a platform. That certainly has some benefits that we'll get to later, but the VTi-LX's 1,679kg kerb weight hampers performance when compared to the much smaller and lighter Civic.
Honda has programmed the CR-V's throttle pedal to be very sensitive off-the-top which gives the CR-V the impression of nippiness. It's a good sensation, and a clever way to disguise a slower car, but does take some adjustment to curtail lurching when parallel parking.
Most marques have moved drive modes away from the gear stick, favouring easy-access buttons but Honda has fused the old-school approach of Drive and Sport on the stick with a separate button for Eco mode. In practice, it's best just to leave the car in drive mode and relax.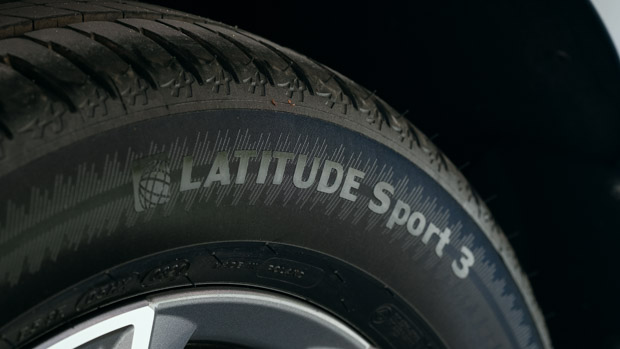 On the road, the CR-V is far from dynamic, but Honda doesn't promise any athleticism to CR-V prospectives. This SUV is much more attuned to those wanting a comfortable, easy-to-drive car.
The weight of the AWD dampens the CR-V's cornering prowess and pushing the SUV too hard reveals roll oversteer, which can be unnerving. Better to step things back a bit, and driven more modestly the CR-V is happy to trundle down a country road without fuss, making for a faithful companion at most speeds.
The ride is generally good, with the CR-V settling nicely on the freeway with the dampers programmed to allow a little more vertical movement than sportier SUVs.
The 19-inch alloys hurt the VTi-LX a little around town as they pick up some extra sharp-edge bumps – the front-drive VTi X ($41,200 plus ORCs) with its 18-inch wheels has a more resolved ride.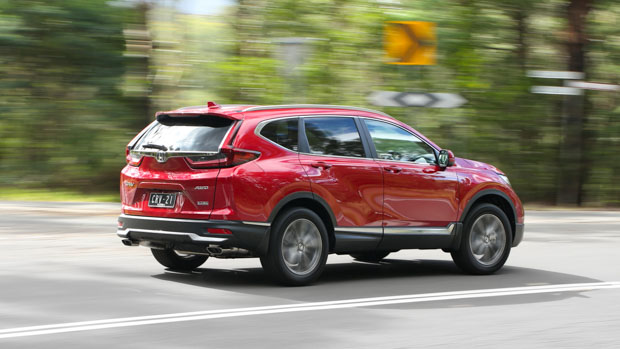 The safety features added for 2021 have the most effect on the lower grade cars. All cars except the base Vi now get adaptive cruise control, a weak lane-keep assist and forward AEB with pedestrian detection. Other competitors do safety better, with Mazda's similar vintage CX-5 getting front and rear AEB and blind-spot monitoring.
Honda has fitted some clever touches, including the blind-spot camera that live-feeds its view onto the central screen when indicating left to identify potential hazards. There are also front and rear parking sensors across the range. The CR-V's crashworthiness is solid, with the medium SUV scoring five stars in the ANCAP testing procedure in 2017.
How is the CR-V VTi-LX's interior?
Although the CR-V won't tickle the taste buds of sporty drivers, this midsize SUV offers immense practicality. There is so much storage in the CR-V you could easily lose your keys three times over before you found them again.
The doorbins are vast, the cupholders are ample and underneath the soft centre armrest there is a configurable storage area that's comparable only to the Mariana Trench in depth.
To top off the practicality offered the CR-V feels sturdy. The materials feel a rung cheaper than those found in a Toyota RAV4, but you get the general sense that a CR-V will put up with all the abuse your kids can throw at it.
This range-topping CR-V VTi-LX benefits from some niceties on paper, the leather-appointed seats should be easy to clean, and both front pews are heated and electrically adjustable. To sit on, though, the leather seats are quite flat and hard, the more affordable CR-Vs have more comfy cloth seats.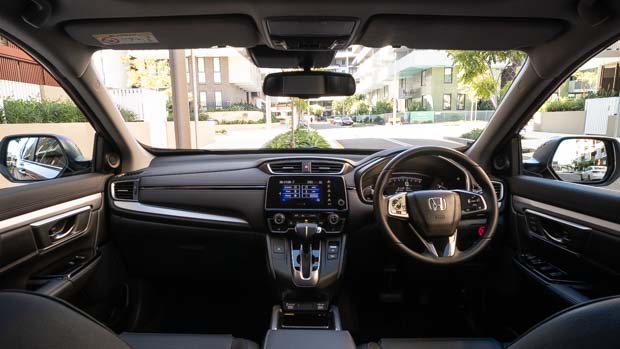 Honda has also updated the technology, with new infotainment software, navigation, wired Apple CarPlay and Android Auto (rather than wireless). They've also gone back to a physical dial for volume control, but the low-resolution seven-inch screen feels tiny in today's market, especially given the LX is over $50,000 on the road.
In front of the driver there is an interesting mix of analogue and digital information, with almost fighter-jet like instrumentation. They looked very cool at this car's launch and continue to be both interesting and clear to read.
There's a wireless phone charging pad in this range-topper, but it's finished in hard plastic. This means that phones tend to slide away from the charging zone and rattle around over bumps – annoying!
Poorly thought-out wireless charging is one of the few oversights in the CR-V's cabin, as the effort Honda put into making this fifth-gen CR-V a useful vehicle is quite obvious.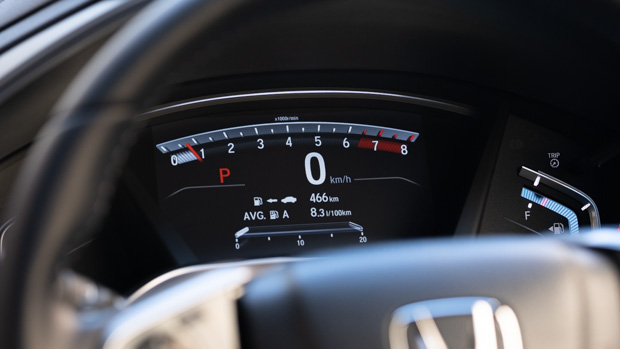 The rear seats offer ample leg, toe and headroom for six-footers even with the dual-pane sunroof fitted to the LX. The rear doors open all the way up to 90-degrees making loading baby seats an absolute breeze.
Second-row passengers also get a USB port, arm rest and adjustable air vents to fiddle with, and the bench is relatively comfortable with two Isofix ports supplemented with three top-tether points.
The CR-V is also available with seven seats, though only in VTi L 7 ($44,200) and VTi 7 ($36,100) variants. While the compact dimensions mean the third-row in a CR-V is kid-sized only, it's nice that the option is there for when you need to pack a couple of extra passengers in.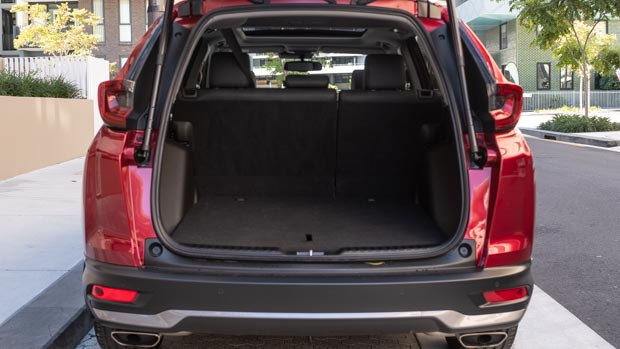 With seven seats in place the boot capacity is pretty compromised at just 150L, it's a similar story to the slightly larger Skoda Kodiaq. However, with the third row folded, or in five-seat guise the boot offers generous space at 522L.
Honda's real stroke of genius is keeping the low floor-pan of the Civic, which means the boot opening is absurdly low on the CR-V making it easy to slide bulky items or bicycles in. With the second row of seats folded the Honda is van-like. There is even a full-size spare package in – bravo Honda.
What are the CR-V VTi-LX's running costs?
Running any Honda CR-V should be a relatively stress-free affair with Honda's reputation for reliability. The marque offers ten years of capped-price servicing in Australia which makes it easy to understand the ownership cost of the CR-V.
Over the first five years maintenance will cost just $1,560, which is very affordable in this class. Replacing air and cabin filters as well as brake fluid and spark plugs are done on a condition or kilometre based schedule outside the scheduled servicing, so keep in mind the quoted figure does not include these particular consumables.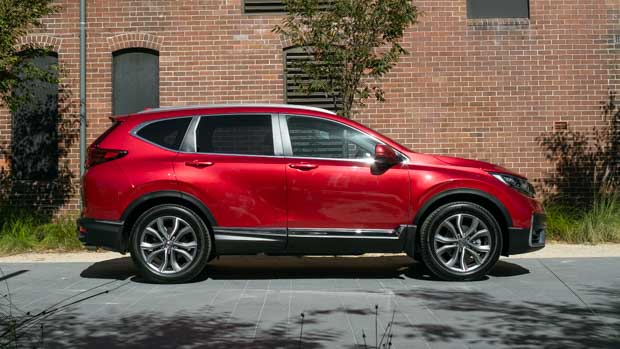 Maintenance should be carried out at 12 month or 10,000km intervals according to Honda, which is slightly shorter than rivals. All CR-Vs are backed by a five year, unlimited kilometre warranty in Australia.
Consumption is respectable for a petrol-powered midsize SUV, though some way off the hybrid options in class. Honda claims 7.4L/100km for this AWD model, though we returned 8L/100km on our test.
The final verdict
Following its 2021 update, the Honda CR-V has morphed into a more handsome vehicle, no doubt, but in range-topping VTi-LX guise, we'd expect a bit more for our money.
While the posh VTi-LX buys you a few additional niceties, the top-shelf CR-V isn't where the true value lies in the range.
Instead, the midlife update has meant that more affordable CR-V grades are much easier to recommend, with variants like the value-packed seven-seat VTi 7 now packing key safety tech that was previously missing. Not to mention a list price to scare its smaller HR-V cousin.
That said, we can't help thinking that the CR-V lineup would be more enticing if the hybrid powertrain was offered in Australia, here's hoping that will happen in the next update.