Honda has released another teaser image of its sixth-generation CR-V showing off the interior of its upgraded midsize SUV ahead of the crossover's official reveal date of July 12, 2022.
After previously teasing sharper and more mature exterior lines of the inbound CR-V, Honda has pointed the camera inwards to reveal a cabin with a dashboard reminiscent of the recently-updated Civic small car.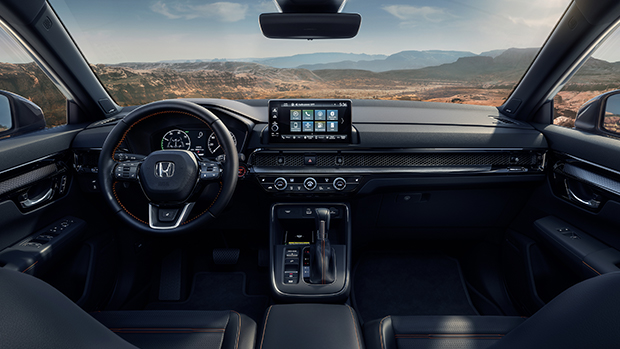 Demonstrating a more minimalist cabin design led by an extended air vent traced through the dash, Honda appears to be continuing its push back into more premium territory it most recently occupied in the 1990s.
Read more about the 2023 Honda CR-V
Larger interior screens for new CR-V, but buttons remain
It doesn't take a keen eye to spot that the centre display in the CR-V is significantly larger than the current model's 7.0-inch unit, and while dimensions are not given, the new unit is likely the 9.0-inch screen offered in the Civic.
In the Civic, this display offers wireless Apple CarPlay and wired Android Auto along with other modern features such as digital radio.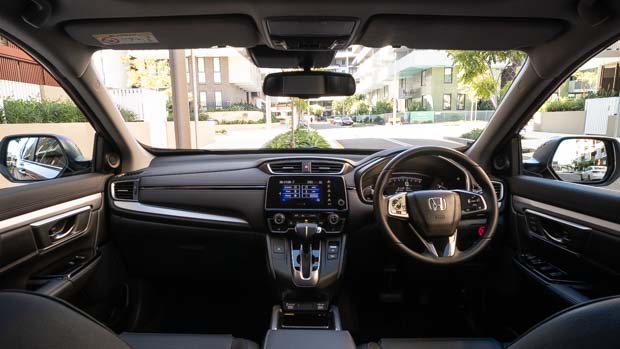 While this screen may not be as large as the 10.25-inch display offered in the Hyundai Tuscon or 9.2-inch unit in the Volkswagen Tiguan, some buyers could be wooed by Honda's commitment to retaining physical buttons and knobs for key functions such as climate control and volume. 
The addition of a full-width digital driver's display will come as another welcome addition to tech-focused buyers, with a screen of 11-inches or larger likely used so dials remain visible to drivers.
Sharp exterior to adorn new CR-V hybrid
Honda has previously teased images of the sharp design of the new-gen CR-V, showcasing new features like LED headlights and tail-lights and an aggressive front grille.
Perhaps most critically was the addition of the 'hybrid' badge in these teaser images, a powertrain option that will likely make its way to Australia after Honda denied us the choice in the current fifth-generation, despite it being available in other markets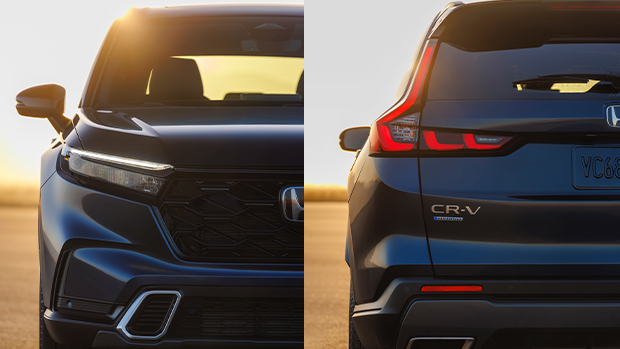 The CR-V will likely come fitted with Honda's new e-HEV hybrid system, which operates more like an electric vehicle utilising a combustion engine as a range extender, rather than a traditional hybrid that uses the electric and petrol engine in unison.
Honda's most powerful hybrid option is rumoured to be 158kW/315Nm dual-motor destined for the Civic e-HEV, a beefy setup that would suit the larger weight and size of the CR-V.